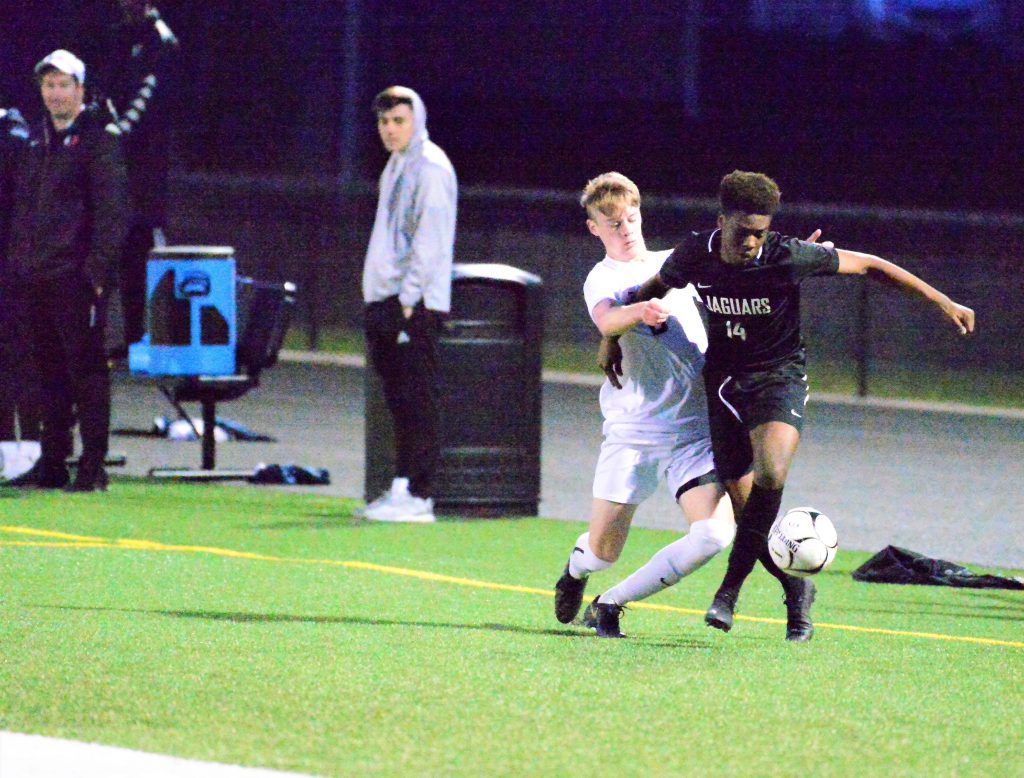 Roland Agyeman is a senior on the Ankeny Centennial boys' soccer team. He would have been one of the Jaguars' top returning players this season.
Agyeman started 10 games for Centennial a year ago. He helped the Jaguars to a 13-4 record.
Here is some inside info on Agyeman:
How are you dealing with the pandemic? Are you getting used to the "new normal"?
I've been doing pretty well, although it still feels bizarre and unfortunate. I really can't go anywhere so I've been doing home workouts, schoolwork, and a lot of TikTok. At this point, it's been an everyday cycle. However, I feel blessed and thankful for where I am because COVID-19 has affected many people in worse ways.
Can you describe how disappointing it was for you to lose your senior season to the coronavirus?
Although tough to take in, cancelling our season was honestly the best decision considering the current pandemic situation. Like most seniors, my last season of school soccer was something I always looked forward to, especially after last year's substate upset loss against Southeast Polk. It's crazy because that loss crosses my mind almost every day, and it's unfortunate because that's how I'm going to end my high school career.
Coach Duax had told me how the seniors on the squad were committed to being the hardest working team in the state this season. Who was the driving force behind that–was it one or two players, or was it kind of a group decision?
Yes, the substate loss was a wake-up call and certainly left an impact on our team. Days after the loss, the returning teammates met at the stadium to reassess and reflect on the season, the game, and what we needed to work on for this coming year. The seniors were the driving force behind this idea, but the whole team bought into the process which was why we had a very strong offseason. I definitely wish we could've continued this momentum into the season.
Do you think the team had a lot of potential this year?
Yes, for sure. Although we lost a very talented group from last year, I still felt that we could've turned heads and made a deep run this year. Everyone was dedicated and on the same page throughout the offseason open gyms, conditioning, and lifting.
How are your online classes going? Have you completed your academic responsibilities yet?
They are going pretty well. I am finishing up four DMACC classes online and the teachers have been pretty helpful and understanding. I just have a few more tests to wrap up which is nice.
What will you remember the most about your high school soccer career?
Playing in the state tournament my sophomore year against Iowa City West. Although we lost, playing at Cownie Park in front of hundreds of fans is something I'll remember. It just stings me inside that we don't get the opportunity to get there again this year. It's been really nice to have the support from coach Duax, assistant coaches, teammates, and parents in the last three years.
Coach Duax mentioned that some of the coaches in the CIML were trying to put together a summer league for the seniors–just to give you some form of closure. Are you hopeful that it will happen?
Yeah, that would be awesome. Hopefully, by then the restrictions are loosened so that opportunity can happen.
Do you think you've learned some lessons from COVID-19 that will help you out in the future?
One thing I've undoubtedly learned is to never take anything for granted and enjoy every moment. My parents and coaches have always said the statement, "Play every game like it's your last", and I always thought to myself that statement was kind of bogus. But it's actually true. As a junior, it never crossed my mind that I was playing my last few high school games ever.
Plans for next year? Will you play soccer somewhere?
Earlier in the year, I visited William Jewell College in Kansas City to hopefully play college soccer there. But then recently, I received a very good academic scholarship from Creighton University. I will be attending Creighton this fall. The campus and the people there were amazing, and it just felt like home at Creighton.
What are you going to study?
I will be studying business.
Do you think schools will be back to normal by the fall?
In my opinion, I believe we will be able to attend school in the fall, but probably with some restrictions. I guess it will depend on how the summer turns out.