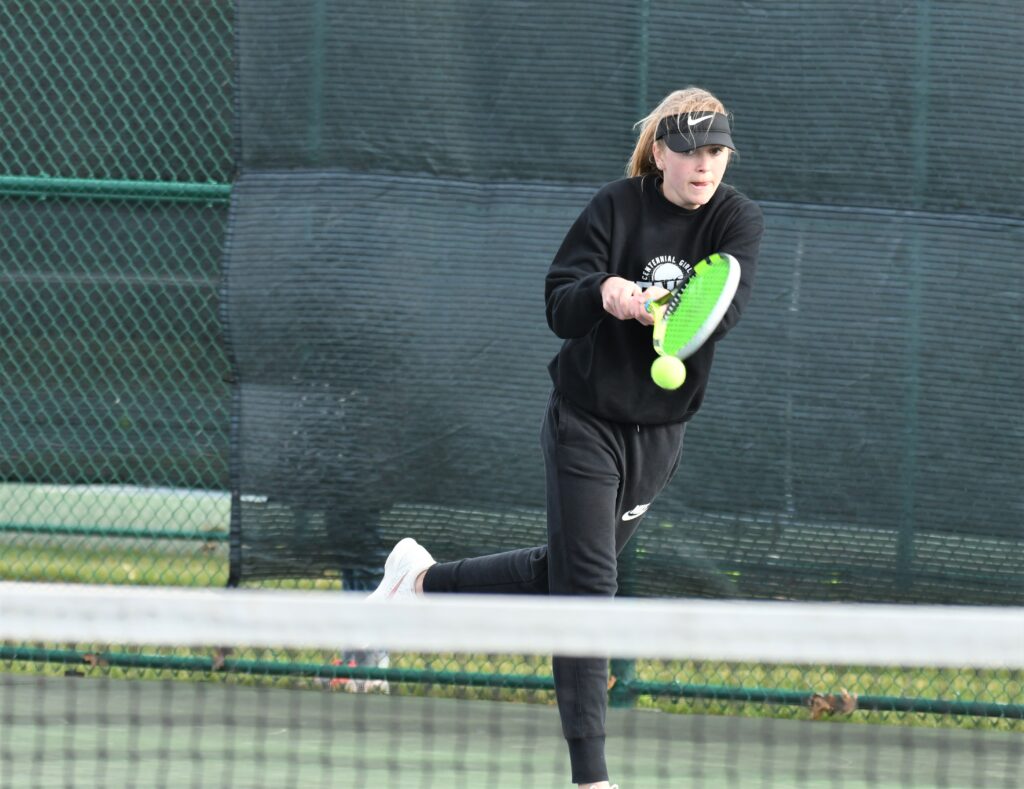 Some of the best girls' tennis teams in Ankeny High School history could have been even better.
Back in the late 1970s and early 1980s, when the Hawkettes reeled off 20 consecutive dual-meet victories under coach Dirk Baker, one of the best players in the school at that time was Karlin Hayes.
"Karlin was a top 100 player in the 14s, but she never played high school tennis because she ran track and played softball," said Randy Ratcliff, who coached the Ankeny boys' tennis team at the time.
Hayes also starred on the basketball court and went on to play that sport at Drake. She was recently named to Ankeny Fanatic's all-time Ankeny girls' basketball team.
Now, it's time to turn our attention to girls' tennis. Hayes won't be a part of Ankeny Fanatic's all-time Ankeny girls' tennis team, but some of the girls from that era have earned spots on the squad.
Here, then, is the best of the best in girls' tennis, comprised of six singles players and five doubles teams:
SINGLES
No. 1, Alli Gustafson: She was a two-time state placewinner who helped Ankeny Centennial to a 25-15 dual record from 2017-19. As a junior in 2018, she teamed up with Alyssa Lewton for a sixth-place finish in the Class 2A doubles tournament. She also helped the Jaguars to an 8-6 mark in the last of Emily Phommachack's five seasons as head coach. "Alli has always been a competitor," Phommachack said. "She worked hard for the last four years in her tennis career. Unfortunately, I did not coach her last year, but it was not surprising that she battled her way to being the first (Centennial) female to place in singles at the state tournament. Alli is the type of athlete that has always had perseverance, control and consistency, power, and confidence. Her passion for the sport and drive to do her best is what made her one of Centennial's top tennis players." As a senior, Gustafson posted a 13-7 record and placed fifth in the Class 2A singles tournament, the highest finish ever by a player from Ankeny. She advanced to the quarterfinals before falling to second-seeded Arunadee Fernando of Ames. She then won three consecutive consolation matches in straight sets, highlighted by a 6-0, 6-0 drubbing of fourth-seeded Malina Amjadi of Cedar Falls in the semifinal round. "Alli had a lot of success because she overwhelmed girls with her powerful serve and ground strokes," said Ryan Petersen, who coached the Jaguars in 2019. "She also was very fast and athletic. This allowed her to get to almost anything on the court. Alli was also great at taking advice from coaches and teammates."
No. 2, Maddy Larson: She helped the Hawkettes to a 26-14 dual mark from 2010-12. As a sophomore, she qualified for the doubles tournament along with Erica Miller. The duo finished with a 12-6 record. In 2011, she went 6-6 at the No. 1 singles position but again qualified for state in doubles–this time with Nichol Nitschke. They compiled a 12-5 mark. As a senior, Larson rallied to beat Mattie Misfeldt of Council Bluffs Lewis Central, 4-6, 7-5, 6-4, in the semifinals of a regional singles tournament to become the first and only three-time state qualifier under Mike Mullins, who coached Ankeny from 1988-2013. She later defeated Rachael Herman of Davenport Central in a first-round consolation match for her first-ever state tournament win. Larson earlier won the No. 1 singles title at the Indianola Invitational and also led the Hawkettes to the final of a regional team tournament. She posted a 13-8 record. "Maddy qualified three times, and that's not easy to do," Mullins said. "She was definitely a gal who worked hard."
No. 3, Jarupat Onlamool: She placed second at a regional singles tournament in 1997 to become Ankeny's first state qualifier in nine years. The foreign exchange student then finished with a 14-7 record after losing to eventual state champion Cassie Haas of Dubuque Wahlert, 6-2, 6-0, in the opening round of the Class 2A tournament. "The little gal from Thailand played really hard. She was pretty solid," Mullins said. "The sad thing about it is that she got killed by a tsunami over in the Philippines. She did not want to leave America at all. That was a sad deal." Onlamool won the No. 1 singles title at the Indianola tournament and also led Ankeny to the final of a regional team tournament. She combined with Ana Maria Duque, another foreign exchange student from Colombia, to lead the Hawkettes to a 10-3 record and a third-place finish in the conference. "Fye and Ana Maria went well beyond my expectations," Mullins said at the time. "They also blended really well with the chemistry of the team. They were really enjoyable to be around."
No. 4, Erica Miller: She was a two-time state qualifier under Mullins in 2009-10. As a sophomore, she was the team's No. 3 player most of the season but then placed second at the regional tournament, becoming Ankeny's first qualifier in singles in more than a decade. She won one of her three matches at state, posting a 6-3, 6-2 victory over Clinton's Megan Determan in a consolation match, and finished with a 14-6 record. Earlier, she won the No. 2 singles title at the Indianola tournament. In 2010, Miller teamed up with Larson to qualify for the Class 2A doubles tournament. She also helped the Hawkettes to a 10-4 dual mark. "Erica had all good techniques and good skills. When I met her in seventh grade, I thought this girl was going to surprise a lot of people, and she did," Mullins said. "Unfortunately, she did not go out for tennis her senior year. I saw her a couple of years after she graduated, and she told me that was the biggest mistake she made–not going out her senior year."
No. 5, Jennie Niedermeier: She was a state qualifier in singles in Mullins' first season in 1988. As a sophomore in 1986, she teamed up with Angie Swanson to win the Central Iowa Conference doubles championship. Her brother, Dennis, was the longtime coach of the Ankeny boys' team. "She was feisty–a very spunky, very competitive young lady," Mullins said. "She was a quality player and then she helped coach with me for 11 years."
No. 6, Jessica Anderson: She was Ankeny's No. 1 player from 1999-2001 and helped the Hawkettes to back-to-back 9-5 records in her final two seasons. As a sophomore and junior, she placed third at the district tournament, coming up just short of a state tournament berth. She went 12-6 in singles as a senior and finished her career with a 46-18 mark. "She got put in a position where she was No. 1 and it was tough, but she gave it everything she had when we went to play," Mullins said. "She gave it her best, and I really admired her. I just remember she had a big heart and a lot of determination."
DOUBLES
No. 1, Rachel McClelland and Barb Porter: This duo teamed up for a fifth-place finish at the state tournament in 1979, when Porter was a senior and McClelland was a freshman. They helped Ankeny to a 14-1 record that included 10 shutouts. McClelland set another school record by going 30-0 in singles matches. Porter also qualified for the 1978 state tournament along with Sarah Mitchell, becoming the Hawkettes' first doubles team ever to qualify. They lost in the first round to the defending state champions from Dubuque Wahlert. Porter also placed second at the CIC meet to lead her team to a runner-up finish. "Barb was an all-court player. Her game was very balanced," said Jay Fifield, who was an Ankeny boys' standout at the time and later coached the Valley boys' squad. "She was a tenacious competitor." McClelland went on to become a four-time state qualifier. As a junior, she placed sixth in singles. She also helped Ankeny to a third consecutive conference title. In 1982, she closed out her career by teaming up with Tracey Timmerman for a fifth-place finish in doubles. "Rachel was one of the top five or six players in the state in singles, but she was a better doubles player than singles," said Fifield, who played mixed doubles with McClelland. "The strength of her game was first-serve consistency and (serve) return consistency. At those two things, she was as good as the top guys in the state. That's why she was so good at mixed doubles. She could return a serve better than a lot of guys could." McClelland, who went on to play for Iowa, is the captain of our all-time team.
No. 2, Carrie Knudson and Tracey Timmerman: This duo combined for a fifth-place finish at the state tournament in 1981, capping off the best season in school history. Ankeny posted an 11-0 record that included a 5-4 victory over Des Moines Roosevelt, snapping the Roughriders' 80-meet winning streak. Knudson also qualified for state in doubles while playing with McClelland in 1980. They went 2-2 at the state tournament. "Carrie was a superb all-around athlete who also played on the basketball team," Fifield said. "She was extremely fast and consistent." Timmerman teamed up with McClelland two years later to earn a second consecutive fifth-place finish. "Tracey was a very good player," Fifield said. "She started at a very young age and had really solid, classic fundamentals."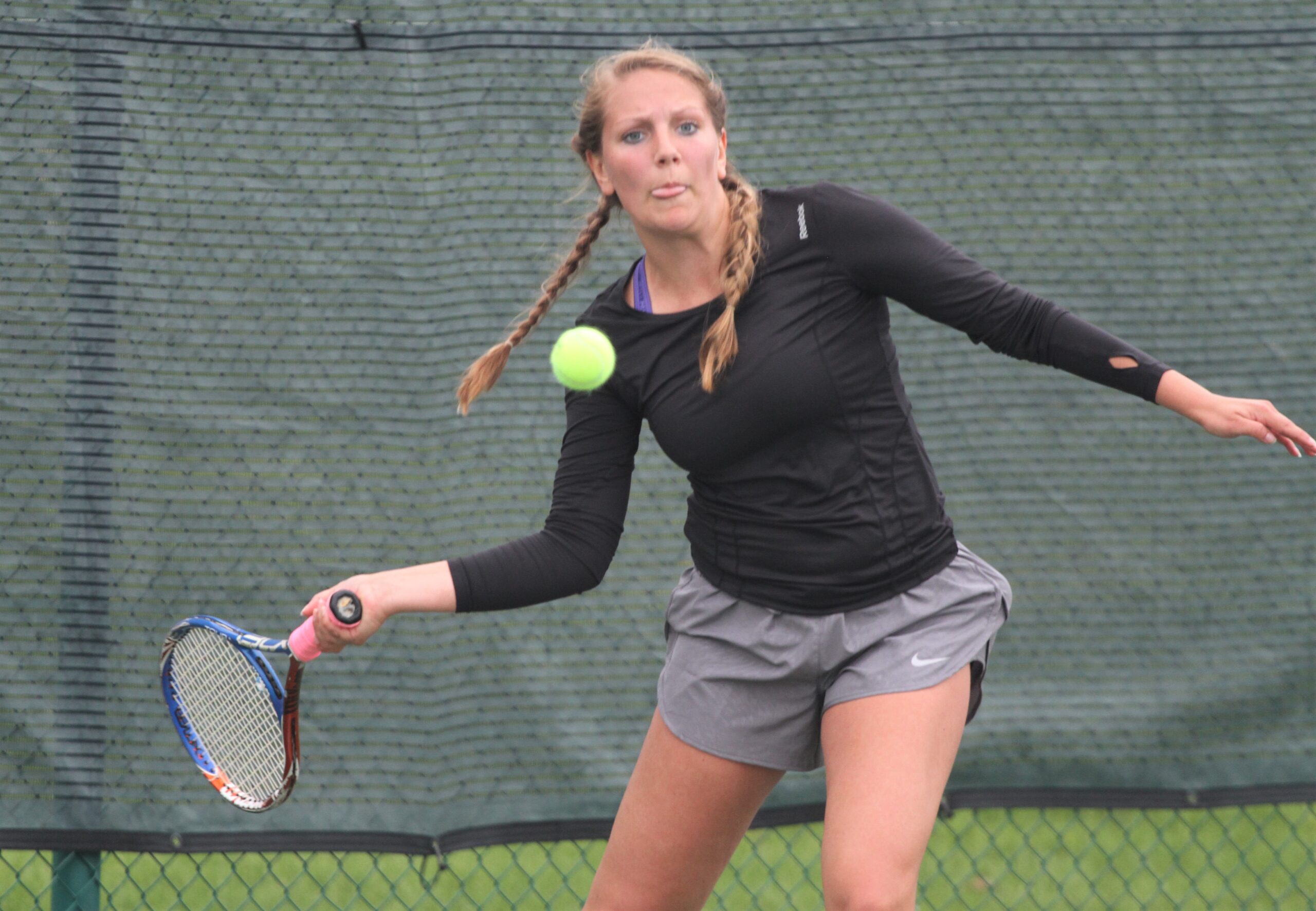 No. 3, Alyssa Lewton and Maddie Volk: This duo teamed up for an eighth-place finish in Class 2A in 2017, becoming the first placewinners in Centennial's history. They advanced to the quarterfinals before losing to the top-seeded team from Urbandale, then posted a 6-3, 6-4 victory over Clinton's Riley Hubbart and Kiersten Housenga to solidify a top-eight finish. They helped the Jaguars to a 9-4 record. Lewton and Volk rallied for a 4-6, 6-2, 6-2 victory in the regional final over teammates Michelle Nitschke and Abby Smith, who also qualified for state. "That was an exciting time when Alyssa and Maddie finished eighth in the state on our home tennis courts," Phommachack said. "They were quite the team. Alyssa brought the aggressiveness and fire at the net, while Maddie was unstoppable in her consistent ground strokes and serving technique. Together, they were the ultimate doubles partners. It was a fun season watching them grow as a team." Lewton was the team's No. 1 singles player as a senior in 2018, ahead of Gustafson. Those two qualified for state in doubles and won three straight consolation matches en route to a sixth-place finish. They compiled a 15-8 record. "Those two were a top-notch team," Phommachack said. "They were both leaders on and off the court. They had great communication, and they worked flawlessly together as a doubles team." Lewton will be a junior in the fall at Central College, where she is playing both tennis and volleyball for the Dutch.
No. 4, Emily Coe and Olivia Coe: The Coe sisters qualified for state in doubles in Mullins' final season in 2013. Current Ankeny coach Katie Owens had been hired to replace Mullins, but he agreed to coach one more season when she took maternity leave. The Coes combined for an 8-4 record while helping the Hawkettes to a 6-7 mark. "They were both real good, solid tennis players," Mullins said. "They were fun to be around and worked hard. It was fun to coach kids that worked hard, and I was able to coach a lot of sisters and cousins during my time as the coach. I was just very fortunate." Emily Coe also qualified for state in singles as a sophomore in 2011. She finished with a 14-4 mark. Olivia Coe moved across town when Centennial opened and became the Jaguars' first state qualifier in 2015, when she advanced in singles as a senior. She finished 11-9 and helped the team to a 9-5 record. "I was fortunate to have coached Olivia my first couple of years at Centennial," Phommachack said. "She was an exceptional leader. She worked very hard to improve over the season. In matches, she always played to her full potential. I never coached Emily, but I did have the opportunity to watch them play together when I coached in Ottumwa. They were great partners as sisters go. They were both strong and aggressive in their own way and together they were a solid team. They did a nice job of picking each other up and keeping one another motivated. I was happy to see them do so well at state."
No. 5, Beth Olson and Steph Gibbons/Karen Kolbinger: Olson was a two-time state qualifier in doubles–once with Gibbons and once with Kolbinger. In 2004, Olson and Kolbinger advanced to state and finished with a 14-7 record. They also won the No. 1 doubles title at the Indianola tournament. Kolbinger was a four-year letterwinner and the team's No. 1 player in her last two seasons. "Karen was my doubles partner for part of my senior season," said Phommachack. "She was one of the most graceful tennis players that ever played for Ankeny. She was light on her feet, quick, extremely level-headed, and always had the best attitude on and off the court. She was a very supportive partner." Olson went 10-3 at the No. 4 singles position and helped the team to a 7-6 mark. As a junior in 2005, Olson teamed up with Gibbons for a 4-6 record at No. 2 doubles. Then, the following year, the duo went 12-7 and qualified for state. They also won the No. 1 doubles crown at the Indianola tournament to help the Hawkettes to the overall title. "Both of those teams surprised me a lot," Mullins said. "They really played super well. They were up against some tough competition at the state tournament, but they played well." Olson and Gibbons were also teammates of Phommachack. "They were aggressive doubles partners and had great communication, which led them to a successful season and a chance at state," Phommachack said. "I was very fortunate to have played with such a strong and supportive team back in my Ankeny High School days. Coach Mullins was a great coach, and we grew to love the sport of tennis under him and also coach Dennis (Niedermeier) Hoefle. He was a true inspiration for both the boys' and girls' tennis teams."
(EDITOR'S NOTE: The Ankeny Fanatic teams were selected by publisher Dan Holm, who consulted with former and current coaches before making his picks.)