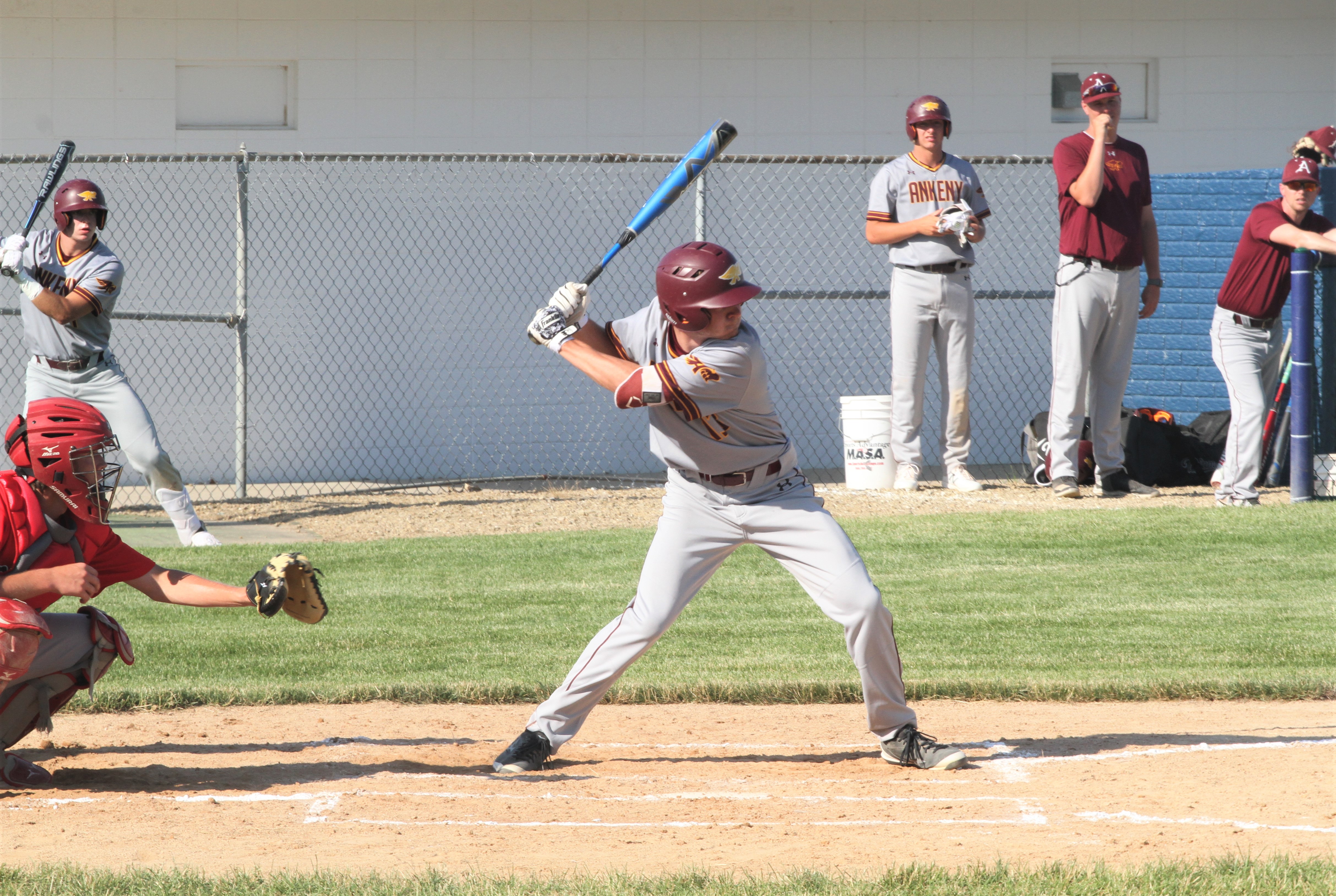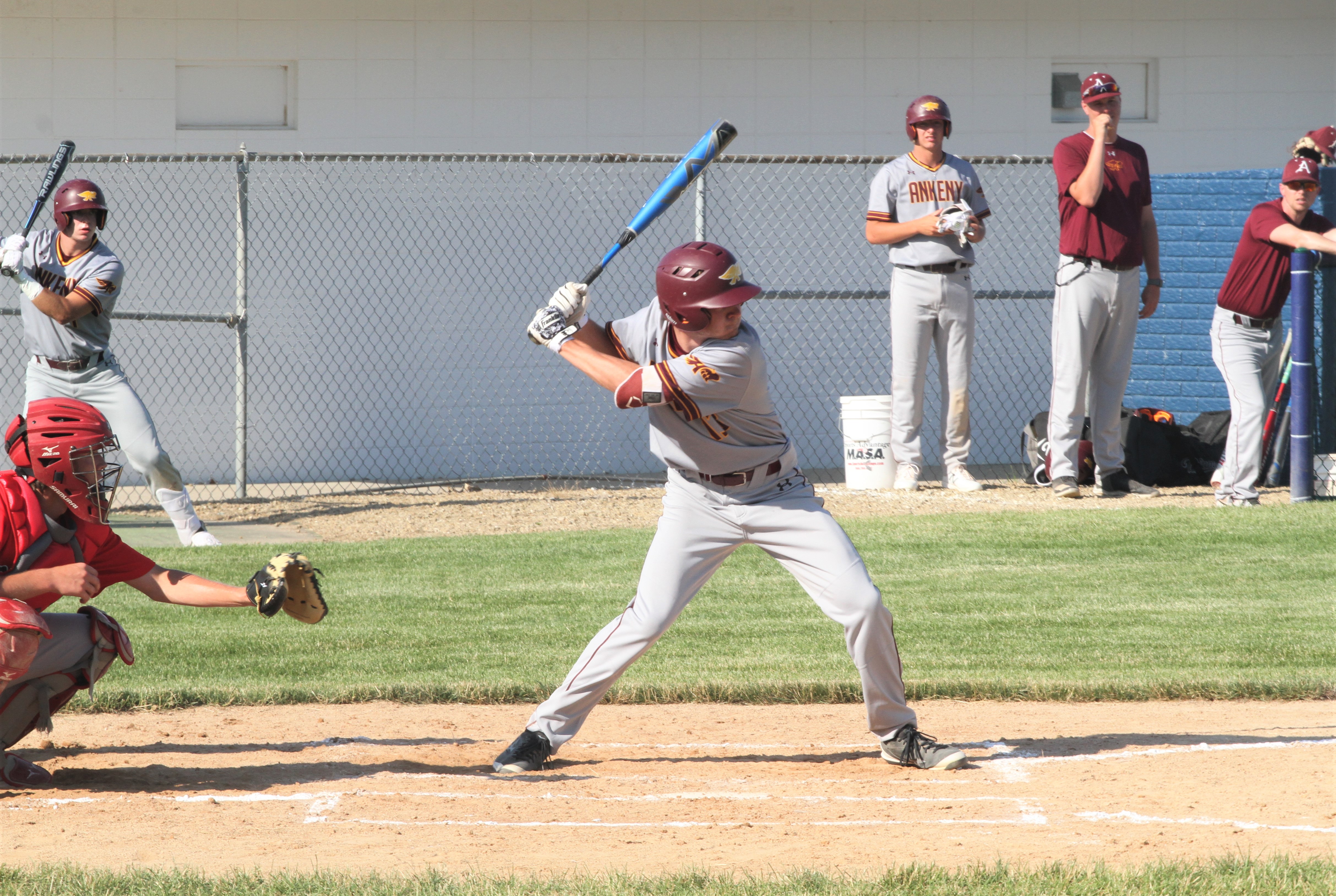 Wednesday's doubleheader between the Ankeny and Ottumwa baseball teams featured a pair of five-run rallies in the seventh inning–one by each squad.
After the second-ranked Hawks battled back for a 6-3 victory in the opener, the host Bulldogs returned the favor in the nightcap by rallying for an 8-7 win that handed Ankeny (3-1) its first loss of the season.
"We had a scenario that we worked on with (Jase) Bauer closing out a game, but it just didn't go well," said Ankeny coach Joe Balvanz. "We couldn't locate well and walked a few guys. Then I brought Bryce (Rinderknecht) in, and we just didn't get the job done."
Thomas Mitchell hit a walk-off single against Rinderknecht (0-1) to give Ottumwa (1-3) its first win of the season. The Bulldogs were swept by Valley on Monday.
"It felt like something out of a movie," Mitchell told the Ottumwa Courier. "Bases loaded. Tie game. Last inning. I just felt confident I could come through."
Ankeny built a 7-2 lead on the strength of a two-run homer by sophomore Tamden Webb-Tate in the fifth inning. The Hawks appeared to be in control, but starting pitcher Brody Brecht left after four innings after throwing 89 pitches.
Brecht allowed two runs on three hits while walking four and recording seven strikeouts.
"He got his pitch count a little high," Balvanz said. "He just needs to be more consistent. You can't be throwing five or six pitches to every hitter. That doesn't work."
Bauer went 3-for-4 with two RBIs in the loss. Weston Fulk also drove in two runs, while Cael Boyd went 2-for-4 with a triple and one RBI.
"We hit the ball pretty well, but we need to do a better job of scoring more runs when we have the chance," Balvanz said. "That would allow us a little more wiggle room at the end."
In the opener, Ottumwa took a 3-1 lead into the seventh inning before Ankeny rallied. Bauer hit an RBI triple to cut the Bulldogs' lead in half, then Brecht followed with a two-run homer to put the Hawks ahead for good.
Brecht's blast came off Mitchell, who had just entered the game in relief of starter Colton McKinnon.
"It took us awhile to get going," Balvanz said. "(The rally) happened quickly, but it was nice to see them respond late."
Brecht went 3-for-4 and also had a triple. Webb-Tate went 2-for-4 with a double and one RBI, while Kade Somers also went 2-for-4 with a triple.
Cooper Cox (1-0) pitched two scoreless innings in relief of Will Johnson to earn the victory. He allowed no hits and had two strikeouts.
"They both did a nice job," Balvanz said.
Cox pitched two more innings of relief in the second game, allowing one run on two hits. But Balvanz elected to bring in Bauer for the seventh inning.
"I didn't want to extend Coop too much, but in hindsight I probably should have left him in," Balvanz said. "We just have to turn the page now and try to get better."
The Hawks will host a doubleheader against Des Moines Hoover (0-4) on Friday.