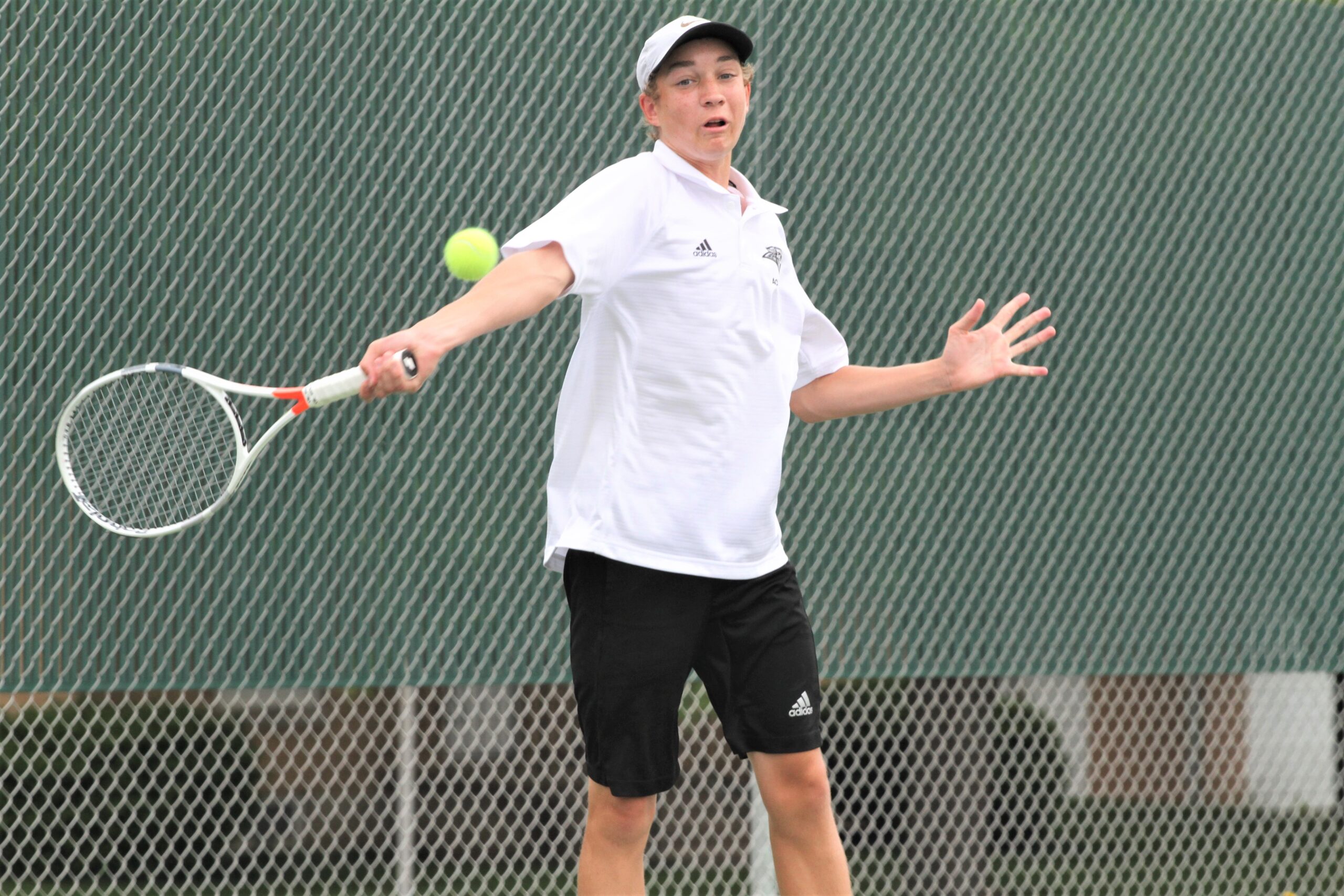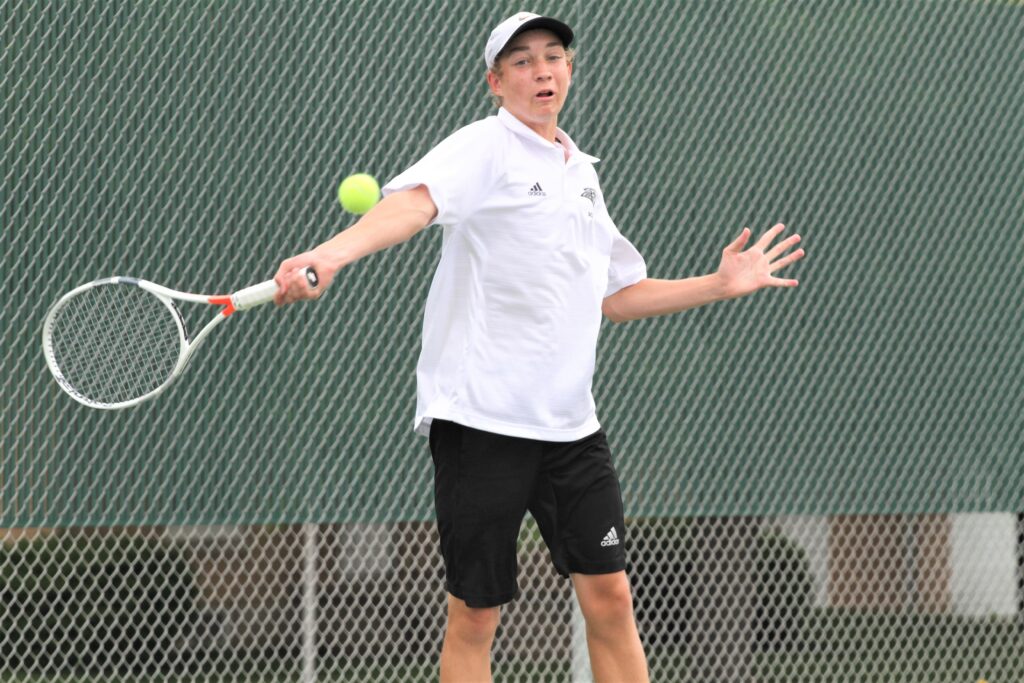 The Ankeny boys' tennis program dates back to the early 1970s.
The biggest highlight for the Hawks over the last 50 years came nearly two decades ago.
In 2003, head coach Dennis Hoefle guided Ankeny to the best season in school history. The Hawks advanced to the state team tournament for the first time ever and went on to capture the Class 2A title.
Ankeny posted a 5-4 win over Dubuque Wahlert in the semifinals, then followed with a 5-3 victory over Valley to complete a perfect 14-0 season. Hoefle, who later died in 2011, called it a team effort.
"The guys really wanted to play for the team," Hoefle said at the time. "That was more important to them than their individual goals, and winning the state team title was really a storybook ending for our season. It's something we'll remember for the rest of our lives."
That Ankeny team was seldom challenged during the regular season, posting an 11-0 shutout over six opponents and defeating two other squads by a 10-1 margin. The Hawks claimed their third CIML Central Conference crown in four years.
Five players from that squad qualified for the state tournament. John Megivern placed second in singles at the district meet, while Chris Engh and Derick Tallman defeated teammates Jay Agard and Jon Rosin to win the doubles crown.
"It's hard to believe it's been 17 years, and it's too bad that Dennis passed away so unexpectedly," Megivern said. "He was a good friend of our family."
Those five state qualifiers helped Ankeny to a combined 43-6 record during their career, including unbeaten regular seasons in 2000 and 2003. They capped off their amazing run by winning the ultimate prize.
"I feel really fortunate to have coached a state championship team," Hoefle said. "I'm kind of humbled by it."
That quintet from the 2003 team is among the best 18 players ever produced by Ankeny. The community's rich tennis history has since been strengthened by the addition of Ankeny Centennial, which opened in 2013 and earned a fourth-place team finish at state in 2019.
Here, then, is the Ankeny Fanatic all-time Ankeny boys' tennis team, comprised of six singles players and six doubles teams:
SINGLES
No. 1, Will Blevins: A two-time state placewinner for Centennial, Blevins has already accomplished more than any other singles player in Ankeny tennis history, despite missing his junior season due to the COVID-19 outbreak. As a freshman in 2018, he posted a 20-3 record and placed fifth in Class 2A. Two of his three losses were to eventual state champion Timmy Ellis of Ames, including a 7-5, 6-1 decision in the quarterfinals of the state tournament. Blevins then rebounded with three straight victories in the consolation bracket, capped off by a pair of three-set wins. As a sophomore, he led the Jaguars to a 13-3 mark that included a conference title and a fourth-place finish in the state team tournament. He was unseeded at the state tournament, but outlasted third-seeded Sam Shin of Iowa City West, 5-7, 7-5, 6-2, in a four-hour match to reach the Class 2A semifinals. He then won the first set of his semifinal match against Justin Sehlin of Pleasant Valley before running out of gas, dropping the match in three sets and then falling to Luke VanDonslear of Linn-Mar (Marion), 6-3, 7-5, in the third-place match. Blevins settled for a fourth-place finish and went on to finish the season with a 16-7 mark, giving him a career record of 36-10. He would have been one of the favorites to win the title in 2020 along with VanDonslear, but now he'll have to wait until next spring for another opportunity to become Ankeny's first singles state champion. "Will is a selfless player. He is always willing to help out his teammates," said Centennial coach Tami Lewton. "In a match he is so difficult to play because he never gives up. No matter how much he is down, he always believes there is a way to win. I love to coach him, because he is always willing to collaborate on different strategies to win. No matter what we come up with he is always willing to try it and is able and successful in executing the strategy. Not very many kids at the high school level can do that." Blevins told Ankeny Fanatic that his recruitment is open, but that he is currently looking at three of the nation's top 20 Division III programs–Gustavus Adolphus College, Case Western Reserve University and University of Redlands. Let's make Blevins the captain of our all-time team. "I think I'd stack up pretty well against previous Ankeny greats. To be honest, I don't really know that many past Ankeny tennis players besides those that have played for Centennial," he said. "The pandemic does make me more motivated to win a state title next year because it is my last year, and I think I'm one of the top players in the state. I am training real hard this summer and fall so I can be at the top of my game for the spring season (in 2021)."
No. 2, Dan Pitz: He was Ankeny's first state placewinner in 1979, when he took third in Class 2A singles. He advanced to the semifinals before dropping a 7-6, 6-2 decision to eventual champion Mike Inman of Sioux City North, then rebounded with a 6-2, 6-1 victory over Jim Eaton of Tech in the consolation final. He was also a two-time conference champion who led the Hawks to back-to-back league crowns. Pitz was a part of some talented teams that also included Tom Dimond (a 1977 graduate) and Bill Failor (1979). "Dan was better in singles than doubles," said his coach, Randy Ratcliff, who took over the program in 1978. "His strong suit was that he had a baseline groundstroke with topspin that was phenomenal." Pitz earned a scholarship to Northern Illinois, where he was a two-year starter before transferring to Iowa State as a walk-on. "I was your typical sports-crazed, average-ability kid until I discovered tennis at 13," Pitz said. "From that point I was self-driven to be the best player in Ankeny, which I achieved (he won five City men's titles from 1977-81), and best in the state, which I did not (although he was a top 10 player)." After his junior year, Pitz won a tough three-set match to win his second City championship over former Ankeny state qualifier Paul Curtis, who was then the No. 7 player for Iowa State. "I still have that drive, winning a tournament last summer after getting a concussion a game away from winning!" Pitz said. He has been a USPTA Elite pro since 1986 and was also the tennis director at clubs in Virginia and Florida before going to Japan as a missionary in 1990. Pitz returned to the United States in 2014 and became the Associate pro at Wakonda Club. He has been the head boys' tennis coach at Des Moines Roosevelt since 2015. "It really hurt not coaching this year (because of COVID-19) as we would have been a state top-10 team."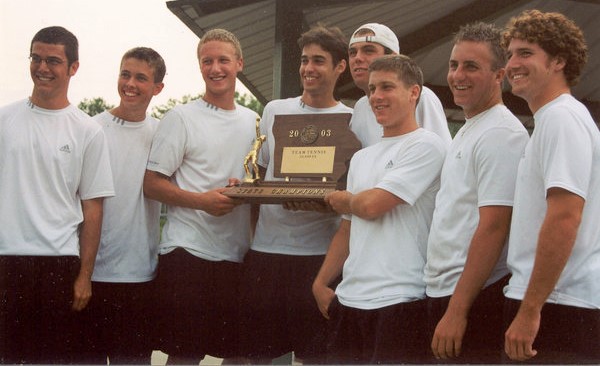 No. 3, John Megivern: He was a two-time state qualifier and the leader of the Hawks' 2003 state championship team. As a senior, he posted a 17-6 record at No. 1 singles and was named the team MVP for the third year in a row. He rallied for a three-set victory against Charlie Smith of Dowling to reach the Class 2A quarterfinals, where he lost to fourth-seeded Justin Junck of Sioux City East for the second year in a row. Hoefle praised the contributions of Megivern and his fellow seniors on the 2003 squad. "This was a great senior class," he said. "These guys put Ankeny on the tennis map, and they've really raised the bar for our future teams." In 2002, Megivern posted a 12-9 mark and earned an eighth-place finish in Class 2A. He lost to Dowling's Jon Swanson in the opening round before rolling to a pair of straight-set victories, then dropped a 7-5, 6-1 decision to Junck in a third-round consolation match. Megivern then fell to Iowa City West's Ben Margolin, 7-5, 2-6, 6-1, in the seventh-place match. He also led the Hawks to a 10-1 record. As a sophomore, Megivern posted an 11-3 mark at No. 1 singles. "I'd say that my success came from being a very consistent player who didn't make many errors, and I was good at staying mentally focused and not getting too up or down during the course of a match regardless of the score or situation," Megivern said. "I'd also give a lot of credit to the coaches I worked with–Dennis and Max (Corley) created a great culture for the team, and they always pushed us and held us to a high standard of integrity and sportsmanship." As a freshman in 2000, Megivern went 10-4 at No. 3 singles and played No. 2 doubles with his older brother James, who was also a standout player. James was a state qualifier in 1999. "Following in James' footsteps definitely helped–he was always there as a great hitting partner/friend/teammate, and we had a great time playing together as a doubles team," Megivern said. "After he graduated, he was still a big supporter of the team and of me, and I was always pushing myself to beat him, which I like to remind him I started doing consistently when I was a sophomore."
No. 4, Justin Despotovich: He was Ankeny's No. 1 player from 1991-94, leading the Hawks to a 32-8 record over that span. After coming within one victory of advancing to state in each of his first three years, Despotovich finally broke through and qualified as a senior, when he went on to earn a sixth-place finish in singles. He lost in the first round to eventual runner-up Ben Bamsey of Waterloo West, but then bounced back to win three straight consolation matches, capped off by a 6-4, 7-5 victory over Charlie Barry of Spencer that avenged a loss in the district final. He then dropped a 6-1, 6-1 decision to fourth-seeded Ben Bicknese of Bettendorf in the fifth-place match. "There was nothing fancy about Justin," Ratcliff said. "He was like playing against a backboard. Anything you hit at a backboard is coming back at you. He did not hit winners, but in high school tennis you don't have to do that. All you have to do is keep the ball in play and your opponent will hit it out." Despotovich posted an 8-4 record in singles as a freshman, then went 15-4 as a sophomore when all four of his losses were to state qualifiers. He led Ankeny to a 10-1 mark in his final season. "Justin is a great guy who comes from a family that loves tennis," said Steve Smith, his former teammate and the current Ankeny coach. "He was calm, patient and strategic. He always seemed to know exactly what shot to hit in every situation. He also knew most players didn't have the same shot tolerance as he did. So, guys like (Matt) Lazear and myself would eventually press too hard and go for a winner. Unfortunately, that's not exactly high percentage tennis, and eventually the percentages would come back to haunt us. He and I still play USTA Adult tennis together, and he still has that high tennis IQ."
No. 5, Paul Curtis: He was Ankeny's first state qualifier in 1975, when he led the Hawks to a 9-2 record. The team's only losses were to Des Moines Roosevelt and Valley. Ankeny won the Central Iowa Conference title and placed second in the Des Moines Hoover Invitational. The Hawks' biggest victory came against Ames. Curtis was Ankeny's No. 1 player for three years. He was the conference champion as a junior, when he led the Hawks to the league crown. He helped the team to a 10-4 mark. As a sophomore in 1973, Curtis led the Hawks to a 9-2 record. He went on to play for Iowa State. "Tennis has been a big part of my family. Both of my daughters played college tennis," Curtis said. "I have many fond memories of playing tennis in Ankeny and the people who supported tennis there. Art McClelland, who passed away recently, was a big supporter. Arnie Thompson was our coach at Ankeny. I can remember Arnie speeding me back to Ankeny during the state tournament so I could give a speech at graduation."
No. 6, Sebastian Rio: The foreign exchange student from Argentina was a state qualifier in 1988. According to Ratcliff, Rio was one of the most talented players he ever coached. "He was an all-Argentina rated soccer player. This guy was a phenomenal athlete," Ratcliff said. "If he had played football, he could have gone to Iowa–I guarantee it. He could hit a winner from the baseline turning backwards from under his legs. This guy was unbelievably good. He went to state, but I believe he drew the No. 1 seed right away and lost a close match." This spot also could have gone to another foreign exchange student, Eddie Massier, who was a state qualifier in 1990. A native of Germany, Massier posted a 15-5 record at No. 1 singles. He also lost to the No. 1 seed in the opening round at state. "Eddie was not very coachable. He kind of did things his own way," Ratcliff said. "But he was only 16 when he played here, and he was a very good player. He is now one of the presidents for Adidas in all of Europe. I remember when he came here he saw the sign for Subway, and he thought we had an underground train."
DOUBLES
No. 1, Austin Wiser and Curtis Newman: This duo earned back-to-back top-four finishes in the Class 2A state tournament and shared the team's Most Valuable Player award in 2008-09. As seniors, they teamed up for a 12-2 record and placed third, the highest doubles finish in Ankeny history. "We didn't end up winning state which was our ultimate goal, but we played well and were able to represent our school," Wiser said. "I was very proud of how we played and what Curtis and I were able to accomplish in our careers." Wiser and Newman lost in the semifinals for the second straight year before defeating Eric Allebach and Ivan Liao of Cedar Rapids Kennedy, 6-4, 6-3, in the consolation final. They also led the Hawks to a 10-1 mark, with the team's only loss coming to Fort Dodge in a substate final. "One of the keys to our success was having a great friendship off the court," Newman said. "Our friendship gave us the necessary trust that your partner was always going to be in the correct spot. Our games also complemented each other well. Austin had a lot of power and was able to finish off points. My job was to just keep every ball in play and wait for our opponents to make an error or leave a short ball that could be put away." In 2008, the duo combined for an 8-3 record and a fourth-place finish. They won the first set of their semifinal match before dropping a 1-6, 6-4, 6-2 decision to eventual champions Adam and David DeSimone of Bettendorf. The duo then lost another three-set match for third place to the defending champs from Iowa City West. "Curtis and I had been friends for many years before we began playing doubles together," Wiser said. "Because of this, we got along well and always were able to help the other improve without feeling like someone was being overly critical." Wiser and Newman also helped the Hawks to three consecutive CIML Central Conference titles. "We were pretty much guaranteed three wins at every meet with those two guys," said Hoefle, who was Ankeny's coach at the time. "That's nice to have at the top of your lineup." Wiser went 39-5 at No. 1 singles over his last two seasons. He also teamed up with Chad Remus for a fifth-place finish in doubles in 2007, when they bounced back from a first-round loss to reel off four consecutive wins. Wiser went on to play for the club team at the University of Iowa for six years, helping the Hawkeyes to nationals several times. Newman, meanwhile, became a standout at Coe College, where he was part of the No. 15-ranked doubles team in the nation as a junior. Then, as a senior, he was the captain for a team that reached the Sweet 16 of the NCAA Division III tournament. He finished his career with the most doubles wins in Coe history. "Wiser and Curtis were really fun to watch," said Randy Daniels, who was Hoefle's assistant at the time before later becoming Ankeny's head coach. "They were all about the team, and the team backed them up! Both of them kind of fed off the energy of the crowd and used that to elevate their game."
No. 2, J.R. Tallman and Thomas Rosin: This duo joins Wiser and Newman as the only two-time doubles placewinners in Ankeny history. In 2004, Tallman and Rosin earned a sixth-place finish in Class 2A. After losing to the eventual champions from Valley in the opening round, they bounced back to win their next three matches, capped off by a 6-1, 7-5 win over teammates Adam Lindner and Paul Olson, who went on to finish eighth. Lindner and Olson had defeated Tallman and Rosin in three sets in the district final. The following year, Tallman and Rosin posted a 20-4 record and placed seventh at state. They advanced to the quarterfinals before again losing to the eventual champions–this time a team from Fort Dodge that handed them three of their four losses that season. They bounced back, however, to win two of their next three matches. "I can't say enough about J.R. and Thomas," Hoefle said. "The competition was very difficult, but I thought our guys played extremely well." In 2006, Tallman elected to play singles as a junior and went on to place seventh at state. He lost in the quarterfinals to eventual champion Patrick Callaghan of Iowa City West, but then rebounded to win two of his three consolation matches. In the seventh-place match, he posted a 6-4, 6-3 victory over third-seeded Lucas Boyd of Fort Dodge, who was part of the state champion doubles team the previous year. Tallman finished that season with a 14-8 record. Rosin, meanwhile, suffered a broken right wrist during spring break and missed most of his senior season, but eventually returned to the lineup and played lefthanded. As a senior in 2007, Tallman posted an 18-6 mark and again qualified for state, where he won his opening match before suffering back-to-back losses. Tallman helped the Hawks to a pair of conference titles and a 34-14 record in his career. He won a total of 101 matches and was named Ankeny's Most Valuable Player in each of his last three years. "JR was a very consistent player. Nothing ever seemed to rattle him," said Daniels.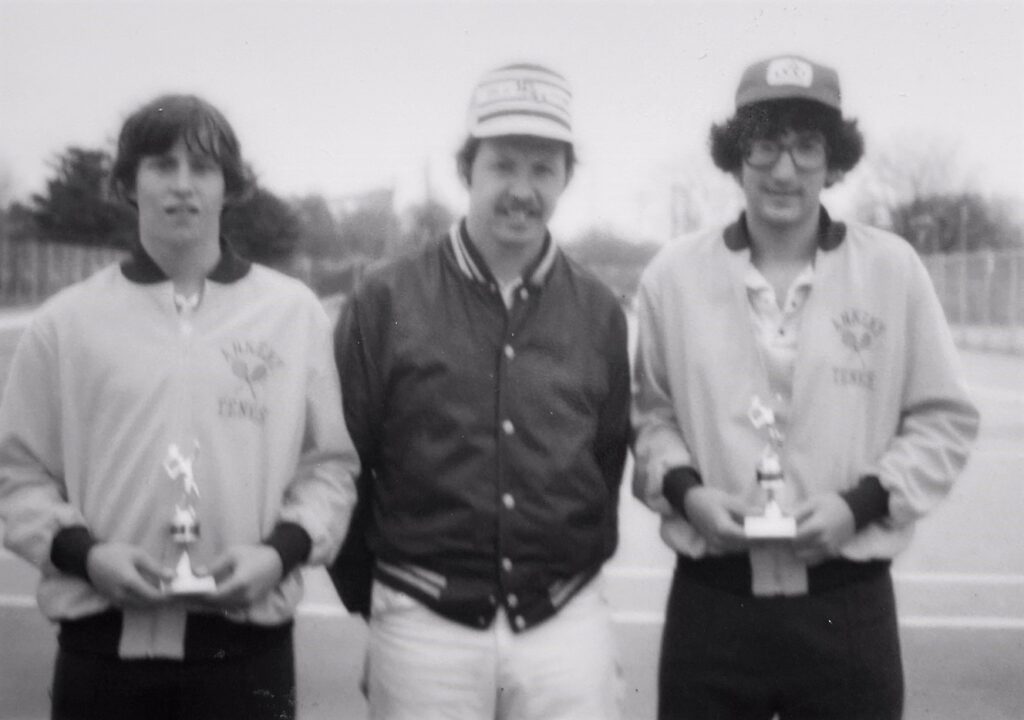 No. 3, Jay Fifield and Doug Wayne: This duo was the first Ankeny doubles team to ever qualify for state in 1980, when they placed second at the district tournament. They qualified again in 1981 by winning the district title with a 6-3, 6-4 victory over then-unbeaten teammates John Bolin and Scott Kirkpatrick, who also advanced to state. Fifield and Wayne went on to earn an eighth-place finish that included a three-set win over future Iowa standout Bryan Stokstad and Scott Richardson of Des Moines Hoover. "Jay was rock solid all throughout his career," Ratcliff said. "Doug was a very good player too, but he wasn't as flamboyant." The duo won the Hoover Invitational title during their senior season and took a 17-1 record into the state tournament. Their only loss during the regular season came to the state's No. 1 team, John Hansell and Rob Purnell of Des Moines Roosevelt, by a score of 6-4, 4-6, 7-5. "We had a lot of success, and I attribute that to coach Ratcliff's decision to play us together in doubles for all four of our seasons," Fifield said. "We also played in summer tournaments together, and it seemed by the time we were seniors we knew what the other was thinking and going to be doing on the court." According to Wayne, the skill sets of the two players complemented each other. "Jay had a big serve and forehand return, and I was pretty good at finishing points at the net and putting away overheads," he said. "We had a blast." They played No. 1 doubles for Ratcliff for three seasons. "When Fifield and Wayne are both on, no one around here can beat them," Ratcliff said at the time. "Jay has one of the best serves in the state. Doug is better at the net. When Jay's serving and Doug's playing the net, they're very deadly." Fifield earned a scholarship to Marycrest College, where he played No. 4 singles as a freshman on a team that placed second in the regional meet and earned an at-large berth to the NAIA Nationals. He later became a top player on the Adult circuit, ranking No. 1 in Iowa, No. 2 in the Missouri Valley Section and No. 50 in the U.S. in age 45 & over singles in 2009. Fifield was also the head boys' coach at Valley from 2012-16, guiding the team to a 66-16 record. The Tigers won three consecutive coed state titles and earned four top-four team finishes in Class 2A during his tenure.
No. 4, Matt Lazear and Steve Smith: This duo capped off a four-year varsity career with a fifth-place finish in Class 2A in 1993, the highest finish in school history at the time. After placing fourth at the CIML National Conference tournament and second at the district tournament, Lazear and Smith upset the fourth-seeded team of Tom Neff and Neil Koenck of Cedar Rapids Washington, 7-6, 6-3, in the opening round at state before losing to Valley's Reed Pulver and Spencer Cox in the quarterfinals. They then rebounded to win three straight consolation matches, including a win over a Fort Madison team that included future NBA player Ryan Bowen. "They were a good doubles team," Ratcliff said. "Matt was able to bring out the best in Steve." Lazear and Smith outlasted Mark Blume and Josh Bloustine of Sioux City North, 6-3, 4-6, 6-1, in the fifth-place match. "I now coach with Mark at the Thrive Tennis Academy, and our daughters will represent the Hawkette tennis team in two seasons," Smith said. Lazear and Smith also helped the Hawks to an 8-2 record. The team's only loss during the regular season came to Valley, the eventual dual-meet state champion. Ankeny later lost to Sioux City North, 5-2, in a substate semifinal. "Matt and I grew up and played tennis together for years," Smith said. "We both learned the game from Johnathon Wellendorf and coach Hoefle when we were in elementary school. We both loved tennis such that we played regularly through our high school days. We even ended up playing doubles together our freshman year at Northern Iowa. We were just good athletes that played tennis through our junior year and wanted to max out our senior year. So, we both took lessons, attended clinics and played as much as possible the entire year prior to our senior season. We also complemented each other well. I had a big serve and forehand, and Matt had good volleys and a great backhand. I even remember us both wearing the same 'It Takes More to Make a Champion' warm-up shirt at the state tournament."
No. 5, Chris Engh and Derick Tallman/Jay Agard and Jon Rosin: It seems only appropriate that the final spot in our lineup should be shared by two of the doubles teams from the 2003 championship squad. Engh and Tallman teamed up for an 8-2 record, while Agard and Rosin combined for a 5-3 mark. Both teams advanced to the final of the district tournament before Engh and Tallman posted a 7-5, 6-2 victory. Engh and Tallman eventually reached the Class 2A quarterfinals before losing a three-set match to the second-seeded team from Iowa City West. Agard and Rosin, meanwhile, won the first set of their opening match against the No. 1 seeds from Bettendorf before falling in three sets. "We had strong doubles teams up and down the lineup on the 2003 team and depth was absolutely a difference-maker for us," Megivern said. "During the regular season when the meets were best-of-11 match format, the No. 4 and 5 doubles spots were a big advantage for Ankeny. In the postseason when the meets were best-of-9, I think that gave opponents a better chance against us because the 4/5 slots were usually two automatic wins for us, but we still had the depth even without our 4/5 teams playing." A few days later, the four seniors played with different partners while helping the Hawks to the team title. Rosin combined with Adam Lindner for a victory at No. 3 doubles to break a 4-4 tie against Dubuque Wahlert in the semifinals. Ankeny then won four of the six singles matches against Valley–getting wins by Megivern, Engh, Tallman and Rosin–to take a 4-2 lead. After Valley won the No. 1 doubles match to pull within 4-3, the Hawks clinched the title when Agard and Tallman teamed up for a 7-6, 6-1 win at No. 2 doubles. "One of the memories that stands out most for me is the huge crowd of supporters Ankeny had at Birdland for team state–our JV team, alumni, parents, everyone came out to support us, and it felt like the crowd was overwhelmingly pro-Ankeny," Megivern said. "That team atmosphere was what Ankeny tennis was all about, especially that year. I still remember exactly where I was standing when Tallman and Agard won match point against Valley that clinched the title for us. It was a great day!" Megivern, Engh and Tallman were among the team captains. Agard was the recipient of the team's Courage and Determination Award after overcoming shoulder and elbow injuries throughout his career. "It would have been easy for Jay to give up tennis a long time ago, but he stuck with it," Hoefle said. "And for him to win the final match to clinch the state title was a great way to end his career."
(EDITOR'S NOTE: The Ankeny Fanatic teams were selected by publisher Dan Holm, who consulted with former and current coaches before making his picks.)