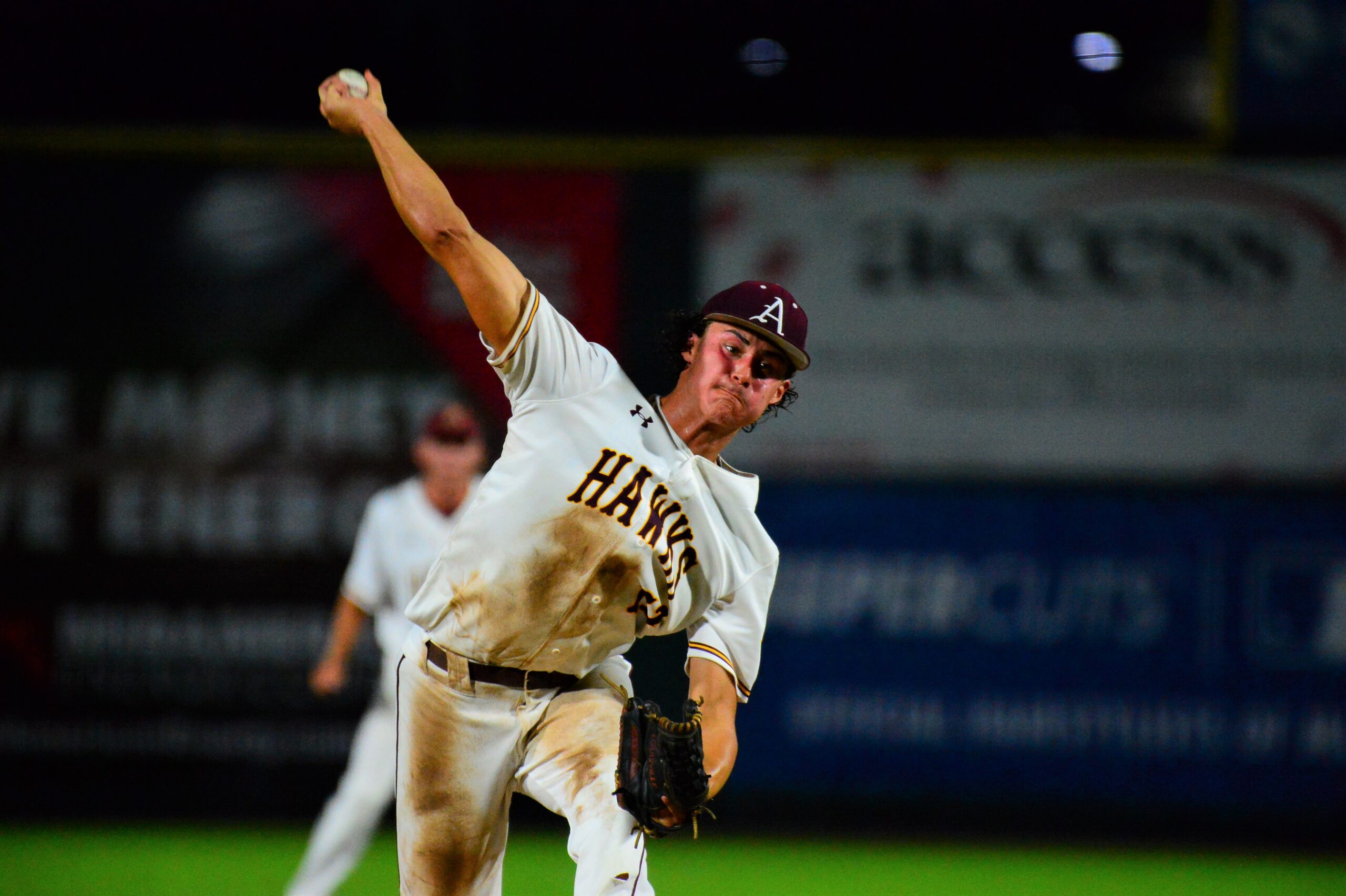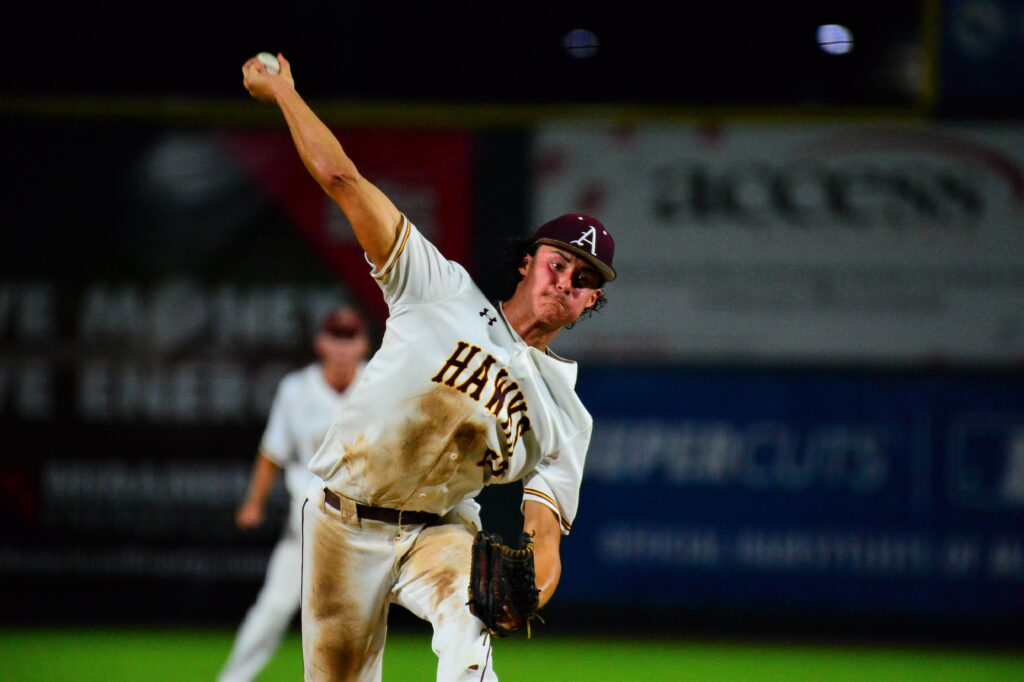 Ankeny baseball coach Joe Balvanz was tempted to pull his starting pitcher after the Hawks jumped out to a 4-0 lead against Pleasant Valley in the quarterfinals of the Class 4A state tournament on Wednesday night.
Brody Brecht was even campaigning to come out of the game, because such a move would have allowed him to potentially return to the mound in Saturday's championship contest.
"After watching Johnston get their guy off the mound at 65 pitches and (Dubuque) Hempstead do it, I kind of talked myself out of that," Balvanz said. "(Brecht) made my decision easy for me with the way he was throwing. As talented as that arm is, I'm not sure bouncing him Wednesday to Saturday is a responsible decision anyway. He wanted to…he tried to talk me into it, but I told him, 'Let's go win this baseball game right now.'"
It turned out to be the right decision.
Brecht went on to record 16 strikeouts as the second-ranked Hawks held off a Pleasant Valley rally and advanced to Friday's semifinals with a 5-4 victory at Principal Park. Only four pitchers have ever had more strikeouts in a state tournament game.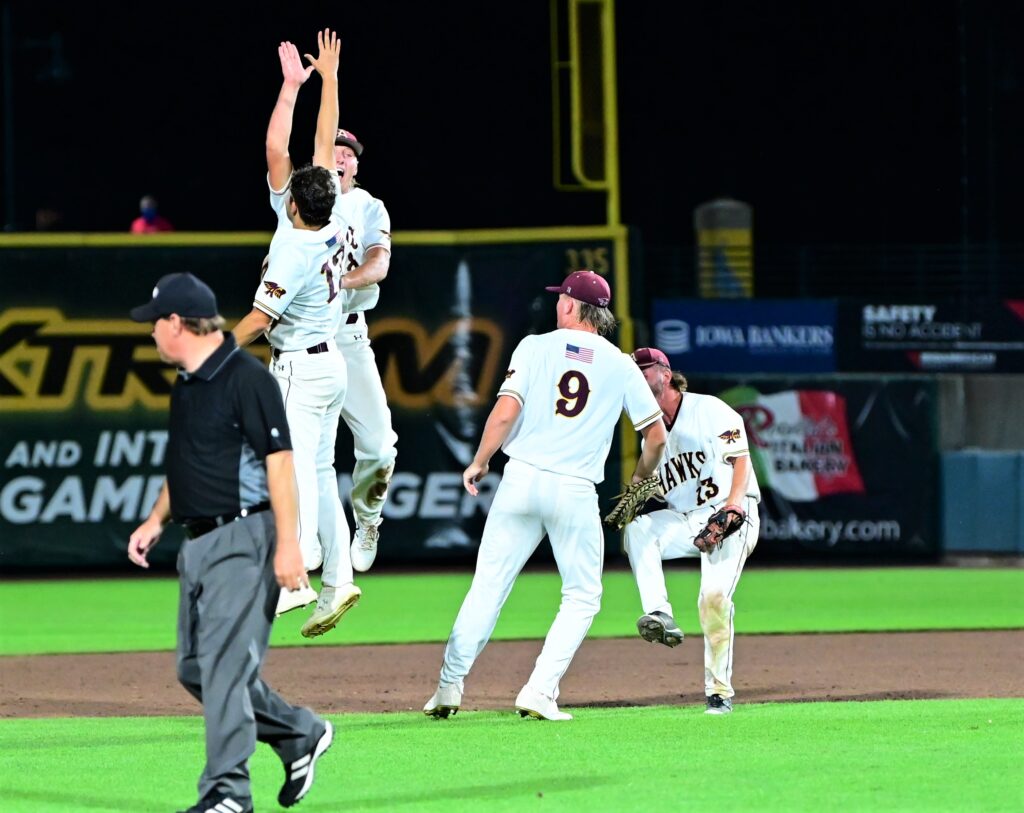 "My curveball was working pretty well," said Brecht, who allowed just two earned runs on three hits over the first 6 1/3 innings. "I got them to chase some of them in the dirt."
Brecht (4-0) struck out seven of the first nine batters he faced in the first three innings. He blew the Spartans away the first time through the lineup, despite being constantly heckled by a group of Pleasant Valley fans near the third-base dugout.
"I could hear them," Brecht said. "You've just got to block them out. Sometimes, you have to laugh at it."
Brecht helped his own cause with a single in the first inning that allowed courtesy runner Colin Riggs to race home from second base. Riggs collided at home plate with Pleasant Valley catcher Ryan Thoreson, who was charged with an error for dropping the ball.
In the third inning, Ankeny (20-8) loaded the bases with no outs as Cael Boyd, Jase Bauer and Mo Watson drew three consecutive walks from Minnesota commit Seth Clausen (4-2). With one out, Carter Smith cleared the bases with a triple into the right-field corner.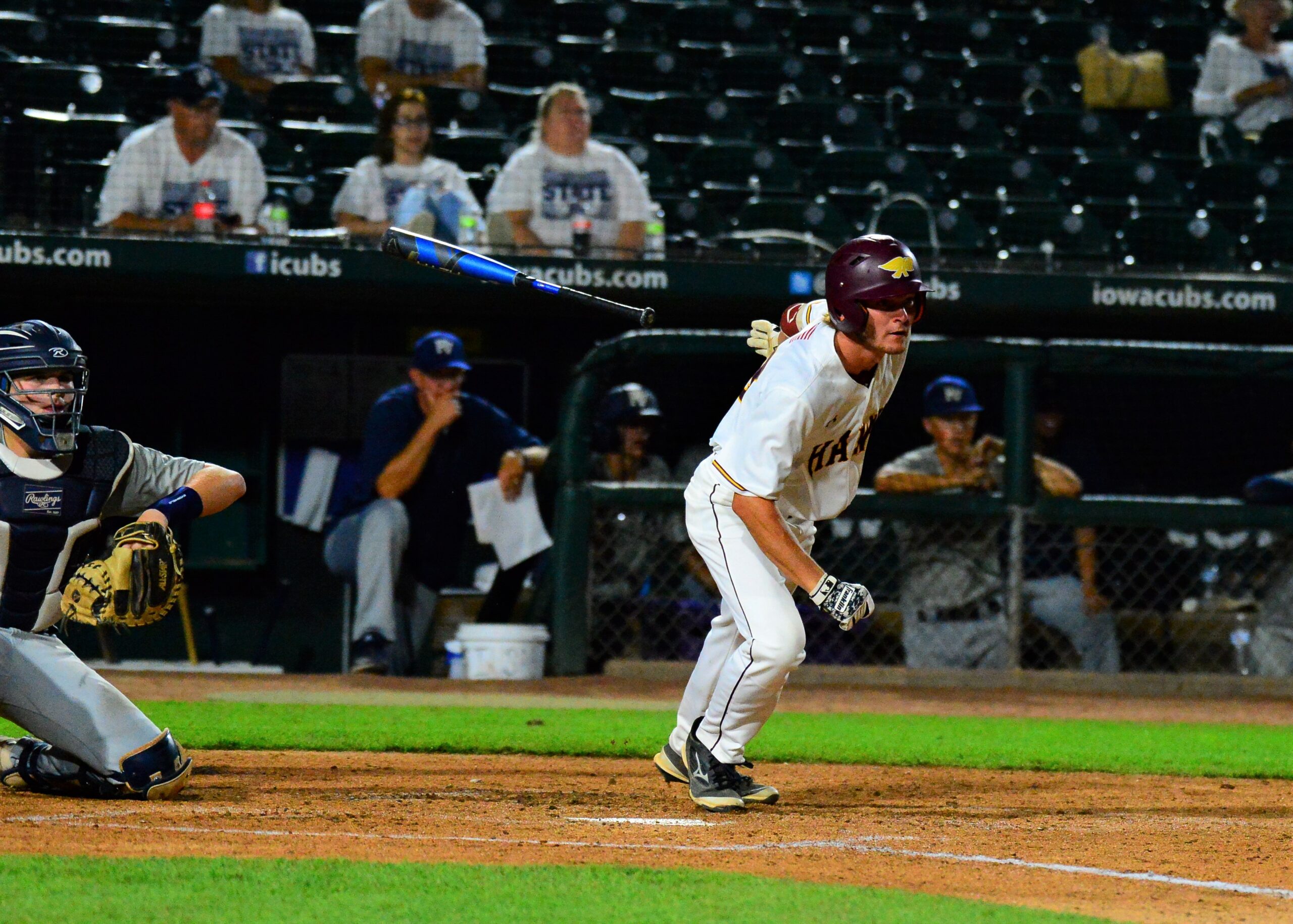 "We were definitely expecting to come out with the win just because we were the higher seed," said Boyd, who went 2-for-3 with a triple of his own. "We knew we were the better team. We definitely didn't expect it to be that close (at the end)."
Pleasant Valley (13-12) started its rally after Brecht went back to the mound in the fourth inning. Jack Young singled for the Spartans' first hit of the game, Clausen drew a one-out walk, and Alex Clemons doubled with two outs to drive in both runners.
"We knew it was going to be a good game. They're a great team," Brecht said. "We just needed to play our game, and we knew we could get it done."
In the top of the fifth, however, Pleasant Valley tied the game with two unearned runs. Brecht had four strikeouts in the inning, but the rally began when Carson Albrecht reached on a wild pitch while striking out.
Albrecht advanced to third when Young reached on an error by Ankeny third baseman Lucas Juhl, then came home on a throwing error by Smith–the Hawks' second baseman. Brecht followed with another wild pitch that allowed Young to score the tying run.
"We made some uncharacteristic errors, which we haven't done," Balvanz said. "We haven't thrown the ball around like that all year. Maybe it was because of the long layoff we had."
Ankeny regained the lead in the bottom of the fifth. Brecht was hit by a pitch with one out, then Smith followed with a walk.
After a wild pitch by Clausen, Weston Fulk singled to left to score courtesy runner Ryan Madole with the go-ahead run.
"I knew the momentum shifted," Brecht said. "We just needed to get it back. Weston came up clutch with that single."
Smith also tried to score on Fulk's hit, but was thrown out at home. That proved costly when Kade Somers followed with a single.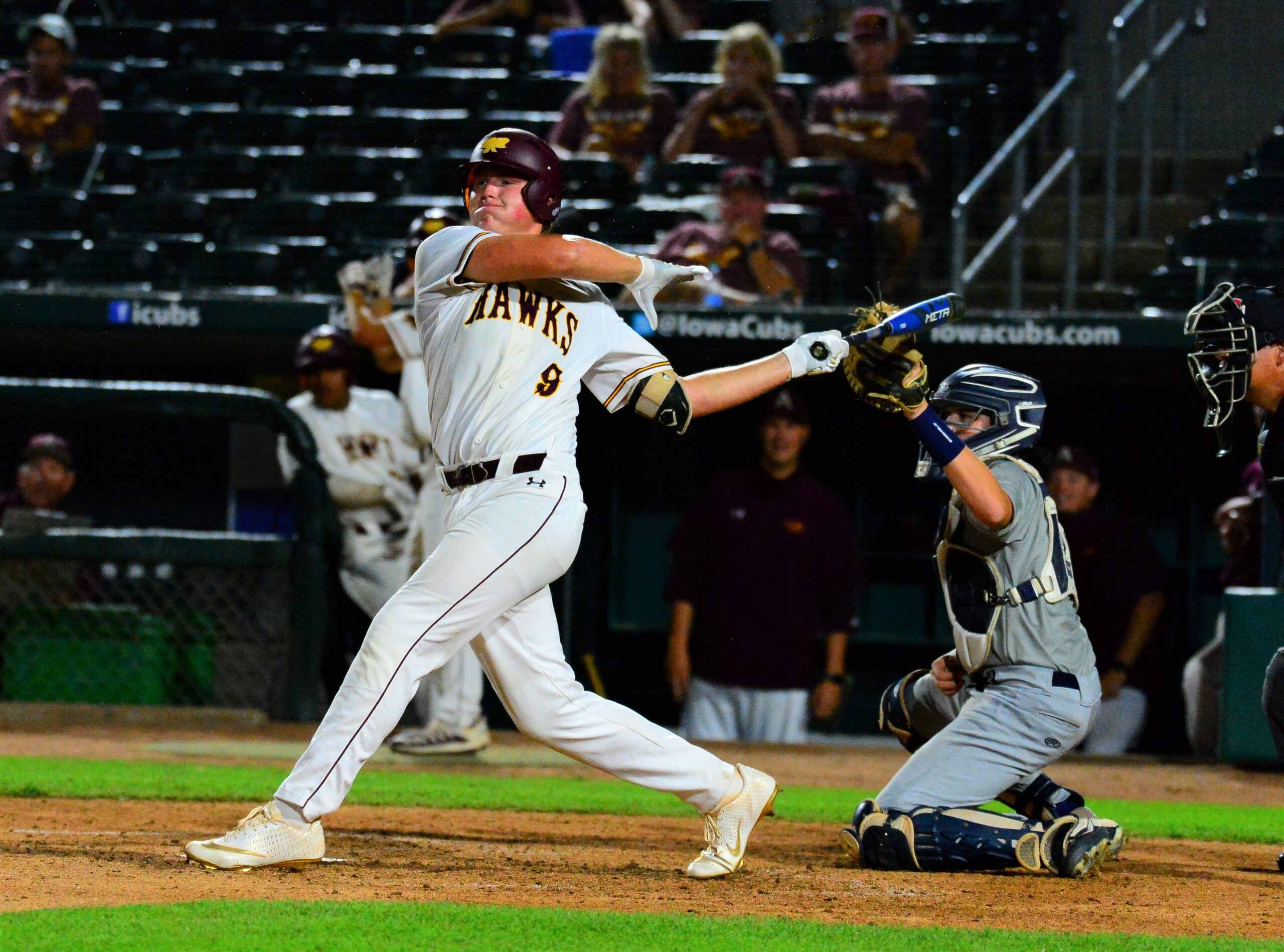 "I ran us out of that inning," Balvanz said. "I should have let Kade hit with one out, and we would have scored another run and it wouldn't have been so tight."
With the way Brecht was pitching, though, it didn't matter. He fanned the last five batters he faced before reaching his pitch limit, forcing him to exit with one out in the seventh inning.
"It's great when you have a guy up there that throws like Brody and he's pounding the strike zone," Boyd said. "It's pretty hard to hit off him anyway. When he's on, it's really hard to hit off him."
Balvanz brought in reliever Dylan Schlee to close out the game. Drew Micek hit an infield single with two outs before Schlee retired Young on a fly ball to right to earn a save.
"It's tough when you go from (a pitcher throwing in the) 90s to Dylan throwing in the upper 70s," Brecht said. "It's a nice change of pace, and we have a lot of faith in Dylan. He's doing a great job as as sophomore."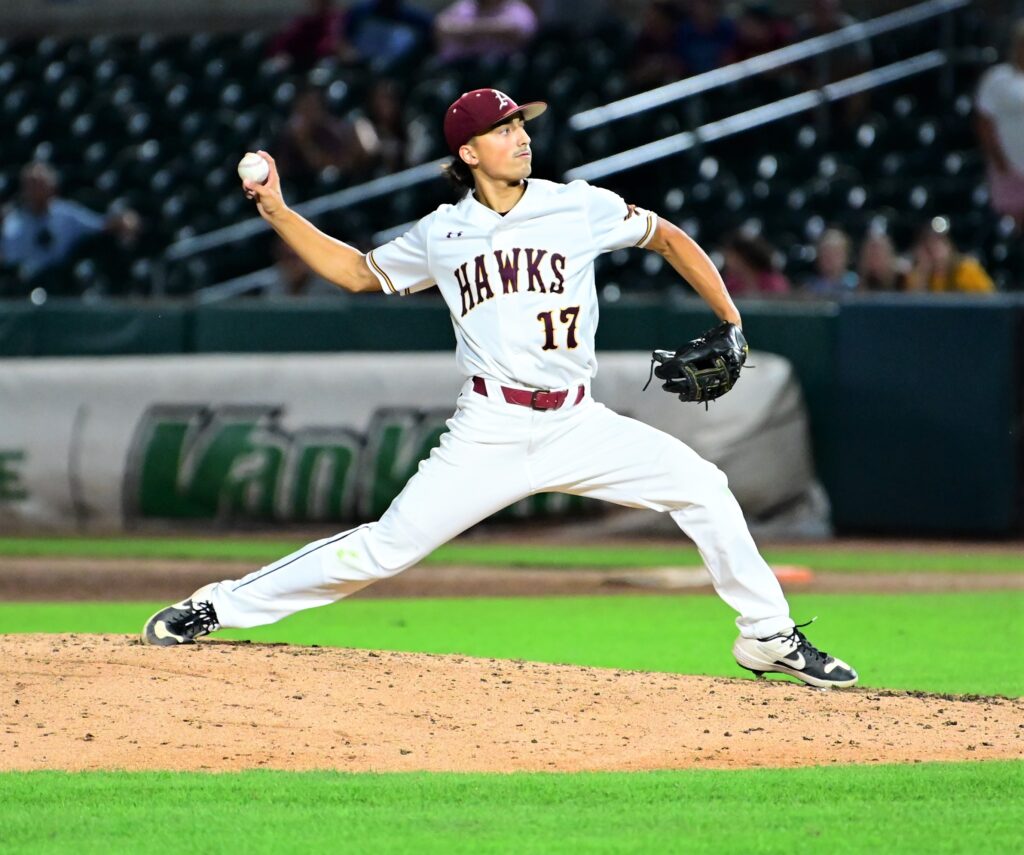 Balvanz breathed a sigh of relief afterwards before meeting with the media.
"We're one game at a time right now–just survive and advance," he said. "Hopefully, we can get a little better (Thursday) and try to figure out how to beat Dubuque Hempstead. They're a good team that can score a lot of runs."
Ankeny will play No. 4 Hempstead (16-1) on Friday at 4:30 p.m. The Mustangs blew a 5-1 lead on Wednesday before scoring two runs in the bottom of the seventh inning to beat Iowa City High, 7-6.
No. 3 Urbandale (18-9), the two-time defending champion, will face No. 1 Johnston (22-3) in the other semifinal game at 7:30 p.m. It will be a rematch of last year's final that was won by the J-Hawks, 8-2.
The championship game is slated for Saturday at 7:30 p.m.