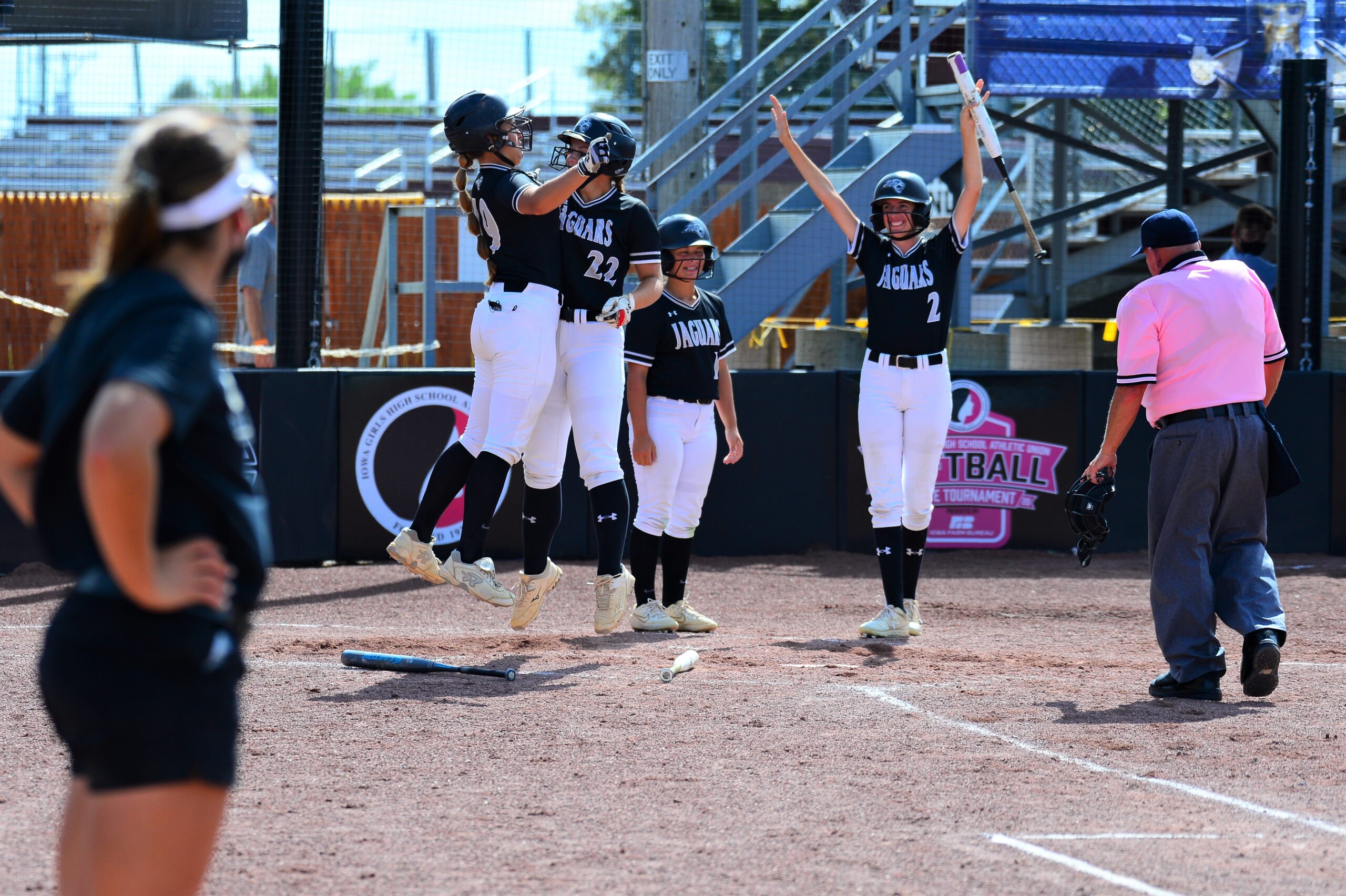 The seniors on the sixth-ranked Ankeny Centennial softball team were determined to go out in style.
The outcome of Thursday's Class 5A consolation final against No. 8 Muscatine was never in doubt.
Centennial scored in every inning and rolled to a 10-0 victory over the Muskies in five innings at Harlan Rogers Park in Fort Dodge. The Jaguars (23-9) earned a third-place finish in their first state tournament appearance.
"It feels great," said senior third baseman Taylor Runchey, who was named to the all-tournament team along with junior catcher Ella Schulz. "I guess there are only two teams in 5A that get to go out with a win, and we get to say we're one of them. It's pretty cool."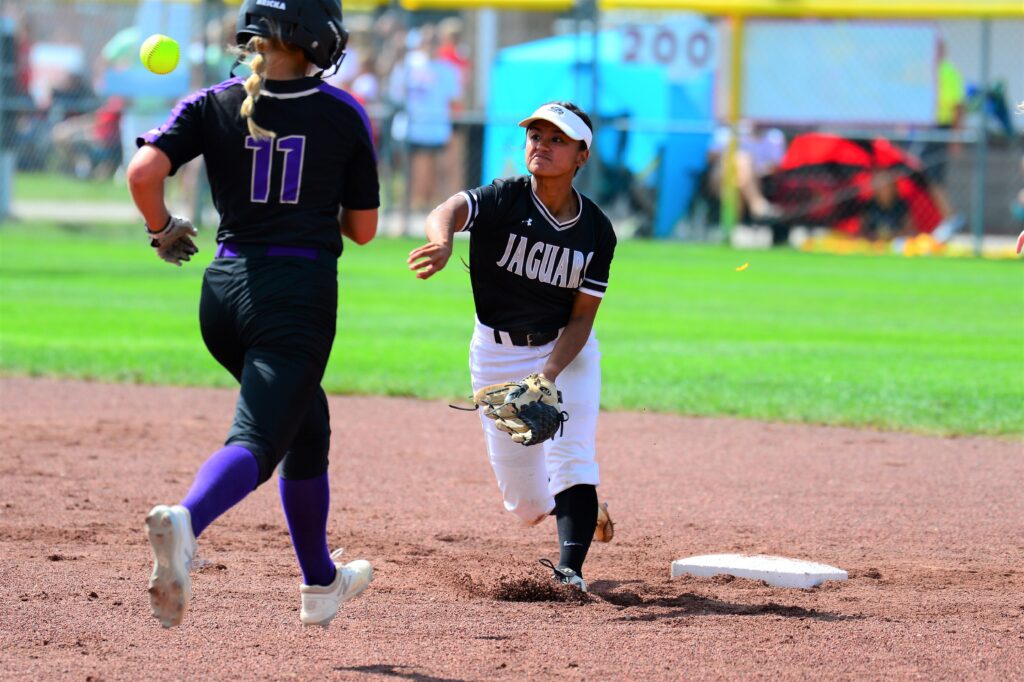 Senior shortstop Franie Burnett played a huge role in the victory. She set the tone right away defensively, turning a pair of unassisted double plays in the first two innings.
"We're a very tight-knit group. You can see it on the field–the chemistry is so strong," said Burnett, who also made a running over-the-shoulder catch to preserve the shutout in the fourth inning. "It's not just me–it's everybody on the field. We have such a great defense."
Burnett also went 2-for-4 at the plate and scored the game-ending run in the fifth inning, when she led off with a bunt single. She stole second and advanced to third on a single by Runchey, then raced home on an error.
"At first I was so confused…I didn't know what was going on," Burnett said. "And then all of the sudden my whole teammates came out to congratulate me, and I was like, 'Oh my gosh. That was it.'"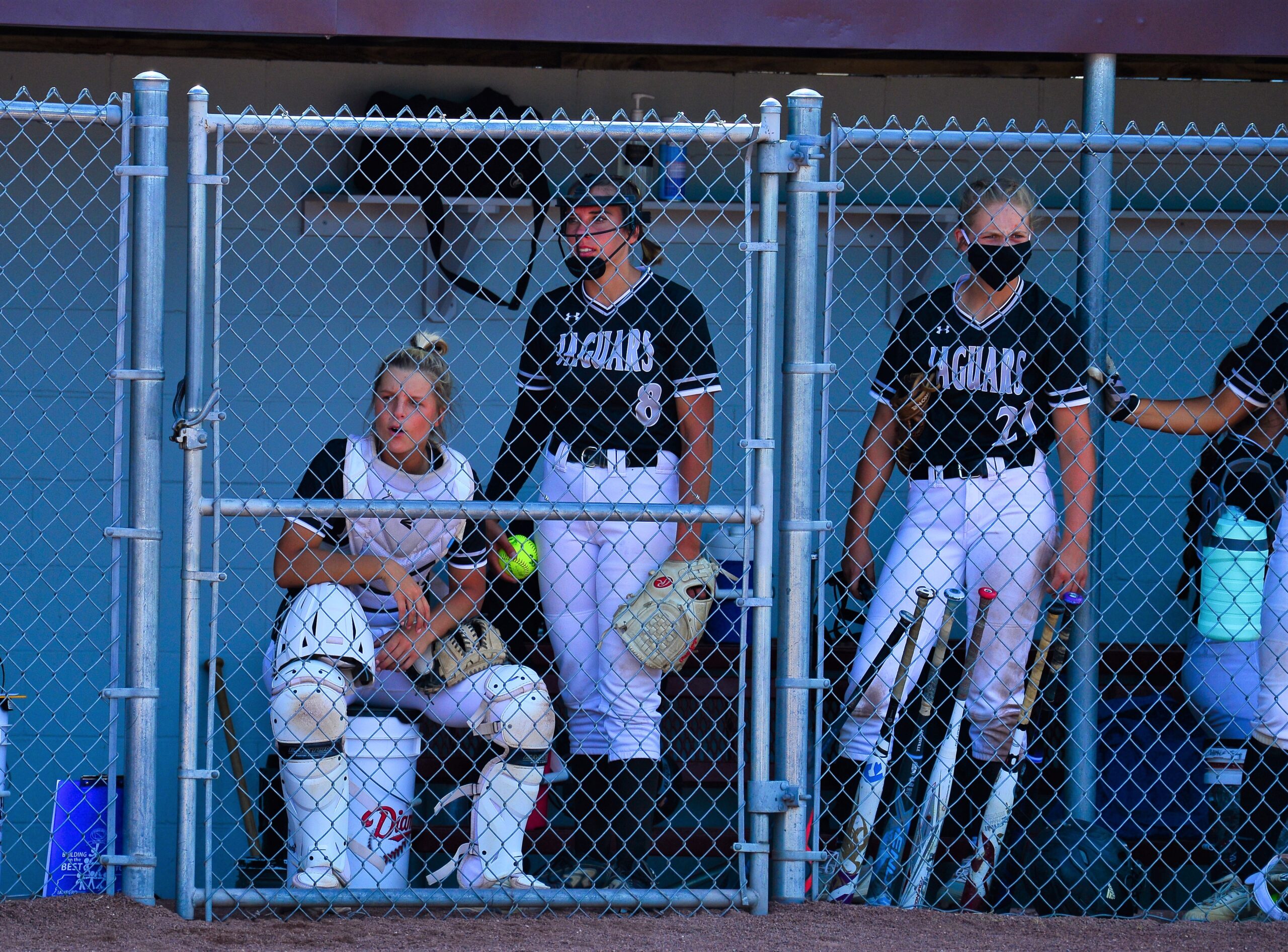 The Jaguars pounded out 12 hits off two Muscatine pitchers. Sydney Morris, Anna Christiansen, Mackenzie James and Kennedee Jones each went 2-for-3.
Morris hit an RBI double in the first inning to ignite the rout. The lead grew to 3-0 in the second when a hard-hit grounder by Runchey was ruled an error by second baseman Rylee Blake, allowing two runs to score.
"We knew we had one last opportunity, and I don't think very often you know it's your last game," Runchey said. "We were ready to cherish it."
James hit a two-out single in the third inning. Jones, a senior, then knocked Muscatine starter Bree Seaman out of the game with a two-run homer to right field–her fourth of the season.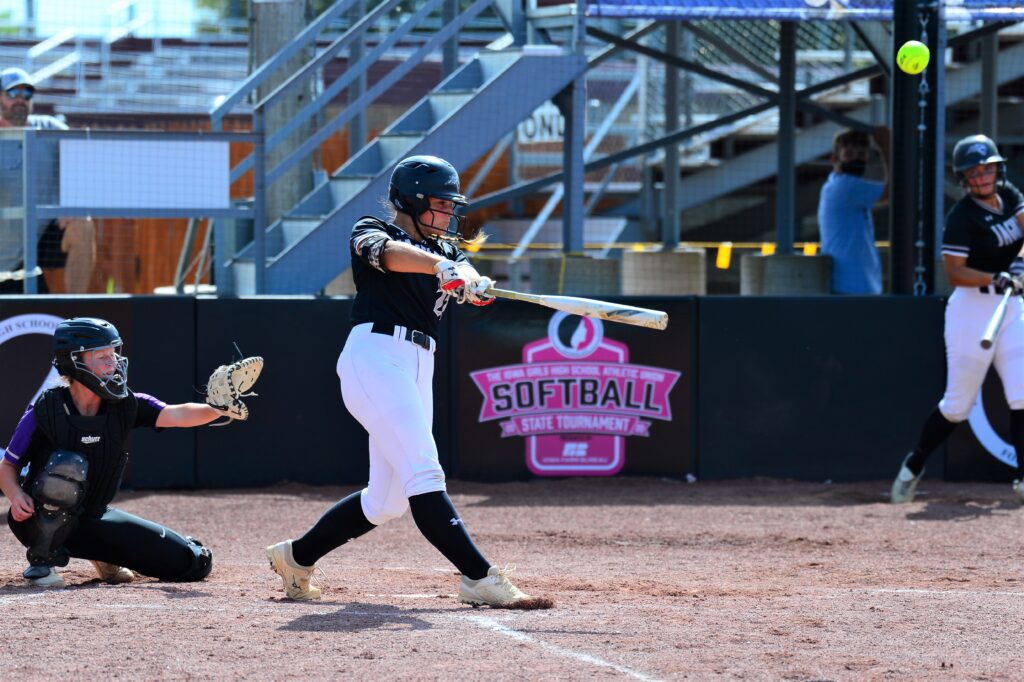 "That was like my perfect pitch," Jones said. "I was excited to see it and then be able to jump on it fast."
James had an RBI single in the fourth to make it 6-0. Lizzy Klunder, a sophomore, then followed with a three-run homer to left-center–her fifth of the year.
"If I'm being 100 percent honest, it was (a 3-1 pitch) and I was expecting something pretty good," Klunder said. "I haven't really gotten on base this whole tournament and I'm like, 'I'm going to hit this one well.' I came into that (pitch) with that in mind."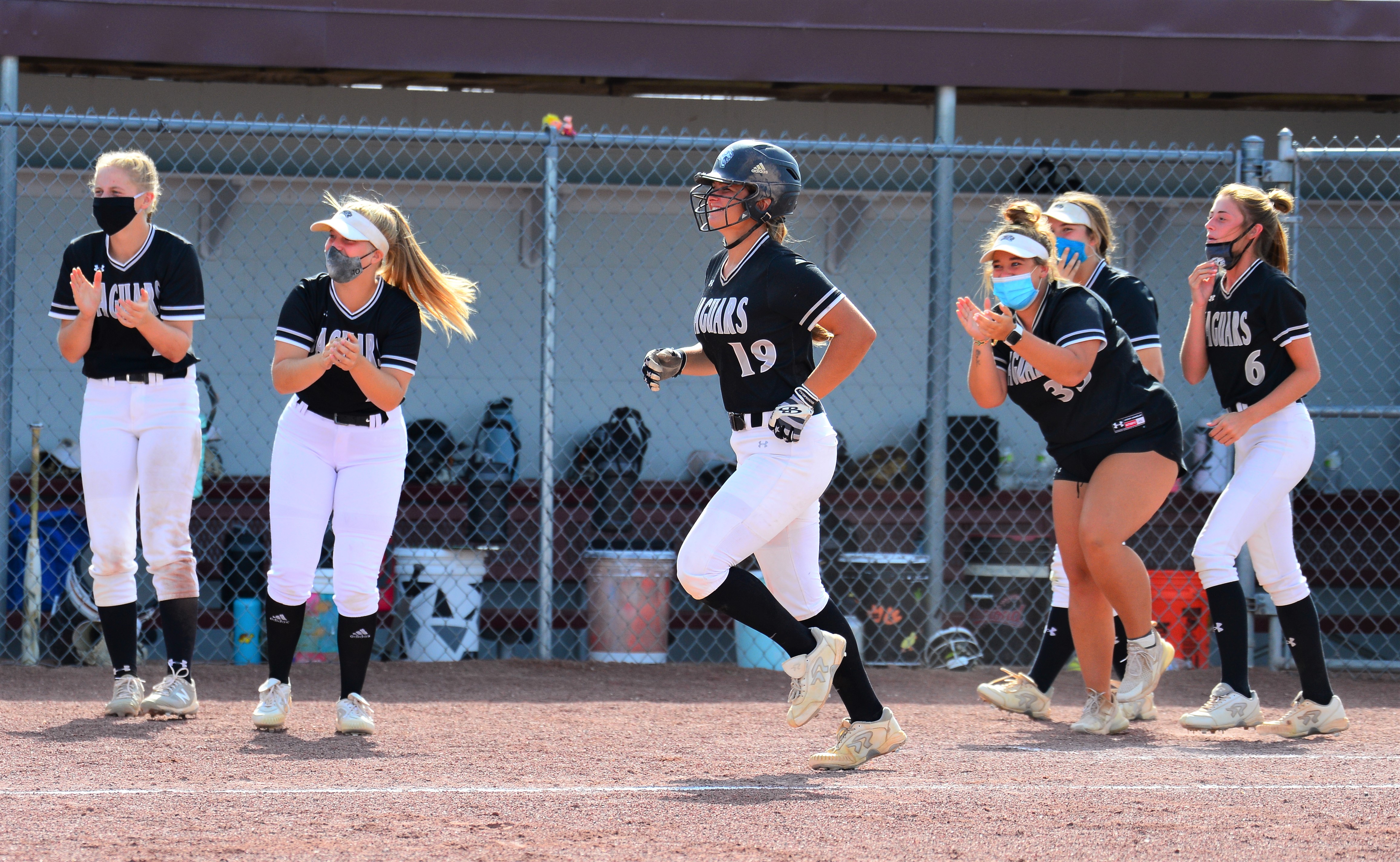 Muscatine (19-4) had only three hits off Madi Huisman. Huisman (12-2) walked three and had one strikeout in her final game as a Jaguar.
"We definitely wanted to end our last season with a win," Jones said. "We wanted to win together, and I think we accomplished our goal today."
Centennial bounced back from a semifinal loss to No. 1 Fort Dodge on Wednesday. The Dodgers dropped a 5-1 decision to No. 2 Cedar Rapids Kennedy in Thursday's championship game.
"The girls came to the field a little bit relaxed today, and it kind of caught us coaches off guard," said Centennial coach Brett Delaney. "But they were ready to play and excited about it. We wanted to make sure we finished with a win."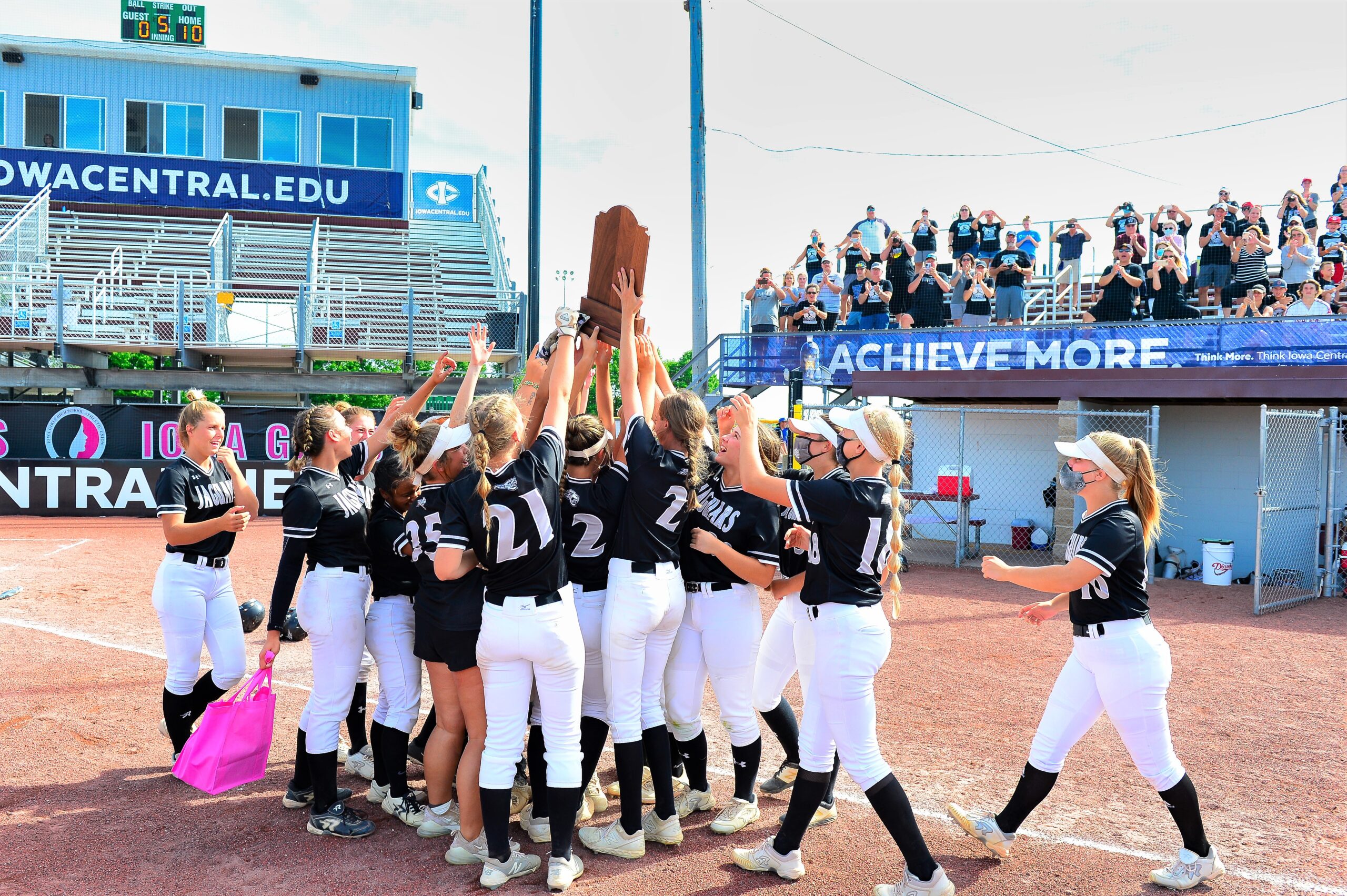 The Jaguars will have to replace Huisman, Jones, Burnett, Runchey and outfielder Madison Edwards. Reserve Daryan Klink has also graduated.
A strong nucleus–led by Schulz–will be back next year.
"We've definitely set the culture where we're making it to state now," Schulz said.