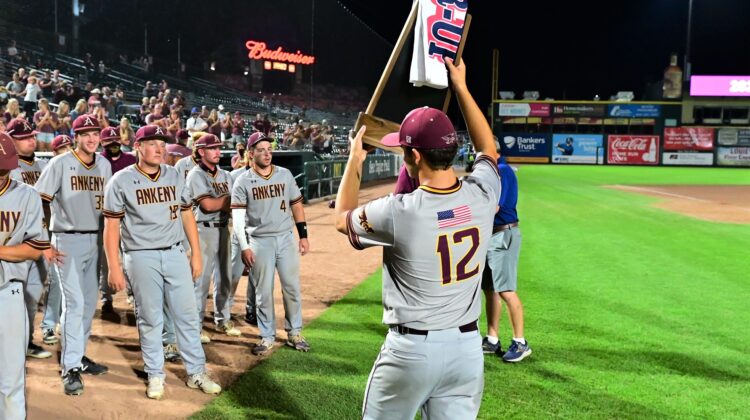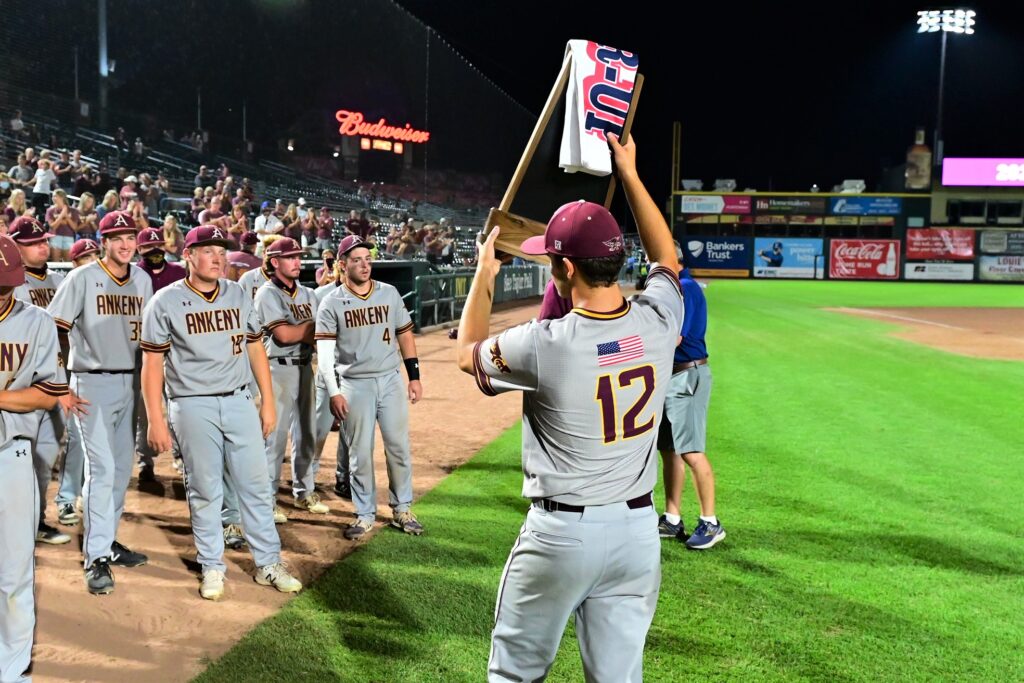 Weston Fulk couldn't help but think about the state title that slipped away.
But he was also focusing on winning a championship in 2021.
"We know where we could have been," Fulk said after his Ankeny baseball team lost to Johnston, 11-8, in the Class 4A final on Saturday at Principal Park. "We deserved to be in this game–everybody knows it. But I'm going to be hungry for next year. I'm ready to go."
Fulk allowed just two hits over the first 4 1/3 innings as the second-ranked Hawks built a 7-3 lead over No. 1 Johnston before a sellout crowd of 1,869. But he walked five and also recorded seven strikeouts, forcing him to leave the mound after throwing 106 pitches.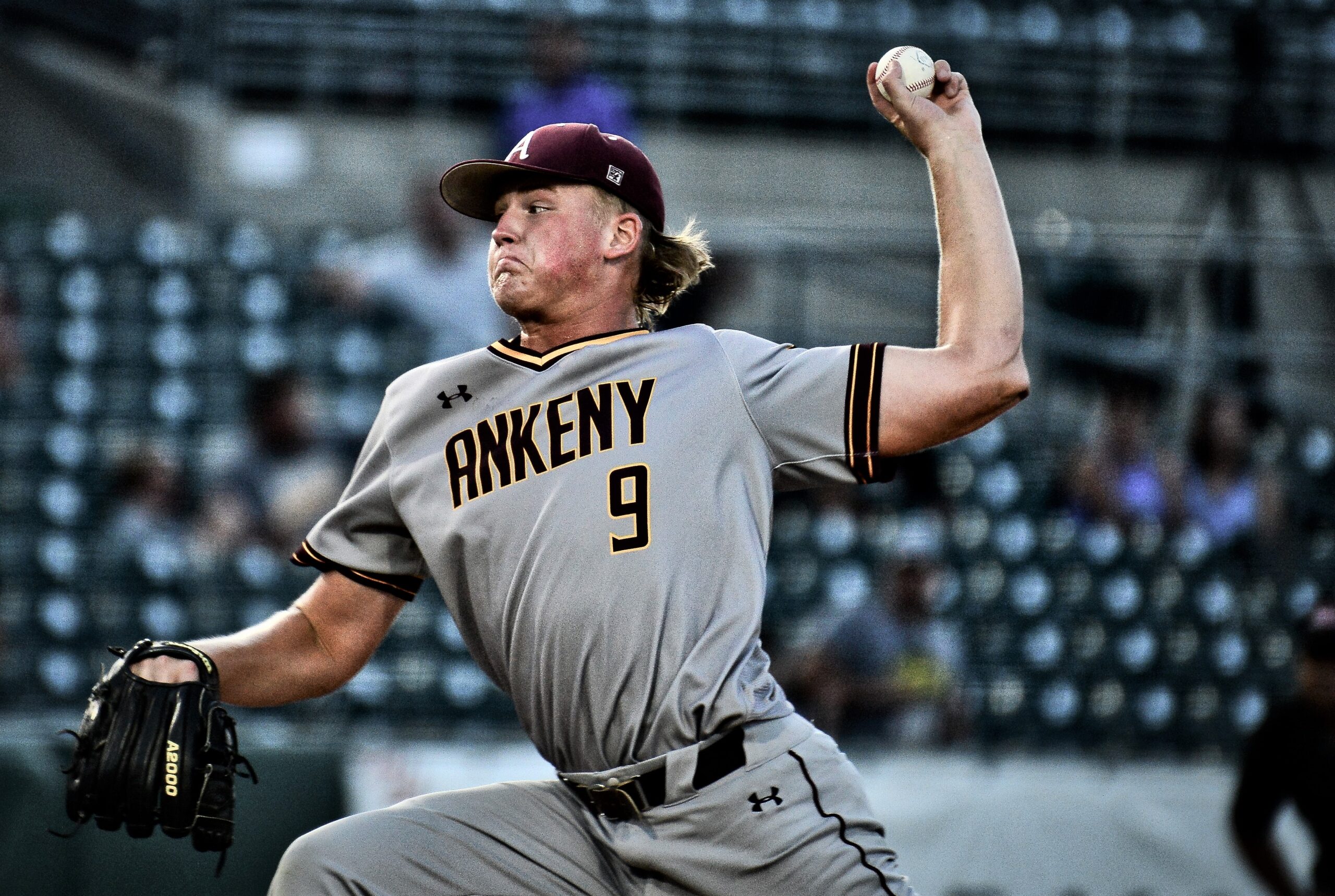 Both teams were playing their third game in four days, and the Dragons (24-3) were hoping to capitalize against a weakened Ankeny bullpen that relied on Dylan Schlee to throw six innings of relief in Friday's semifinal win over No. 4 Dubuque Hempstead.
"That's what we were thinking at the beginning of the game," said Johnston junior Jacob Wolver, who allowed just one unearned run over the final three innings to earn the victory. "We knew (Fulk) was a great pitcher. But if we could get him out of the game, we could do damage."
Johnston scored three runs in the fifth inning and five more in the sixth to claim its fifth state title. The Dragons also won crowns in 2013 and 2017 under coach Michael Barta.
"We just didn't execute on the mound," said Ankeny coach Joe Balvanz, whose team finished with a 21-9 record. "We need to throw more strikes, and that's about all there is to it. But you have to give the Dragons a lot of credit. They didn't lay down. They continued to battle back and they continued to chip away at our lead, and they put pressure on us on the bases with their speed and they're just tremendous bunters. We worked on it–we were prepared for it–but we just didn't execute. But they're a good team. They're down here every year and they've played for a lot of state championships."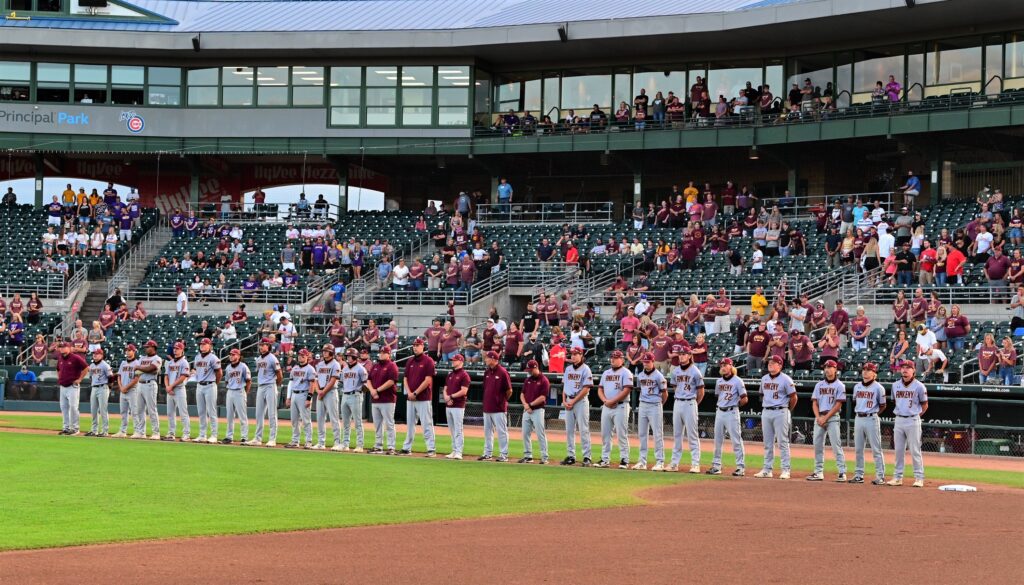 Johnston closed out the season with a 14-game winning streak. The Dragons never lost again after dropping a 5-4 decision at Ankeny in eight innings in the first game of a doubleheader on June 29.
Ankeny, which was seeking a third championship, placed second for the fifth time. The Hawks also earned runner-up honors in 1987, 1993, 1999 and 2005.
"We just need to take one more step," Fulk said. "Just keep climbing up, and hopefully we can be there next year."
Saturday's game featured three ties and three lead changes as the two teams combined for 19 runs, the highest-scoring large-class state final in tournament history. Several of the runs scored on a variety of errors, passed balls and wild pitches.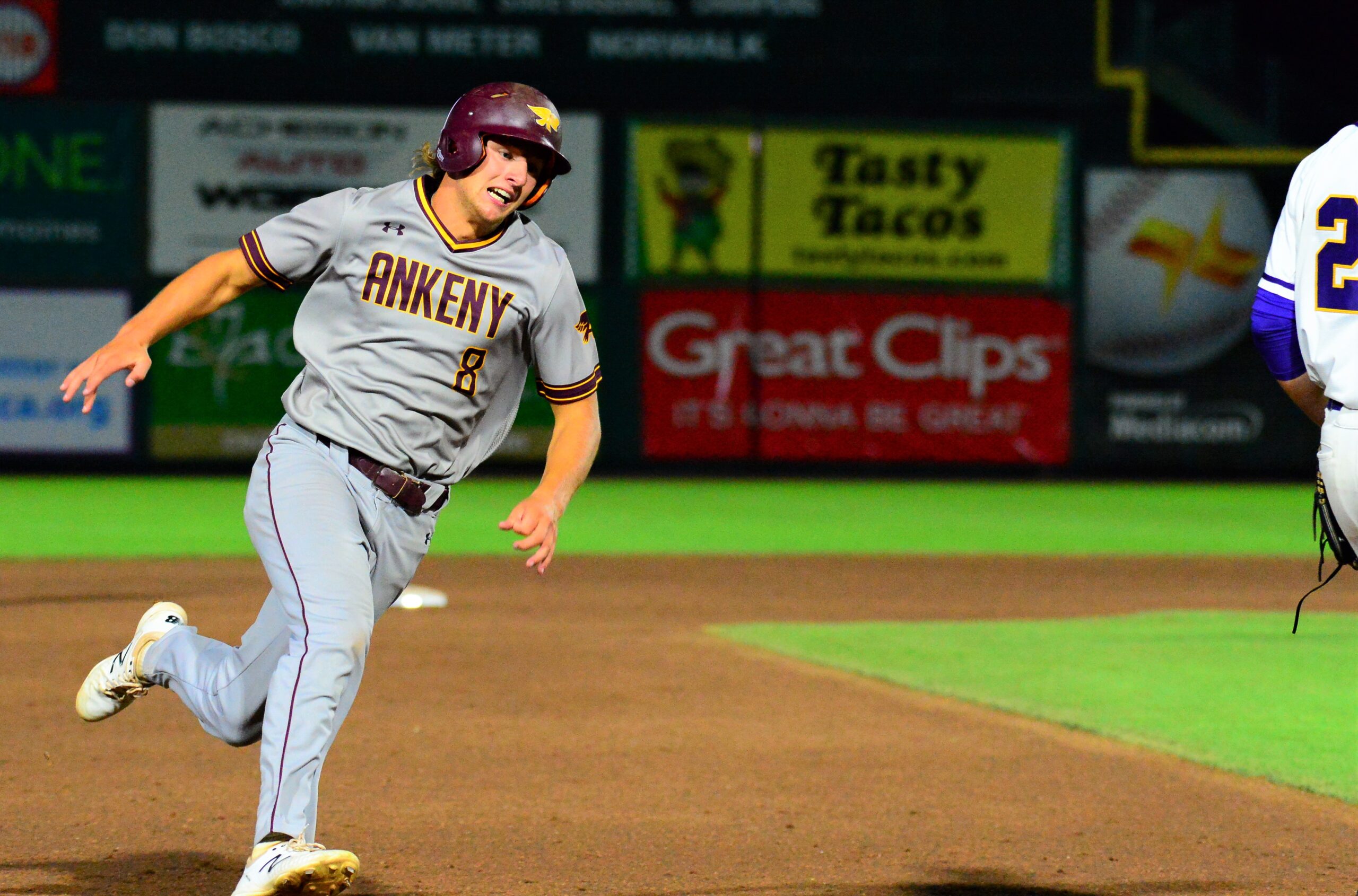 Ankeny took a 1-0 lead in the first inning when Cael Boyd was hit by a pitch and eventually scored on a grounder by Brody Brecht. The Dragons tied the game in the bottom of the frame when Ben Wilmes scored on a wild pitch.
Johnston then added two runs in the second on a walk, two hit batters, a wild pitch and a sacrifice fly by Wilmes.
"After the first couple of innings, I knew I had to keep battling," Fulk said. "My pitch count was up."
The Hawks tied the game in the third, taking advantage of three walks by Johnston starter Cooper Smith. Brecht had another RBI grounder, then Jase Bauer raced home on a wild pitch to make it 3-3.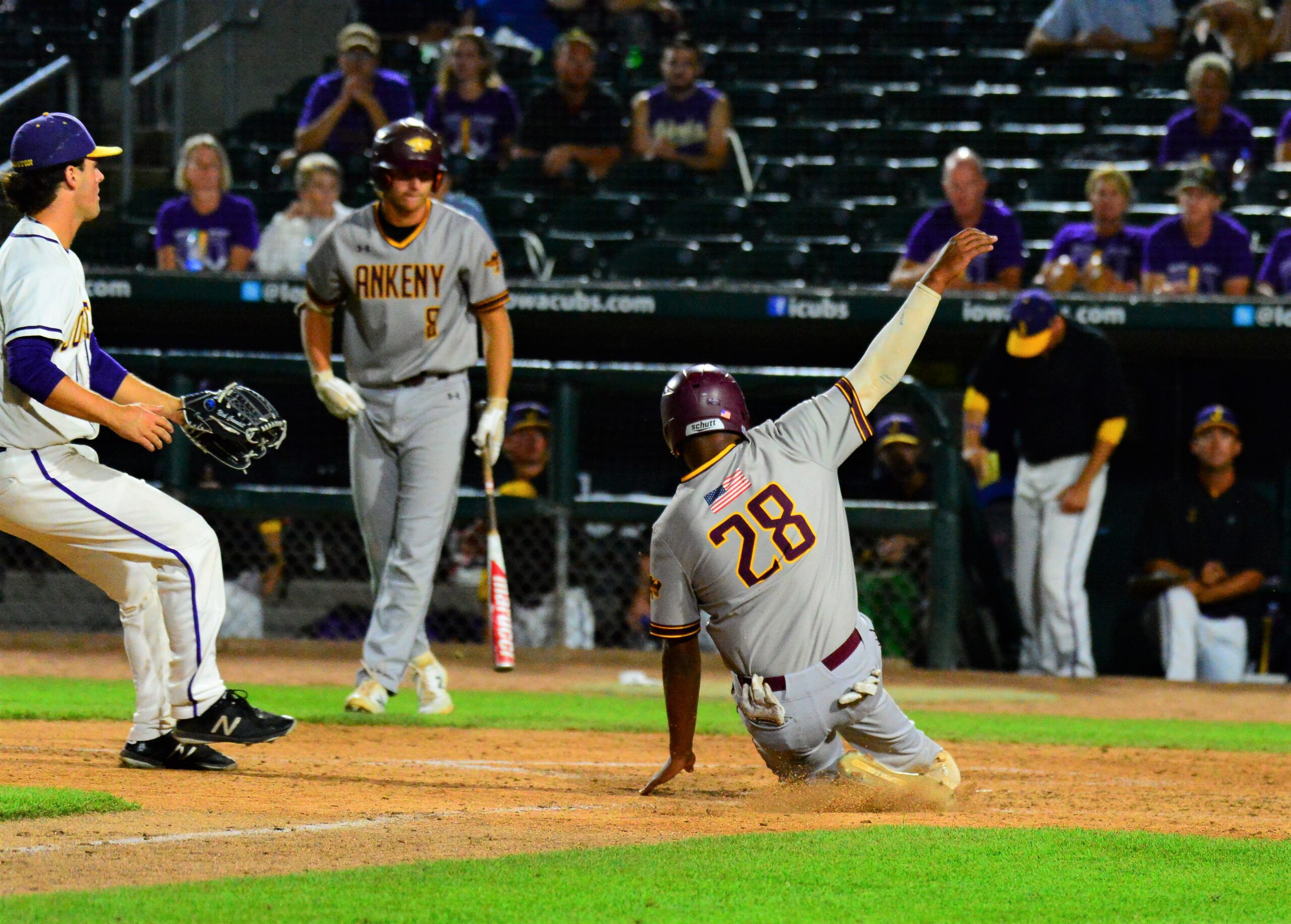 In the fourth, Ankeny erupted for four runs against Johnston reliever Nick Crandell–three of them unearned. Kade Somers and Boyd each had a single to ignite the rally.
After Tamden Webb-Tate scored the go-ahead run on a wild pitch, Bauer reached on an error that allowed Boyd to score. Mo Watson followed with a single that skipped past right fielder Jack Hutchison for another error, allowing Bauer to score.
Watson raced all the way to third on the play. Pinch-runner Ryan Madole then came home on a single by Brecht, who had all three of the Hawks' RBIs in the game.
"Going into that (fifth) inning I was still feeling confident," Fulk said. "I knew we just had to get the job done, but then I let a couple of guys get on."
Fulk struck out Caden Steck before Parker Shupe bunted for a hit and advanced to second on an error. After Shupe moved to third on a passed ball, Fulk walked Gabe Swansen and was then replaced by Bryce Rinderknecht.
"We were going to try to push (the lead) to five or six (runs)," Balvanz said. "But when you're not locating in the zone, that can make it tough. (The Dragons) are good enough without free base runners. But when they have free base runners and they get a little energy coming out of that dugout, they can put a lot of pressure on your pitcher. They're very well-coached, and those kids buy in to that system. They showed tonight why they were the top seed."
Rinderknecht and fellow reliever Cooper Cox (2-3) were unable to stop the bleeding. They each allowed three runs on three hits and combined to give up three walks.
Wolver hit an RBI single to cut the lead to 7-4. Spencer Campadilli later stroked a two-run single.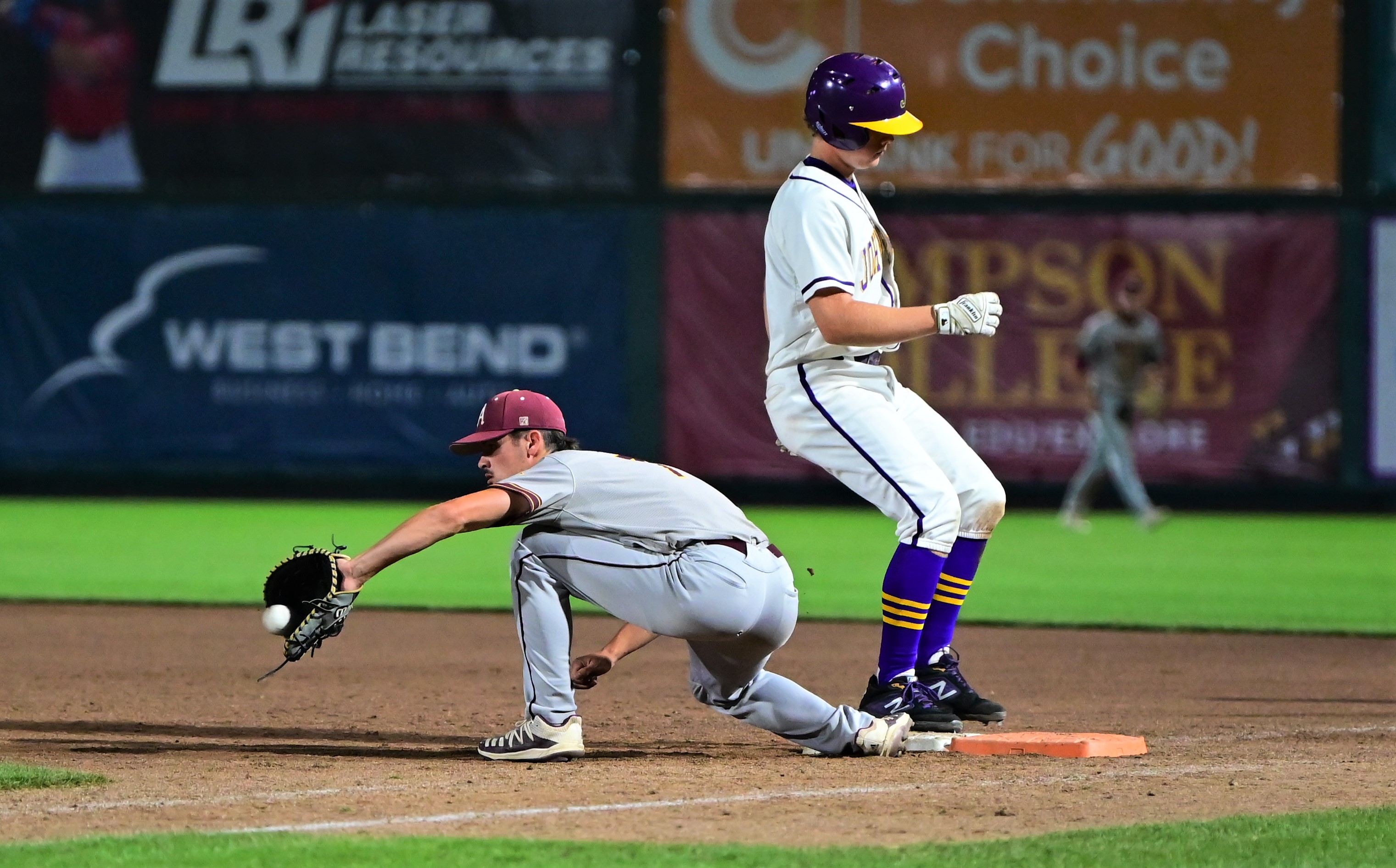 "Coach was trying to calm us down and stay focused," Wolver said. "I feel like that's what we did. We stayed calm and fought through adversity and came out on top."
Ankeny got a run back in the top of the sixth. Bauer led off with a walk and later advanced to third on an infield hit by Carter Smith, then came home on an error.
However, things unraveled for the Hawks in the bottom of the sixth, when Johnston combined four hits with two walks to turn a two-run deficit into a three-run lead. Wolver hit another RBI single to tie the game, then Hutchison bunted for a hit to score Swansen with the go-ahead run.
"I'll always have confidence in my teammates," Fulk said. "They're my guys, and we didn't get the job done but that's totally fine. I love those guys."