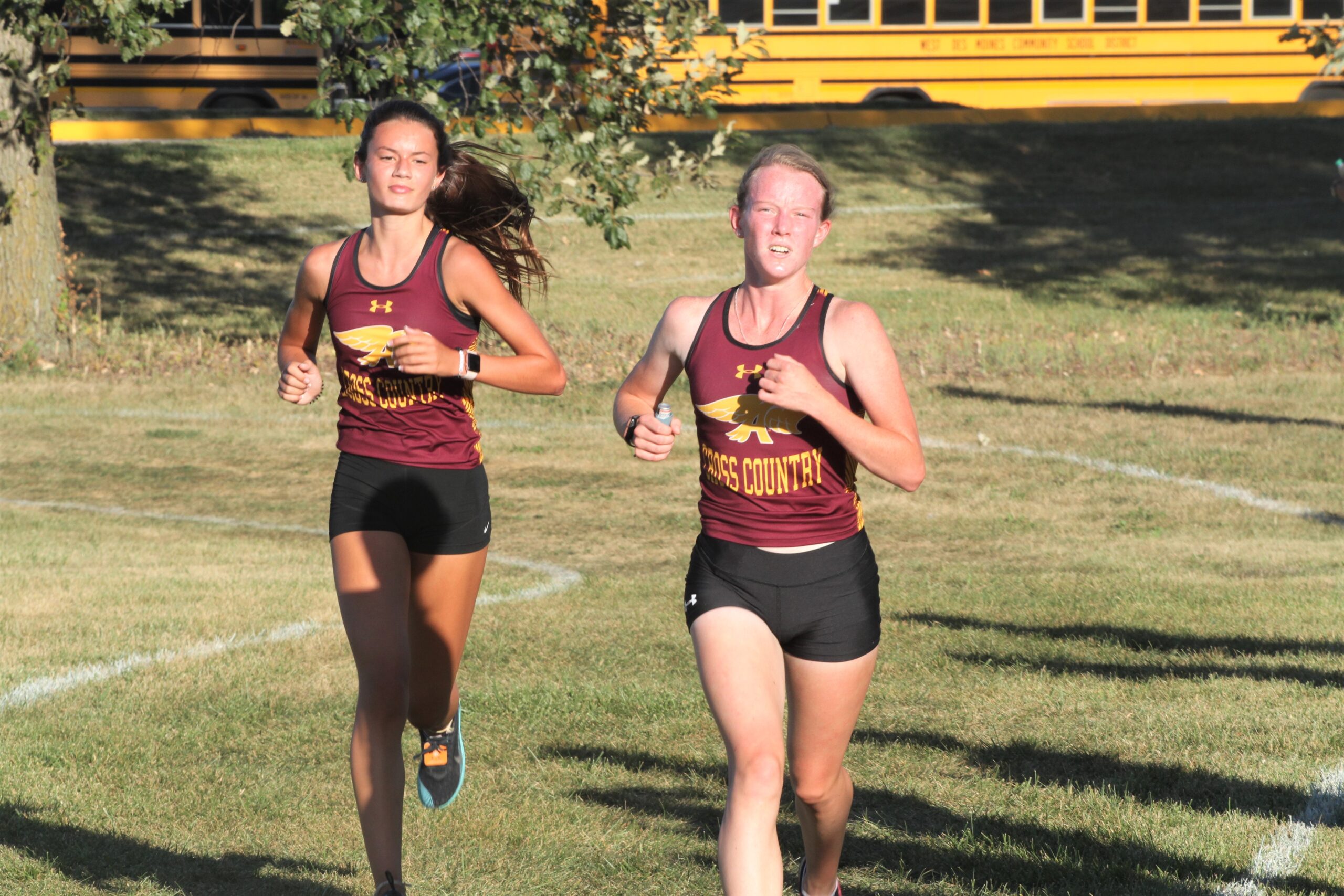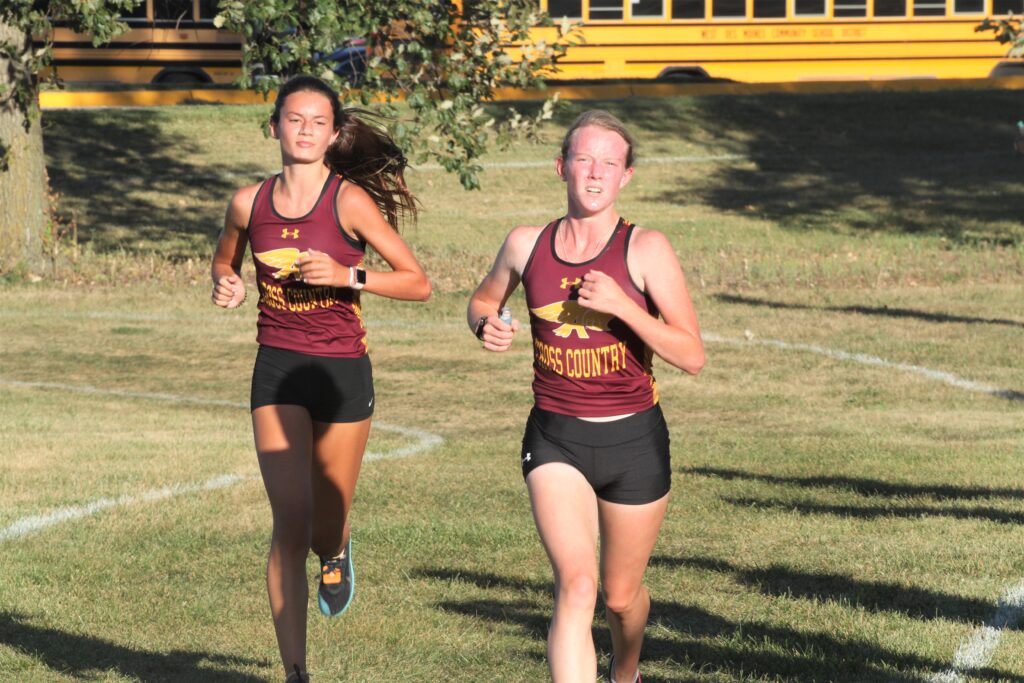 The wet conditions didn't slow down the Ankeny Centennial girls' cross country team on Thursday.
They didn't seem to bother Ankeny runner Lauren McMahon, either.
McMahon raced to her second straight victory to lead the Hawkettes to a seventh-place finish in the Red Division of the Bobcat Invitational on Thursday at Marshalltown, while Centennial relied on a team effort to place third among nine squads. The Jaguars scored 93 points and finished just five points behind fourth-ranked Valley while defeating four other ranked teams.
"Our girls had a phenomenal meet," said Centennial coach Eric Cogdill. "We've long held a team motto that 'when conditions get tough, Jags get tougher' and I think we were squeezed just hard enough that tonight we came out like diamonds. Our top six finishers all ran a lifetime best and that came on a wet, hilly course."
No. 2 Johnston easily won the meet with 40 points. The Dragons were led by Bella Heikes, who placed third in the 5k race in a time of 18 minutes 46 seconds.
Heikes held the lead until McMahon charged from behind to take control of the race. McMahon–who is ranked 14th in Class 4A–went on to post a time of 18:31, finishing about 6 seconds ahead of Valley's Lauren Schulze.
"Lauren stayed patient behind that front pack, slowly closing in and gaining positions to pass each girl as they broke from the lead pack," said Ankeny coach Eric Klingensmith. "Going into the final 1,000 meters, I told her to stick to Bella's hip and go when she felt like she could take her. She broke away soon after and held off Schulze for the win."
Ankeny finished with 154 points. The Hawkettes defeated No. 5 Dubuque Senior by 12 points.
"We went into this race focused on our own race strategies and pairing up for the first mile and having Lauren stay in contact with the front pack," Klingensmith said. "We knew that this was a mini-state preview since we had four of the top five teams in our pool, and we wanted to race our best and smart. Everyone did exactly as we asked, but we fell a little short tonight in the team standings even though we beat Dubuque Senior. With seven new PRs on this course, our ladies and us coaches couldn't be more proud of their increased growth and confidence during this race."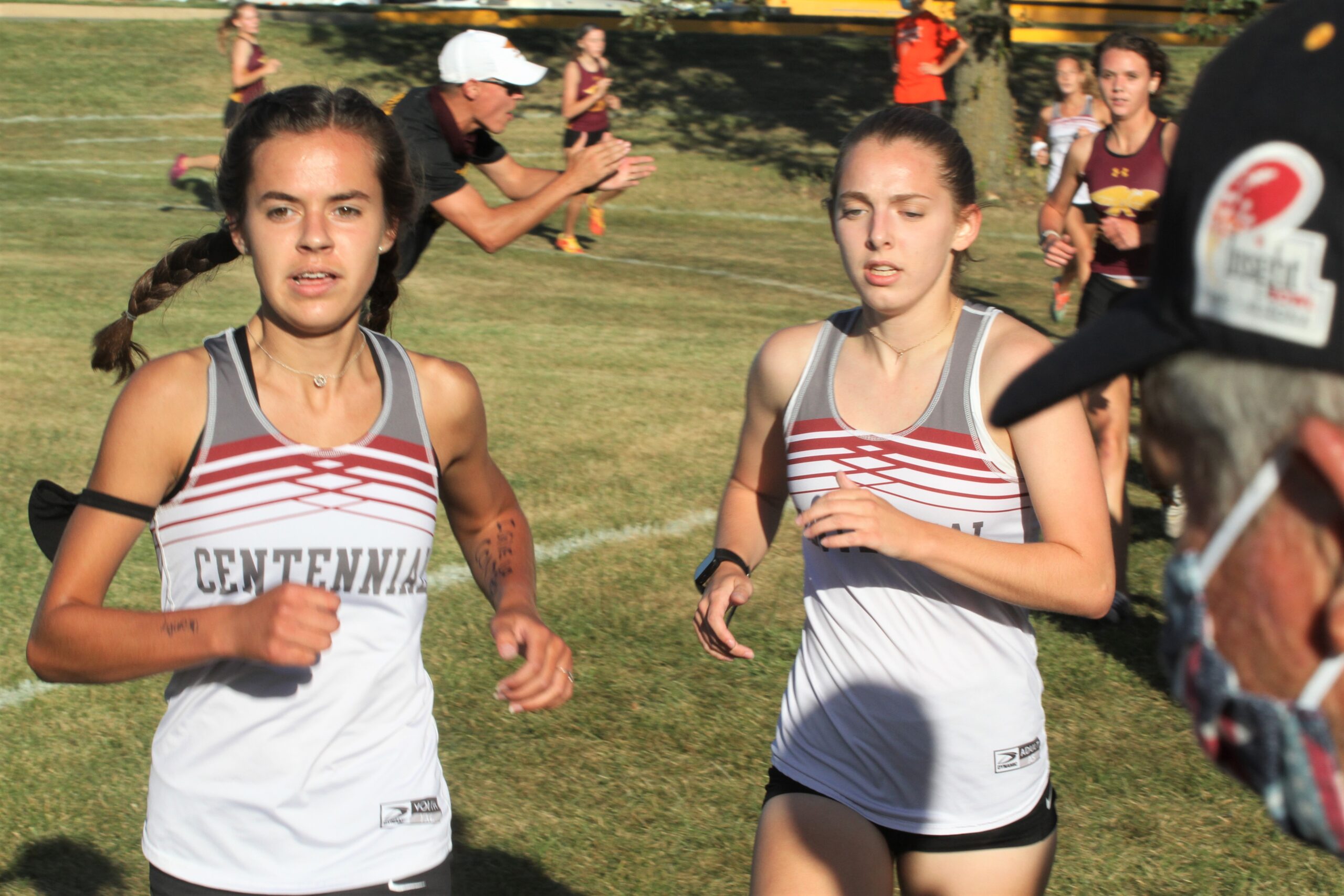 Centennial, meanwhile, finished 21 points ahead of No. 3 Southeast Polk. The Jaguars also defeated No. 14 Urbandale, No. 13 Indianola and Dubuque Senior while also avenging last week's loss to Ankeny at the Kirk Schmaltz Invitational.
"Across our many years of successful teams, we've only finished in the top three once at this large, competitive meet and yet we accomplished that tonight," said Cogdill, who pointed out that the Jaguars also finished ahead of No. 6 Waukee in the results that merged both the Red and Blue divisions. "We were even running short-handed not having our No. 3 finisher from a week ago (Anja Peck) available because she was scheduled for a swim competition. Today's performance was a direct result of the girls really being inspired for a new opportunity and growing from a week ago with adjusted race plans. The nine who raced both meets averaged 79 seconds faster."
Rondi Quass led Centennial with a ninth-place finish. She was clocked in 19:29.
Alayna Wallace placed 15th for the Jaguars in 19:53. Katie Jensen took 19th in 20:08, Jennifer Jordan was 24th in 20:18, Maddy LaVoi placed 26th in 20:25, Lauren Reimer was 27th in 20:25, and Kathryn Vortherms finished 28th in 20:26.
"Rondi and Alayna both dropped under 20 minutes for the first time ever to lead us; both had already ran a lifetime best a week ago and trimmed another full minute off that," Cogdill said. "Very close behind was Katie, who outperformed her state meet race from a year ago and then Jennifer was next after finishing last for our varsity a week ago. Our 5-6-7 runners all finished within a second of one another, and we also had the fastest No. 6 and 7 girls on the day. In fact, our seventh girl would have beaten the fourth girl on 15 of the 17 teams."
Talia Dosh placed 23rd for the Hawkettes in 20:16. Marika Kisgen was 36th in 20:34.
"Talia and Marika ran smart races as well, focusing on their own packs, passing one runner at a time and using the hills to battle back into a better finish position for both," Klingensmith said. "Overall, it was a great race!"
Ankeny's Jenna Pitz took 48th in 21:01. Paige Beason was 53rd in 21:12, Megan Bosch placed 62nd in 21:26, and Elizabeth Proctor finished 67th in 21:43.
Centennial will compete in the Tom Karpen Invitational on Tuesday at Valley Southwoods Freshman High School. The Hawkettes will travel to Cedar Falls on Thursday for the Rich Engel Classic.