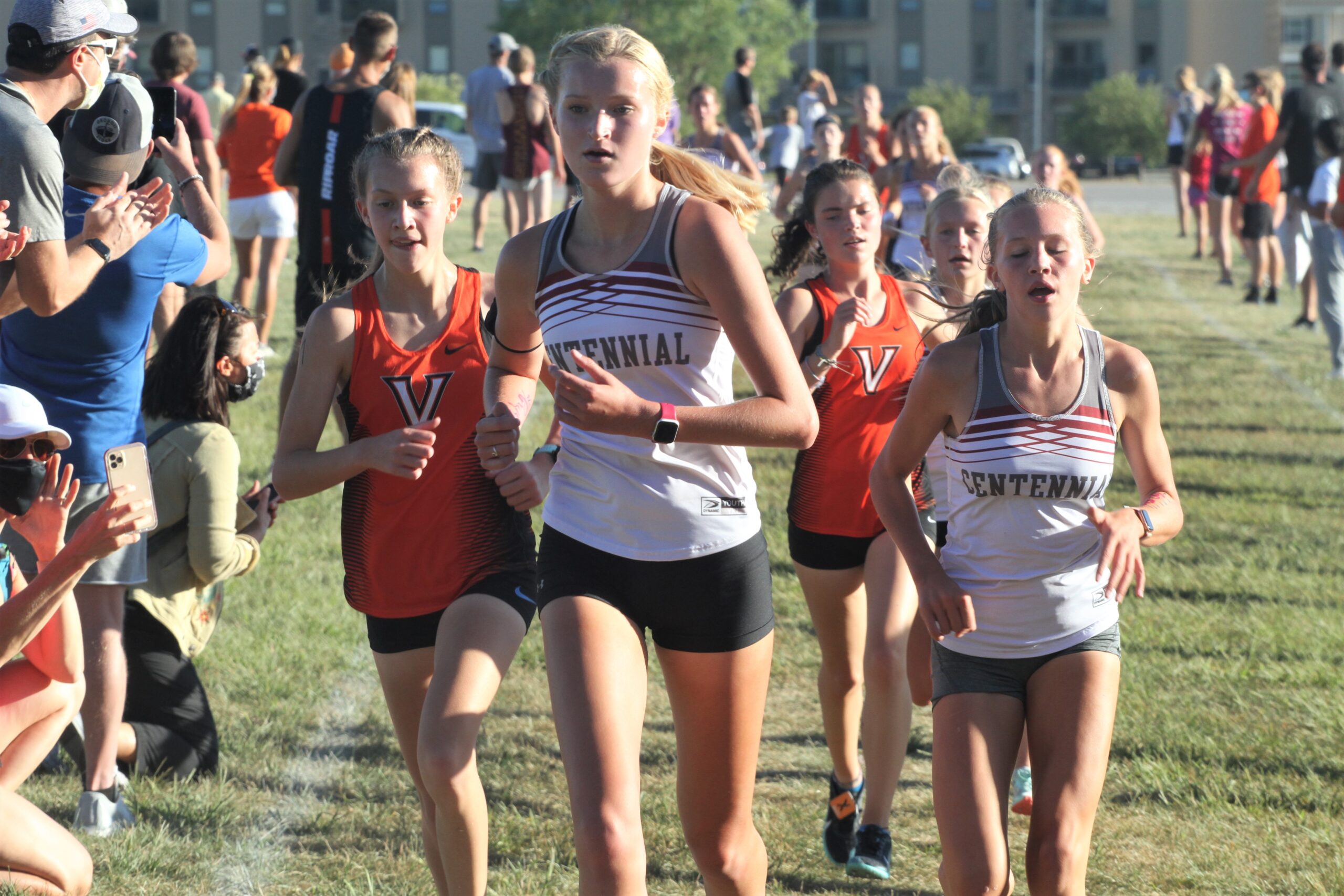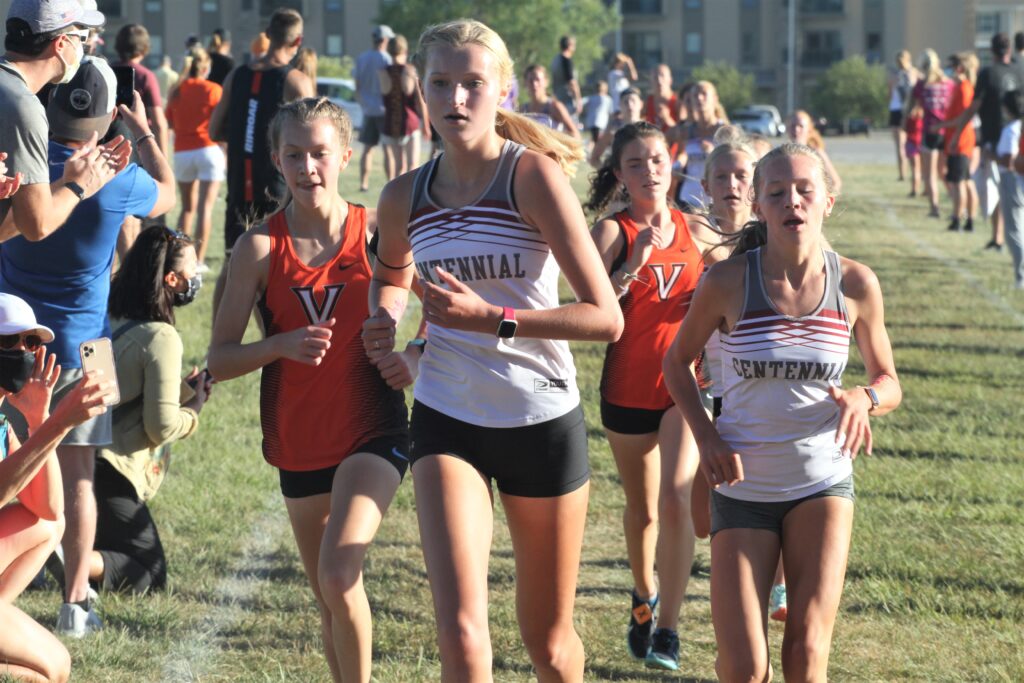 Seniors Katie Jensen of Ankeny Centennial and Lauren McMahon of Ankeny are two of the top girls' cross country runners in the Central Iowa Metropolitan League.
McMahon has won her first two races of the season. She posted a time of 18 minutes 31 seconds in the Bobcat Invitational on Thursday at Marshalltown, where she led the Hawkettes to a seventh-place finish in the Red Division.
Jensen placed 19th in the same race in 20:08, helping the Jaguars to a third-place finish. She is a two-time state qualifier.
Here is some inside info on the duo:
How is the season going thus far?
Jensen: We're definitely off to an amazing start! Some teammates and I put in a lot of hard work running together over the summer, and it's paid off so far. We're working hard in our training, and we've been strong in our first two meets. It'll be awesome to see how we all grow in the weeks to come.
McMahon: So far it is going very well! Since this is my first high school cross country season, both races have been new experiences for me which made them both exciting and a little nerve-racking. This first part of the season has allowed me to make lots of new relationships with my teammates and coaches. I am super thankful to all the girls on the team, especially the seniors, for their great leadership and the example they have set. I am looking forward to more races and working on different ways to improve my race and help my team.
Were you happy with your race at Marshalltown?
Jensen: I was very happy with my race! It was awesome to be back on this course since the last time I ran there was state qualifying my sophomore year. My time was faster than I ran at state last year so I hope to keep that momentum up.
McMahon: Yes, I was happy with how I performed. I had somewhat of a better idea of what to expect so I was able to focus on more of my strategy while racing. I was running against a lot of great athletes, especially girls from Valley and Johnston, so I felt I was able to push myself. I ended the race with a PR which surprised me given the weather and course!
What did you think of your team's performance?
Jensen: As a whole, we were outstanding at Marshalltown. I am so proud of how driven we were and excited to race. We stuck to our plan of getting out hard but controlled and working our way up. I've never been a part of a group of people as great as my team. We all really lift each other up to support one another, and it creates a team atmosphere that's unbeatable. We beat some really good teams on Thursday, and we all had to work together to achieve that.
McMahon: I thought all the girls did amazing! We all worked super hard in practice that week to prepare for this meet. I think this definitely showed as six of the other girls (not including me) PR'd. I know they all pushed themselves and gave it all they had. I am super proud of all of them and the effort they gave!
How were the running conditions?
Jensen: It was very rainy and a bit cold but we were prepared. We practice in tough conditions so we can race in tough conditions. One of our team mottos is: "When conditions get tough, Jags get tougher", and that's exactly what we did. It was actually quite fun conditions to race in.
McMahon: The running conditions weren't terrible, but they definitely could have been better. Before the race, it was pretty cool and wet which made getting warmed up a little more difficult. My team and I changed shoes and socks multiple times. Once I started running, it didn't feel overly cold and the wind wasn't that noticeable. Luckily, the course was not super slippery and there were only a couple mud spots to watch out for.
Katie, coach Cogdill told me that you're a hard-working kid who shows pigs at the fair and runs a sweet corn stand. Do you think your farming background contributed to the work ethic that you've developed?
Jensen: Yes! It has for sure! It's also helped me work well within a team environment.
You've had to miss so many activities in the past several months due to COVID-19, including the fair. Which activity was the hardest one for you to miss, and why?
Jensen: It was definitely difficult to hear that we had to postpone our summer running camp. It's something that I really look forward to because of all the fun activities we put together.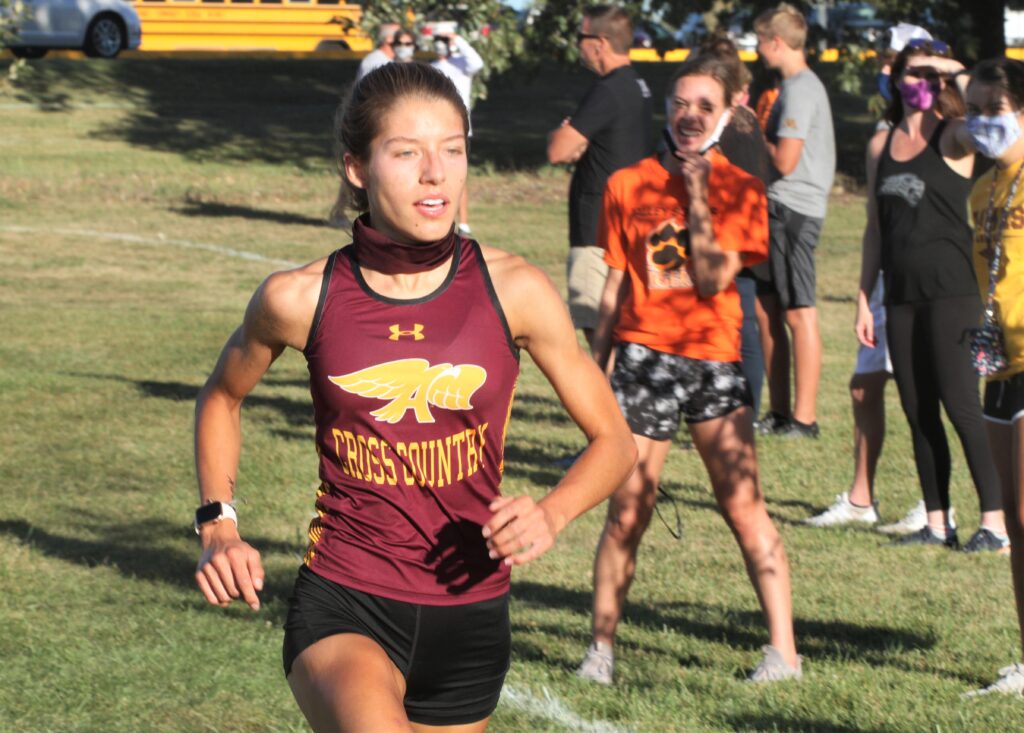 Lauren, I know you improved tremendously over the summer after your spring soccer season was wiped out by the pandemic. Did the cancellation of soccer allow you to focus more on your running?
McMahon: Honestly, yes, I was able to focus more on running after the soccer season got cancelled. Around spring break time, I started going into full gear and doing workouts five to six days a week. I was still getting touches on the ball, but I was able to start focusing more on improving my speed and endurance. Once summer arrived, I think I realized how much I truly enjoyed running. I continued to run on my own and then was able to connect with my coaches and start running with my teammates at a cross country camp.
You are now ranked third as an individual in Class 4A. Do you feel like you could be a contender for a top-10 finish at the state meet?
McMahon: I think the state meet is so far away at this point it is hard to tell who is going to be top 10. There are girls all across the state working hard and wanting to be at the top. I am just focusing on improving one race at a time.
Goals for the rest of the season?
Jensen: I for sure want to keep improving and working hard as a team as well as individually. It would be amazing to qualify for state this year because I really want to see what we can accomplish as a whole team at state. Only Kat(hryn Vortherms) and I qualified last year so it would be awesome to step on the line with the entire team this time around. But for now, we need to keep working hard each week–there's still a lot of season left. We're taking it one meet at a time and giving it our all.
McMahon: I want to keep working on strategy with my coaches when it comes to when to reserve my energy vs. when to really push myself. I also want to be more comfortable with recognizing when to pick up the pace at the very end of the race. My goal is to qualify for state. My coaches have been great at giving me advice and helping me achieve my goals. Also, I hope to have fun, enjoy competing, and create great relationships with my teammates and competitors.
Favorite course to run?
Jensen: My top three are Marshalltown, Indianola and Fort Dodge. I enjoy each one for different reasons but I always enjoy those courses the most.
McMahon: Well so far I have only ran two, but out of those two I would say I enjoyed the DMACC course a little better because it was a flat and smoother course. Also, I was able to see what the course looked like before the meet which made me feel a little more prepared, unlike Marshalltown where I saw what the course was like right before the race!
Plans for next year? Would you like to run in college?
Jensen: I don't really have anything completely planned out yet. I haven't decided if I'm going to run in college or not, but it's something I've been looking into as well as looking at all my other potential options for college.
McMahon: I have looked at a couple of Big 10 and Big 12 schools, but I am still undecided at this point. Honestly, before the DMACC race, running in college was never even a thought that crossed my mind because I didn't think I would be given the opportunity to run in college. However, I have had a few college coaches–from smaller colleges up to D1–reach out to me since my last two races, so I am starting to think about what running in college would look like for me and if it would be a good fit. I am so new to the sport I don't know much about the college level, but I am going to keep an open mind and explore all options.
What are you going to study?
Jensen: I'm not 100 percent sure, but I do really enjoy science and agriculture. I've looked into things such as animal science or ag business.
McMahon: I would like to study biomedical science or biochemistry with possibly a minor in nutrition. As well as that, I would like to be involved in undergrad research relating to the medical field.