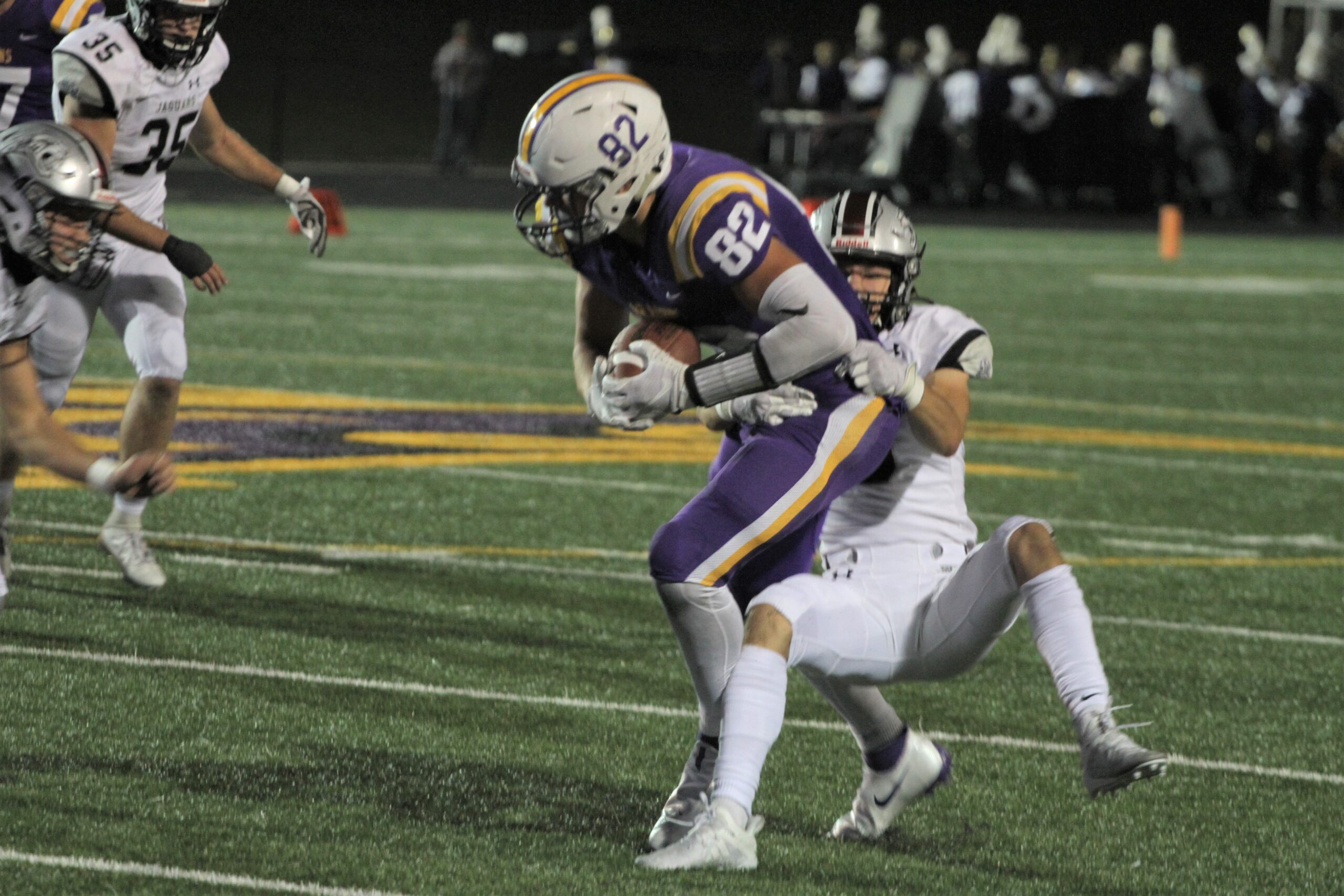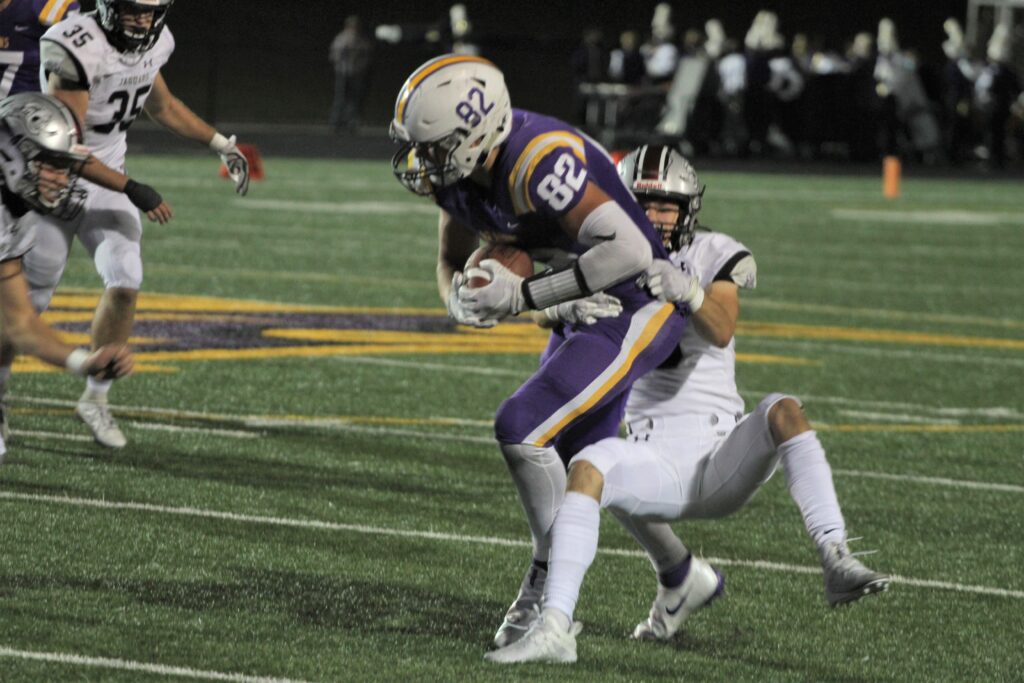 If the Ankeny Centennial football team continues to improve over the next three weeks, the Jaguars could be a dangerous opponent in the upcoming Class 4A playoffs–despite entering the postseason with a losing record.
Centennial battled ninth-ranked Johnston down to the wire on Friday before falling to the Dragons, 14-7, at Johnston Stadium. The Jaguars dropped to 0-4 on the season but showed significant signs of progress.
"Our record doesn't indicate where we're at," said Centennial co-head coach Ryan Pezzetti. "We're closing the gap faster than we think we are. I realize it's an 'L' in our column and we'll accept that and we'll move forward, but this is a year to start peaking at the end with everybody making the playoffs. We're thrilled to death to take a step forward."
Centennial had two chances to tie the game and force overtime, but the Jaguars twice turned the ball over deep in Johnston territory late in the fourth quarter. The Dragons (3-1), who were coming off an upset over seven-time defending state champion Dowling Catholic, earned their third straight win after a season-opening loss at Urbandale.
"We definitely improved," said Centennial running back Trey Porter, who scored the Jaguars' lone touchdown on an 86-yard run in the first half. "Those drives where we went all the way down the field, we've just got to push it in. It was just some mental mistakes. We'll fix those."
Centennial has played one of the state's toughest schedules thus far. Its four opponents are a combined 12-4.
After giving up 77 points in the first six quarters of the season, the Jaguars have allowed just 38 points in the last 10 periods.
"The second half of the Southeast Polk game we shut them out and then last week against Waukee it was 14-7 with 4 minutes left," Pezzetti said. "We know our defense has to be what we hang our hats on, and they did a great job today. We came up a little short, but we're ready to make another step forward."
Johnston took a 7-0 lead on the opening possession of Friday's game. Aidan Moore, who rushed for 70 yards on 12 carries and also had a game-high 10 tackles, scored on a 17-yard run.
Centennial's offense took awhile to get untracked behind quarterback Peyton Goode, who started in place of injured sophomore JJ Kohl. Goode ran 16 times for 46 yards and also completed 5-of-13 passes for 85 yards.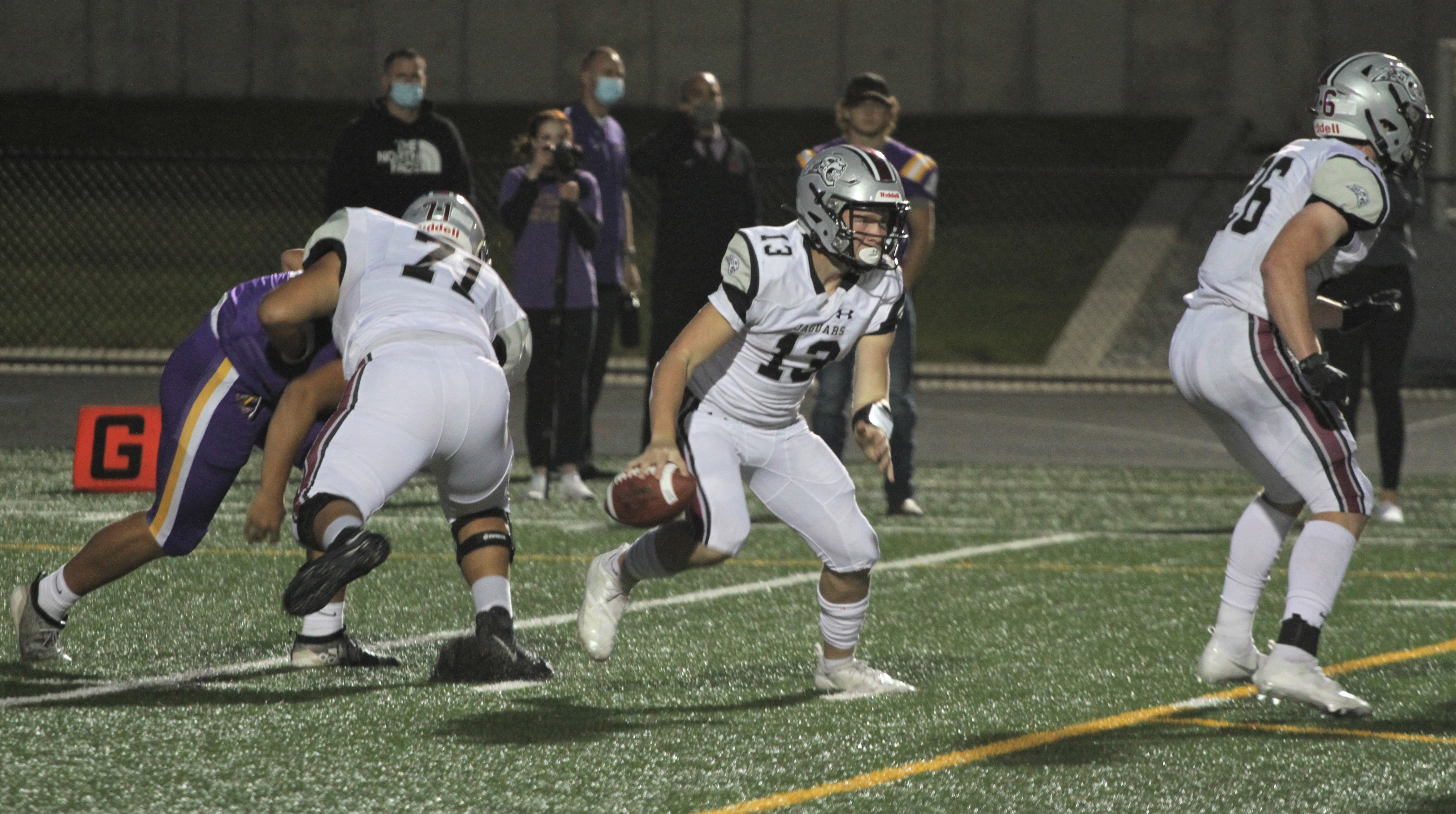 Early in the second quarter, the Jaguars tied the game when Porter found some daylight on a run up the middle, stiff-armed a Johnston defender at the Dragons' 20-yard line and raced to the end zone.
"That was pretty fun," said Porter, who ran seven times for 105 yards and also caught two passes for 52 yards. "I haven't broken free like that this year. I'm pretty excited about that. Thanks to my blockers for getting that big hole for me."
The Dragons scored what proved to be the winning touchdown late in the second quarter. Jack Rutz fired a 36-yard strike to Karter Kriegel with 22 seconds left in the half.
Kriegel took advantage of single coverage as Centennial tried to contain Johnston tight end Tyler Moore, the Iowa State recruit who had eight catches in the first half and finished with 10 receptions for 102 yards. Kriegel had three catches for 61 yards while Rutz completed 16-of-28 passes for 198 yards.
After the stadium was evacuated at halftime due to a false fire alarm, the game turned into a defensive battle. Each team punted six times altogether, and Centennial's Tyler Johnson averaged 39.8 yards on his attempts–including one of 63 yards–to help the Jaguars in the fight for field position.
"We knew it would be a battle going in," Pezzetti said. "Johnston plays great defense."
Owen Vernon had 6.5 tackles to lead the Jaguars' defensive effort. Trey Hansen and Jackie Wells each added six tackles.
Griffin Neal also blocked Johnston's 28-yard field-goal attempt late in the third quarter, preventing the Dragons from adding to their lead.
Centennial's Carter Cahill ran 75 yards for an apparent touchdown early in the final period, but the score was wiped out by a holding penalty. It was one of several costly penalties for the Jaguars.
After Centennial turned the ball over on downs at the Johnston 15 with 5:15 left, the Jaguars forced a punt and got the ball back at their 42-yard line. Goode then passed to Porter for a 30-yard gain to the Dragons' 28 with 2:30 remaining.
After Goode ran 9 yards to the 19, Centennial was penalized 5 yards for an illegal formation. Goode's next three passes then fell incomplete to end the threat.
"Johnston has a nice team. They played their hearts out," Pezzetti said. "We got behind a little bit and at the end we were driving the ball. It just felt like we ran out of time."
Two of Goode's final three passes were intended for Porter. The last one came with 1:29 left, and the Jaguars had no timeouts remaining to stop the clock.
"We'll fix our mistakes," Porter said. "We'll be ready when the playoffs come."
The Jaguars will host Ames on Friday at Ankeny Stadium. It will be Senior Night.
The Little Cyclones (0-2) haven't played since Sept. 4 after Ames switched to all online classes for two weeks due to a COVID-19 outbreak.
"We'll reload again and start on Sunday," Pezzetti said.