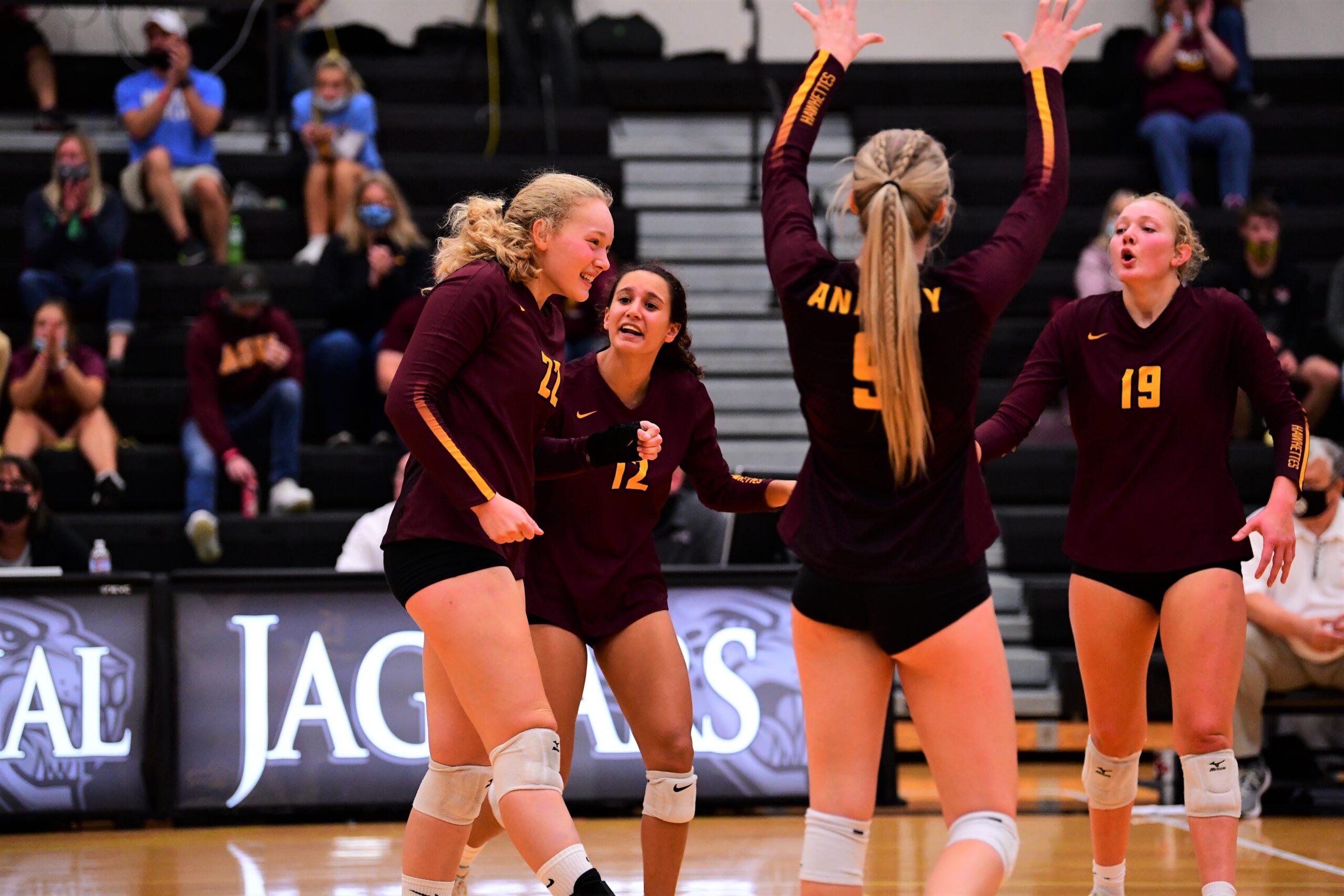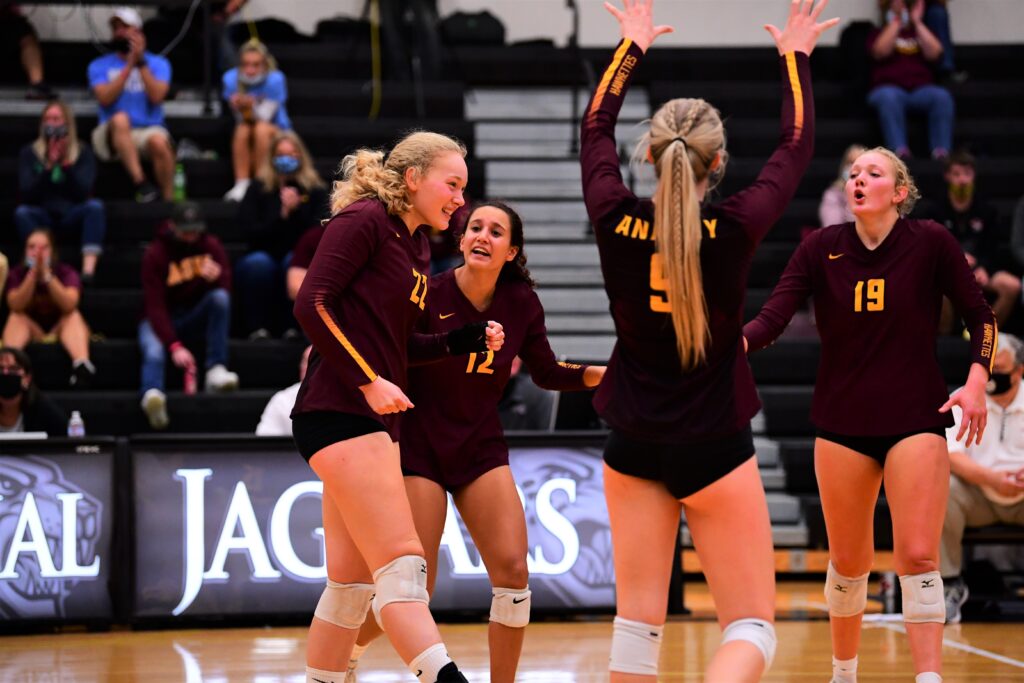 Ankeny volleyball player Hannah Baier stopped to chat with Ankeny Centennial's Reagan Angus as she walked out of the Jaguars' gym on Tuesday night.
There were no hard feelings after a hard-fought match between crosstown rivals.
"We're all really close," Angus said.
The second-ranked Hawkettes took control in the third set and went on to post a 25-22, 22-25, 25-20, 25-17 victory over No. 5 Centennial. It was their second straight win over the Jaguars, but this one was much closer than last year's sweep.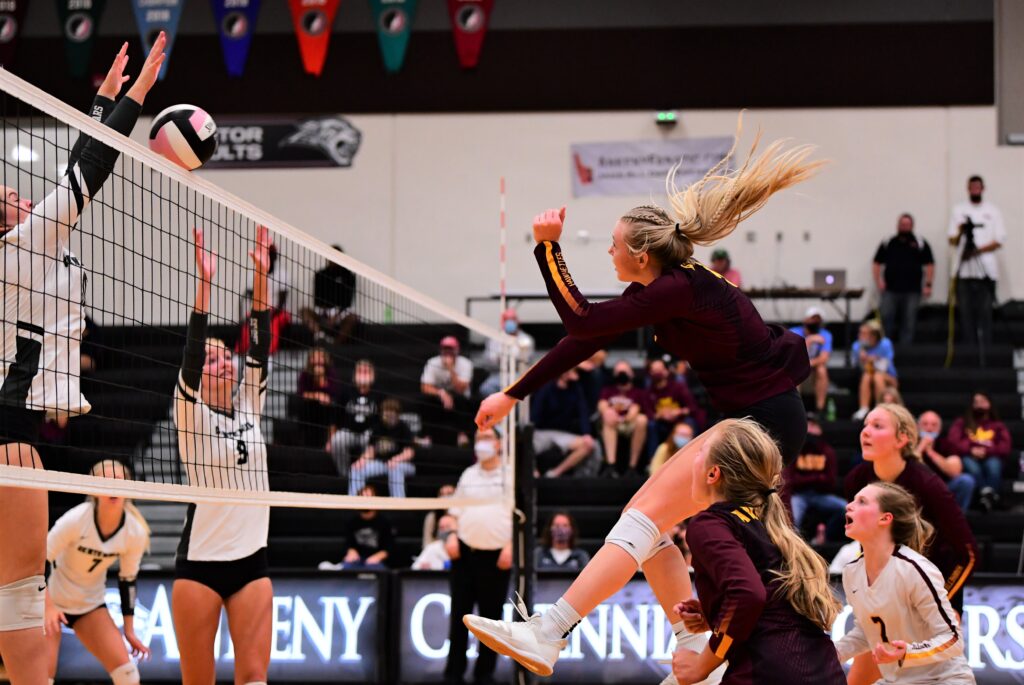 "We knew that they were going to be good," said Ankeny junior Ava Reynolds, who led all players with 17 kills. "We just had to hit how we know how to hit, and we could still win–and we knew that."
The win allowed Ankeny to take over sole possession of first place in the CIML Iowa Conference. The Hawkettes are now 3-0 in the league and 12-2 overall, while Centennial's records dropped to 2-1 and 9-2.
Fresh off a victory at No. 1 Dowling Catholic on Saturday, Ankeny will likely take over the top spot in the next Class 5A rankings, which will be unveiled by the Iowa Girls' High School Athletic Union on Thursday.
"It's hard to reach the same level after winning like we did on Saturday," said Ankeny coach Dave Whims. "That was a big match, and then you come back to another big match. But this was good for us. I thought our girls settled down and we figured out some things we were doing wrong, but I give (Centennial) a lot of credit. They gave a lot of effort and dug up a lot of balls."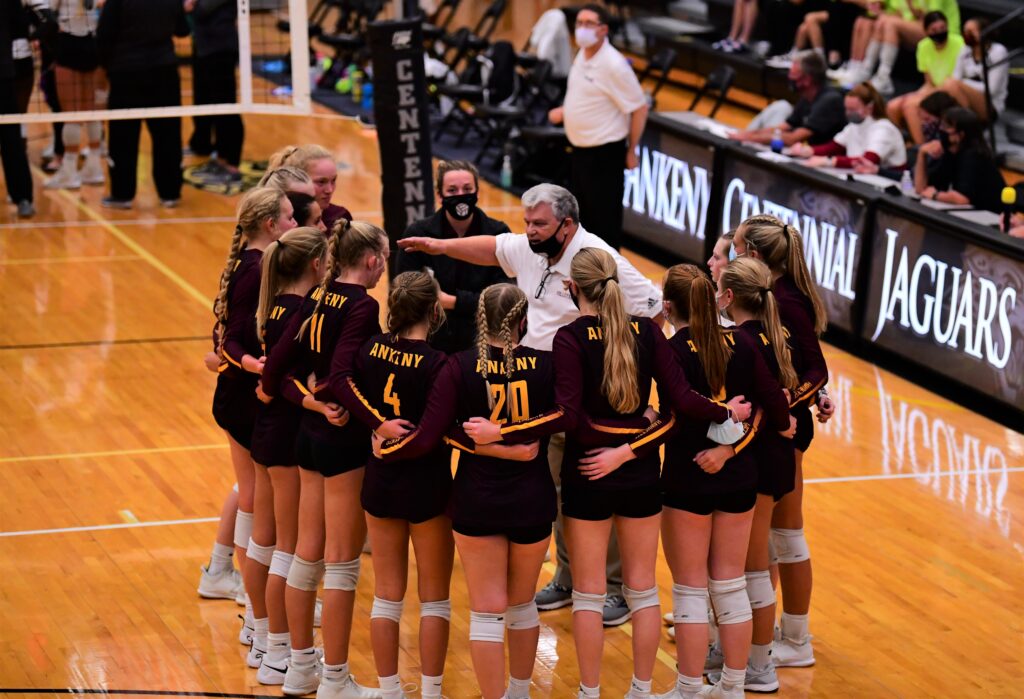 The Jaguars used a 10-point run to win Set 2 and then took a 9-7 lead in Set 3 before Ankeny answered with a 5-0 run to seize the momentum for good. The Hawkettes outscored Centennial, 43-28, the rest of the way.
Ankeny outhit the Jaguars by a .250 to .172 margin.
"There were some really good moments of volleyball. It was a fun back and forth," said Centennial coach Jessica Rinehart. "I thought we competed well at the beginning. We kind of fell off at the end."
Phyona Schrader, Reynolds and McKenna Scheib each had a kill in Ankeny's run that gave the Hawkettes a 12-9 lead in Set 3. Marianna Blanco later had a pair of blocks as the margin grew to 16-12.
"I think just from the Dowling game we really improved on our blocking," said Blanco, who finished with a match-high seven blocks. "That's just a major part of our energy level right now."
Centennial eventually closed the gap to 19-18 on a kill by Hannah Kurth, but Ankeny then went on a 6-2 run to close out the set. Reynolds slammed a kill to give the Hawkettes a 2-1 advantage.
"We just had to have high confidence in ourselves and to know that we can win and push through the hard times, like the tough runs," Reynolds said.
Scheib opened the fourth set with a pair of kills, then Schrader followed with an ace. Ankeny later built a 20-10 lead and eventually closed out the match on a kill by Baier.
"They have a lot of weapons. Defensively, you have to keep balls alive," Rinehart said. "They ran more slides than I had seen all season and on film. We didn't defend them very well, but we also hadn't practiced against them. I think if we play them again we'll concentrate more on defending the slide."
The Jaguars battled Ankeny on even terms through the first two sets. There were five ties and four lead changes in Set 1 before the Hawkettes scored four straight points–two of them on blocks by Blanco–to erase Centennial's 18-16 advantage.
Shortly thereafter, Schrader pounded a kill to close out the set.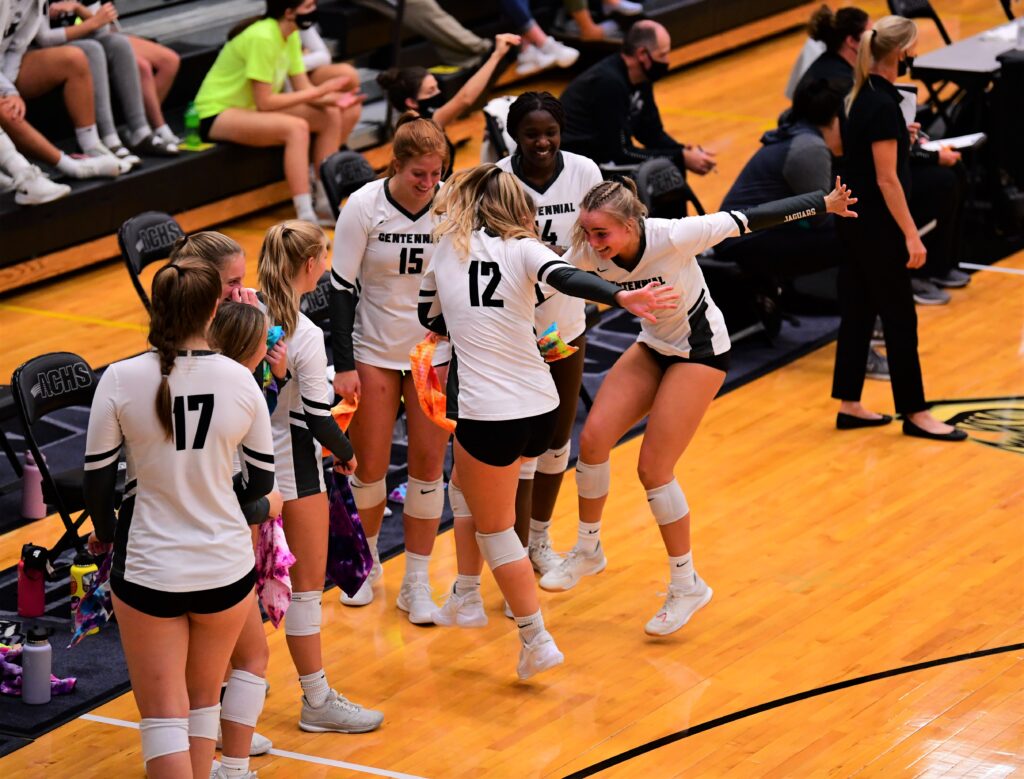 "They were well-prepared for what we wanted to do, and then we had to make adjustments," Whims said. "I think we were a little tight because this is a rivalry, and it's a big game for everybody. Both teams had young kids out there, and I think we felt that pressure."
Each team had a huge run in Set 2. Centennial forced a sideout while breaking a 6-6 tie, then reeled off nine more points behind the serving of Angus, who completed all 22 of her serves and had three aces in the match.
"I saw that their seams were definitely the most open part of the court for the serving," Angus said. "I put a couple short in front of them to make them move, and then moving them side-to-side really worked on the serves."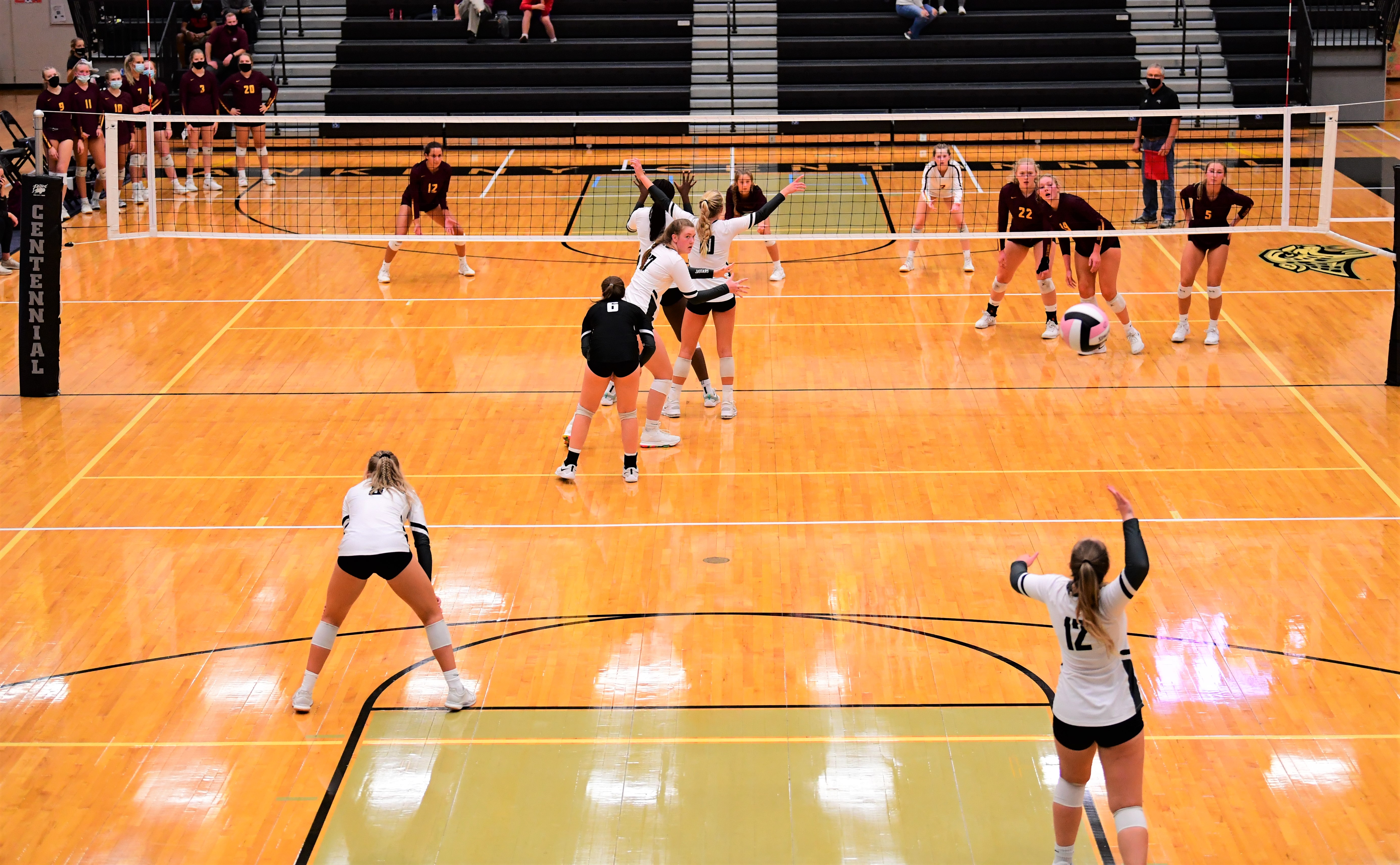 Ankeny then answered with a 7-0 run of its own, beginning with a kill by Baier. Maddie Foels served the next six points and had a pair of aces as the Hawkettes pulled within 16-13.
Ankeny later tied the score at 20-20 on an ace by Scheib, but Centennial then scored five of the next seven points to even the match. Olivia Anderson had back-to-back kills before Monica Mirembe closed it out with another kill.
"They got every ball up. They got a touch on everything," Blanco said of the Jaguars. "I was pretty impressed."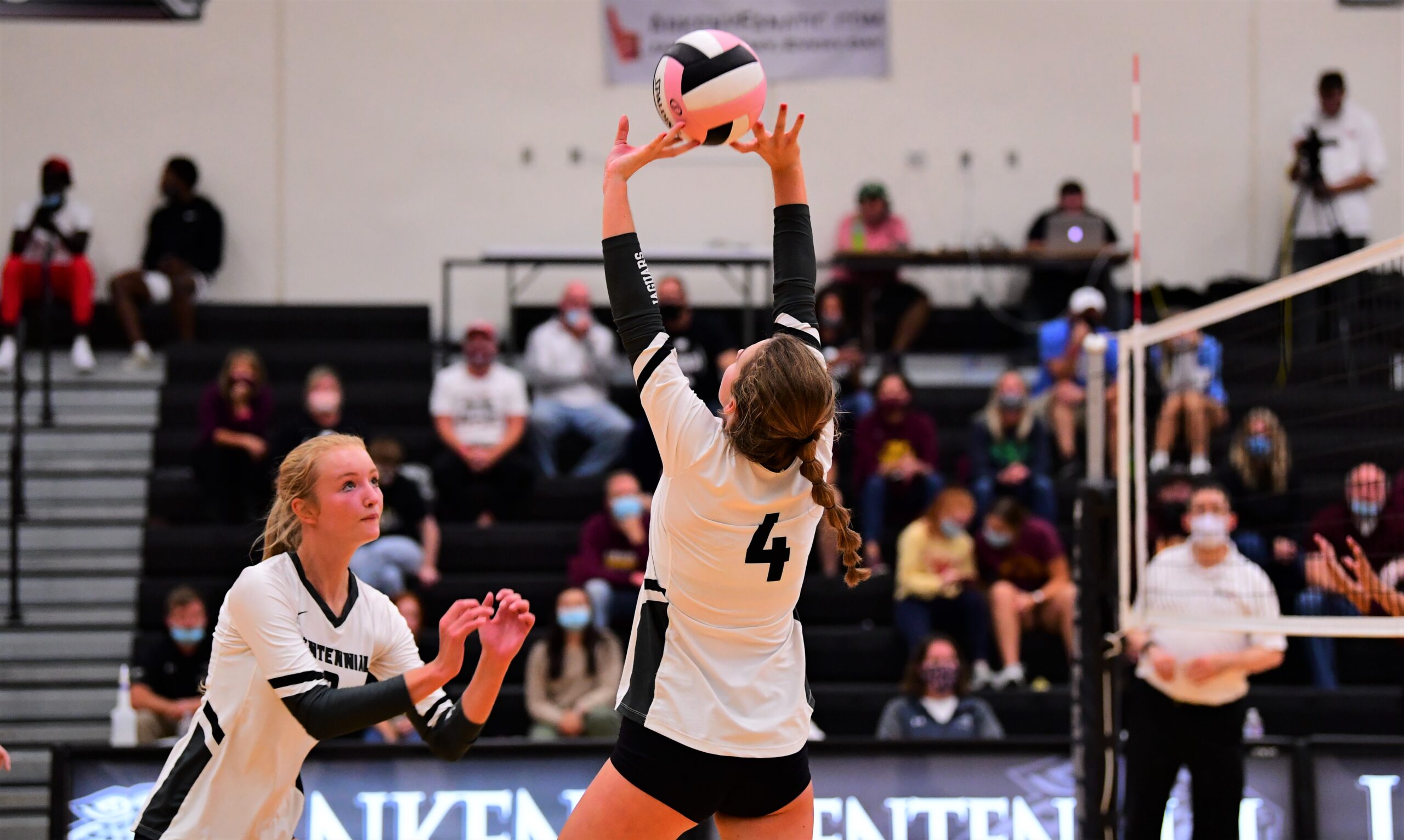 There were six ties and three lead changes in Set 3 before Reynolds put Ankeny ahead for good with a kill.
"It's always exciting to play Centennial. We always know it's going to be a big game," Reynolds said. "I think we got a lot of confidence (from Saturday), but we had to be ready not to win this game off of that game. We had to start over and it's a different team and we have to do different things, and I think we knew that coming in."
Scheib had 12 kills for the Hawkettes, Aowyn Schrader contributed 11 kills and six blocks while hitting .529, and Baier added 10 kills. Phyona Schrader dished out 49 assists.
Lexi Stephens added 10 digs for Ankeny, which also got three aces apiece from Foels and Halle Ouellette.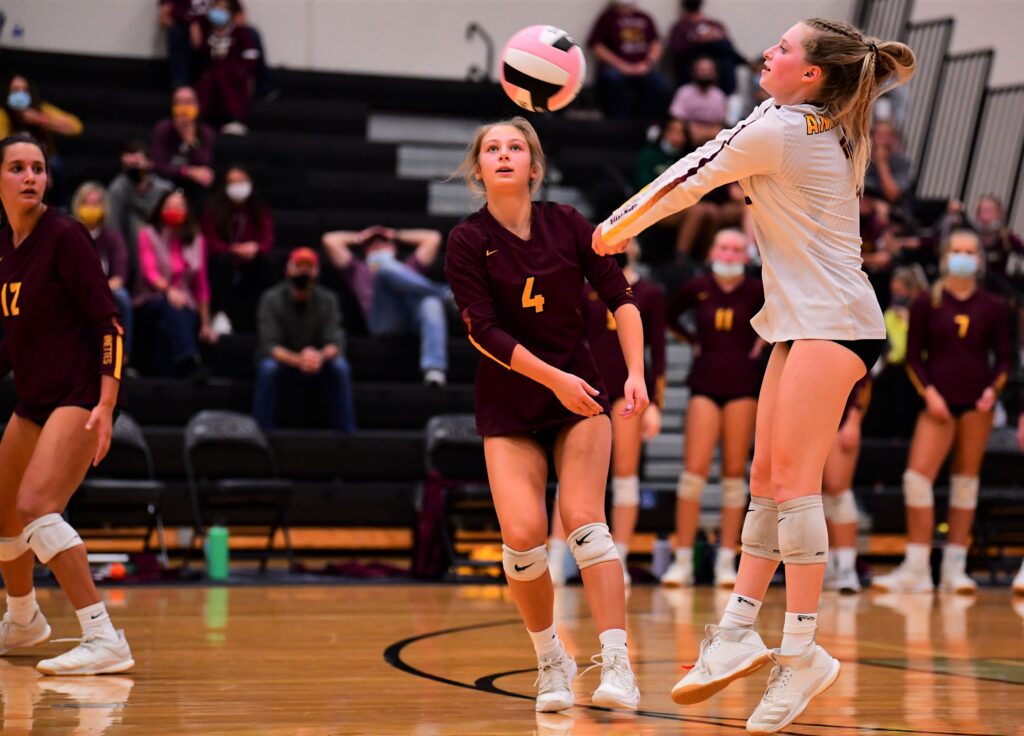 "Foels had a great run to bring us back (in the second set)," Whims said. "I think both teams deserve their ranking. They've improved a lot and come a long way."
Anderson had 11 kills to lead Centennial, Mirembe chipped in nine while hitting .444, and Marissa Meyer added six kills. Morgan DenBeste racked up 16 assists, and Angus added 15.
Peyton Mitchell contributed four blocks and two aces. Ella Becker led the defense with 24 digs.
"It's still hard for us to be consistent at a high level, but I think we're doing some really great things," Rinehart said. "We had some great things come out of this match, but obviously I wanted a different outcome."