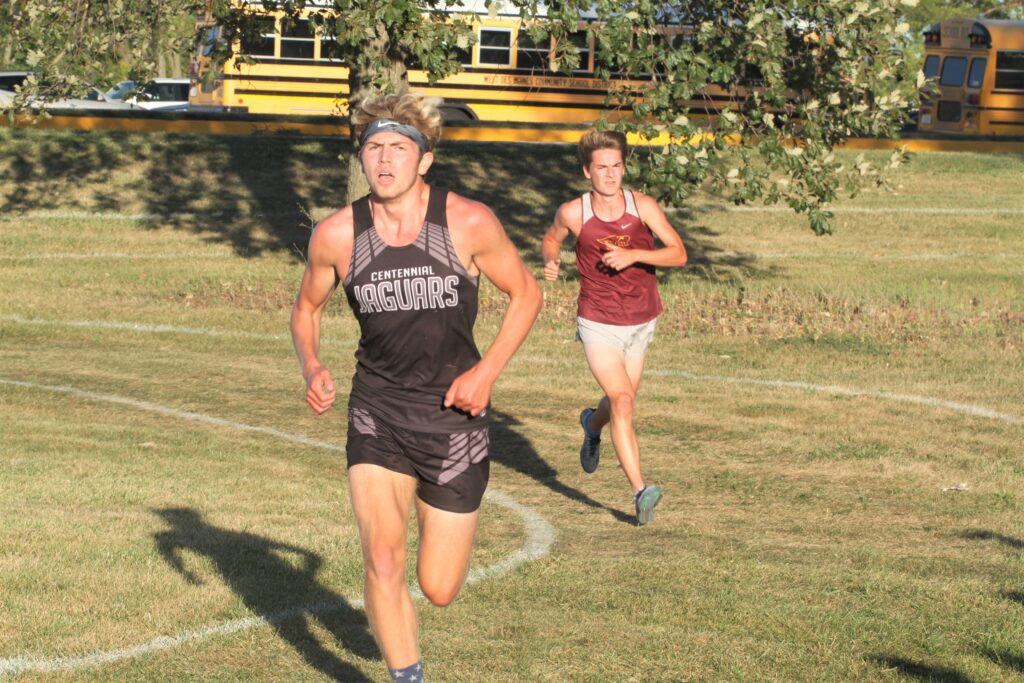 After getting a week off, the Ankeny Centennial boys' and girls' cross country teams returned to action on Tuesday at the Knoxville Invitational.
Both squads earned second-place finishes.
In the boys' division, ninth-ranked Norwalk claimed the team title with 32 points, edging No. 10 Centennial by three points. No. 12 Urbandale was a distant third in the 12-team field with 120 points.
In their previous meet, the Jaguars lost to Norwalk by five points in the Tom Karpen Invitational on Sept. 15 at Valley Southwoods Freshman High School.
"We were a little disappointed, but we battled back in the second half of the race," said Centennial boys' coach Chad Fickbohm. "We know that all of the races going forward will be fast, and we have to be able to have the mindset to compete the entire race."
In the girls' division, Ballard (Huxley) easily captured the crown with 34 points. The Bombers, who are ranked No. 1 in Class 3A, had the top two finishers and six in the top 13.
No. 6 Centennial took second among 13 teams with 69 points. No. 15 Norwalk was third with 71.
"I can't recall a time in which we were more short-handed," said Centennial girls' coach Eric Cogdill. "Compared to the Marshalltown meet, we were missing our No. 2, 4, 5, 6 and 7 finishers. Less than 30 minutes from the race start, we had to pull up a scheduled JV runner. Despite the short-handed squad, we were still able to edge Norwalk for second place."
Norwalk's Derek Webster won the boys' 5k race in a time of 16 minutes 51 seconds. Centennial's Gabriel Vicker was the runner-up in 17:00.
It was the first loss of the season for Vicker, who had won all three of his previous races.
"Gabriel didn't have his normal race, but we expect him to rebound," Fickbohm said.
The Jaguars had five runners among the top 11 finishers. Connor Cunningham placed fourth in 17:05, Karsten Peters took eighth in 17:24, Nate Jones was 10th in 17:25, and Kade Christensen finished 11th in 17:35.
"Connor had another solid performance," Fickbohm said. "Karsten stepped up in a big way as our No. 3 with Nate just behind and Kade really having a nice last part of the race, but we certainly need Nate and Kade to be together at the finish."
Centennial's Ryan Bybee and Cooper Majors crossed the finish line together, placing 17th and 18th, respectively. Bybee posted a time of 18:22.16, while Majors was clocked in 18:22.28.
Ballard's Paityn Noe cruised to an easy victory in the girls' race, posting a time of 18:21. She finished 46 seconds ahead of her teammate, fellow sophomore Shewaye Johnson.
Rondi Quass led Centennial with a third-place finish. She turned in a time of 19:28.
"The Knoxville course is a hill grinder, and we executed very well," Cogdill said. "Rondi came away with a lifetime best as she continues to grow."
Katie Jensen placed seventh for the Jaguars in 20:17. Anja Peck took 14th in 21:01, Kendall Jorgensen placed 22nd in 21:48, Camden Hershberger was 23rd in 21:49, and Grace Meador finished 26th in 22:00.
Centennial won the girls' junior varsity division with 25 points. Macie Langstraat won the race in 21:57, while teammate Allison Su was second in 22:05.
Both the girls' and boys' teams will compete next in the Fort Dodge Invitational on Oct. 8.