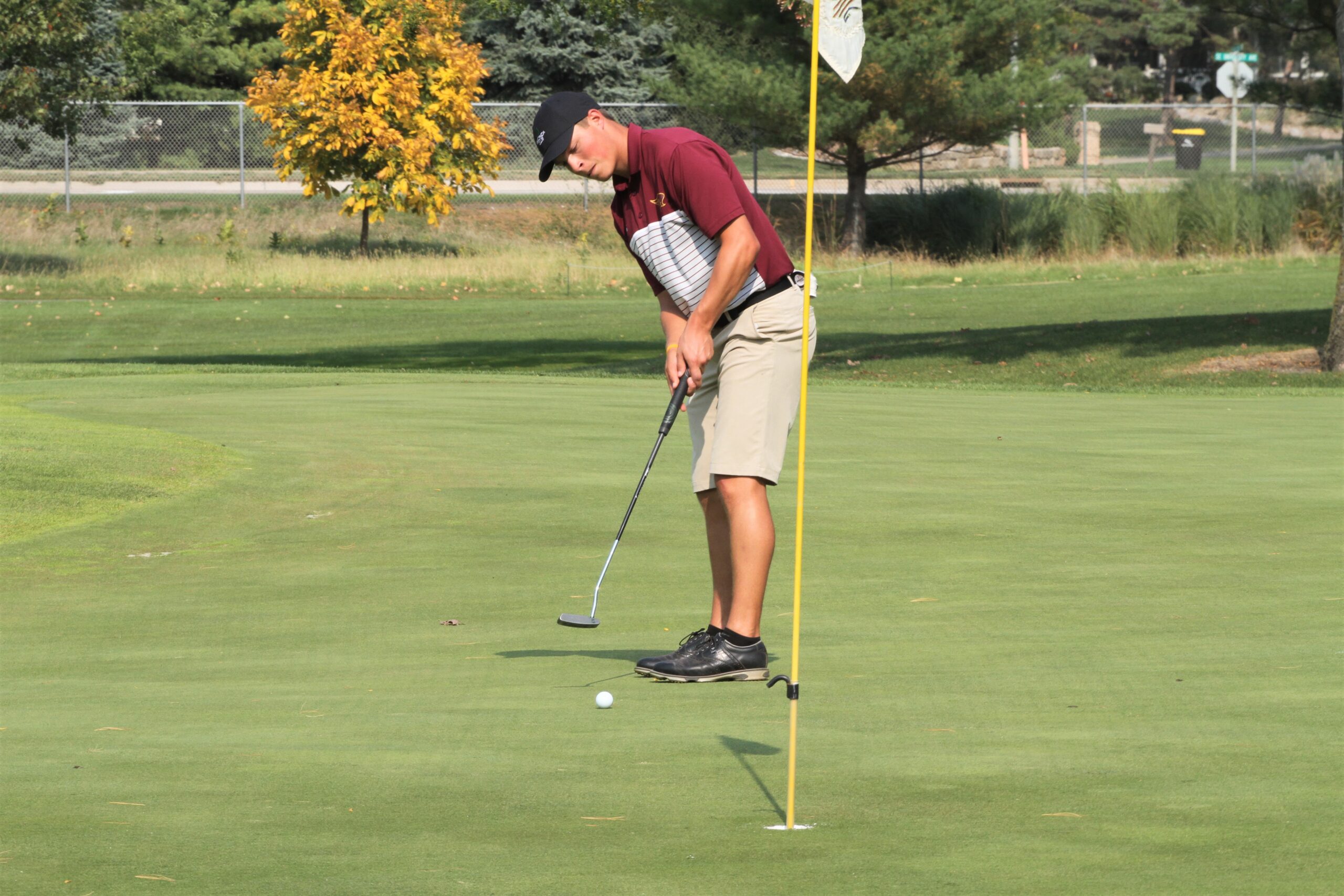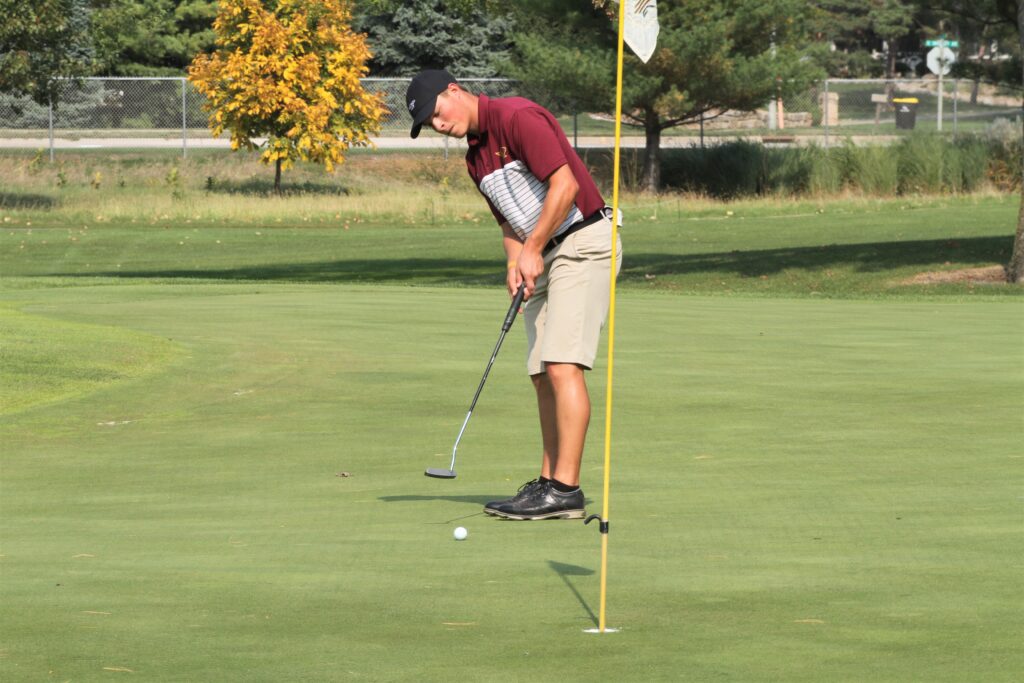 If the Ankeny boys' golf team hopes to contend for the Class 4A state title, the Hawks may need a few more shots like the one that ended Hunter Johnson's opening round on Friday.
Johnson holed out from 75 yards on No. 18 for an eagle, allowing him to finish with a 4-over-par 76 at the Des Moines Golf and Country Club. He is tied for sixth place heading into Saturday's final round, but trails co-leaders Will Kramer of Waukee and Sam Vertanen of Ames by just two shots.
"It was a great number–one that I practice every single day," Johnson said of his final shot. "I feel like I'm in a good position. I just have to go out and execute. I'm going to trust my process and stick to my game plan."
Second-ranked Ankeny is seeking its first state title, but the Hawks have some ground to make up. They shot a 318 on Friday and are in third place, 16 strokes behind No. 5 Waukee–the two-time defending champion.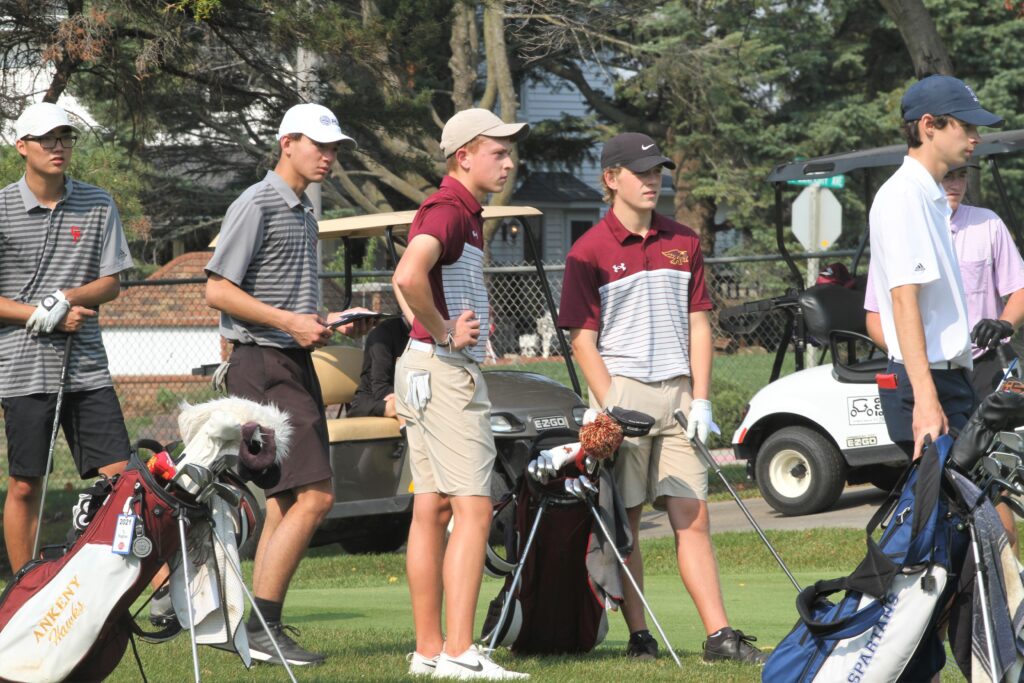 No. 1 Pleasant Valley posted a 317 total and sits one shot ahead of Ankeny.
"It wasn't the best time to shoot our highest score of the season, but the windy conditions definitely led to some higher scores overall," said Ankeny coach Mike Weddingfeld. "We really struggled with our putting and had a few unlucky breaks throughout the round, but feel fortunate to be only one stroke out of second place."
No. 6 Ankeny Centennial, meanwhile, struggled to a 341 total on Friday. The Jaguars are in 11th place in the 12-team field.
"Today was rough from the get-go for our boys," said Centennial coach Rick Fee. "We all knew what was needed to place in this tournament, and that was our goal in the beginning. The wind did play a big part in our high numbers. I told the boys that we started the day ranked sixth and that was our goal at the end of the day. That is now our goal for (Saturday)."
Ankeny's Ty Roghair carded a 78 and is tied for 12th place. Corbin Walker fired an 81 and is tied for 20th place.
Dylan Taylor shot an 83 for the Hawks, Joey Newton had an 87, and Karson Wehde added an 89.
"Sixteen strokes out of first sounds like a ton, but we talked about if each of our four counting scores can improve by just two strokes and Waukee's four counting scores are two strokes higher we make up 16 strokes, so it is not out of the question," Weddingfeld said. "Having another round in today to see the course and getting the nerves out of the way I think will give us a better score (Saturday). We will go out and do our best and see where we end up."
Jack Winkel carded an 83 to lead Centennial. He is part of a 10-way tie for 27th place that also includes Taylor.
Lawson Hachmeister shot an 84 for the Jaguars. Jack Benkufsky had an 86, Ethan King fired an 88, and Jonathan Saddoris and Kellen Welsch each finished with an 89.
"We want to get back to that top half of the field and finish in the top six," Fee said. "As a team we believe we can do it. We need to make up 10 shots. If our top guys can play the way I know they can and our other guys contribute the way they have all year, I know we can reach our goal."