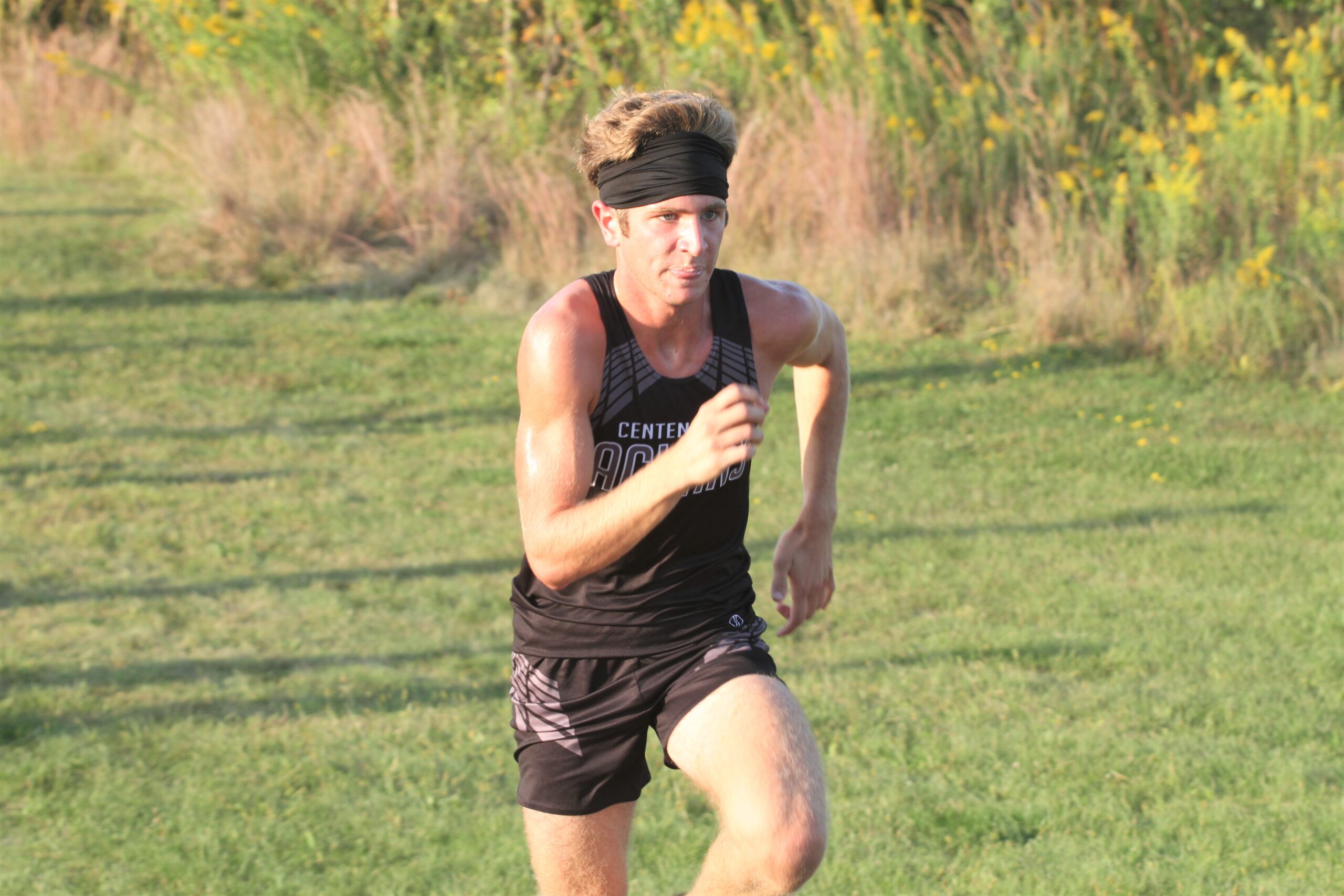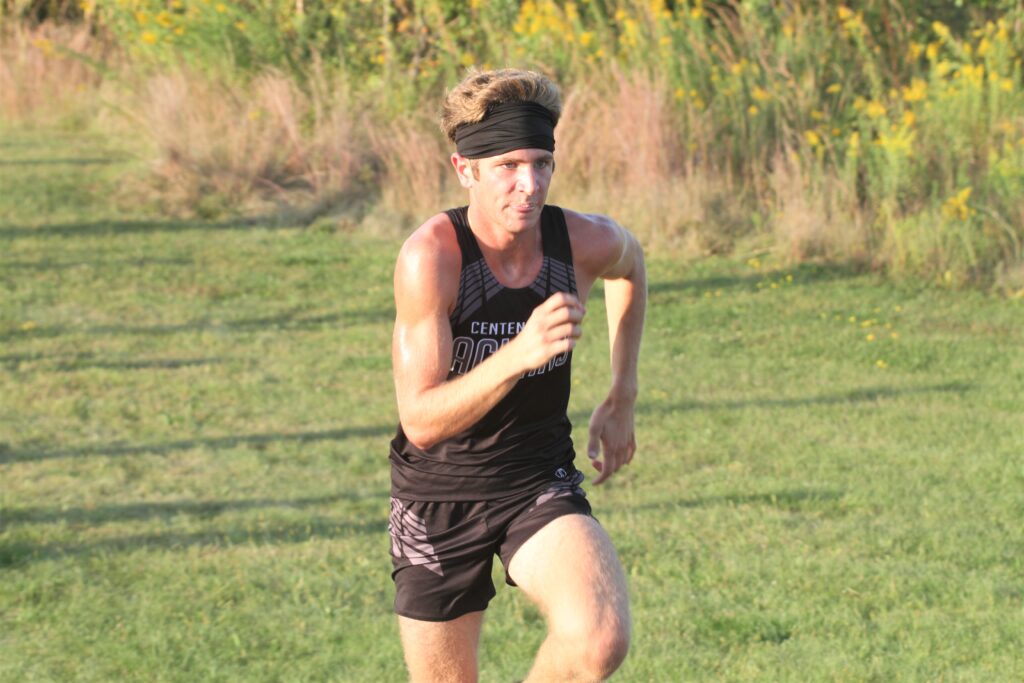 Seniors Connor Cunningham and Andrew Poock are enjoying strong seasons for the Ankeny Centennial and Ankeny boys' cross country teams, respectively.
Cunningham, who is ranked 15th in Class 4A, placed 12th in the A Division of the Fort Dodge Invitational on Thursday with a time of 16 minutes 55 seconds. He helped the 11th-ranked Jaguars to a fourth-place finish.
Poock, meanwhile, took ninth in the B DIvision of the Fort Dodge meet in 17:28. He helped the Hawks to their first team crown since the 2018 season.
Here is some inside info on the duo:
Were you happy with your race at Fort Dodge?
Cunningham: I had mixed emotions about the race. I did not have the best start. There was a lot of people at this race–more than we had seen in a meet all year–so I ended up getting trapped in a pack at the start of the race that I knew I was faster than. It took a lot of energy to get around them, but after that I was able to run my race the way I wanted to. I was really happy with the second half of my race. I ended up passing a lot of people, especially in the last 800 meters, so I just need to work on going out faster and staying with that lead pack.
Poock: I was pretty happy with my race, but especially with how our team stepped up and raced as well. I think this win was a big confidence booster for us and gives us a good shot to qualify for state as a team. We have a really solid top 10 that can all compete well. I think I can still race better, though. I have gotten good at putting myself in a good position for the first half of the race, but I need to buckle down and stick with the top group for longer, especially through the second mile. I think if I can do that, I have a good shot at qualifying for state individually and helping our team even more.
How were the running conditions? Was it too warm?
Cunningham: The conditions were not the best. It was warm and windy, two things a runner hates. The wind (which was about 15 mph) really got to me and a lot of my teammates. But, we have to be ready for conditions like that and deal with them the best we can.
Poock: The conditions weren't amazing, but weren't bad either. Fort Dodge is a pretty fast course so our team was hoping for some fast times, but the wind was a pretty big factor during some parts of the race, which slowed it down a little bit, especially on the stretch before you turn into the finish. Our team had a plan to run on somebody's shoulder during the windy parts, which helped me a lot in the beginning, but toward the end of the race everyone was pretty spread out. I didn't think the temperature was too bad. I don't mind 70s that much, and it will probably cool down in the last few weeks of the season.
What did you think of your team's performance?
Cunningham: I'm proud of and happy with the way my team competed. We wanted to be close to Johnston and Waukee, and I feel like we made good progress toward beating them, only being 14 points off Johnston and 17 off of Waukee. Gabriel Vicker had a good race, and Karsten Peters really stepped up in taking the 3 spot. Kade Christensen came down with a sickness last week (not COVID-19) so he was still recovering from that, and his race results reflected that. I have no doubt that he'll be right where he needs to be come conference and districts, though.
Poock: Our team did great! It's fun to see the younger guys have lots of success early in their careers, and I am confident they will continue getting better the next few years. A couple guys didn't have a great race, but our team has lots of depth so the next guy is always ready to fill in. We should be ranked after this win, and we are starting to close in on some better teams like Urbandale and Centennial, which puts us in a good place for districts.
Your team will compete in the CIML Iowa Conference meet on Thursday at Ames. Do you think your squad can contend for the title?
Cunningham: I really believe we can take the conference title. We are the best team in the conference, and the second-best team is Ames, who we beat pretty handily at Fort Dodge. It would be an amazing feeling to take home a conference title for the first time in school history.
Poock: I think we definitely have a shot at winning conference because Centennial is better than us right now but not unbeatable, so if we match up guys with them and run how we know we can run, winning conference would be a really cool thing for our team.
The state-qualifying meets will be held on Oct. 21 and there will be five different sites in Class 4A, but you don't know yet where your team will be running and which teams you'll be running against. Is there a course that you'd prefer to go to if it was up to you?
Cunningham: Yes, I would love to go to Marshalltown. We had one of our best team races in school history there earlier in the season, so if it were announced that we would go there I think it would be a great confidence boost for the team, since we ran so well there. Also, it's one of the flatter district courses, so we wouldn't have to worry about the hills.
Poock: I have only ran at Marshalltown and Southeast Polk, and those are two pretty good courses. They both have their pros and cons. Marshalltown is a faster course which I like better, but I wouldn't mind running at Southeast Polk either.
Andrew, you competed in the state meet as a sophomore, placing 110th while helping the Hawks to a fifth-place finish. What did you learn from that race?
Poock: I learned a lot from that race, but one of the things that stuck out to me the most was the atmosphere. It felt important like districts because everyone is so focused and there are lots of good runners there. During the race, especially during the first mile, there was so much energy from the crowd that made the first mile go by almost without even noticing it. I also learned that sticking with a pack helps a lot during the start of the race, and while I was watching the race last year I noticed that the second mile is where everyone splits up, so I will need to focus on getting myself in a good position during the second mile so I can set myself up for a good finish.
Connor, you qualified for last year's state meet as an individual and placed 84th. But I'm sure you'd like to go back this year with the whole team. That's been the goal all offseason, right?
Cunningham: For sure. My sophomore year I did not qualify due to an illness, and my junior year I did qualify, but the team did not. So, I would love it if we were able to finally bring the team to state my senior year; it would be an amazing send-off. It's something me and my fellow seniors Gabriel Vicker, Nate Jones, Kade Christensen and Ryan Bybee have been working toward for years, and it was my only goal going into the season, so I really hope we can accomplish it.
What has been the most difficult part of this season in terms of dealing with the COVID-19 guidelines?
Cunningham: Honestly, it's been everything that has been taken away from us. No more team meals, bus rides with the JV kids, and other fun activities. That part has been a bummer and hard to deal with. However, looking at it from a glass-half-full standpoint, it's allowed us to focus our minds even more on that state qualification that we all want.
Poock: I think the most difficult part is not being able to do as many things together as a team. We all miss the pasta parties before meets and the Saturday breakfasts after long runs where we can just hang out and relax. We also haven't been able to play as many games during practice. In past years we would sometimes go on a shorter run and play ultimate frisbee or football afterwards.
Plans for next year? Would you like to run in college, and what are you going to study?
Cunningham: Right now, I don't have plans to run in college. I'm looking to double major in accounting and finance, so I want to be able to focus most of my time and effort on that, and not have to worry about all the time and effort that cross country takes. However, I'm not totally closing that door yet.
Poock: I am going to college next year and I would like to continue running in college, but I am not sure if it would be competing at a smaller school or doing something more casual at Iowa State. I am planning on studying something related to math or computer science, such as actuarial science, programming or cybersecurity.
Do you have any long-term plans for running? Would you like to run a marathon someday?
Cunningham: I would like to do several road races and marathons when I get older. My teammates Kade Christensen and Nate Jones are also interested in doing so, since we always wonder who would win in a marathon between us three. So yes, running will definitely be a part of me for the majority of my life.
Poock: I would like to continue running long term because I enjoy it a lot and it will help me stay healthy. I haven't really thought about doing a marathon yet, but it is a possibility.