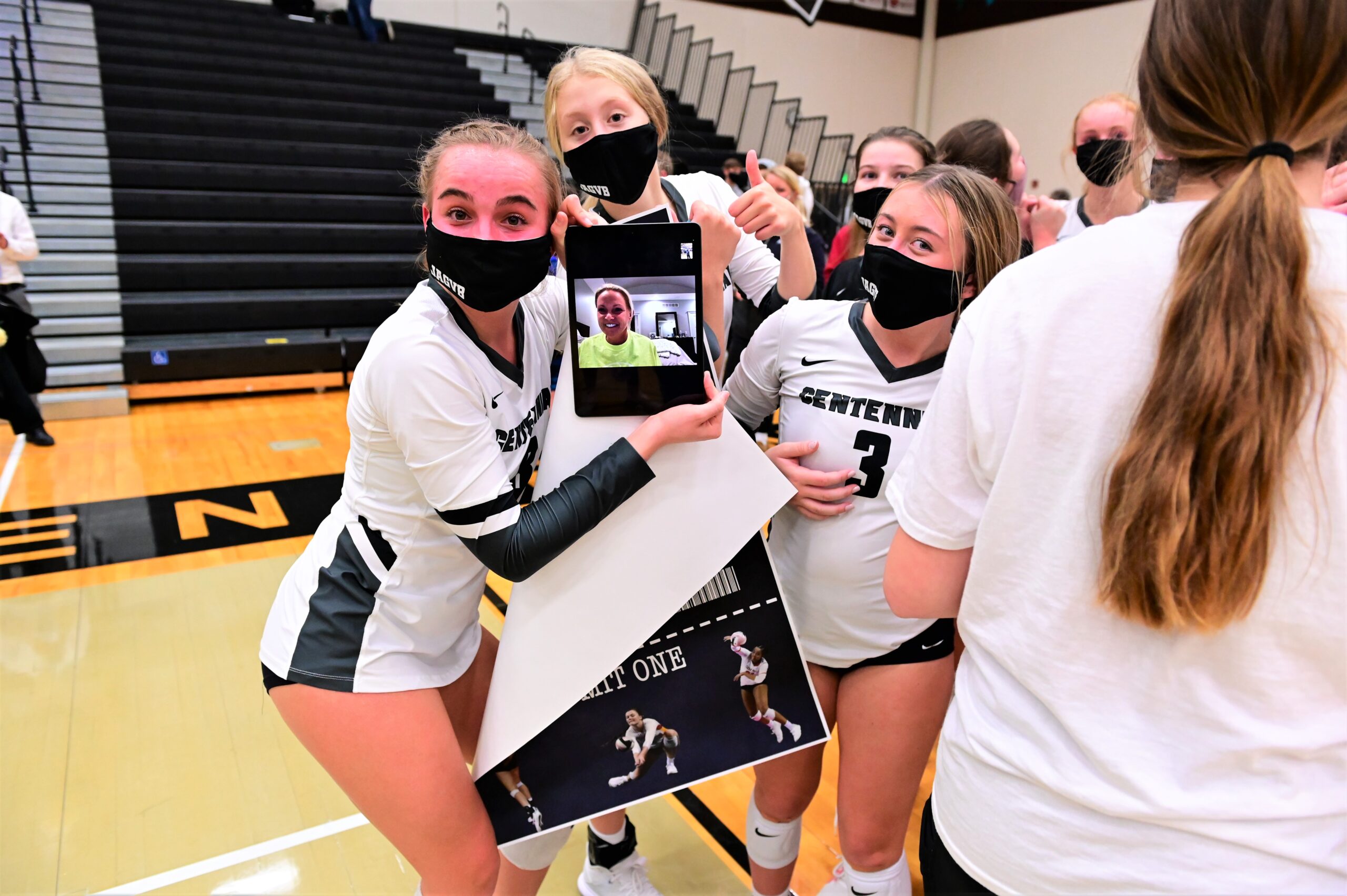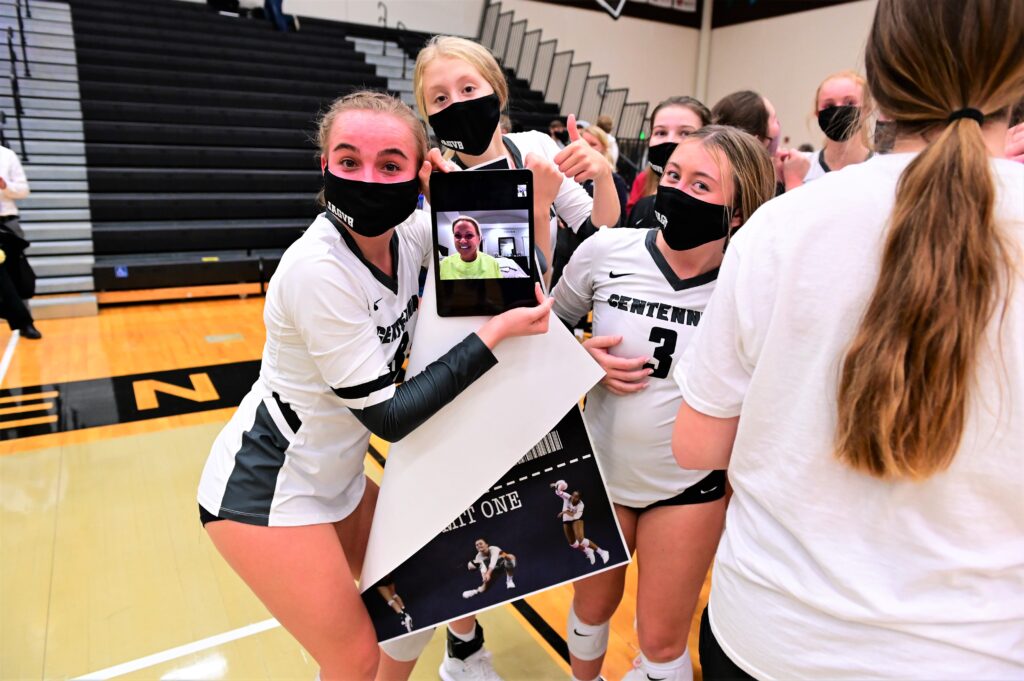 Ankeny Centennial volleyball coach Jessica Rinehart watched her team advance to the state tournament for the seventh time in eight seasons on Tuesday night.
This time, she watched the match from home.
"Not having Jess there was an additional motivation for us," said Centennial libero Ella Becker. "We knew that she wanted to be there more than anything, and we wanted to get that banner for her. It was great to FaceTime with her after the match to be able to share the joy and excitement of the victory."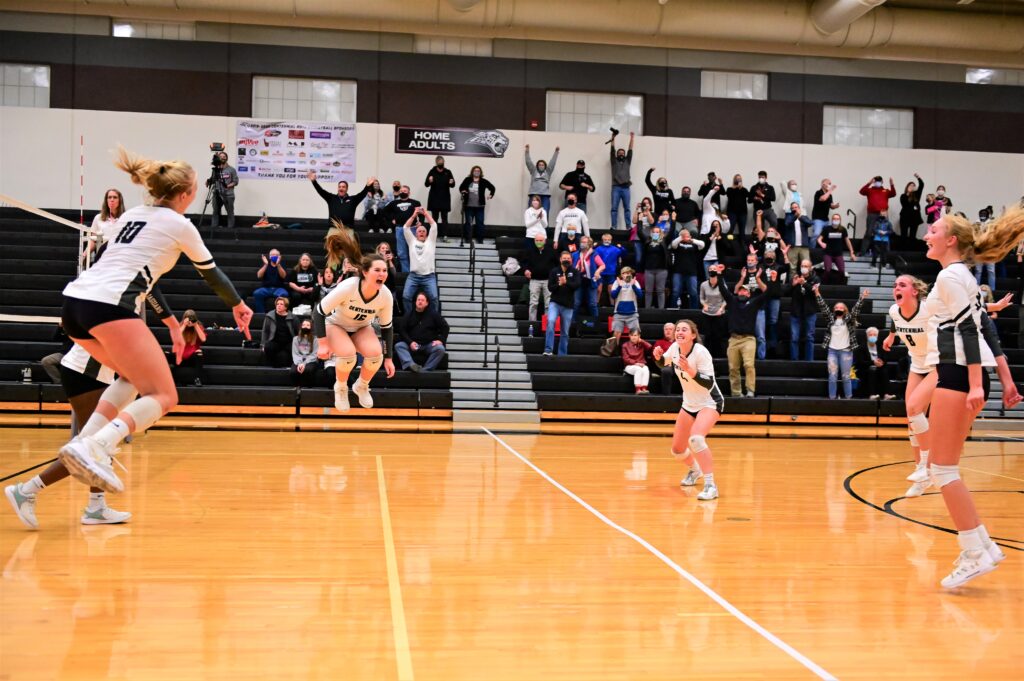 Becker had 22 digs as the seventh-ranked Jaguars won a five-set battle against No. 9 Urbandale in a Class 5A regional final at Centennial. The two teams traded wins throughout the match before Centennial finally emerged with a 25-14, 22-25, 25-22, 22-25, 15-9 triumph.
"I thought the Jags put together a gritty match," said Rinehart, who is recovering from an illness. "They battled for each point and did a great job keeping their composure and grinding out those last few points in game 5."
Centennial led by only 10-9 in the fifth set before scoring the next five points to close out the match. The Jaguars improved their record to 16-9, while Urbandale finished the season at 11-8.
"We got gritty and when it came down to it, we were not losing that game," said Centennial's Millie Hill. "Losing wasn't even an option for us."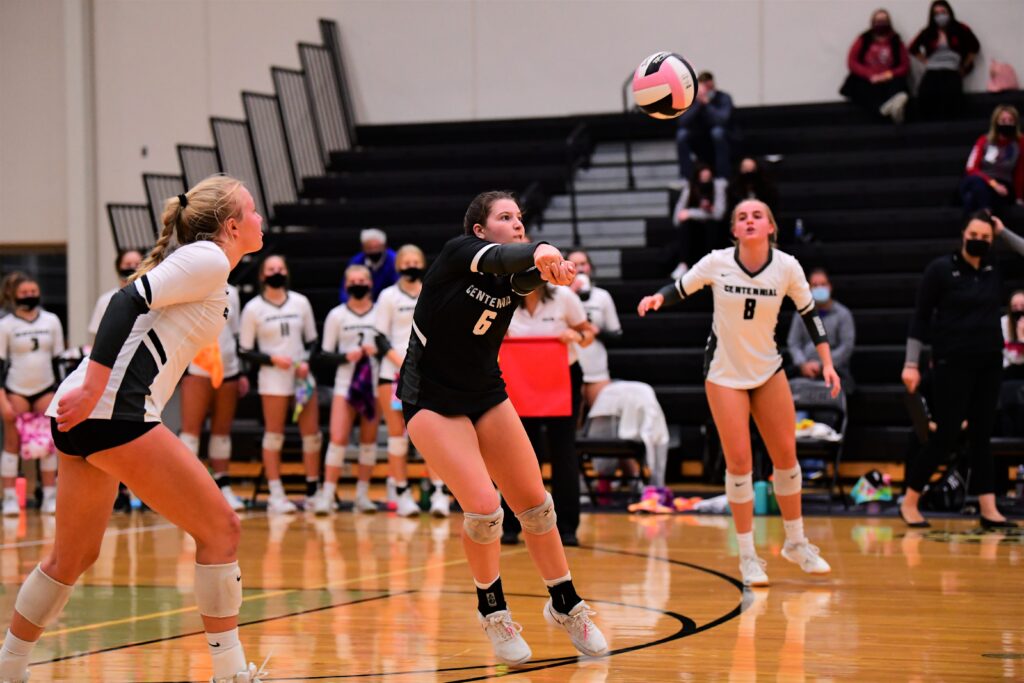 The J-Hawks had been swept at Centennial on Sept. 8.
"I think the key to outlasting Urbandale was that everyone did their jobs, and we served aggressively to get them out of system," Becker said. "We also picked each other up in the times that we were down, and knew we had the skill and grit to win the game."
Becker completed all 24 of her serves, while Morgan DenBeste went 23-of-23 from behind the line and had three aces. She also dished out 25 assists.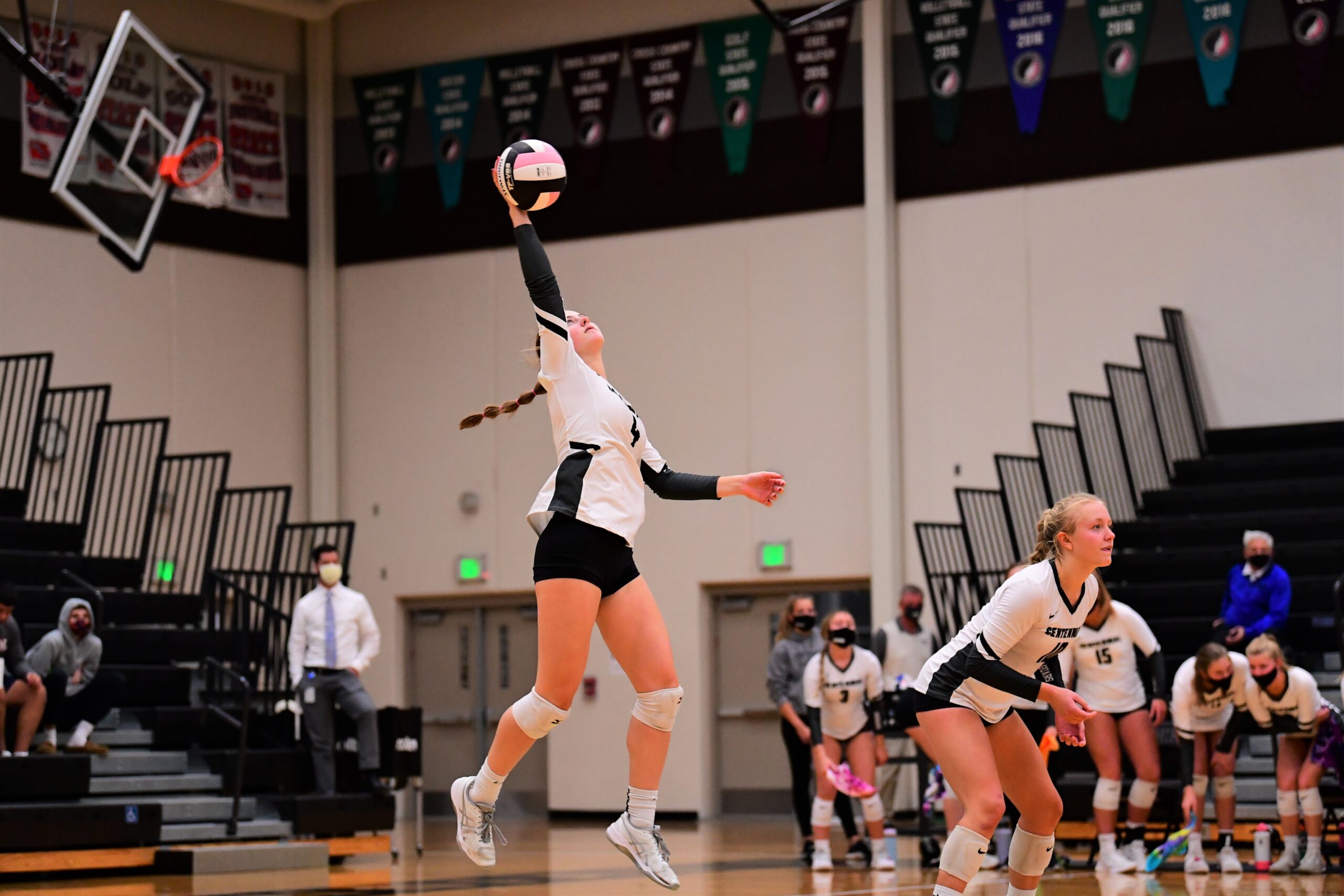 Reagan Angus added 19 assists for the Jaguars, who also got 15 kills from Delainey Winkel. Winkel took advantage of some openings as the J-Hawks focused their defensive attention on Monica Mirembe, who had 15 kills in Centennial's win over Ames in a regional semifinal on Thursday.
"After scouting our Ames match, Urbandale camped out on Monica, which opened up Delainey and she put the ball away," Rinehart said.
Marissa Meyer had 10 kills and five blocks as the Jaguars won their fourth consecutive match after struggling through a 3-8 stretch. Olivia Anderson added eight kills, five blocks and 12 digs.
Mirembe contributed four kills and seven blocks. Hill had 13 digs.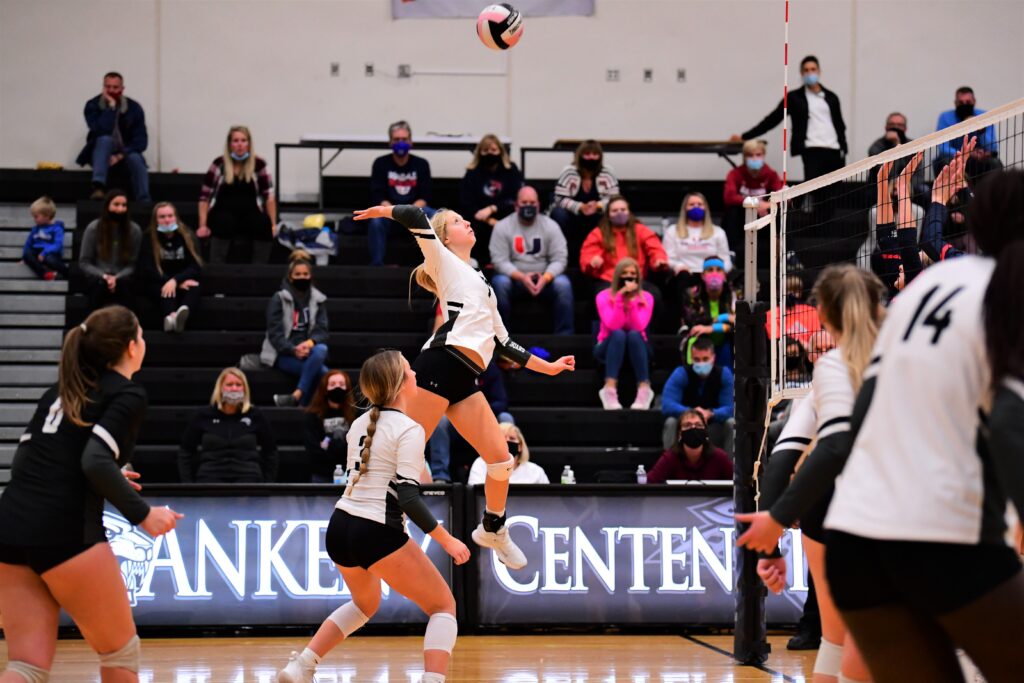 "Millie gave us great leadership on the night, and you could tell our returners from last year wanted a different outcome," said Rinehart, whose team lost at Council Bluffs Lincoln in a regional final in 2019. "I think tough regional finals are helpful in preparation for state, which are always big battles."
Hill is one of only three seniors on the Centennial roster.
"It's the best feeling. There's nothing quite like it," Hill said. "The excitement and joy of making it (to state) this year definitely trumps the disappointment of not making it last year. It feels so good to know that my teammates and I get to experience state together and that I get one more opportunity to play with my best friends.
"We all wanted this so badly, and we worked so hard for it every day. Each and every one of my teammates deserved that win along with our coaches–they do so, so much for us. Also, we played for each other and I think that really showed," she added.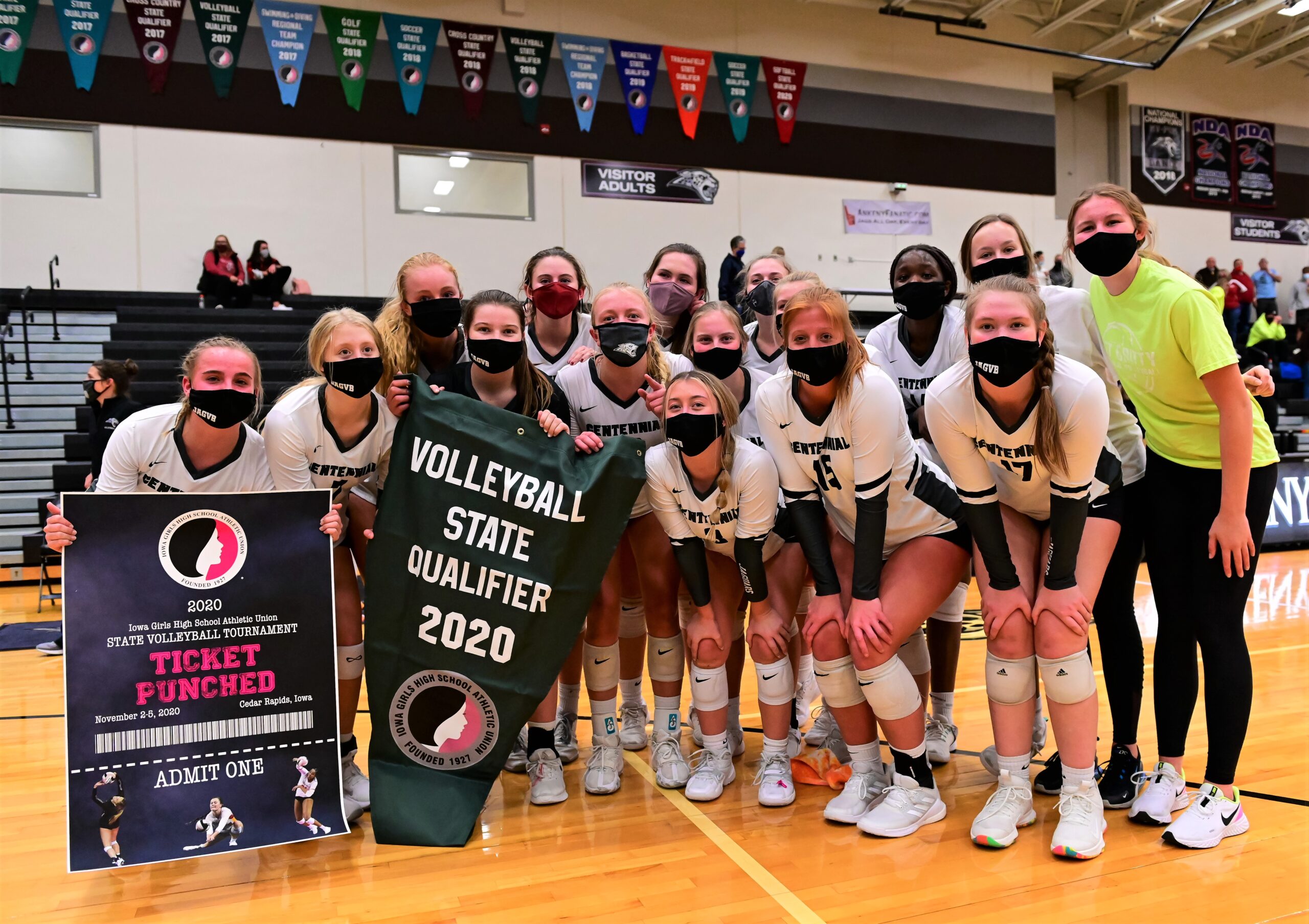 The victory earned Centennial a rematch against No. 2 Ankeny (19-2) in the Class 5A quarterfinals on Monday at 10 a.m. at Cedar Rapids. The Hawkettes won a four-set match at Centennial on Sept. 29.
"I am really looking forward to it," Becker said. "It was a great match when we played them earlier this season."
This will be the first-ever meeting between the crosstown rivals at the state tournament. It's only the second time ever that Ankeny and Centennial have faced each other in a state tournament in any sport; the Jaguars posted a 3-2 victory in the 2018 girls' soccer final.
"We're excited to be back, and we're excited to make that trip to Cedar Rapids," said Rinehart, who is expected to coach the team next week.