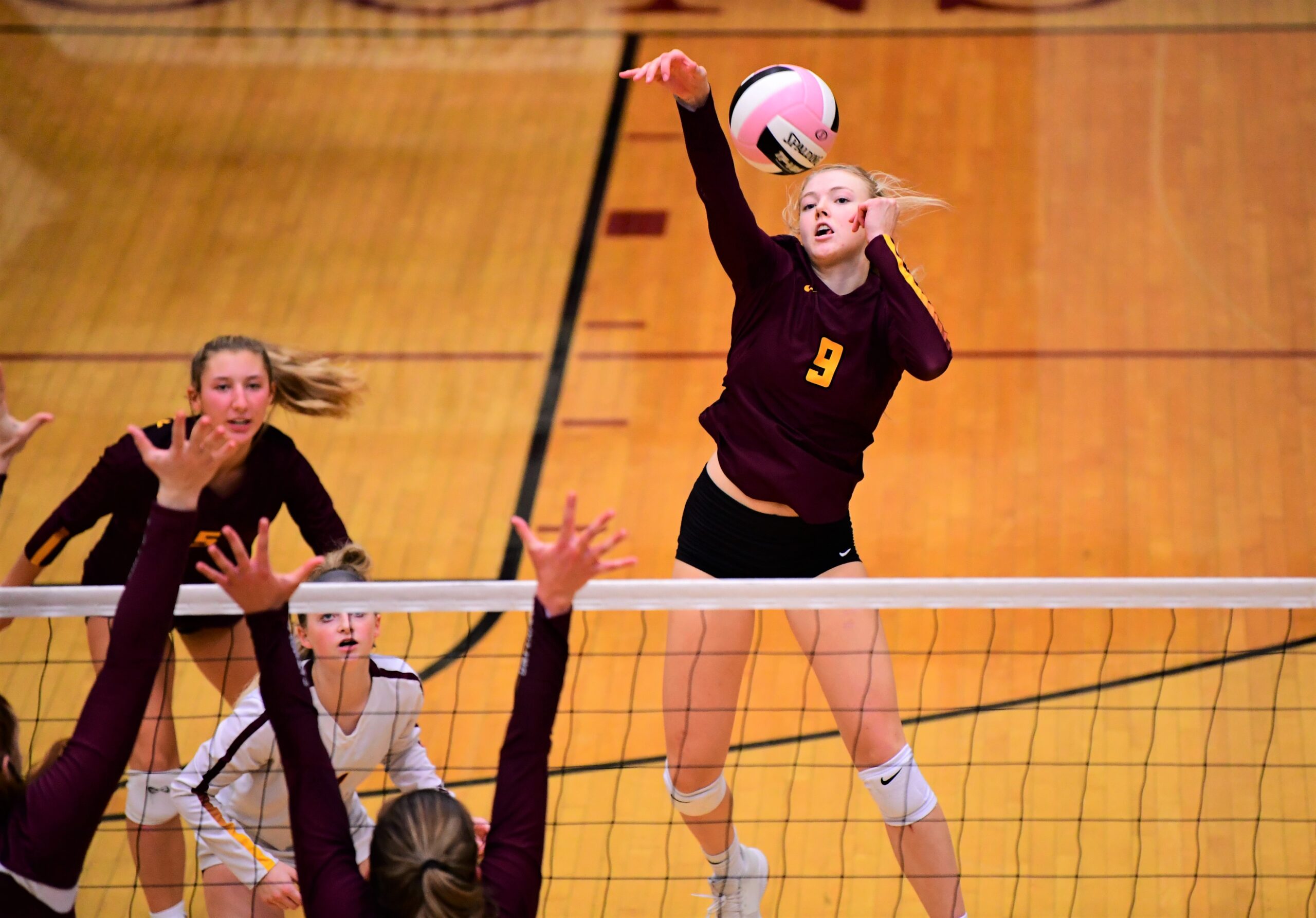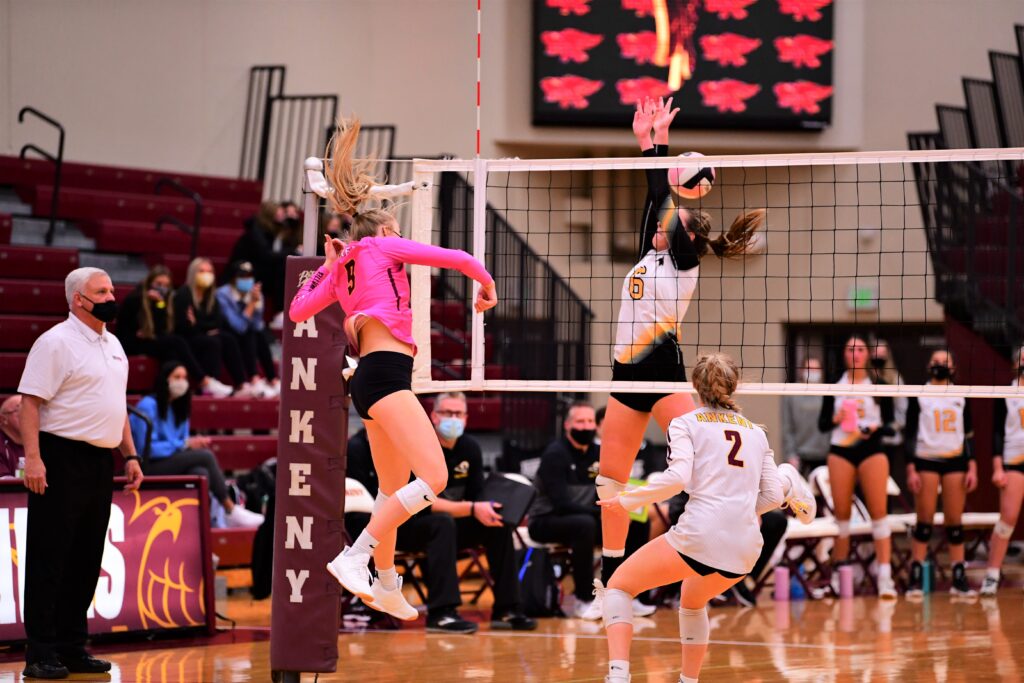 Junior outside hitter Ava Reynolds has helped the second-ranked Ankeny volleyball team to a third consecutive appearance in the Class 5A state tournament. She had four kills on Tuesday as the Hawkettes swept Southeast Polk in a regional final at Ankeny.
Reynolds leads Ankeny with 206 kills. She has compiled a .297 hitting percentage.
Here is some inside info on Reynolds:
Congratulations on the win over Southeast Polk. Was your confidence level pretty high going into the match, considering that your team had swept the Rams earlier in the season?
Yes, I would say that our confidence was very high going into the game, but we wanted to focus on our side and how we play our game. I think we accomplished that goal and are ready to go into the state tournament this week.
Your team has won 16 straight matches and did not lose a single set in October. Do you feel like you're peaking just in time for the state tournament?
One of our biggest focuses this season has been continuously improving every time we step on the court in games and practices while remaining consistent in how we play as a team. I think this is putting us in a great position going into the state tournament.
Your team will now play No. 7 Ankeny Centennial in the Class 5A quarterfinals on Monday at 10 a.m. What was your reaction when you found out that you'd be playing the Jaguars again?
I am very excited to play them because any time you play your crosstown rival it it a very high intensity game, and those are the types of matches that we love to play in.
Your team defeated Centennial in four sets in a match on Sept. 29. What was the biggest key to that victory?
We had a very balanced front row and all of our hitters really stepped up and everyone was able to equally contribute to the scoring, and we wouldn't have been able to do that without our solid defense in the back row. Also, our serving was very solid and kept them off-balance.
You had 17 kills in that win over the Jaguars. Do you expect them to focus more of their defensive attention on you this time?
Because of our balanced attack we are difficult to defend so no matter who they key in on any of our hitters are able to step up and get kills for us.
The winner of Monday's match will play either Pleasant Valley or defending champion Cedar Falls in Wednesday's semifinals. Would you like another shot at Cedar Falls, which defeated your team in last year's semifinals?
Yes, we would love to play them again, but both teams will provide a tough match. We will be ready for either opponent.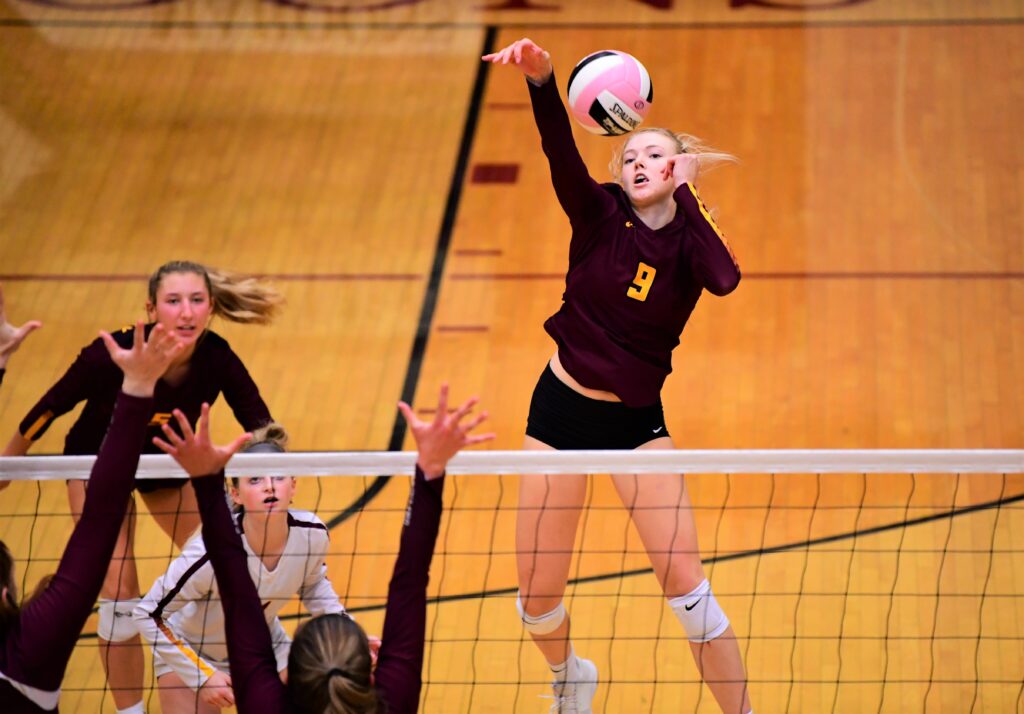 Top-ranked Dowling Catholic is the No. 1 seed in the Class 5A field. Do you think the Maroons will emerge from the opposite side of the bracket?
The other side of the bracket has a lot of good teams, but from what we have seen Dowling seems like the most likely team to emerge from that side of the bracket.
Both of your team's losses came to Dowling early in the season, but you later defeated the Maroons in four sets in a match on Sept. 26 at Dowling. Are you confident that your team could beat them again if you were to meet in Thursday's championship match?
I think we are very evenly matched teams and it would be a fun, competitive match to play, and it would make it even more exciting to happen in the state championship match.
You verbally committed to play for the University of Denver back in June. Was it a relief to get your decision out of the way?
Yes, it allows me to focus on improving my game in the high school and club seasons instead of focusing my energy on recruiting.
You mentioned the importance of academics when you committed. What are you planning to study?
I have not fully decided yet, but I am planning on going into the engineering field and studying math and science to decide specifically which field of engineering I want to go into.
Tuesday is Election Day. Are you ready for it to be over with?
Yes, like most of America I am ready for it to be over so that we can see the outcome, move forward as a country and begin to unite our nation.