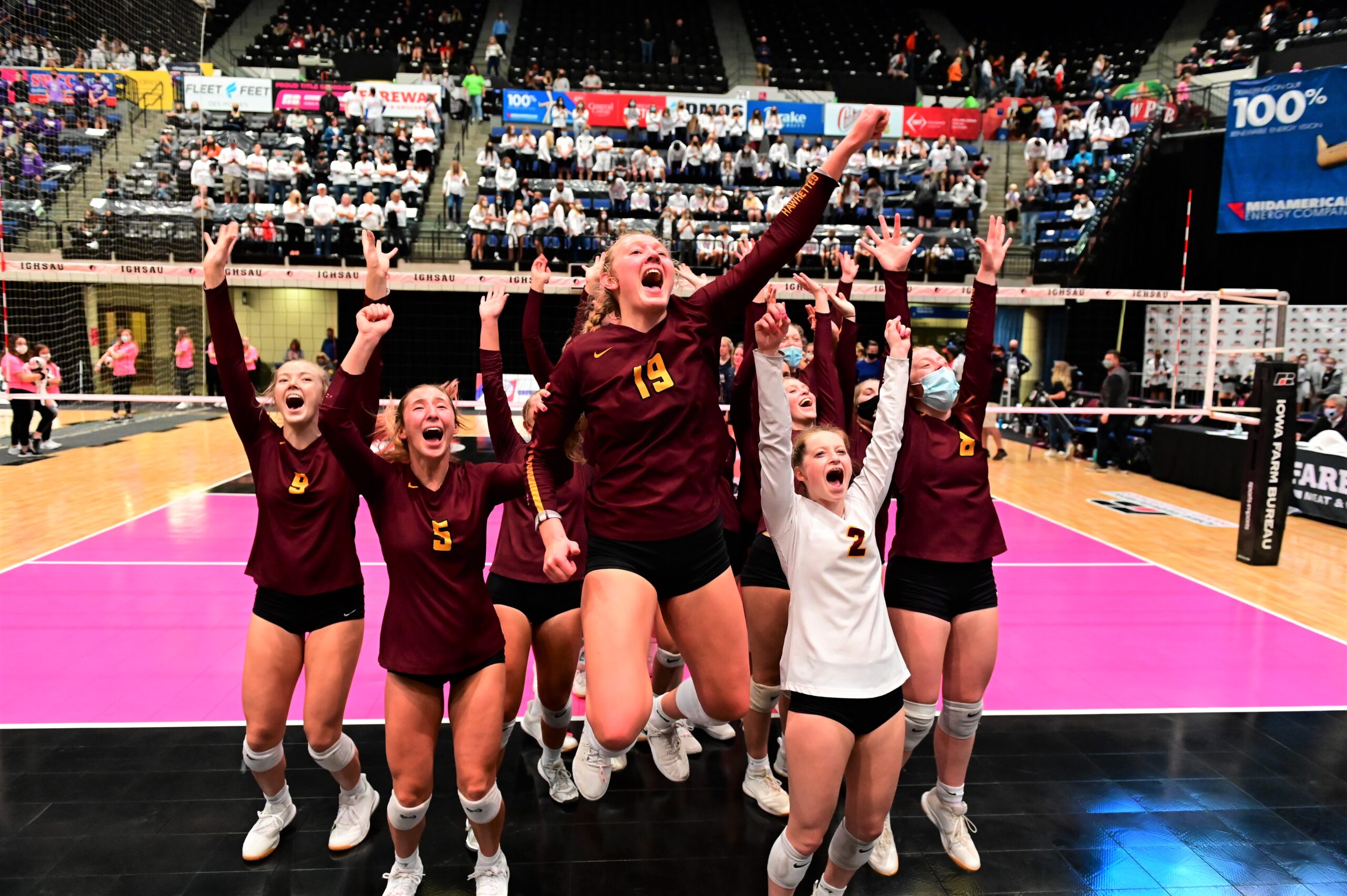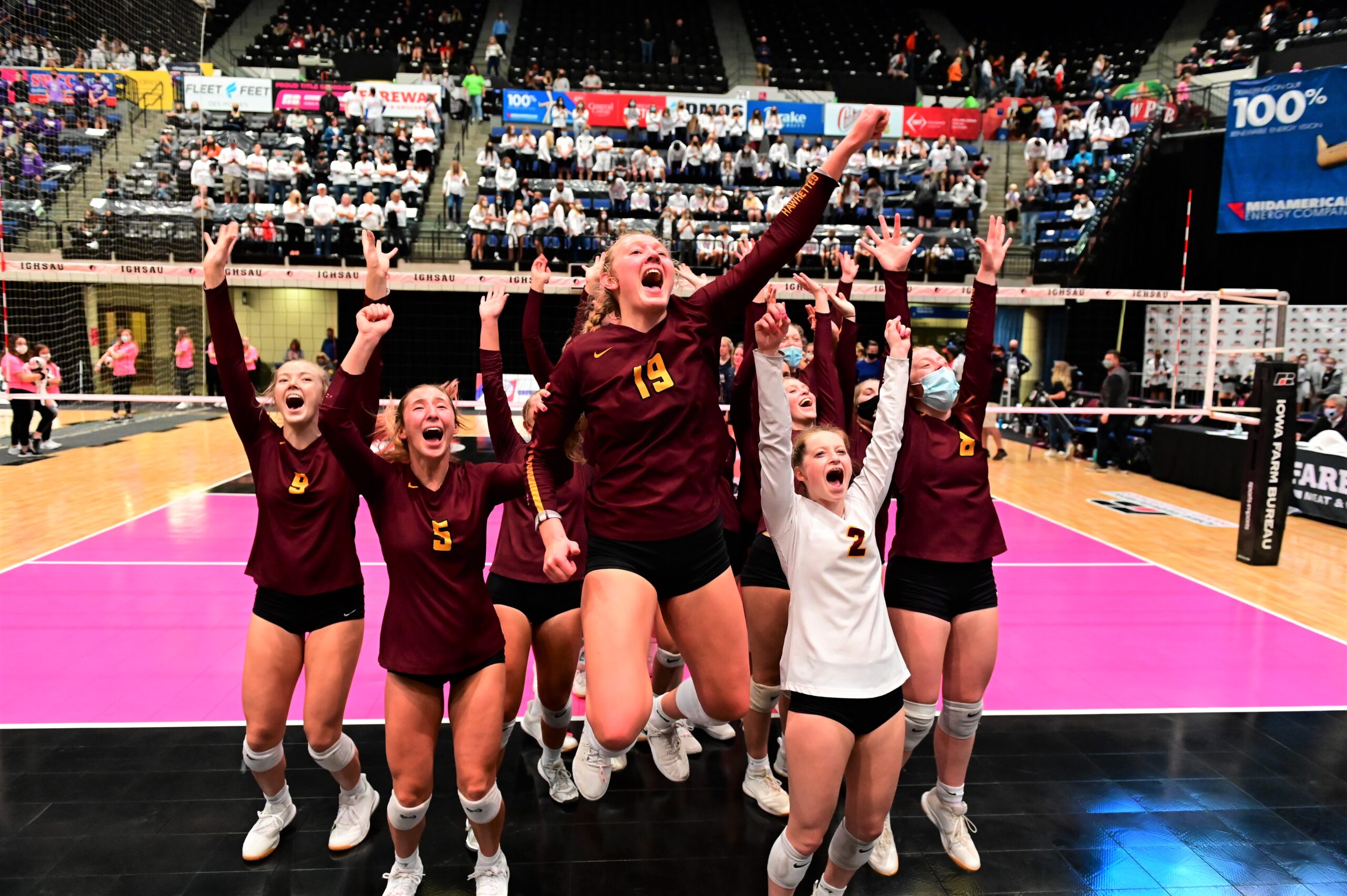 Ava Reynolds watched the ball fall to the floor and then screamed with joy.
The junior outside hitter blocked a Pleasant Valley spike attempt to send the second-ranked Ankeny volleyball team to the Class 5A championship match.
"I don't even know (what I was thinking)…just excitement," said Reynolds. "I was just so proud of my team, and everybody did their job perfectly and worked so hard."
Reynolds had a match-high 17 kills as the Hawkettes outlasted No. 3 Pleasant Valley in a five-set semifinal on Wednesday at the Alliant Energy Power House in Cedar Rapids. They won the match by scores of 25-15, 19-25, 25-22, 26-28, 15-7.
"I knew it was going to be tough, but I had confidence that we were going to win," said Ankeny setter Phyona Schrader. "I had confidence in my hitters that they were going to put it away."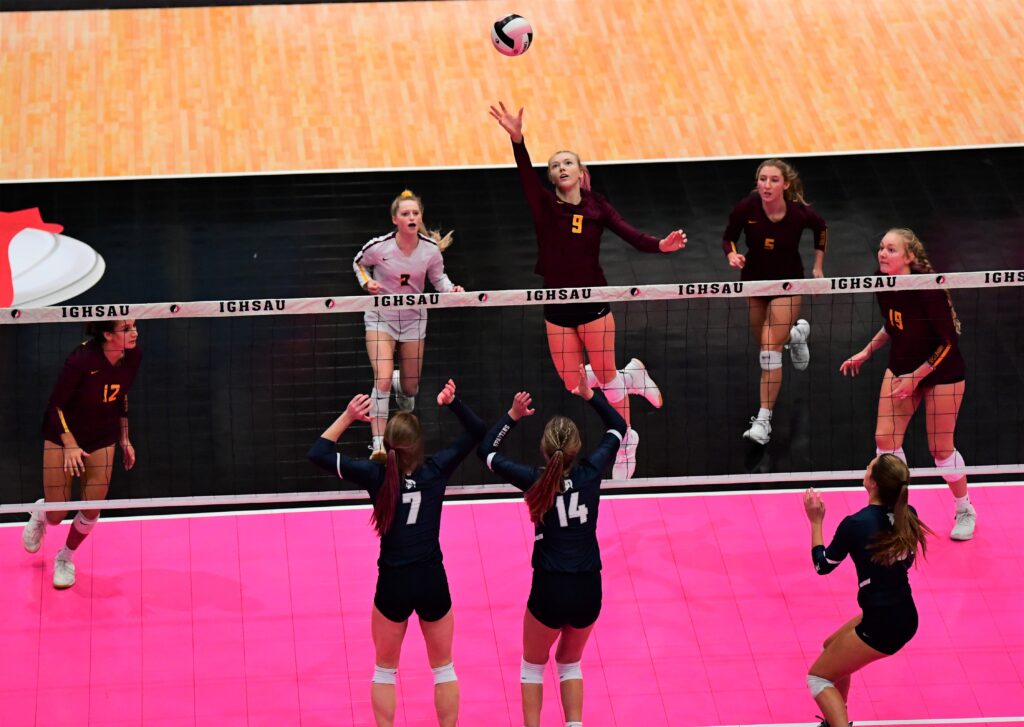 Ankeny (21-2) earned its 18th consecutive victory. The loss ended a 12-match winning streak for Pleasant Valley (21-2), which fell in the semifinals for the second straight year.
The Hawkettes will play No. 5 Iowa City Liberty (24-2) for the Class 5A crown on Thursday at 10 a.m. They are seeking their first title since 2009.
"I haven't watched very much video of them," Ankeny coach Dave Whims said of the Lightning. "I know they've changed some things and (Cassidy Hartman) is becoming more dynamic out there, and we're going to have to do something to shut her down. I don't know what–I'll have to look at the film. I probably won't sleep very much tonight."
The Ankeny players will likely sleep just fine following their 1-hour 57-minute marathon against Pleasant Valley. In the end, they outhit the Spartans by a .184 to .107 margin, including a .368 to .000 advantage in the decisive fifth set.
"Ankeny's a great team," said Pleasant Valley coach Amber Hall. "They have a lot of offensive threats and an outstanding setter, and then they can have Phyona jump in and swing at any time also–so hats off to them."
Schrader racked up 12 kills, 40 assists and 15 digs in the win. She had a pair of kills as Ankeny opened up a 10-4 lead in the final set, then later added a kill and a block to give the Hawkettes a 13-7 advantage.
Schrader didn't want a repeat of last year's semifinals, when her team lost to eventual champion Cedar Falls.
"It's really exciting," Schrader said. "I'm so proud that we made it past our goal from last year, so we're improving. I'm enjoying it every step of the way."
Reynolds then followed with the back-to-back blocks to close out the match.
"We expected them to be really good and we knew we'd have to play a tough game, but I knew we could do it," Reynolds said.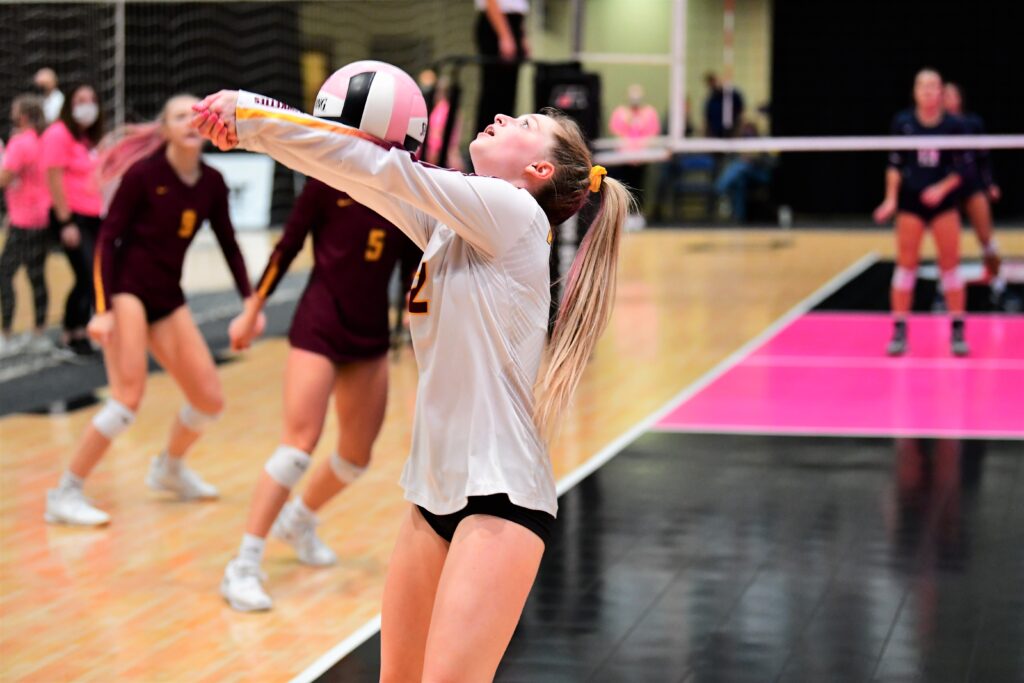 The two teams traded momentum swings through the first four sets. Ankeny closed out the first set with an 18-7 run.
After Pleasant Valley jumped out to a 7-0 lead in the second set, the Hawkettes rallied to take a 13-11 margin. But the Spartans responded with five straight points and went on to win the set.
"That was a tough match," Whims said. "I couldn't have guessed that it would go five (sets). It was just two good teams."
Ankeny built a 19-9 lead in the third set before Pleasant Valley rallied. The Spartans closed to within 24-22, but their rally ended when they served the ball out of bounds.
In the fourth set, the Hawkettes used a four-point run to take a 20-17 lead. But Pleasant Valley again battled back.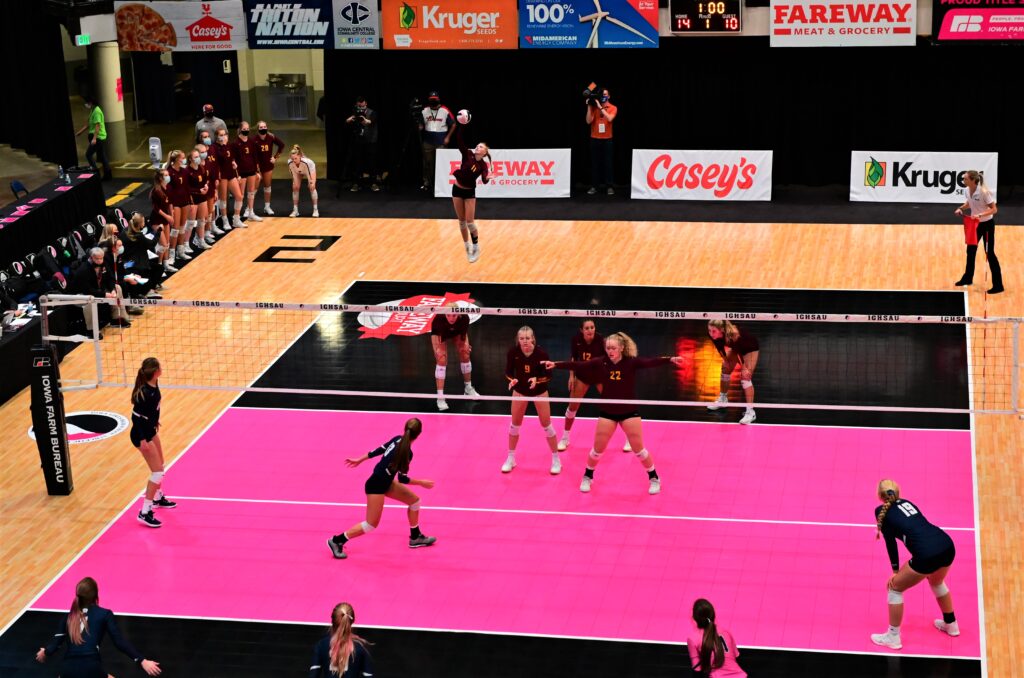 The Spartans fought off two match points and eventually posted a 28-26 win to force a fifth set.
"I'm so proud of our girls," Hall said. "There were so many times when we were down, and the girls did a great job of keeping their composure and chipping away a little at a time and never giving up."
Pleasant Valley's Alexa Frankel got a kill to open the fifth set, but Ankeny then answered with a 7-0 run. Freshman Aowyn Schrader had three of her 10 kills during the run, and the Spartans never recovered.
"I really feel like our team was ready to win," Phyona Schrader said. "We weren't going to roll over and die. We took it to them."
Hannah Baier had 12 kills for the Hawkettes. McKenna Scheib added five.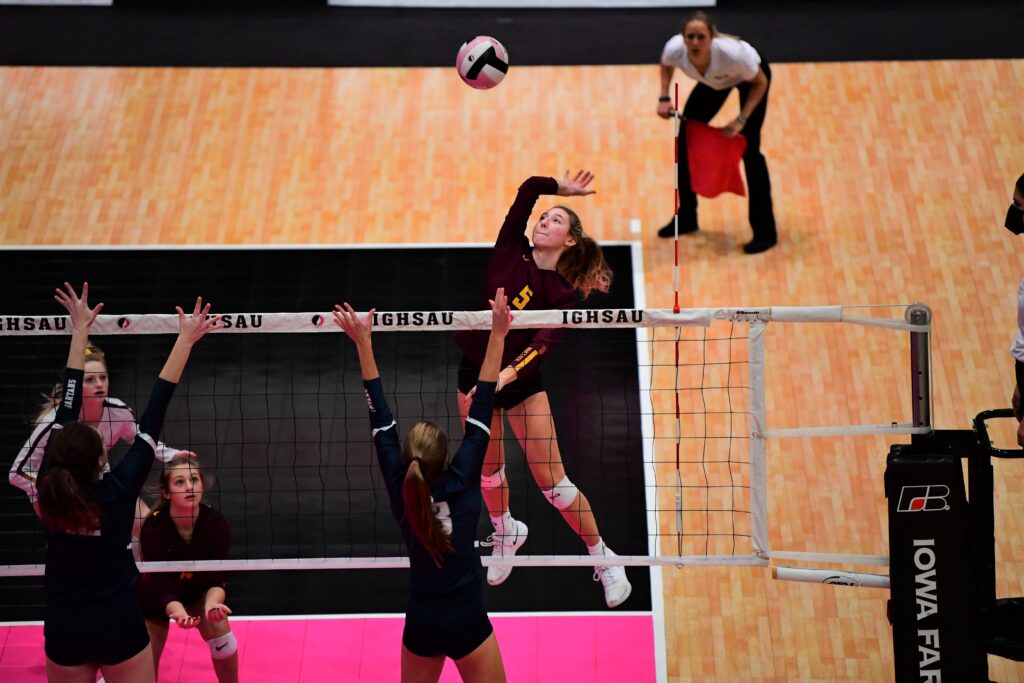 Lexi Stephens led the defense with 29 digs. Baier and Maddie Foels each had two aces.
Chloe Cline had 14 kills to lead Pleasant Valley. Kora Ruff had 42 assists and 31 digs.
"We made some adjustments," Whims said. "One, we spun the wheel and matched up with them pretty well and I think that kind of stymied them in the beginning. And then some of the substitutions like we brought in Adalyn (Goodwin) and that let Phyona hit for us in the front row and get some key sideouts for us, and I thought that was really cool. And then another crucial part was our serving was pretty tough. We put some pace on the ball and served pretty well. It was a total team effort."
Now, Ankeny faces another challenge on Thursday. The Hawkettes will try to contain Hartman, who pounded 35 kills in Iowa City Liberty's semifinal win over No. 1 Dowling Catholic in five sets.
"We just have to sort of do what we did today," Reynolds said. "Working together and playing our game and just going hard with high energy every single time."