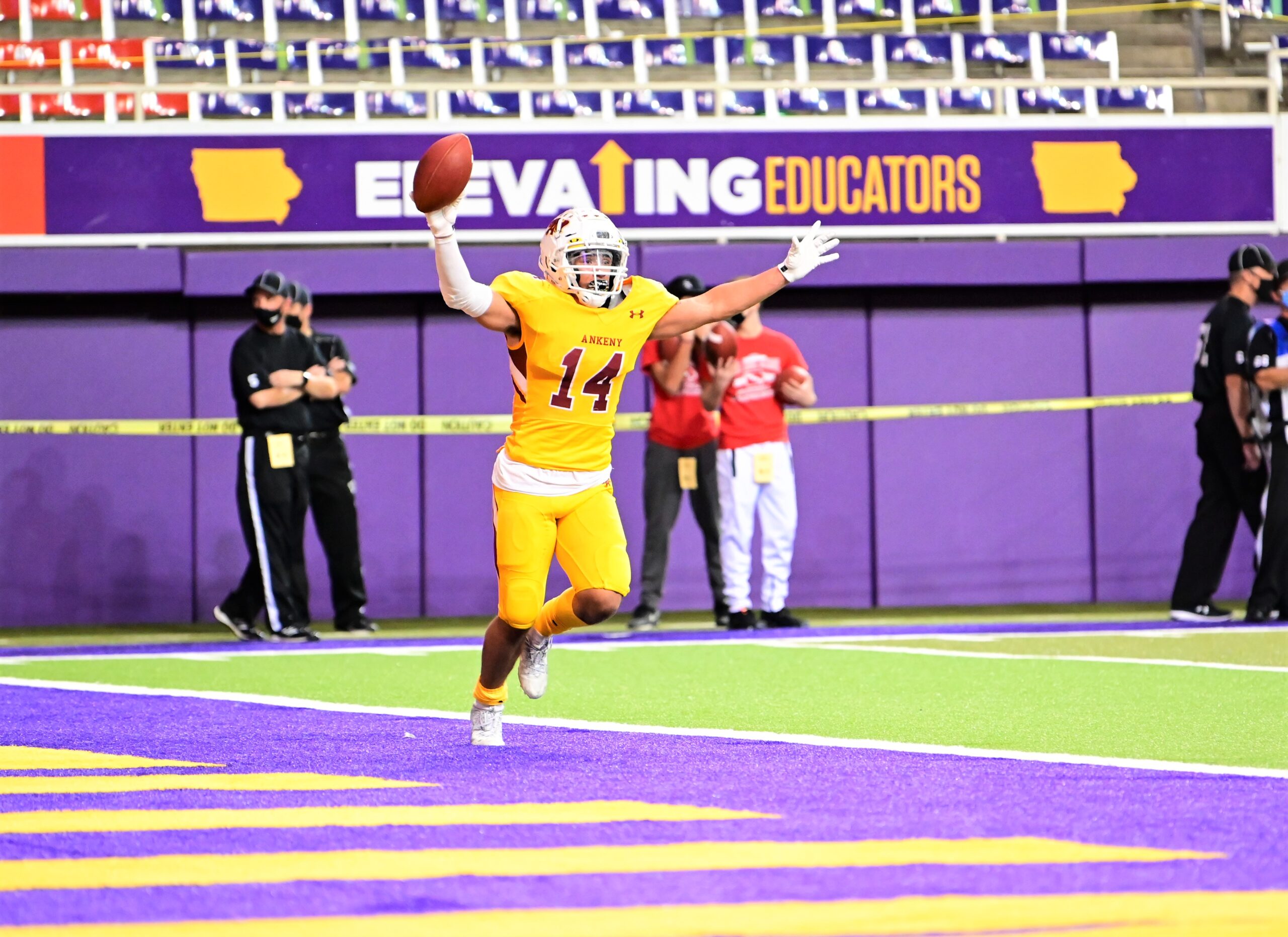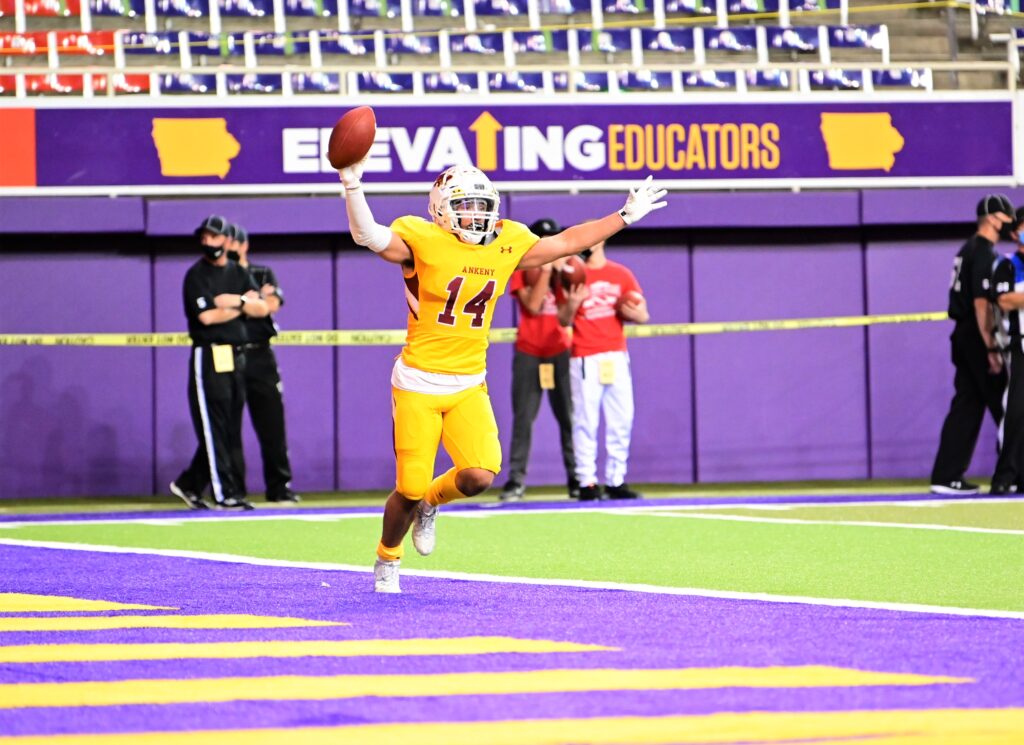 Senior Arland Bruce IV has played a huge role in helping the Ankeny football team advance to the Class 4A championship game. On Friday, he accounted for 133 total yards and also sealed the victory with an interception in the second overtime as the Hawks dethroned seven-time defending state champion Dowling Catholic, 31-24, in the semifinals at the UNI-Dome.
Since becoming eligible to play on Oct. 2, Bruce has rushed for 569 yards and six touchdowns. He has caught 23 passes for 393 yards and four more scores.
Here is some inside info on Bruce:
Congratulations on the win over Dowling. I know you had a lot of success as a player in Kansas before coming to Ankeny this fall. Did you have any wins down there that could even compare to this one?
Yeah, obviously, back there all those players I played with since fourth grade. I think you could say there was one from last year that was pretty similar. It's just a great feeling.
Do you still talk to some of your former teammates, and did you hear from some of them after the game?
Oh yeah, I'm still in the football group chat that we have. I talked to them, and they congratulated me and I congratulated them. They're heading to the semifinals this week. They're a week behind us.
You told me afterwards that you knew Dowling's Louis Brooks was running a fade pattern on the final play because of the way he was lined up. Can you describe what it was like to come down with the ball and to know that you had punched your team's ticket to the championship game?
It was unbelievable, man. It felt like the ball and the play was in slow motion. As soon as I saw the ball go up I knew I could get my hands on it and grab it. As soon as I got up and started celebrating, I saw the dogpile coming. It was just the greatest feeling in the world.
I hope nobody got hurt in that pile.
(Bruce laughs). I couldn't breathe for a little bit.
Your team had to overcome a 14-3 deficit in Friday's game. What was the mood like in the locker room at halftime, and were you concerned?
I was a little bit concerned. We weren't playing to the best of our ability. Our receiver coach, coach (Brady) Walz, had an awesome halftime speech–something like out of a movie. He told us we just had to play like we had been in the previous games. Just dudes being dudes. Dudes show up at the right time and make plays, so we just did exactly what he told us.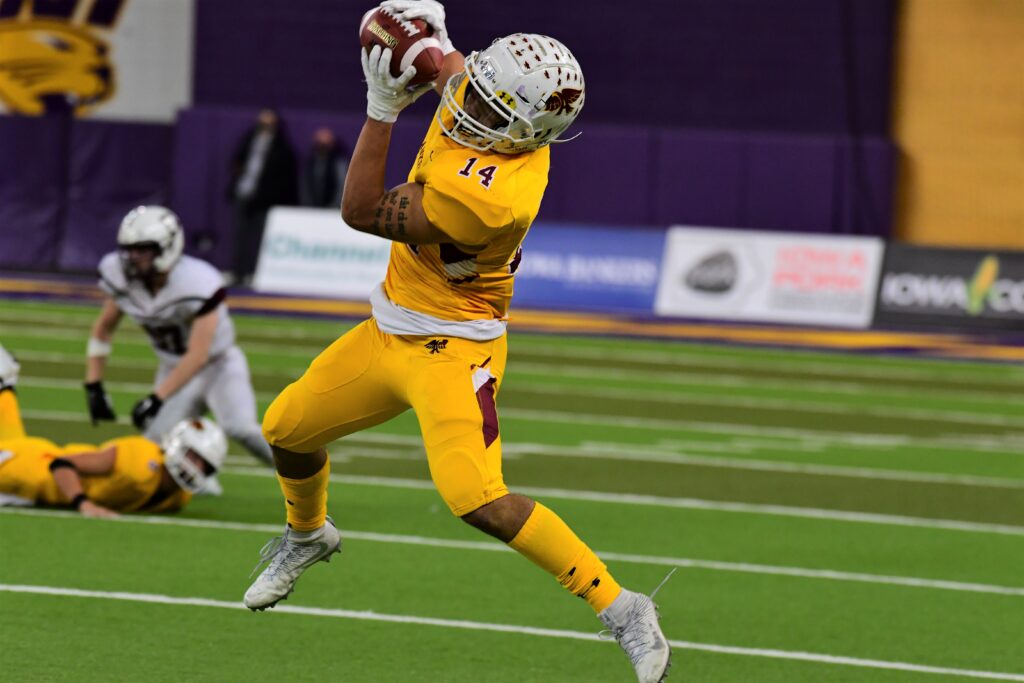 This was your first time playing at the UNI-Dome. What did you think of the turf, and do you think it makes you faster?
I kind of have a love-hate (relationship) with that turf. I feel like straightaway I can run faster on it, but it took me awhile to get used to the cutting on there. It didn't have the little black pellets in the turf. It was definitely different, but I think I'm used to it now.
Now your team faces perhaps an even bigger challenge–a matchup against top-ranked Southeast Polk in Friday's title game. Have you learned much about the Rams yet in your scouting report?
We went through our film today–we watched a lot of film of them and came up with a game plan. It's going to be a tough, physical game. It's going to be pretty close, and I just can't wait.
You've been playing more and more on both sides of the ball in the last couple of games. Do you expect to be on the field even more for this game?
I think so. I think me and Brody (Brecht) kind of rotate at DB–whoever's not as tired. But I think so. I'm ready to go. I know what I'm doing, and I've got more of a feel for DB each week. We'll be ready to go.
Now did you play much defensive back down in Kansas?
No, I didn't play DB at all.
Southeast Polk is one of the few teams that might have even more Division I talent than Ankeny has, and I think a lot of people are looking forward to the matchup between you and Xavier Nwankpa, the Rams' dynamic receiver and defensive back. What have you seen from him on film?
I'm pretty cool with Xavier. Obviously, (I'm) recruiting him to come to Iowa (with me and Brody). He's got great length and great speed. Obviously, everyone saw his (huge) hit against Valley. He's just all over the field and makes plays. We're definitely going to have to watch out for him.
Speaking of Iowa, the Hawkeyes seem to have found their groove in the last two games. Were you a little worried after their 0-2 start, or were you confident that they would get things turned around?
I was definitely confident that we were going to figure things out. The first two weeks, we tried to throw the ball a lot more. We needed to get the ball in our playmakers' hands, and obviously one of our biggest ones is Tyler Goodson. We started doing that, and it seems like we figured out our groove.
We are doing this interview on Sunday. Are you watching any NFL games today?
I watched a little bit of the Seahawks' game. I really didn't watch any other ones because I think the Chiefs had a bye week.
Can you see yourself playing on that level someday?
I definitely could. That's definitely the goal.