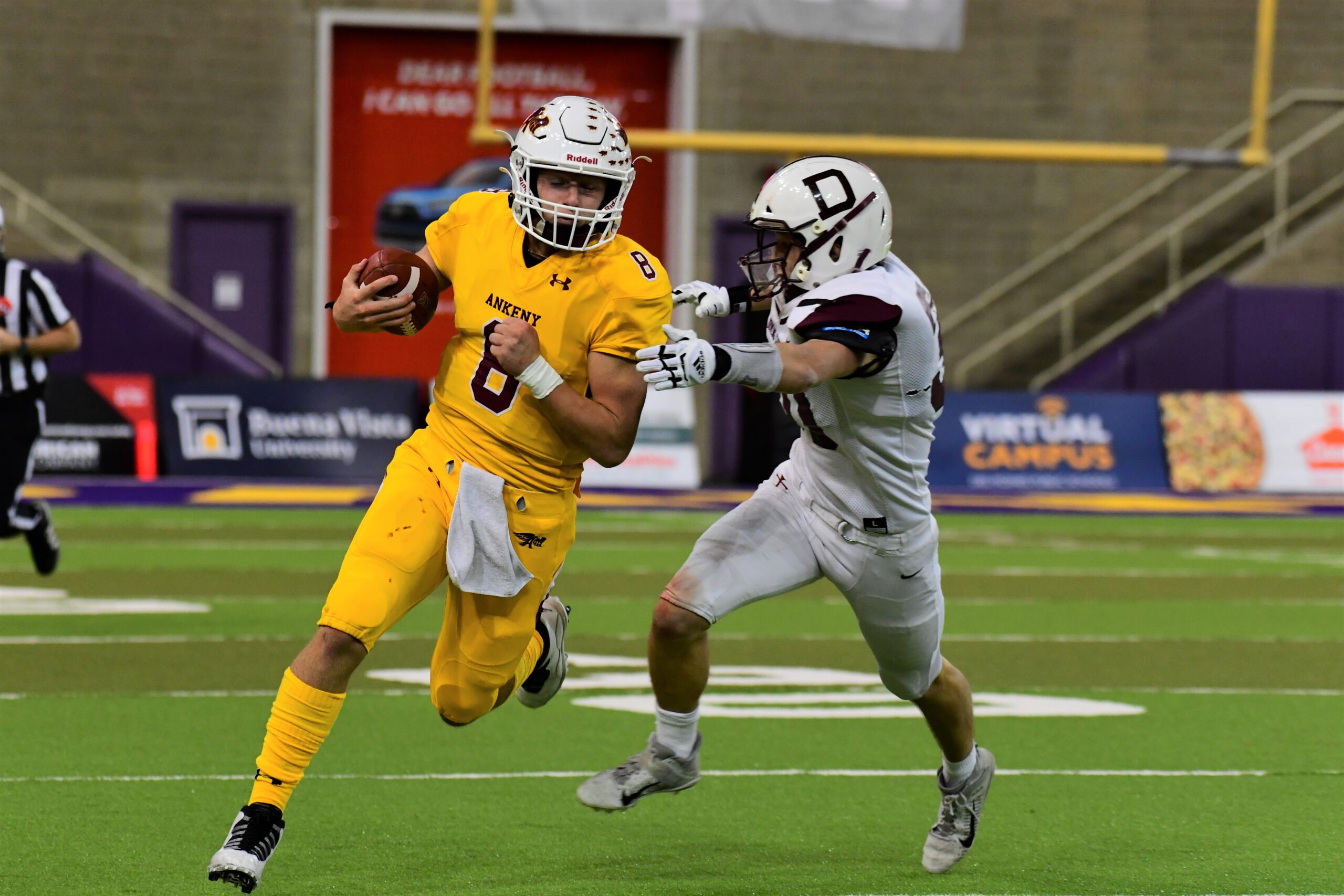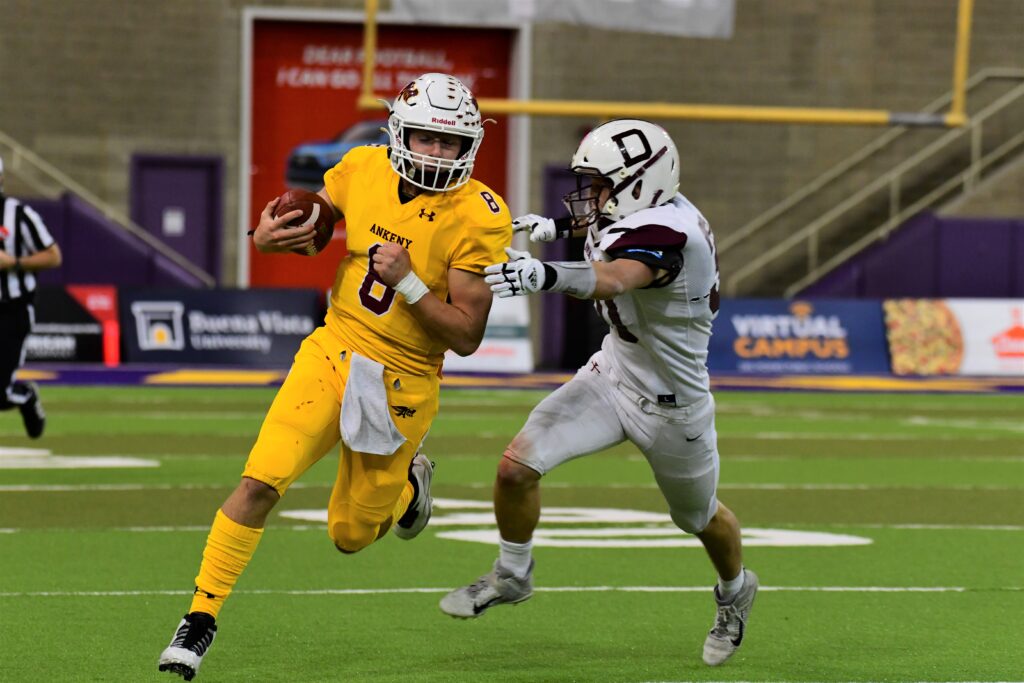 Senior quarterback Jase Bauer played a starring role as the Ankeny football team routed top-ranked Southeast Polk, 42-14, in the Class 4A championship game on Friday at the UNI-Dome in Cedar Falls. He accounted for 259 total yards and three touchdowns in the win, and was named Player of the Game by the Iowa High School Sports Network.
Bauer completed 135-of-217 passes for 2,041 yards and 28 touchdowns on the season. He was also the Hawks' leading rusher, racking up 852 yards and 10 scores on the ground.
Here is some inside info on Bauer:
Congratulations on winning the state title. Did you do anything special to celebrate afterwards?
No, not really. But it was kind of a cool experience coming back into town. We had a firetruck escort us in. I've never experienced anything like that before. And then coming into the high school, there was a bunch of people there to welcome us back. After that, I just hung out with some buddies from the football team and enjoyed it all, and just took everything in. It was awesome.
I believe you were there at the Dome back in 2012 when Joel Lanning led Ankeny to the state title in its final season as one varsity program. Did you imagine back then that you could someday play the Lanning role and lead the Hawks to the championship?
You know, I did because I've always kind of been playing quarterback. Always watching high school (games), I've always looked up to the quarterbacks–Joel specifically. I just remember my brother (Jordan) played with Joel in his senior year, so I've been watching Joel for awhile. I knew they fell a little short my brother's senior year, so seeing them come back to win the title the next year–kind of like we did–was special.
You took a lot of hits in Friday's game, since you carried the ball 18 times for 158 yards. How are you feeling today, and are you looking forward to getting some rest after a long, hard season?
I'm feeling good. I didn't expect to carry the ball that much, but whatever my team needs to win, I'll do. I'm definitely looking forward to some time off and getting my body all healed up, and then I'll be ready to get to work in the offseason.
Your team ended the season on a 10-game winning streak after suffering its only loss at Waukee, 21-17, on Sept. 4. What did you guys learn from that loss?
We weren't really meshing together really well in that game. I think we had a lot of individual mindsets kind of playing more for our individual stats and things like that. I feel like after that loss it kind of shocked us. People were talking about how our 2021 class was so special, and we weren't really expecting to lose. So when we lost our second game, it was kind of a shock to us. After that, we just meshed together and I think you saw once that happened we were pretty unstoppable.
Do you think that loss may have been a blessing in disguise? Do you think if you had won that game that the rest of the season may have gone differently?
Absolutely. Losing a game early in the season isn't the worst thing that can happen, because it will definitely help you in the long run. You've had to deal with adversity and some ups and downs. We'd much rather be in that situation than what Southeast Polk was, because they really hadn't been tested throughout the season. We knew if we got on them, it was going to be tough for them to come back because they hadn't been in that situation.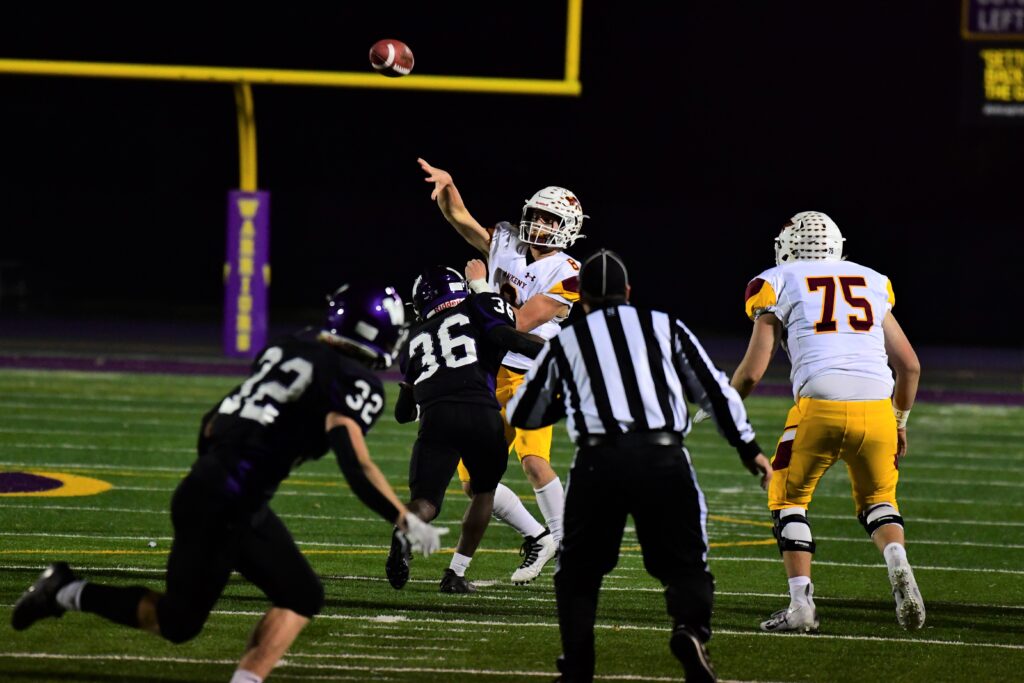 Your team's offense went from explosive to virtually unstoppable following the addition of Arland Bruce IV midway through the season. Bruce accounted for more than 1,100 yards from scrimmage over the final seven games and was obviously a huge factor down the stretch. Do you think you guys could have won the title without him?
I do. Nothing against Arland, but we just had so many weapons. (Colin) Kadolph didn't get as many carries or as many minutes with Arland here, but he can do a lot of the same things. I think we would have been fine without Arland. But having him obviously helped. It resulted in some blowouts when you just have that many weapons.
Your team enjoyed so many amazing moments during this playoff run, including knocking off the seven-time defending state champions from Dowling Catholic in double overtime in the semifinals. When you look back at this playoff run 20 years from now, is there one moment that you think will kind of stick out in your mind?
Man, there were so many ups and downs. Against Cedar Falls (in the third round), we were tied at halftime. We were close to losing in that round because we didn't play the best half. And we had a really tough road to get to where we were. It was not easy for us, and I think that helped us throughout the playoffs. We played a good Cedar Falls. We beat a good Waukee team. And obviously getting to the Dome, we knew going against Dowling would be tough. Looking back, it was just a remarkable run. It's something I'll cherish forever.
Now that the season is over, I know that you'll be able to focus on your recruiting. Where do things stand right now?
I'm just soaking in the championship right now, but obviously this week and going forward I'll probably have to start contacting the coaches that have been talking to me and see kind of where they're at, because it's kind of getting down to decision time. I can't be waiting around for the bigger schools to come, because I've got some great offers right now. I'll definitely start narrowing down the schools. I've been talking with Iowa State, Missouri and Wyoming just to name a few. I want to see where their head is at. If they don't think I'm good enough to go on their team, I'll obviously just look at the offers I have right now–which are great offers–and then narrow my choices down from there.
Do you have a timetable for when you'd like to make a decision?
We'll see how the next couple of weeks go. If things start picking up and I'm feeling strongly toward a school and my parents feel right about it, I won't hesitate to make a decision in December. But if I don't feel 100 percent confident yet, then I don't have any problem waiting until the national signing day in January. I think there are three different signing days for football, so I'll just have to see how it goes.
I know your older brother played college football at Western Michigan. Has he given you any advice about the recruiting process?
Yeah, you know he went up to Western Michigan as a walk-on, and he had a great experience there. He was working his way up to a starting role actually his sophomore year. I think he was in a good spot to get some good minutes, but in the spring game he tore his labrum. That was tough on him, because he had torn his labrum multiple times in high school. He had to hang up the cleats, but he's been very supportive throughout the whole recruiting process. He kind of just wants me to go wherever is right for me and where I feel is the best fit for me.
You're obviously a great baseball player as well. It doesn't sound like baseball will be a part of your future plans, but are you still planning to play next summer for Ankeny before you head off to college?
Yeah, that is the plan. But that's another big thing for college. I would love to play my senior year with these guys that I've been playing with my whole life. So that will definitely be in the conversations before I commit whether or not they would allow me to play my senior year of baseball, which I'd really like to do. If I find my perfect school and the fit is just right and they don't want me to play baseball, it'd be super tough not to but it might be something I'd have to do.