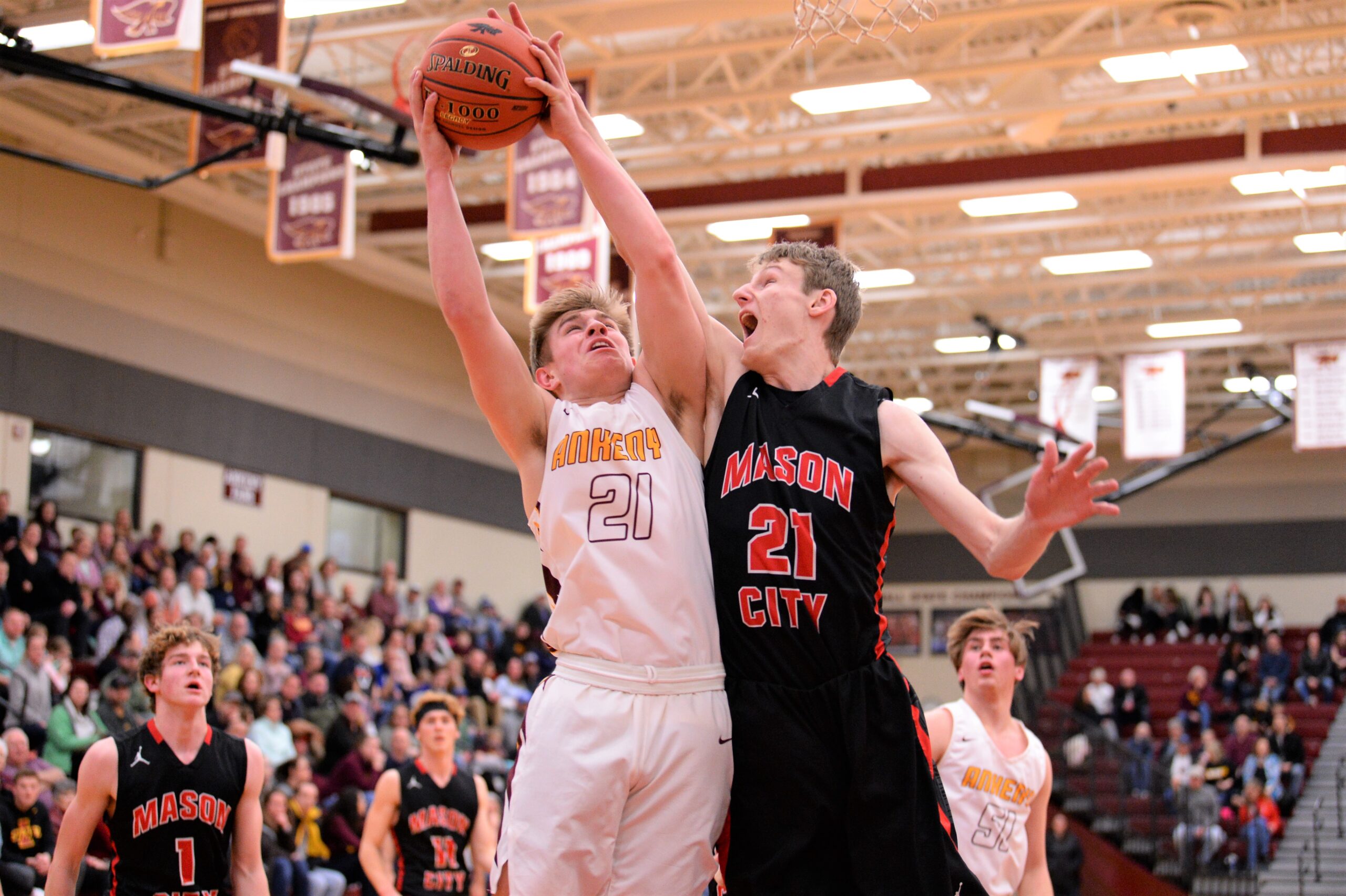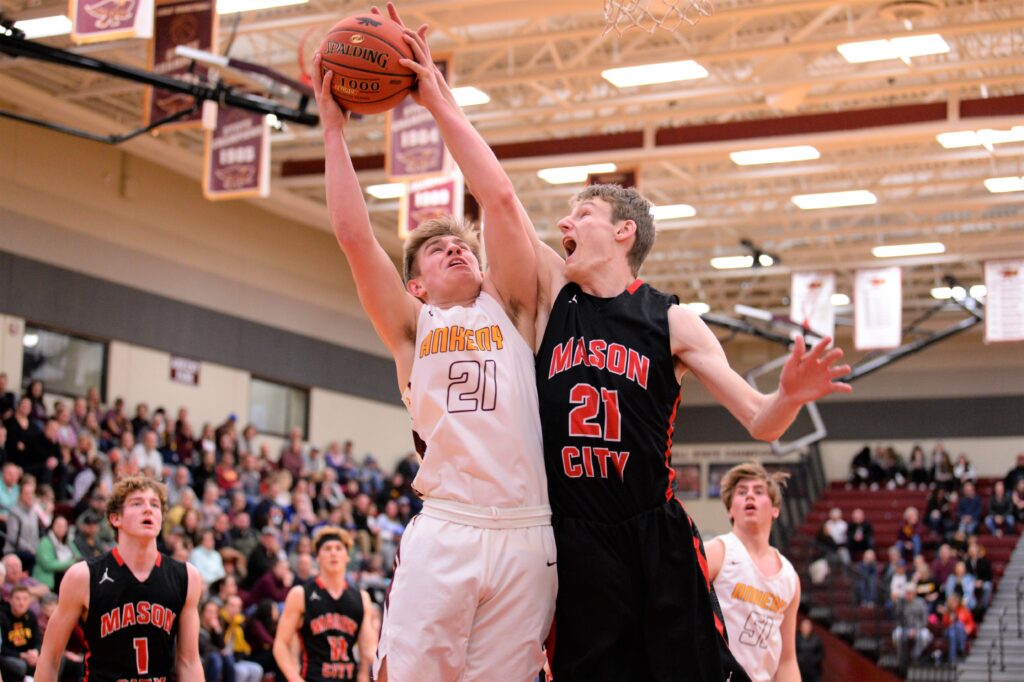 Ankeny boys' basketball coach Brandt Carlson was thrilled to see the Ankeny football team claim a state championship earlier this month, even if it meant two of his top returning players wouldn't be able to practice for awhile.
"I am extremely happy for coach (Rick) Nelson, the staff and team in capturing the 2020 state championship in football," Carlson said. "It is an impressive accomplishment because of the amount of people you need to have moving in the same direction and celebrating the success of others. We have had an incredible fall with our sports teams and activities at AHS. Our student body is a fun group of people to work with, and I know they are setting the tone for outstanding things to come."
Ryan Crandall and Braden Simonsen were both key members of Ankeny's defensive unit on the football field. They were are also the top returning scorers for Carlson's team.
Last season, the duo helped Ankeny to a 21-5 record on the basketball court. The Hawks won the second state title in school history with an amazing postseason run.
"I believe that having players in your program that have had success in multiple activities allows for leadership opportunities to grow and for others to listen well," Carlson said. "I really enjoy the partnership our sport programs have and the relationships we have grown together in order to help young people enjoy multiple opportunities to improve as an athlete, person, and ultimately into a mature adult."
Crandall, a junior forward, earned all-conference honorable mention after averaging 6.0 points and 4.5 rebounds per game off the bench. He scored a career-high 13 points in the Hawks' 78-70 victory over Waukee in the Class 4A title game.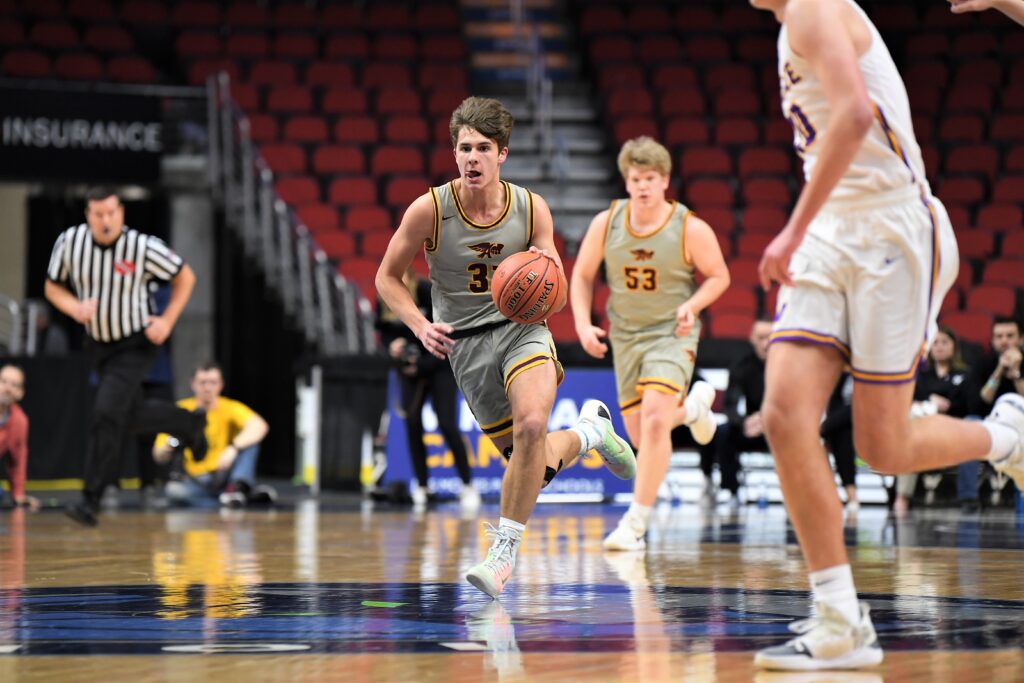 Simonsen, a junior post player, averaged 2.5 points and 2.1 rebounds.
"We have always been blessed with players that work extremely hard and have great attention to detail," Carlson said. "This year is no different except the faces are new and in some cases a lot younger than in previous seasons. We are looking forward to the potential of playing this season and becoming a tight group of people that can work to make some noise in late February and March."
Senior forwards Ron Mamuya and Bentor Neyail are also back along with senior guard Matt Stueckradt. Stueckradt played in 17 games as a junior and averaged 2.5 points.
Sophomores Brayden Drea and JJ Kohl are among the others battling for playing time. The 6-foot-7 Kohl started at quarterback for Ankeny Centennial's football team this fall, then transferred after the season ended.
Drea, a point guard, was listed as one of the state's top 21 prospects in the Class of 2023 by The Des Moines Register.
"Brayden is one of the most competitive players in our program, and he has a great motor which is impressive," Carlson said. "He, like many of our players, desires to put on the Hawk uniform to represent his team, school, community and family well. I expect Brayden to fulfill his role well, and ultimately how impactful his role is will depend on his consistency and toughness throughout a very competitive schedule."
Freshman Carson Johnson is another newcomer who could make an immediate impact. He has often played with and against older players during AAU ball.
"Carson is another player in our program that is fighting for a role on this team along with many underclassmen," Carlson said. "He and others in the first week made some good impressions on their teammates and our staff. I am looking forward to getting back on the court soon in order to continue to progress our team into the group of men we need to be at the end of the year."
The Hawks are currently not allowed to practice while the Ankeny school district has moved to virtual classes, at least through the end of next week. But Carlson is excited about his team's potential once the Hawks are allowed to return to the court.
"I believe this team has the opportunity to be the most physical, tough and cohesive team we have ever had," he said. "That is saying a lot because I believe our previous four teams have been really good in all three of these areas. We have to stay healthy which is a premium for every successful team, and we will need to be great on defense–limiting second shots from opponents. We will need to be extremely efficient on offense in order to take advantage of potential mismatches we see, and lastly we will need to be the best version of ourselves on the court and off the court to maximize our potential at the end of the year."