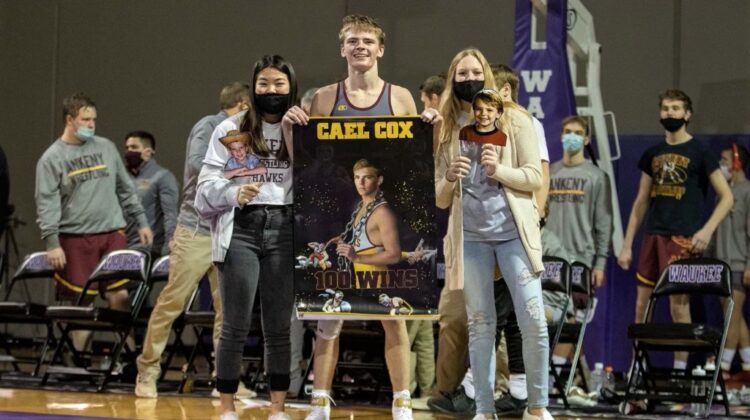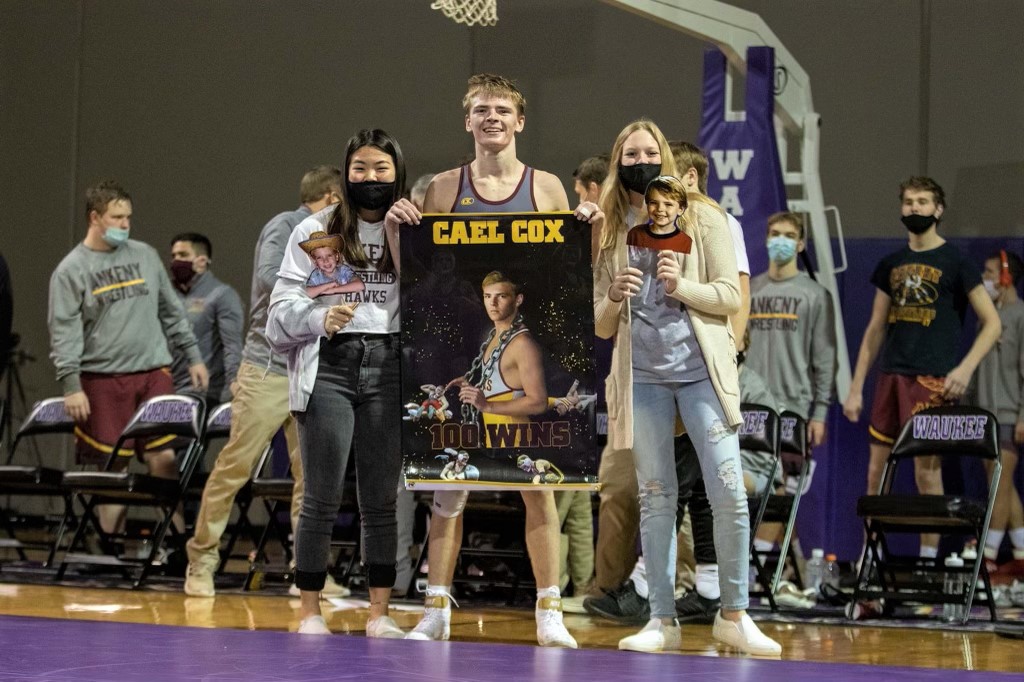 Ankeny wrestler Cael Cox reached a milestone on Tuesday during the Hawks' double dual meet at Waukee.
Cox, who is ranked fifth at 126 pounds in Class 3A, posted a 6-3 decision over No. 3 Connor Kelley of Waukee to earn his 100th career victory.
"The key to beating Kelley was getting to my offense," Cox said. "My coaches have stressed the importance of wrestling my style and pace because that's when I'm at my best."
Cox joins fellow senior Caleb Rathjen as a member of the 100-win club. Another teammate, junior Trever Anderson, is on pace to reach the mark this season.
"Looking back, reaching 100 wins is one of my top accomplishments," Cox said. "I've been very fortunate to have had the opportunity to compete in that many matches over the past few years. Not many kids are lucky enough to stay healthy for that long. I also feel that hitting that milestone is a testament to my coaches and practice partners."
Cox later pinned Dowling Catholic's Dominic Quinn in 1 minute 51 seconds to improve his record to 7-1 on the season.
"Cael looked great," said Ankeny coach Jack Wignall.
Wignall's team came away with a split on Tuesday. The seventh-ranked Hawks suffered a 57-18 loss to No. 3 Waukee before posting a 34-31 victory over No. 10 Dowling.
Ankeny will take a 1-3 dual record into the holiday break.
"Waukee is really good," Wignall said. "They're pretty solid all the way through. We knew they were going to be, but when you see it in person, it makes it a little more real. But I actually thought we wrestled pretty well."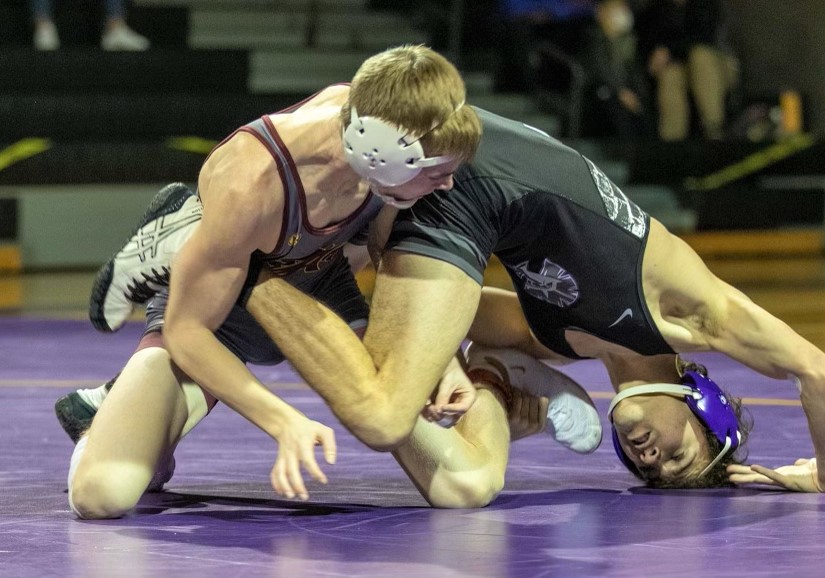 The Hawks then bounced back to beat Dowling for their first win of the season. Wignall adjusted his lineup toward the end of the meet, moving Alex Schwiete up to heavyweight–and he responded with a 4-3 victory over Caid Batterton to give Ankeny a 34-24 lead with two matches left.
"We had to give up something to get something," Wignall said. "We took a forfeit at 220 and bumped Alex up to heavyweight. He weighs 207 pounds, and (Batterton) weighs like 280. So we had to do a little trickery just to get the win."
Tuesday's double dual was Ankeny's fourth meet since opening the season against Cedar Falls on Dec. 15.
"We had four weigh-ins in seven days," Wignall said. "The whole key was to get some matches in, but it came with an expense. I think the guys are mentally, emotionally and physically wiped out. It's been quite an interesting year."
The Hawks will host Ankeny Centennial in their next meet on Jan. 4.
Here are the match-by-match results from Tuesday:
Waukee 57, Ankeny 18
113: K. Christensen beat Maihan, 16-4; 120: T. Anderson (A) pinned Hofbauer, 1:19; 126: Cox (A) beat Kelley, 6-3; 132: T. Christensen pinned Folkers, 2:43; 138: Ferguson won by technical fall over Pochinski, 18-2; 145: Rubino pinned Allen, 3:25; 152: Driscoll pinned Lansing, 2:52; 160: Rathjen (A) pinned Sammler, 1:13; 170: Nessa (A) beat Hauck, 6-3; 182: Gammell pinned Hinrichs, 1:03; 195: Spyksma pinned Bennethum, 1:20; 220: Winter pinned Schwiete, 2:46; 285: Kapustka pinned Pelinski, 1:46; 106: Freeman pinned Hansen, :59.
Ankeny 34, Dowling Catholic 31
120: T. Anderson (A) pinned Mahoney, 2:56; 126: Cox (A) pinned Quinn, 1:51; 132: Folkers (A) pinned Dabney, 1:39; 138: Nguyen (DC) beat Pochinski, 8-2; 145: Allen (A) pinned Pollard, 1:59; 152: McMahon (DC) pinned Lansing, 3:05; 160: Rathjen (A) beat Derry, 25-13; 170: Nessa (A) beat Townsend, 6-5; 182: Schwager (DC) beat Bennethum, 7-4; 195: Hagan (DC) pinned Hinrichs, 3:39; 220: Rumley (DC) won by forfeit; 285: Schwiete (A) beat Batterton, 4-3; 106: Carstarphen (DC) beat Hansen, 10-0; 113: King (DC) beat Maihan, 5-1.