The last time the Ankeny wrestling team defeated Ankeny Centennial in a dual meet was on Jan. 19, 2017–one day before Donald Trump's inauguration as the 45th president of the United States.
"It's been awhile," said Ankeny junior Trever Anderson, who was a seventh grader at the time. "It's nice to finally beat them."
Anderson had one of Ankeny's five falls as the seventh-ranked Hawks defeated visiting Centennial, 43-24, in a CIML Iowa Conference dual meet on Monday. The Jaguars had won the last three meetings against their crosstown rival by a combined 50 points.
"It always feels good to come in and beat (Centennial)," said Ankeny senior Caleb Rathjen, who sealed the victory with a fall at 152 pounds. "You know, we really haven't felt that in wrestling yet–I haven't. But (the win in) football felt good, and this year we kind of got the upper hand, and it's nice."
Both teams are now 1-1 in the conference. The Hawks improved to 2-3 overall, while Centennial's record dropped to 5-3.
"We needed that–that was only our second dual-meet win so we were due. We started preparing over Christmas break for the week that we're going to have this week," said Ankeny coach Jack Wignall, whose team will travel to Ames on Thursday and to Dubuque Hempstead on Saturday. "We knew we had to push the kids over break, and they showed up tonight. I thought our conditioning looked great. We were aggressive and pushed the pace.
"I'm real happy with how we wrestled," he added.
Centennial was not at full strength. Freshman Lucas Bruhl, who is ranked eighth at 113, was out with the flu.
Cael Wiener, one of the Jaguars' two returning state qualifiers, was also not in the lineup.
"That didn't help, but Ankeny wrestled well," said Centennial coach Jay Groth. "They executed when they needed to, and we've got work to do. We'll see them again at the end of the season (in the conference tournament) up at Fort Dodge, and hopefully we'll have different results."
Cade Bennethum got Ankeny off to a good start with a fall over Kaden Kaiser at 182. Jackson Penningroth then followed with an 8-3 decision over Alex Heimer at 195.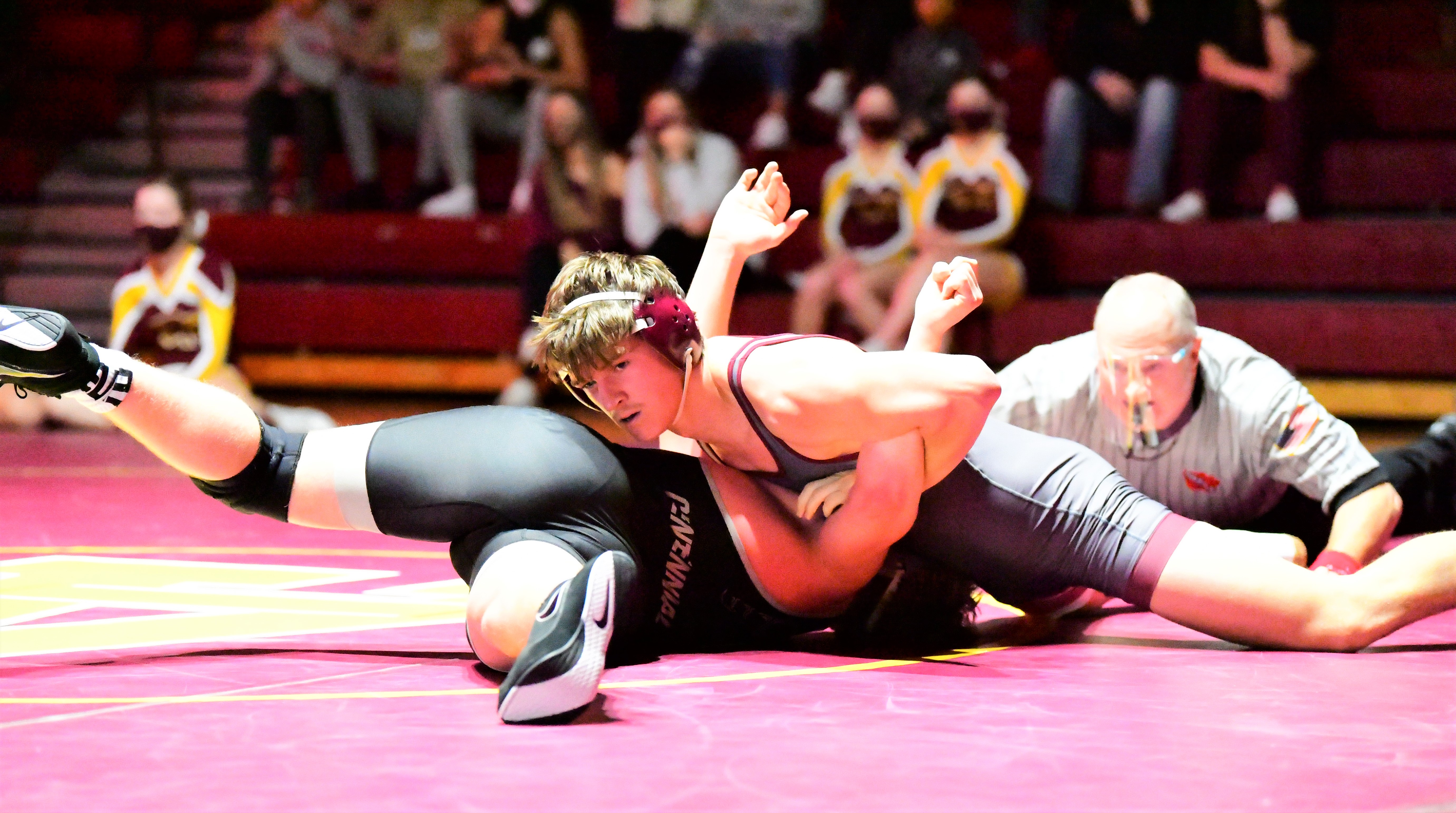 After Centennial's seventh-ranked Jackie Wells won by forfeit at 220, the Hawks then won the next five matches to build a commanding 34-6 lead. No. 10 Ben Hansen got a fall at 106, then Ankeny later got back-to-back pins from Anderson at 120 and No. 5 Cael Cox at 126.
The second-ranked Anderson had the fastest fall of the night, pinning Kyle Janssen in just 57 seconds.
"I've wrestled him a few times," Anderson said. "I just wanted to score points and get the fall–get bonus points for my team to win."
The top-ranked Rathjen later got the Hawks' final fall. He racked up a flurry of takedowns before pinning Mason Honderd in 3:34 to give Ankeny an insurmountable 40-21 lead with two matches left.
"The coaches were yelling, 'Get the pin. Get the pin,'" Rathjen said. "I think I've got to do what's best for the team in that situation. My coach wanted me to get the pin, so I went out there and got the pin."
There were two matches featuring a pair of ranked wrestlers. In the final bout at 170, Ankeny's Nate Nessa posted an 8-6 decision over Carter Cahill.
Nessa, who is ranked ninth at 182, handed Cahill just his second loss of the season. Cahill, who is ranked eighth at 160, moved up a weight to avoid a possible meeting against Rathjen–who had been wrestling at 160 until Monday's meet.
"These kids didn't even know some of the things they could do at practice and we pushed them through it, and that's what won Nate that match–just his ability to know that he's got more in the tank, and he did," Wignall said. "That was a really big win for him against a really good wrestler."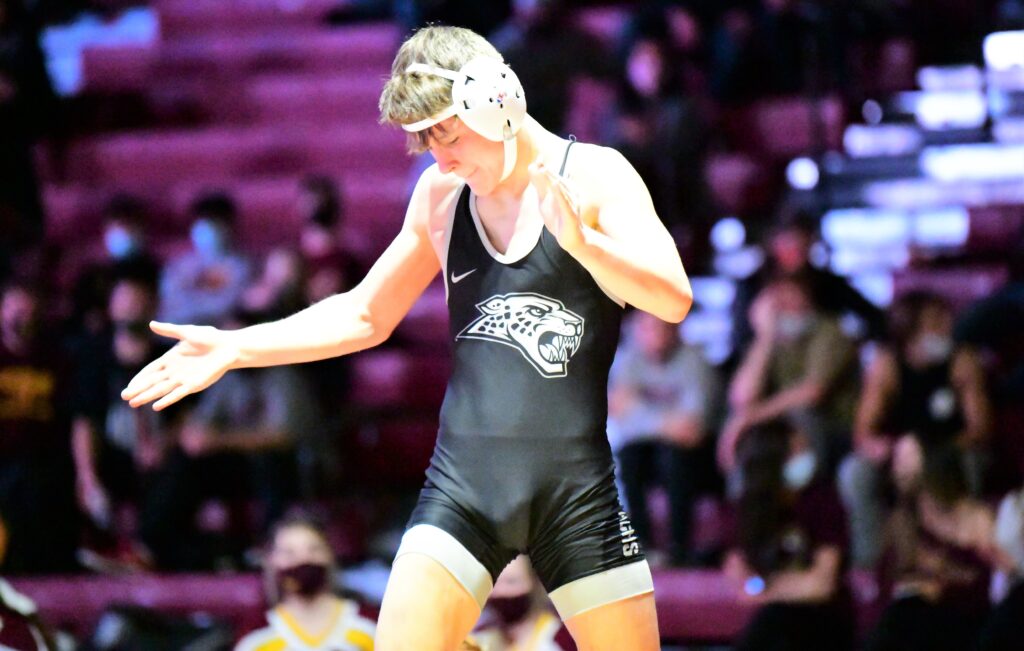 Centennial got falls from Drew Dunn at 132 and Carter Bennett at 145. Those pins were sandwiched around a 4-2 victory by Jackson Helmkamp at 138.
The third-ranked Helmkamp defeated Jace Anderson in a matchup of rated wrestlers. Anderson is ranked ninth at 132.
"That was a good match," Groth said. "Those two guys have been battling each other since early grade school. That was fun to watch, and they both wrestled well."
Anderson, a returning state qualifier, was making his season debut for the Hawks.
"He was a little flat. He's got a separated shoulder," Wignall said. "I think he's a little (reluctant) to really shoot and get ahold of a leg and get extended. But he kept in the match against a really good kid. He's just going to have to open up his offense."
The Jaguars also got a win from Owen Vernon at 160. Ankeny's other victories came from heavyweight Alex Schwiete and Fun Maihan, who recorded a major decision at 113.
"We did two-a-days basically the whole Christmas break and we're feeling good. Our conditioning is good," said Trever Anderson. " A lot of our guys are stepping up. I think we can accomplish a lot if we keep improving. We just need to focus on getting better every day."
Wignall said he didn't know that Centennial's lineup was going to be depleted until the Jaguars weighed in before the meet.
"We didn't have a clue until they got here," he said. "But we've had that (situation) over the years. You wrestle who you have, you do what you can do and let the chips fall where they may."
Groth refused to make any excuses.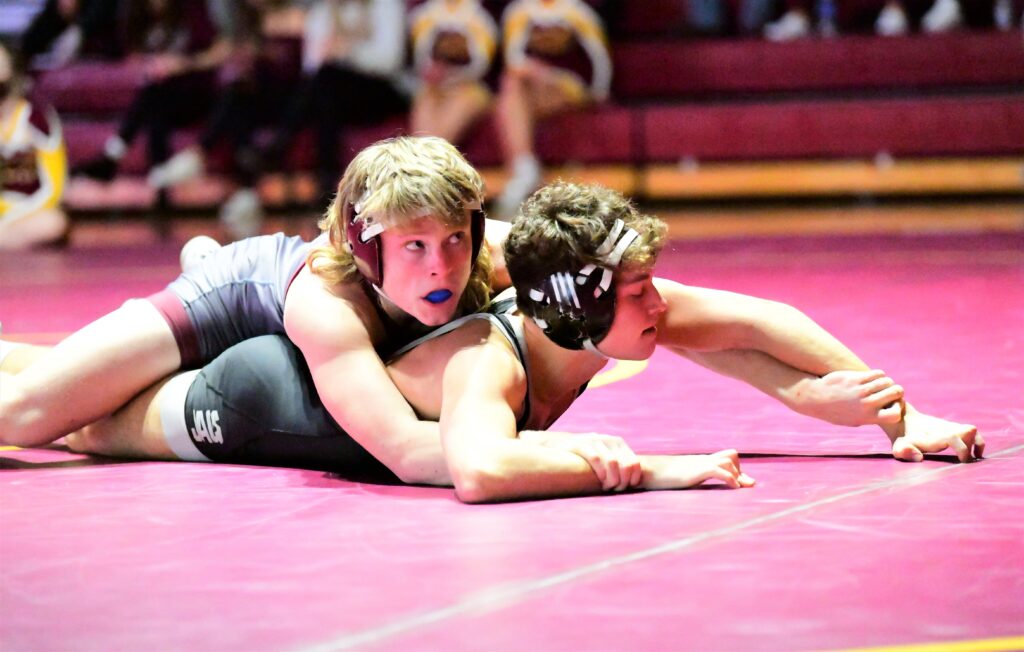 "We knew what we were dealing with coming in to the meet," said Groth, whose team will host a double dual meet against Marshalltown and Valley on Thursday. "We talked about with a couple teammates gone that we needed to step it up–next man in. But we've got work to do. Our takedown defense needs to get much better and if our takedown defense is not good, then we need to be taking more shots."
Here are the match-by-match results:
Ankeny 43, Centennial 24
182: Bennethum (A) pinned Kaiser, 1:51; 195: Penningroth (A) beat Heimer, 8-3; 220: Wells (AC) won by forfeit; 285: Schwiete (A) beat Boyle, 5-2; 106: Hansen (A) pinned Vandemark, 4:32; 113: Maihan (A) beat Bright, 17-7; 120: T. Anderson (A) pinned Janssen, :57; 126: Cox (A) pinned Hron, 2:33; 132: Dunn (AC) pinned Folkers, 1:44; 138: Helmkamp (AC) beat J. Anderson, 4-2; 145: Bennett (AC) pinned Allen, 4:44; 152: Rathjen (A) pinned Honderd, 3:34; 160: Vernon (AC) beat Kenworthy, 6-2; 170: Nessa (A) beat Cahill, 8-6.