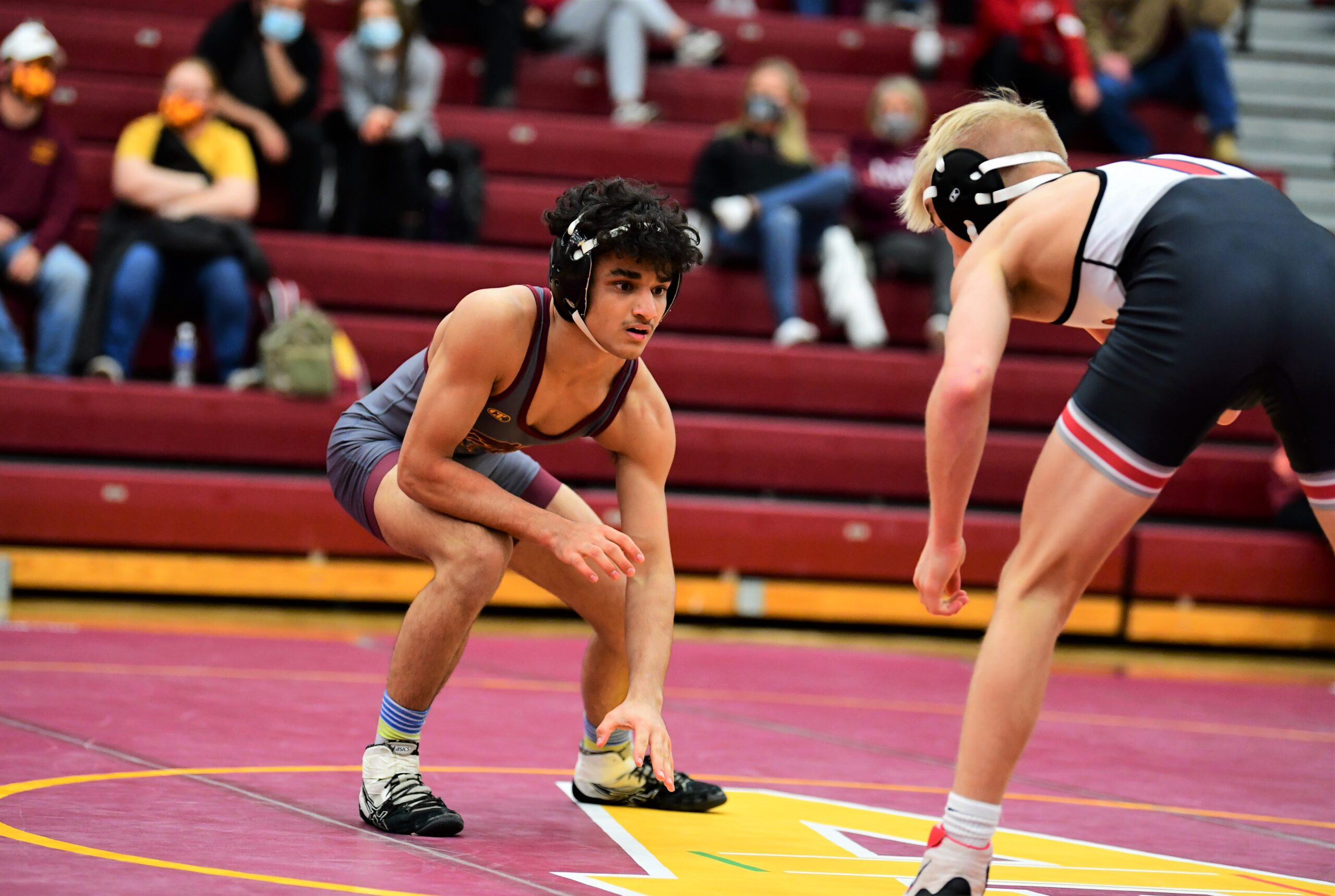 The Ankeny wrestling team didn't have a letdown Thursday following the Hawks' emotional victory over Ankeny Centennial just 72 hours earlier.
Seventh-ranked Ankeny won 11 of the 14 matches and rolled to a 54-17 win at Ames. The Hawks improved their records to 2-1 in the CIML Iowa Conference and 3-3 overall.
"I thought we were really good," said Ankeny coach Jack Wignall. "Ames has some good kids, but what we saw out of our kids tonight are things that we have worked on over Christmas break. It's encouraging when you drill relentlessly and you see that transfer onto the mat. That's what we want to see."
Ankeny had six pins–five of which came in the first period. Top-ranked Caleb Rathjen needed just 18 seconds to pin Ian Jurgensen at 152 pounds.
"Caleb was Caleb," Wignall said. "That's what he does."
The closest match of the night came at 113, where Ankeny's Fnu Maihan posted a 3-1 victory over Dominick Arce-Matos in overtime. Maihan got the winning takedown about 10 seconds into the extra period.
"Maihan wrestled a really good kid," Wignall said. "To get that win was big for him and for us."
Ankeny's Lincoln Folkers ended the meet with an 8-2 decision over Laverne Borntreger at 132. Folkers trailed, 2-1, after the first period.
"Lincoln rode him the entire second and third periods and turned him a few times," Wignall said. "That was an impressive ride."
The Hawks got a 5-1 victory from Kenny Pochinski at 138 to open the meet. He replaced No. 9 Jace Anderson, who reaggravated a shoulder injury during Monday's meet against Centennial.
"That was a real confidence-booster for Kenny," Wignall said. "Jace re-injured the shoulder that was separated, but it's not as bad as the original injury. He just needs to get some strength in it, and it's going to come down to how much pain he can tolerate. He'll be out two to four weeks."
Ankeny will be back in action Saturday at the Dubuque Hempstead Duals.
Here are the match-by-match results:
Ankeny 54, Ames 17
138: Pochinski beat Windelow, 5-1; 145: Slade (Am) won by technical fall over Allen, 18-3; 152: Rathjen pinned Jurgensen, :18; 160: Kenworthy pinned Martin, 1:52; 170: Nessa beat Burkheimer, 9-4; 182: Bennethum pinned Church, 1:04; 195: Penningroth pinned Fitz, 1:19; 220: Hall (Am) pinned Schwiete, 2:00; 285: Greenlee (Am) won by forfeit; 106: Hansen won by forfeit; 113: Maihan beat Arce-Matos, 3-1 (OT); 120: T. Anderson pinned Tang, 1:24; 126: Cox pinned McManus, 3:45; 132: Folkers beat Borntreger, 8-2.