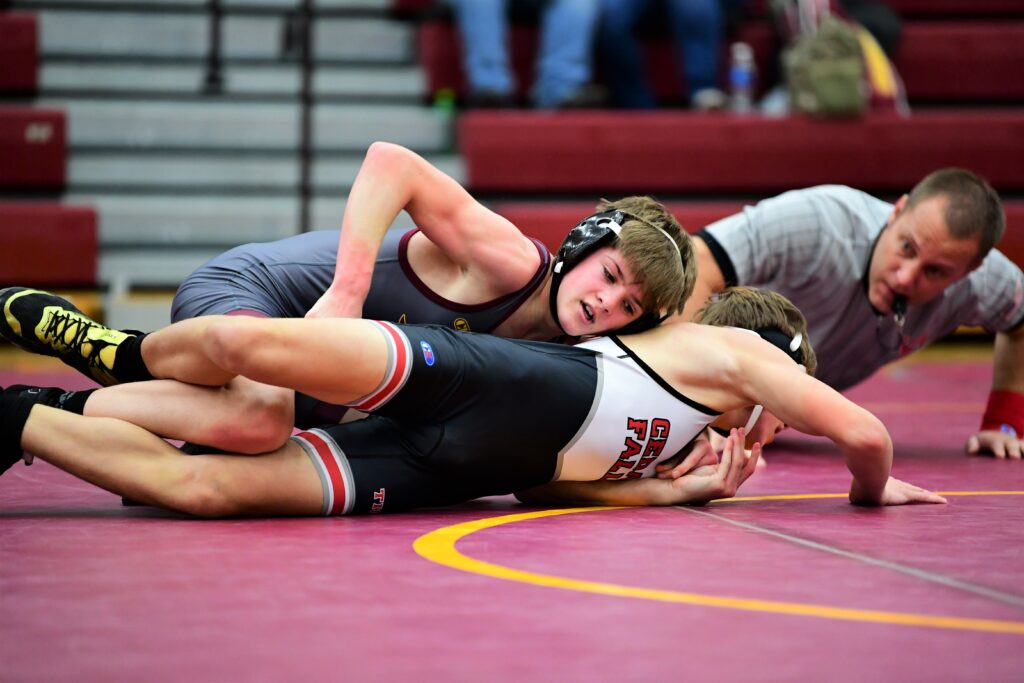 The Ankeny wrestling team was missing several varsity regulars for Thursday's dual meet at Marshalltown.
The Bobcats, however, were even more depleted.
The seventh-ranked Hawks took advantage of five forfeits to post a 55-20 victory in the CIML Iowa Conference matchup. They raised their records to 3-1 in the league and 5-5 overall.
"We have about six or seven of our starters out," said Ankeny coach Jack Wignall. "But Marshalltown had five open weights, so that didn't help them."
Ankeny had three falls, including one by Ben Hansen, who moved up to No. 6 at 106 pounds in Class 3A in the latest rankings by The Predicament. Hansen pinned Ivan Pantoja in 3 minutes 33 seconds to open the meet.
Isaac O'Toole at 120 and Alex Cox at 138 also had falls for the Hawks. They were among the backups who were pressed into duty.
"We like to think our kids ready to go, the next-man-in type of thing," Wignall said. "You're still not sure how they'll react to that situation, but I was really happy with how our kids wrestled."
Fnu Maihan posted an 11-3 major decision over Damien Rodriguez at 113. The Hawks also got a victory from Will Hinrichs, who posted a 5-3 decision over Gannon Williams at 195.
Ankeny was without top-ranked 120-pounder Trever Anderson, who is battling a shoulder injury. His brother, Jace, was also out of the lineup at 138.
"We're a little banged up," Wignall said. "We're still waiting to get Alex Schwiete out of quarantine, but he'll be back Friday. Lincoln Folkers broke his finger last week and we didn't even know it, so he'll be out four weeks. And Nate Nessa was out with a hamstring tweak.
"It's just been a weird up-and-down season with everything. We're trying to be conservative to get everybody ready for the postseason, and I'm confident we'll be 100 percent for districts," he added.
The Hawks will host the Dave Ewing Duals on Saturday, beginning at 10 a.m.
Here are the match-by-match results from Thursday's meet:
Ankeny 55, Marshalltown 20
106: Hansen pinned Pantoja, 3:33; 113: Maihan beat Rodriguez, 11-3; 120: O'Toole pinned De La Cruz, 3:37; 126: C. Cox won by forfeit; 132: Hageman (M) beat Drost, 8-0; 138: A. Cox pinned Whitehead, 1:38; 145: Allen won by forfeit; 152: Rathjen won by forfeit; 160: Kenworthy won by forfeit; 170: Castellanos (M) beat Ouverson, 16-6; 182: Bennethum won by forfeit; 195: Hinrichs beat G. Williams, 5-3; 220: C. Williams (M) won by forfeit; 285: Gomez (M) pinned Pelinski, 3:23.