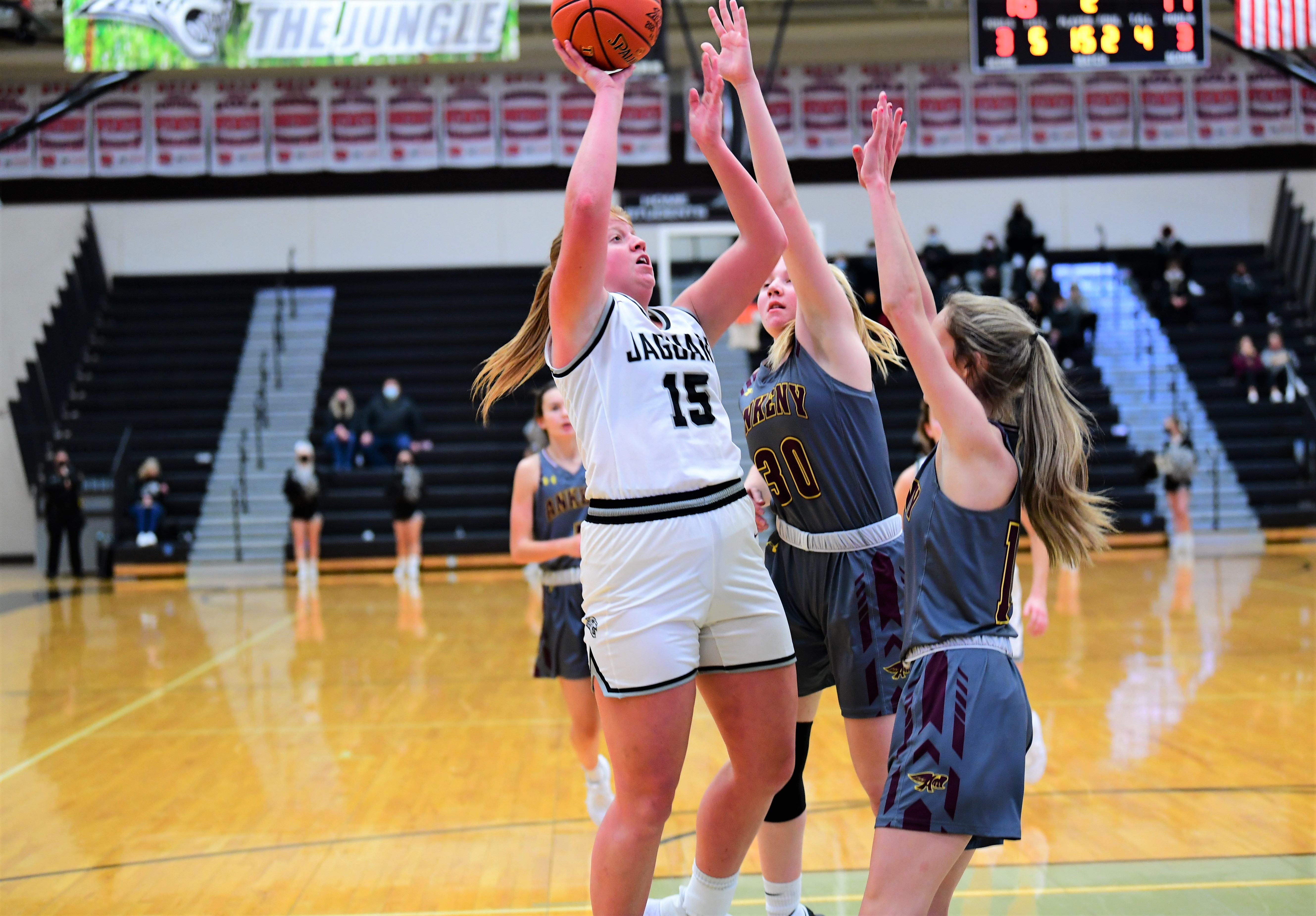 Senior forward Jackie Pippett has helped the fifth-ranked Ankeny Centennial girls' basketball team to a 9-1 record. She is averaging 8.0 points and 4.4 rebounds per game.
Pippett is shooting 58.2 percent from the field. She has made 94.1 percent of her free throws (16-of-17).
Pippett scored a season-high 18 points in the Jaguars' 57-41 victory over visiting Ankeny on Jan. 5. Those two teams will meet again on Friday at Ankeny.
Here is some inside info on Pippett:
How is the season going thus far?
I am very happy with how the season is going so far. I truly love everyone on the team and am excited about our potential.
What has been the highlight for you?
With everything that has been going on the past nine months, we were not sure we were going to get a season. I understand that any day could be my last day of high school basketball, which makes every day more special. A highlight for me this season would be in the locker room after coach (Scott) DeJong got his 650th win. The joy and excitement that was on everyone's faces was just so nice to see.
Coach DeJong reached that milestone with your team's 79-43 win at then-No. 11 Ames on Dec. 22, and he's obviously had a great career. Why do you think he's been so successful?
Me and Bella (Robben) were on the team when coach DeJong got his 600th career win, and it is really cool we were here for this milestone, too. I think coach DeJong is a great coach who expects us to give our best every time we are on the court, whether it be practice or a game. He spends countless hours watching film and developing plays so we can ultimately be the best we can be. He also surrounds himself with spectacular people that have all helped me significantly in the game, including coach Runchey, Mashek, Fehn, Linders, Maifield, and also coach (Albertson) that we all miss this season.
Your teammate, Maggie Phipps, set a single-game school record with 31 points in that win, and she leads the team with a 20.3 average. Did you know how good she was going to be when she transferred to Centennial from North Polk?
I knew Maggie was a great player before she transferred due to the many times we scrimmaged against her during the preseason. However, I never could have predicted the impact she would have not only on me but the team. She is a phenomenal player and person. Her ability to score and pass the ball is a huge addition.
Your team has won four straight games since suffering your only loss at No. 12 Valley, 61-47, on Jan. 9. What did you learn from that loss?
I think the loss definitely showed us our weaknesses and it was better to know about them sooner rather than later. We have learned that we have to strive to get every rebound and how essential defense is, especially when not all of our shots are falling.
Your team will host No. 11 Des Moines Roosevelt on Tuesday. Do you know much about the Roughriders–since they have only played four games?
Roosevelt is a good team with potential to win any game. We know they play hard and are very determined.
Your team will then travel to No. 13 Ankeny on Friday for a rematch against the Hawkettes, who will be looking to avenge their earlier loss. What will be the key to beating your rival again?
The Ankeny game is always a high-intensity game that I always look forward to. The key to that game, like many others, would be to rebound, play great defense, and to play for each other.
You made 8-of-9 shots from the field in the first game against Ankeny. Do you think the Hawkettes might defend you differently this time?
If they decide to guard me differently this time, I will be looking for my open teammate and I trust them to put the ball in the basket.
One of your teammates, Cleao Murray, has been practicing with the squad after recovering from knee surgery last summer. How does she look, and do you think she'll be able to help your team out in the postseason?
Cleao looks better and better every day. We have missed her and can't wait until she is back on the floor because she truly has put in so much work to be back and healthy. She has always been an offensive threat and I'm very excited to be playing with her again!
Are you planning to play basketball in college?
I have accepted a scholarship to play at NIACC for the next two years. I am excited to have the opportunity to keep playing.
What are you going to study?
I still am not sure.