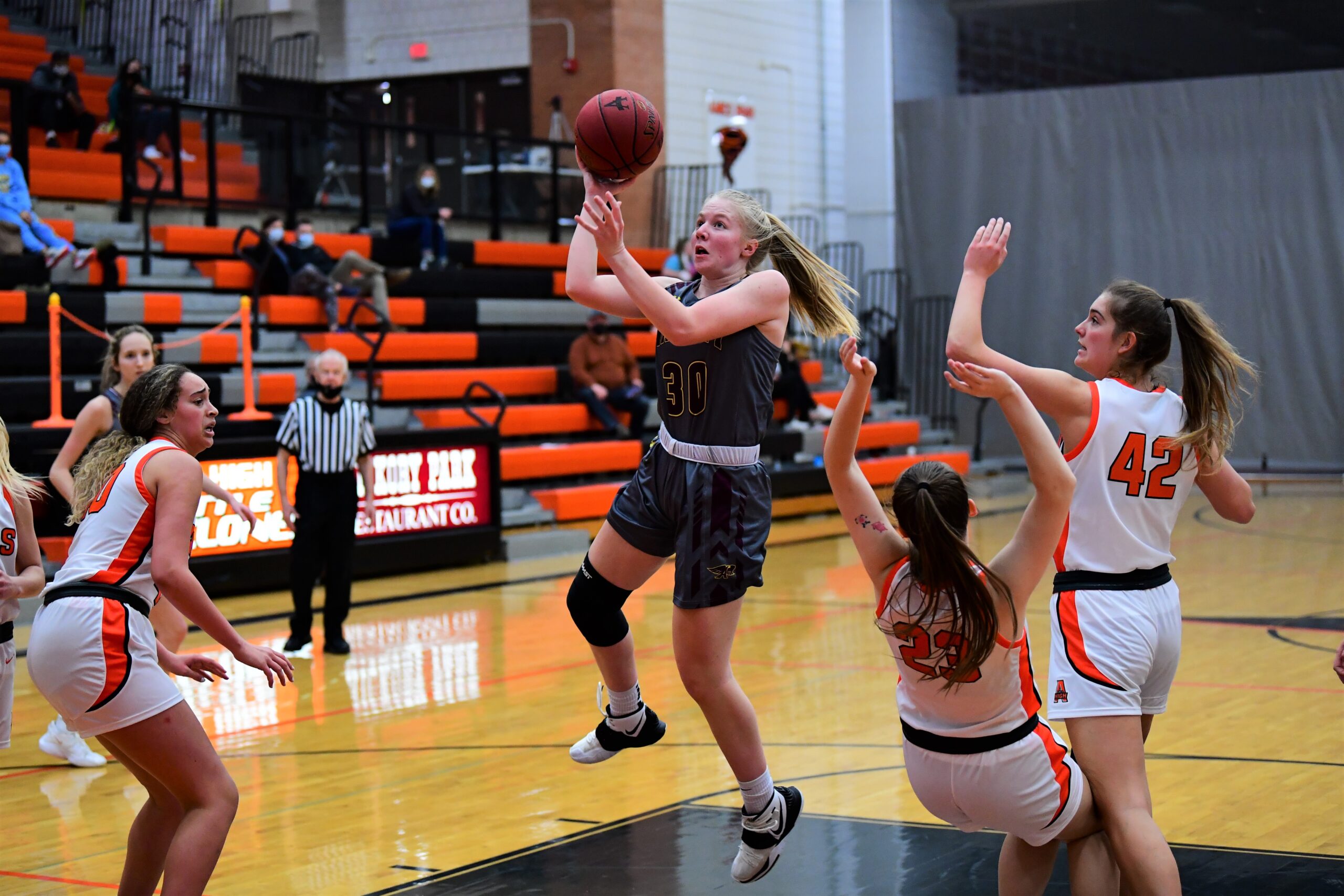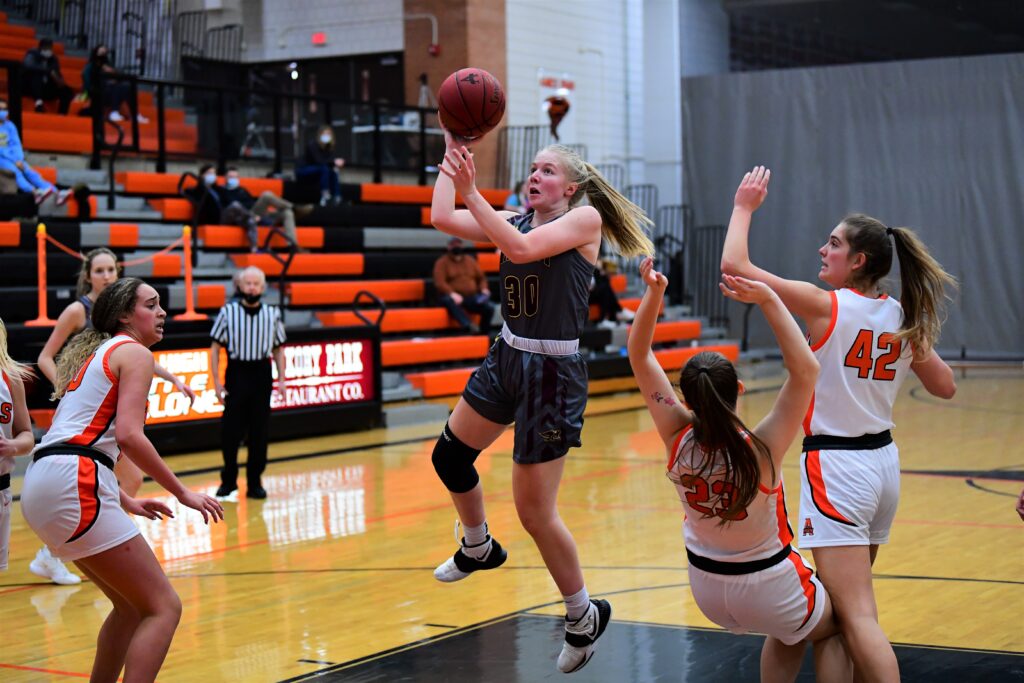 Saturday's win at Ames was one of the biggest of Abby Johnson's high school basketball career.
It sets up an even bigger game for the Ankeny girls' squad on Friday.
Johnson scored a career-high 20 points before fouling out to lead the 13th-ranked Hawkettes to a 66-55 victory in the CIML Iowa Conference matchup. They raised their records to 6-1 in the league and 7-2 overall.
"This one ranks right up there with the Dowling Catholic game my sophomore year," said Johnson, a senior forward. "It's definitely a big one."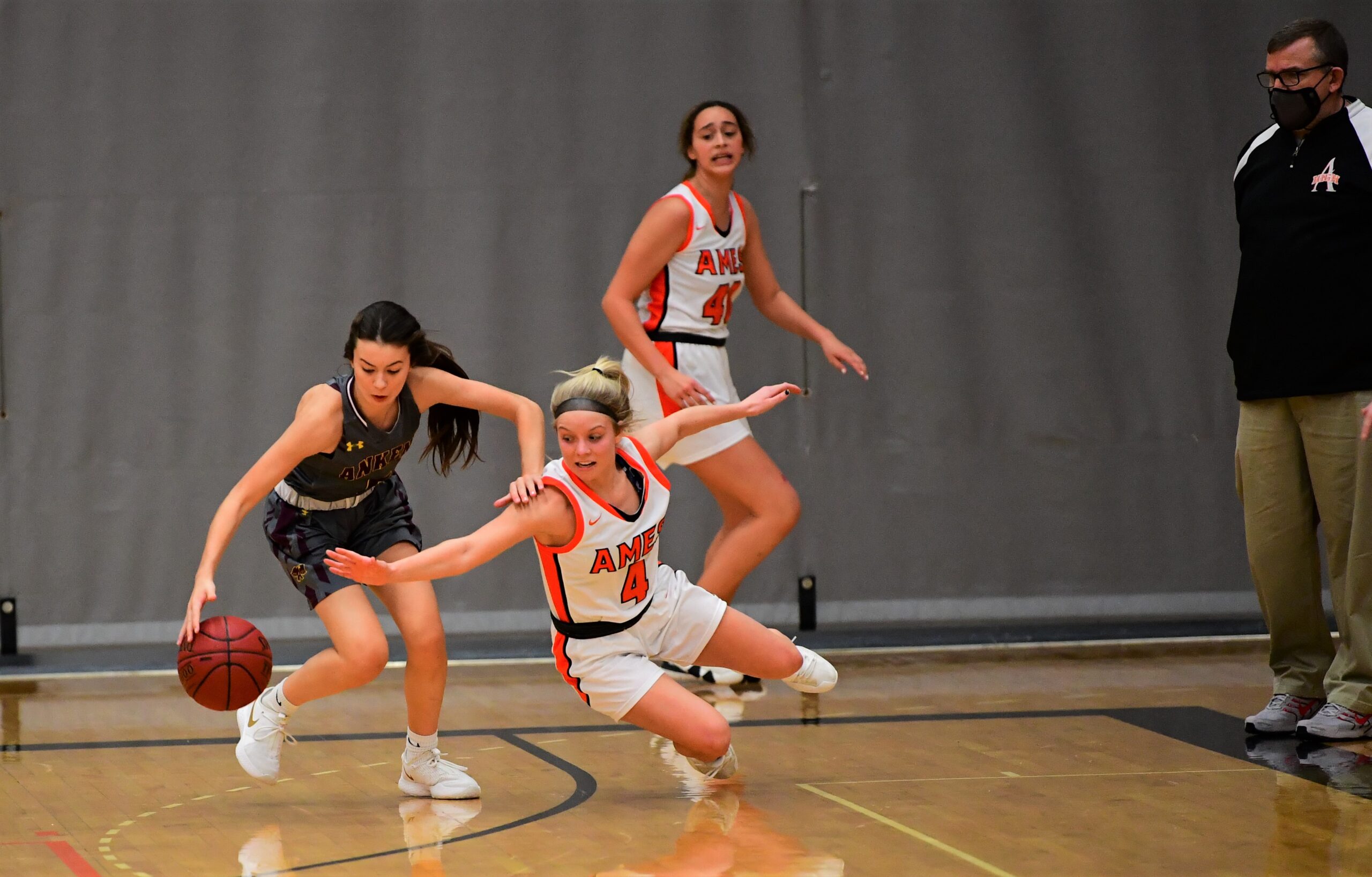 The victory allowed Ankeny to remain in sole possession of second place in the conference. The Little Cyclones dropped to 4-3 in the league and 6-6 overall.
The Hawkettes can move into a tie for first place with a win over No. 5 Ankeny Centennial on Friday.
"We've put ourselves in a great spot," said Ankeny coach Dru McAnelly. "We're 7-2 and we're one game back. We'll see what we're made of. We've got four big ones coming up, but that's the typical gauntlet we're used to this time of year. Win or lose, we need that right now to get ready for tournament time."
Ankeny got off to a sizzling start in Saturday's game. The Hawkettes made six 3-point goals in the first quarter and raced out to a 28-12 lead.
"We probably couldn't have played any better," Johnson said. "We guarded (Ashley) Iams and (Caroline) Waite really well–we knew where they were and we were talking. And we got what we wanted on offense."
Johnson and Ellie Maschoff each had two 3-pointers in the opening period. Maschoff was able to play despite tweaking her ankle in Friday's win at Fort Dodge.
"We had to play two games in 18 hours, and we faced some adversity with Ellie not being 100 percent," McAnelly said. "But I thought the first 4 minutes were extremely instrumental in that win. We came out and the ball was going in the hoop and that was huge for our confidence. We dictated the tempo and got after them a little bit defensively."
Calyssa Wright and Rachael Christmann also had 3-pointers in the first quarter. Wright's trey was part of a 14-0 run that broke an early 5-5 tie.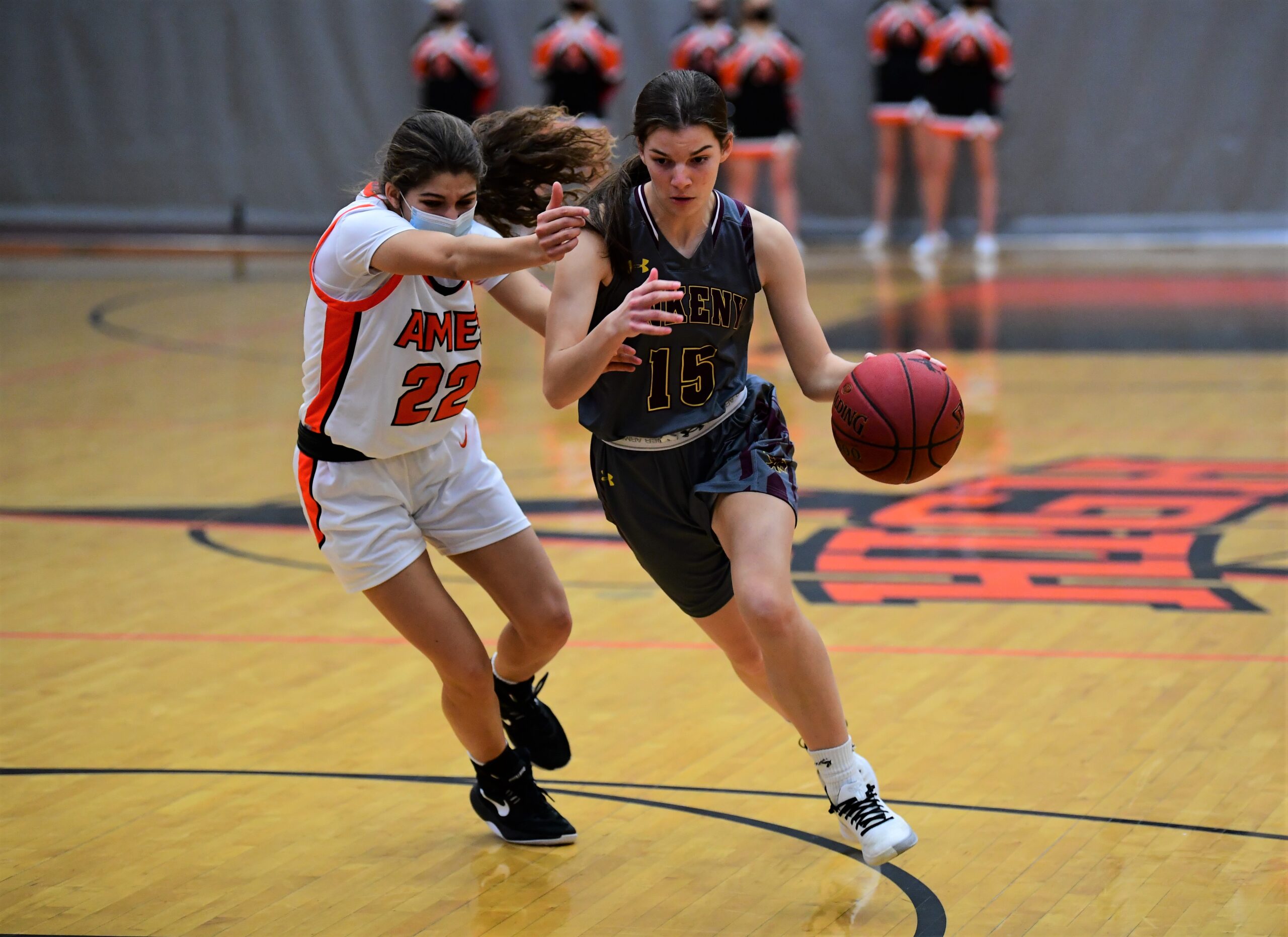 "We moved the ball really well and we found who needed the ball who was hot," said Ankeny guard Jenna Pitz. "We played really well as a team."
Ankeny held a 37-23 lead at halftime. The Hawkettes led by as many as 18 points in the third quarter before Ames rallied.
The Little Cyclones used a 7-0 run in the final period to pull within 58-51. Johnson had just fouled out, and McAnelly was forced to call a timeout with 3:23 remaining.
"We knew we had to step up with Abby out," Pitz said. "Everyone stepped up, we took care of the ball and won the game."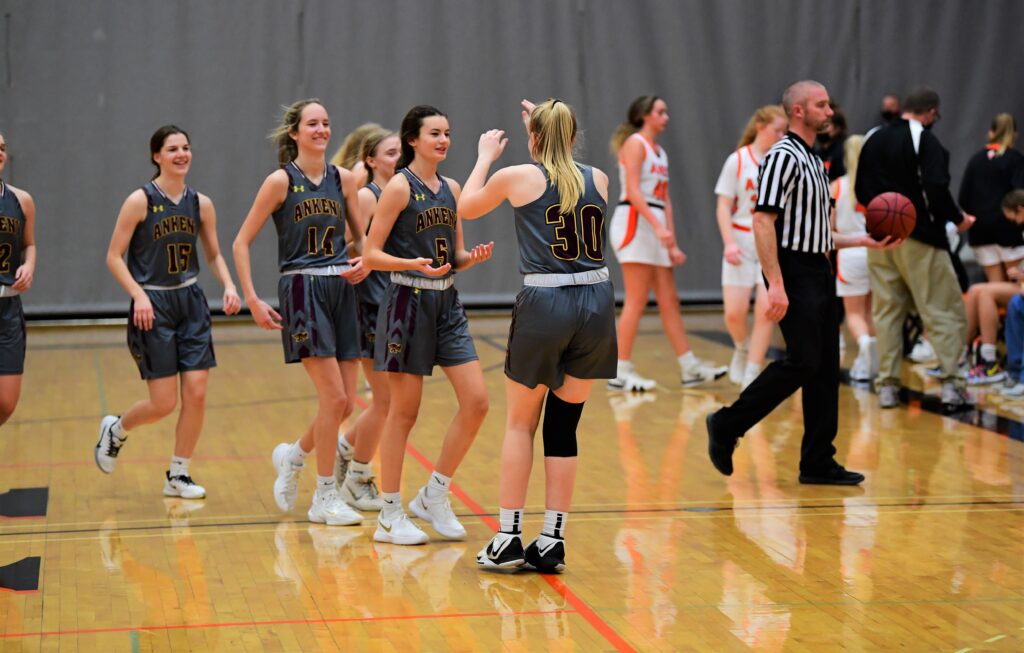 Ankeny managed to take some time off the clock before Ames was able to rack up enough fouls to force the Hawkettes to go to the charity stripe. McAnelly's team then made 8-of-12 free throws in the final 1:57 to seal the victory.
"We practice situations like that in practice where some of us have fouled out," Johnson said. "We know what we need to do, and they were all playing great and making their free throws and playing great defense at the end. I had full confidence in them."
Pitz finished with 15 points and seven assists. Maschoff had 12 points, Christmann added 10, and Karsen Jacks grabbed eight rebounds.
Ankeny made 10-of-22 3-point attempts (45.5 percent).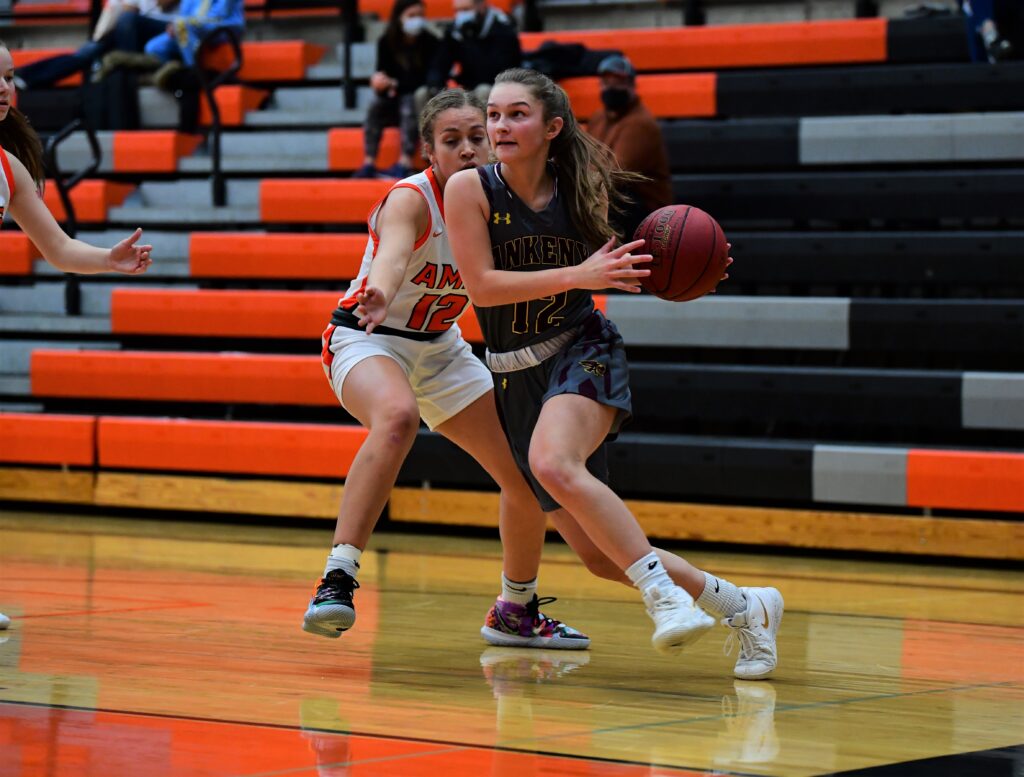 "This was a huge win," McAnelly said. "Ames got backed into a corner a little bit (Friday) night dropping one to Mason City they probably didn't think (they would). So you don't know how a team like that is going to respond, and it's always tough to come up here.
"But I'm just so proud of the girls. They responded very well," he added.
The Hawkettes will play a non-conference game at No. 10 Dowling (7-3) on Tuesday. Then comes the showdown against the crosstown rival Jaguars.
"We're very excited for this week," Johnson said.