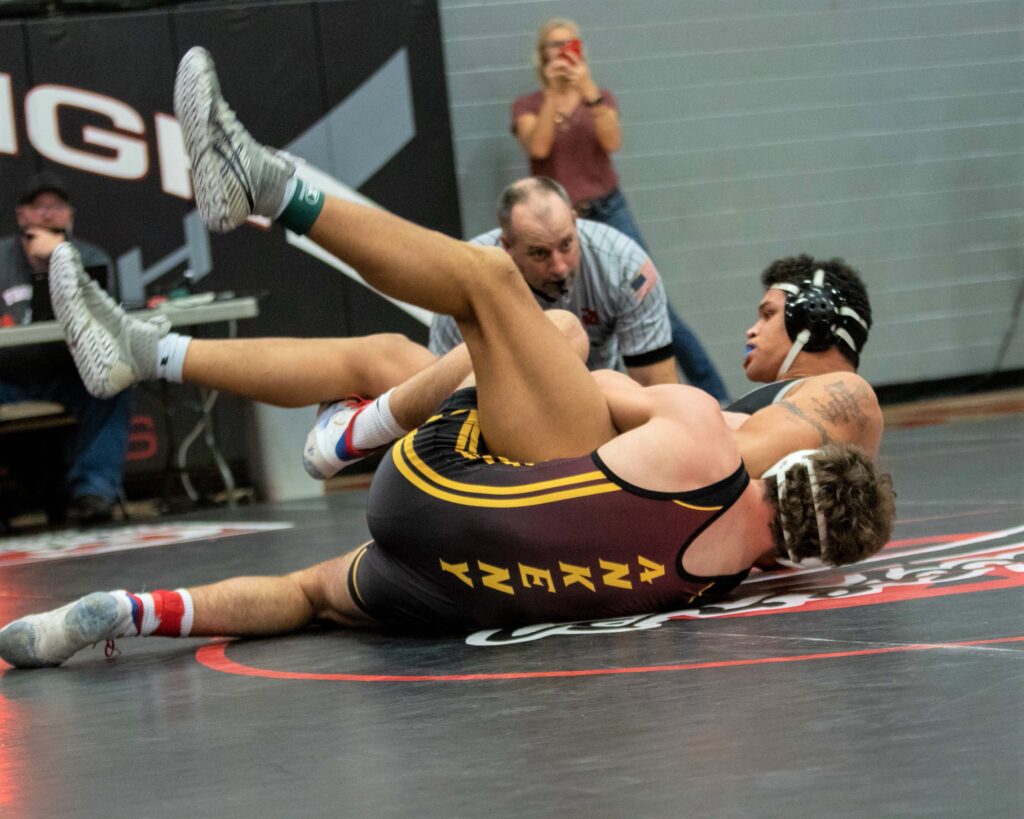 There was a lot at stake when Ankeny Centennial's Jackie Wells and Ankeny's Will Hinrichs took the mat for the championship match at 195 pounds in the CIML Iowa Conference wrestling tournament on Friday night.
Wells didn't know it, but the outcome of the whole tournament was on the line.
The Centennial senior got a pin in 3 minutes 35 seconds, allowing the Jaguars to capture the team title with 206.5 points.
"I wasn't aware that my match would win us the tournament as a team," Wells said.
Host Fort Dodge, the No. 4 team in Class 3A, placed second in the six-team field with 199 points. No. 7 Ankeny finished third with 197.5.
"The boys wrestled well," said Centennial coach Jay Groth. "We got some bonus points when we needed them. It came down to Wells and Hinrichs, and if Ankeny had won that match, they would have won the tournament. Jackie got the fall and wrestled well today. I'm happy with how everybody performed really."
Wells raised his record to 18-10. He was coming off a fifth-place finish at the Ed Winger Invitational a week ago, when he dropped down from 220 pounds.
"I think 195 is a good fit for me and hopefully will give me a better chance of making it to state," Wells said. "I've had plans to make the drop to 195 since the beginning of the year."
Hinrichs got a reversal in the first period, but was unable to escape in the second period. Wells eventually turned him and got the fall.
"I was really happy with how Will wrestled," said Ankeny coach Jack Wignall. "I thought he had a chance to win it. We had the momentum after the first period, and I thought he could get out (again). But Jackie was just too big and strong."
Centennial placed third or higher at 12 of the 14 weights. The Jaguars crowned two champions, had six runners-up and four third-place finishers.
"We beat some guys that we lost to before," Groth said. "It was a nice rebound after we didn't wrestle to our potential at the Ed Winger tournament. Today, we got closer to our potential. Hopefully, we'll get there when it really matters."
Ankeny, meanwhile, had three individual champs. Three other Hawks placed second.
"To be honest, I thought we could win it," Wignall said. "But we lost a lot of head-to-heads vs. Centennial, and that was the difference. They wrestled great, and we didn't wrestle to our seeds and that cost us the tournament."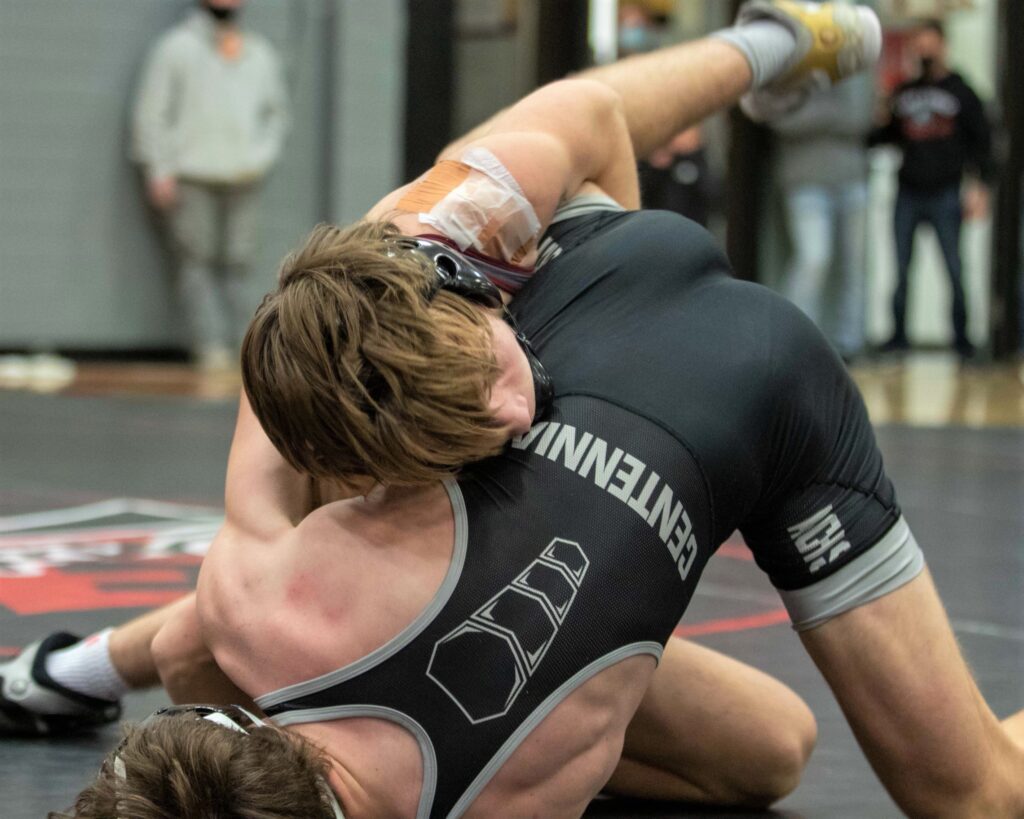 There were three Jag-Hawk matchups in the finals. Centennial won two of them.
Fifth-ranked Jackson Helmkamp posted a 4-2 overtime victory against Ankeny's Jace Anderson at 138.
"It was a good match between two good wrestlers," Groth said. "Jace got in deep on a duck-under in overtime, but Jackson was able to scramble out of it and get the (takedown). It was a nailbiter, for sure. But it was fun to watch."
Helmkamp (19-3) defeated Anderson by the same score in a dual meet earlier this month.
"The first match definitely gave me some confidence, but I still didn't wrestle how I wanted to," Helmkamp said.
Wignall was pleased with Anderson's progress. He has wrestled only six matches this season (4-2) due to a shoulder injury.
"Jace wrestled so much better than the first time he wrestled Helmkamp," Wignall said. "He really had an opportunity to win and just couldn't do it. I think the win against Independence (at the Dave Ewing Duals) really helped his confidence."
In the other Jag-Hawk showdown, Ankeny's Nate Nessa rolled to a 9-3 decision over Owen Vernon at 170.
"Nate wrestled great," Wignall said. "He was tilting kids like crazy, and that was great to see."
Nessa (11-8) dominated the match to keep the Hawks in the title chase.
"I had no idea what the team score was," Nessa said. "Honestly, I was just trying to be prepared for my matches."
Teammate Cade Bennethum then followed with a pin over No. 4 Ben Egli of Fort Dodge in 1 minute to win the 182-pound crown. He improved to 17-8 on the season.
Bennethum also pinned Egli on the same mat in a dual meet on Dec. 17.
"I expected that I'd win the match, but I wouldn't have guessed it'd be in a minute," Bennethum said.
Bennethum has won seven consecutive matches by fall, including a pin over Centennial's Griffin Wisehart in 38 seconds in the semifinals.
"Cade can be his own worst enemy," Wignall said. "If he gets it in his head that he's wrestling a tough kid and he gets taken down, he has a hard time recovering. But I told him, 'You are that good kid now.' It's just in his head now that he's a good kid.
"Egli took him down, but Cade reversed him and pinned him. You can just see the confidence pouring out of him. It's fantastic," he added.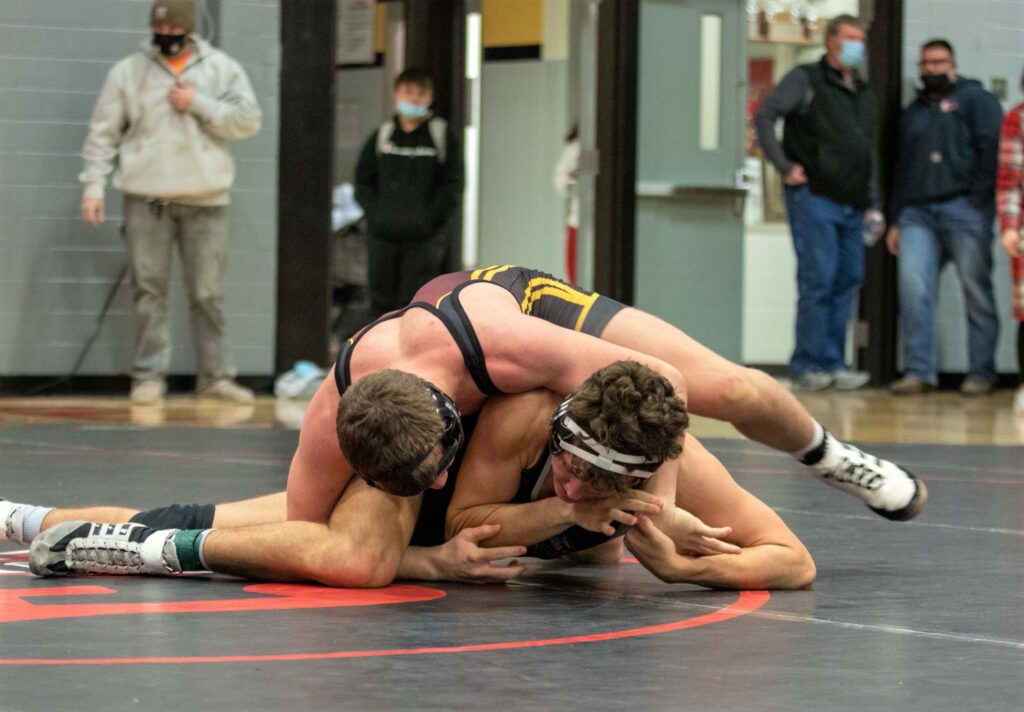 Ankeny also got a title from No. 2 Caleb Rathjen at 152. He posted a 15-7 major decision over Dreyzon Phillips of Fort Dodge in a rematch of last year's state championship match at 138.
Phillips is ranked third at 145.
"I know him pretty well and had known that he had been wrestling 152 a lot of this part of the year so I wasn't surprised to see him," said Rathjen, who lifted his record to 23-1. "I felt really good. Still, there is always room to improve, but I feel like I'm getting close (to where I want to be)."
The Hawks also got a second-place finish from No. 5 Cael Cox at 126. He was pinned by No. 1 Drake Ayala of Fort Dodge in 2:19 in the finals.
In addition to Vernon, Centennial got runner-up finishes from Cael Wiener at 113, Kyle Janssen at 120, Drew Dunn at 132, No. 6 Carter Cahill at 160 and Nate Howe at 220.
Wiener posted a 4-2 decision over Ankeny's Fnu Maihan in the semifinals. He then dropped a 12-3 decision to No. 6 Max Bishop of Fort Dodge in the finals.
Janssen was pinned by No. 4 Lane Cowell of Fort Dodge in 23 seconds. No. 5 Kody Cook, Cowell's teammate, posted a 5-2 decision over Cahill–who had defeated Ankeny's Xander Kenworthy in the semifinals.
Dunn also lost to a rated opponent. No. 5 Jace Rhodes of Mason City won by a technical fall, 16-1.
Howe went 1-1 in a round-robin bracket. He pinned Alex Read of Fort Dodge in just 19 seconds to earn a second-place finish.
Placing third for the Jaguars were Logan Song at 145, Carter Bennett at 152, Wisehart and Logan Boyle at 285. In the consolation semifinals, Song recorded a technical fall over Ankeny's Ryan Allen while Boyle pinned Ankeny's Alex Schwiete.
"We wrestled really well as a team," Helmkamp said. "I was proud of how my teammates went out and scrapped. I thought we had a shot to win it. When we come to wrestle, we know we can compete."
The Hawks got third-place finishes from No. 6 Ben Hansen at 106, Jacob Kruger at 120, Carter Davis at 132 and Kenworthy. Hansen pinned Centennial's Payton Bright in 4:48 in the third-place match.
"Our lower weights did not wrestle well, but we think we know why," Wignall said. "They overtrained, and they just need some recovery."