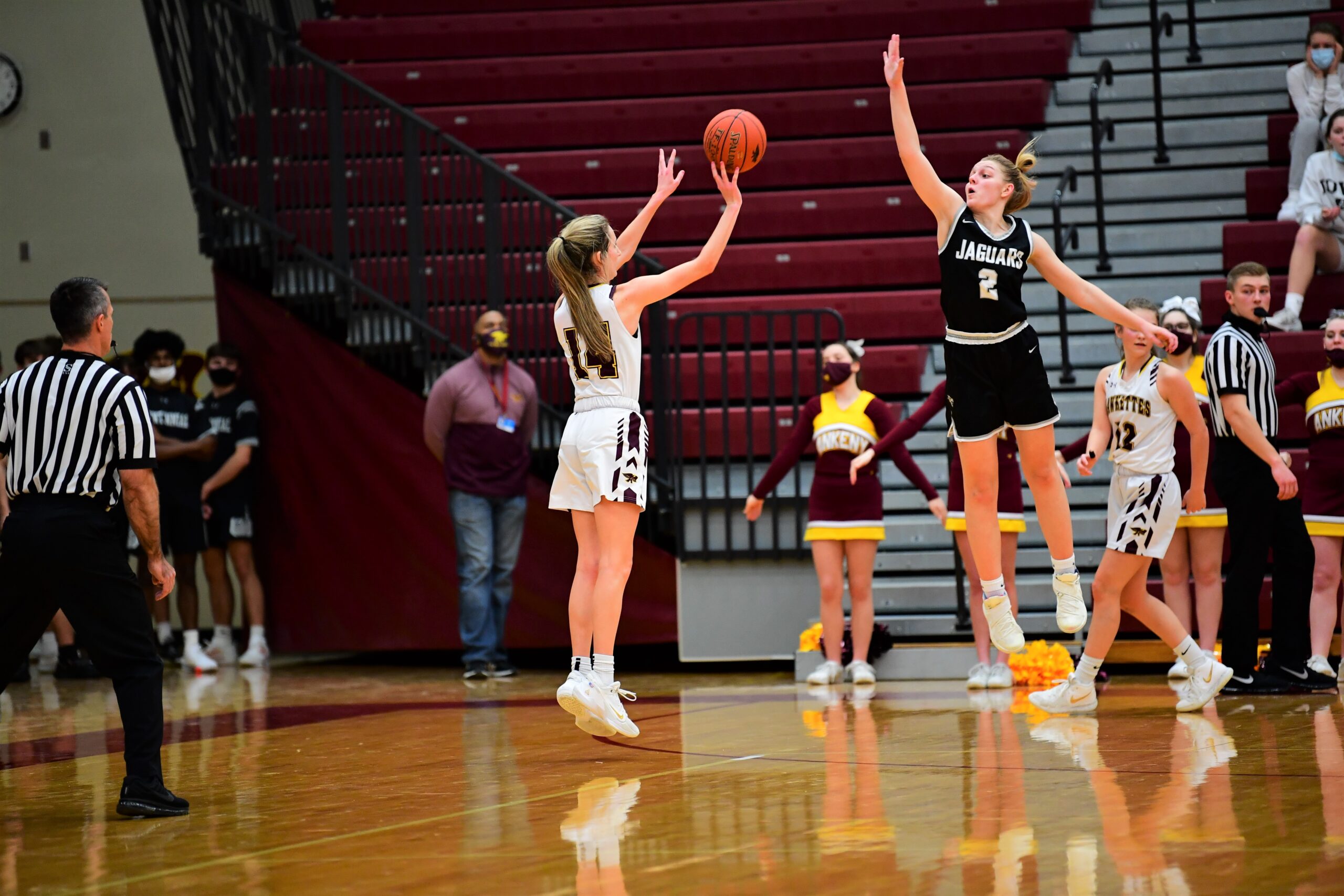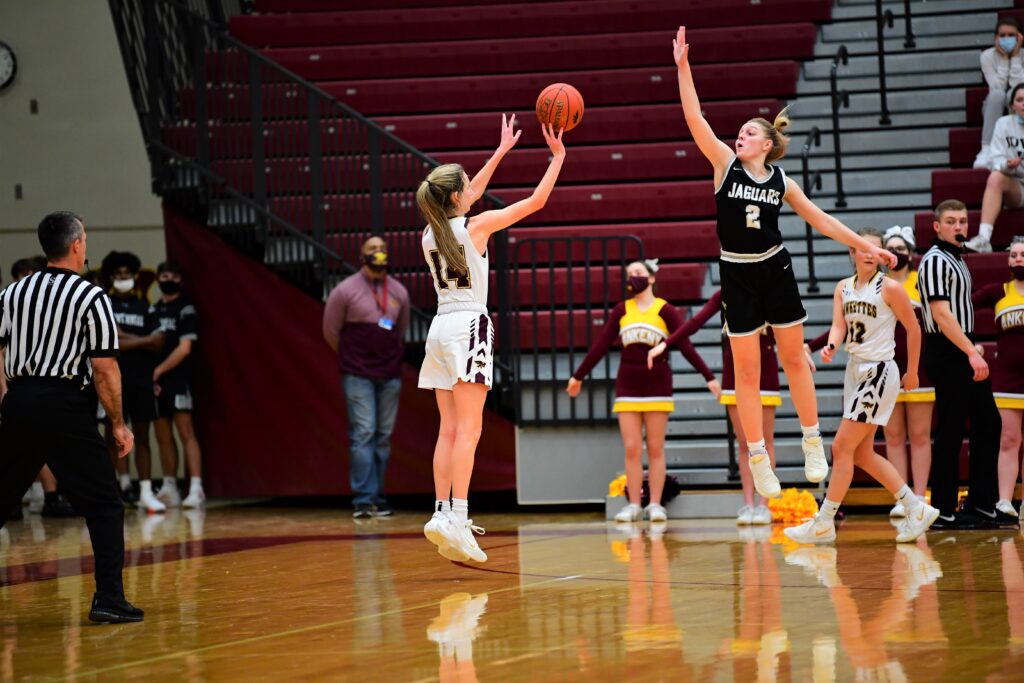 The Ankeny girls' basketball team was in position on Friday to knock off crosstown rival Ankeny Centennial for the first time ever.
But a pair of 3-point shots, one in the third quarter that would have put the Hawkettes ahead and another in the fourth that would have tied the game, bounced off the rim.
Fifth-ranked Ankeny Centennial then pulled away in the final 4 minutes to post a 47-34 victory at No. 13 Ankeny. The Jaguars clinched at least a share of the CIML Iowa Conference title.
"They made a big run at us, and we responded," said Centennial coach Scott DeJong. "That's what good teams do. We needed that, and it was good to see us come through against a really good team."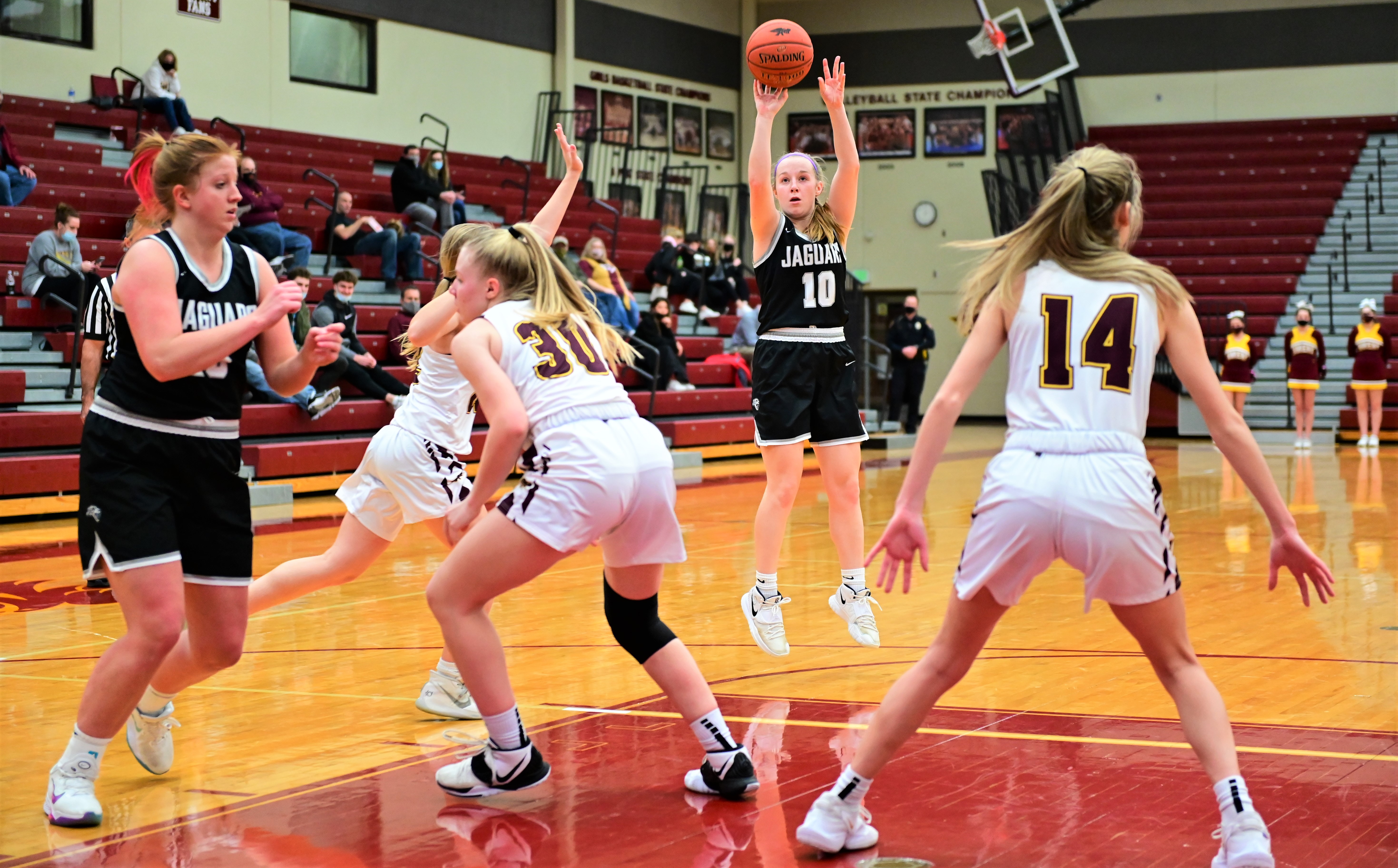 Centennial closed out the game with a 12-2 run. Jackie Pippett started the run with a pair of baskets.
"I remember when we won (the conference) my freshman year," said Pippett, a senior forward. "I was just on the bench and how exciting it was. I've been really looking forward to the moment when we can hopefully get it, too."
The Jaguars improved to 8-0 in the conference and 10-1 overall. Ankeny's records dropped to 6-2 and 7-4.
"I was extremely proud of the girls' effort," said Ankeny coach Dru McAnelly. "I hurt for them and I hurt for a great bunch of seniors because we don't know what's going to happen with the tournament matchups, but most likely this was their last time to play (Centennial)."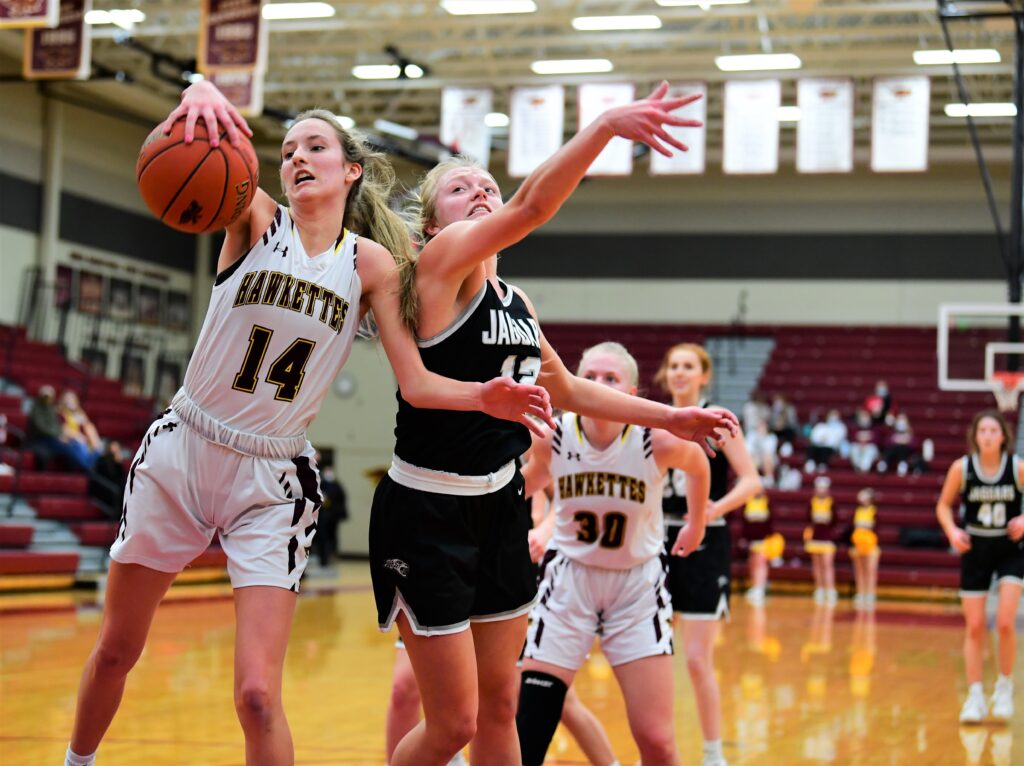 Maggie Phipps led the Jaguars with 13 points and four assists, despite going just 4-of-17 from the field. Pippett added 10 points and eight rebounds.
Bella Robben had nine rebounds and two blocks. Centennial won the battle of the boards, 42-28.
Pippett scored six of her points in the fourth quarter as the Jaguars improved to 16-0 all-time against Ankeny.
"They did have a little bit of a run, but I think we responded well," Pippett said. "They hit some difficult shots, but we came back."
Jenna Pitz led Ankeny with 10 points, while Rachael Christmann added nine on a trio of 3-pointers. Abby Johnson and Calyssa Wright each grabbed seven rebounds.
"We've been working hard in practice preparing for them," Pitz said. "Centennial's a big rival, and we always look forward to these games every year.
"I thought we (might get over the hump). It came down to the end and we had to start fouling, and that's when they pulled away. But I'm really proud of our effort throughout the game. I thought we responded really well," she added.
Neither team shot the ball well. Centennial connected on 37.8 percent of its shots (17-of-45), but Ankeny made just 25.5 percent of its attempts (12-of-47).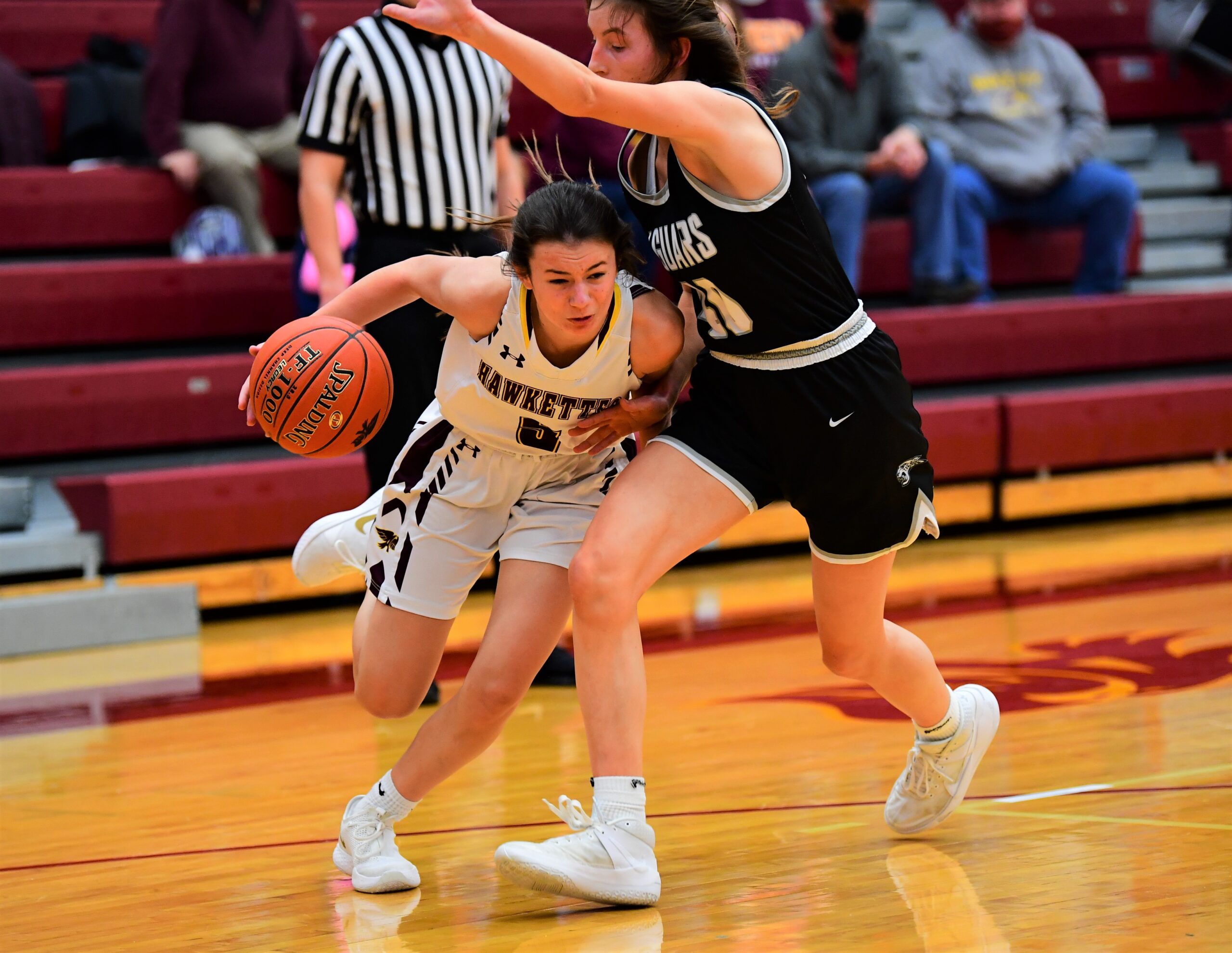 "The credit goes to Centennial," McAnelly said. "They made plays when they had to."
The Jaguars used a 12-0 run in the second quarter to build a 25-10 advantage. Phipps had six of her points during the run.
"In years past that (deficit) might have gone to 25 or 30 (points)," McAnelly said. "That just speaks volumes for this group about their character and their will. We just challenged them at halftime. We drew up two or three little things on the board, but it wasn't about Xs and Os. It was about believing in each other and staying together and playing with some heart. We didn't let them dictate what we were doing, so we did a much better job."
Ankeny opened the second half with a 10-1 run to pull within 28-26. After Johnson missed a 3-pointer that would have put the Hawkettes ahead, Centennial reeled off seven straight points to take a 35-26 lead.
Ankeny answered with back-to-back 3-pointers from Wright and Pitz to close the gap to 35-32. Another 3-pointer from Christmann could have tied the score, but the shot wouldn't go down.
"They've got a good team," DeJong said of the Hawkettes. "They've got a great point guard and they've got a kid that can score 15 (points a game in Johnson), and when they shoot the ball well like they're capable of, it keeps them in the game."
Ankeny's bid for an upset ended, though, with a late scoring drought. The Hawkettes made just one basket in the final 4 minutes.
"We didn't get the win, but I think we proved some things to ourselves," McAnelly said. "We were a totally different team the second half. I told the girls that's just a great illustration of how close you are to getting to that next level and making a run."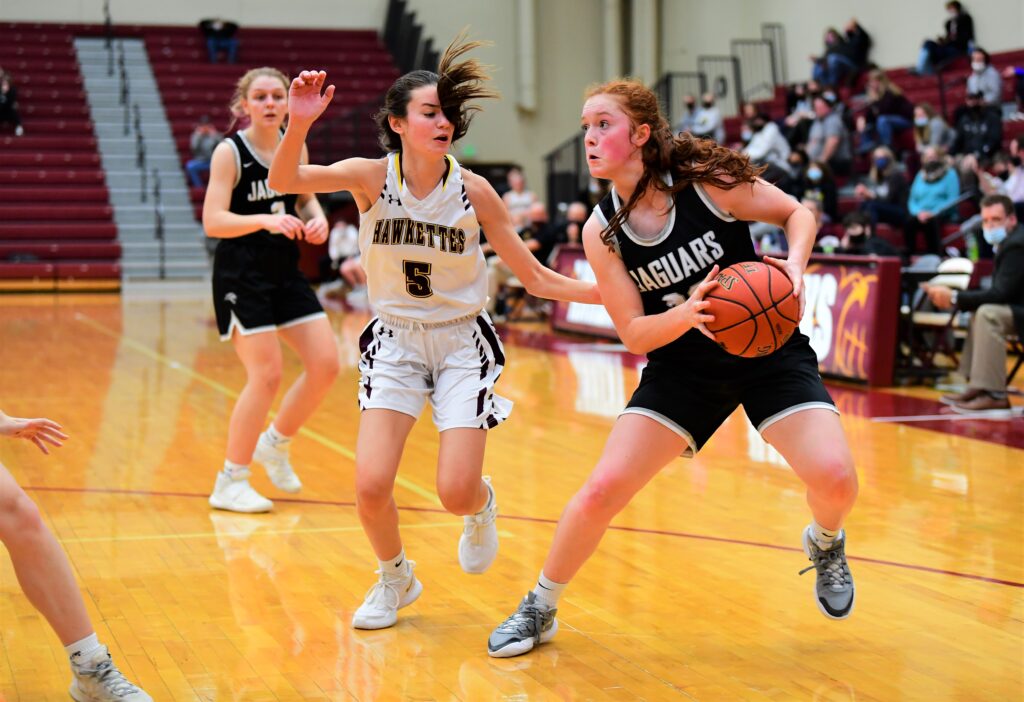 The Class 5A regional pairings have yet to be announced. Based on the current rankings, there appears to be at least a chance that the two teams could be placed in the same region.
"We obviously hope we get paired up with them because we want to get a win against them," Pitz said.
Pippett wouldn't mind another matchup against the Hawkettes, either.
"I think it'd be fun," she said. "It would be a good environment, and I think both teams would come to play."