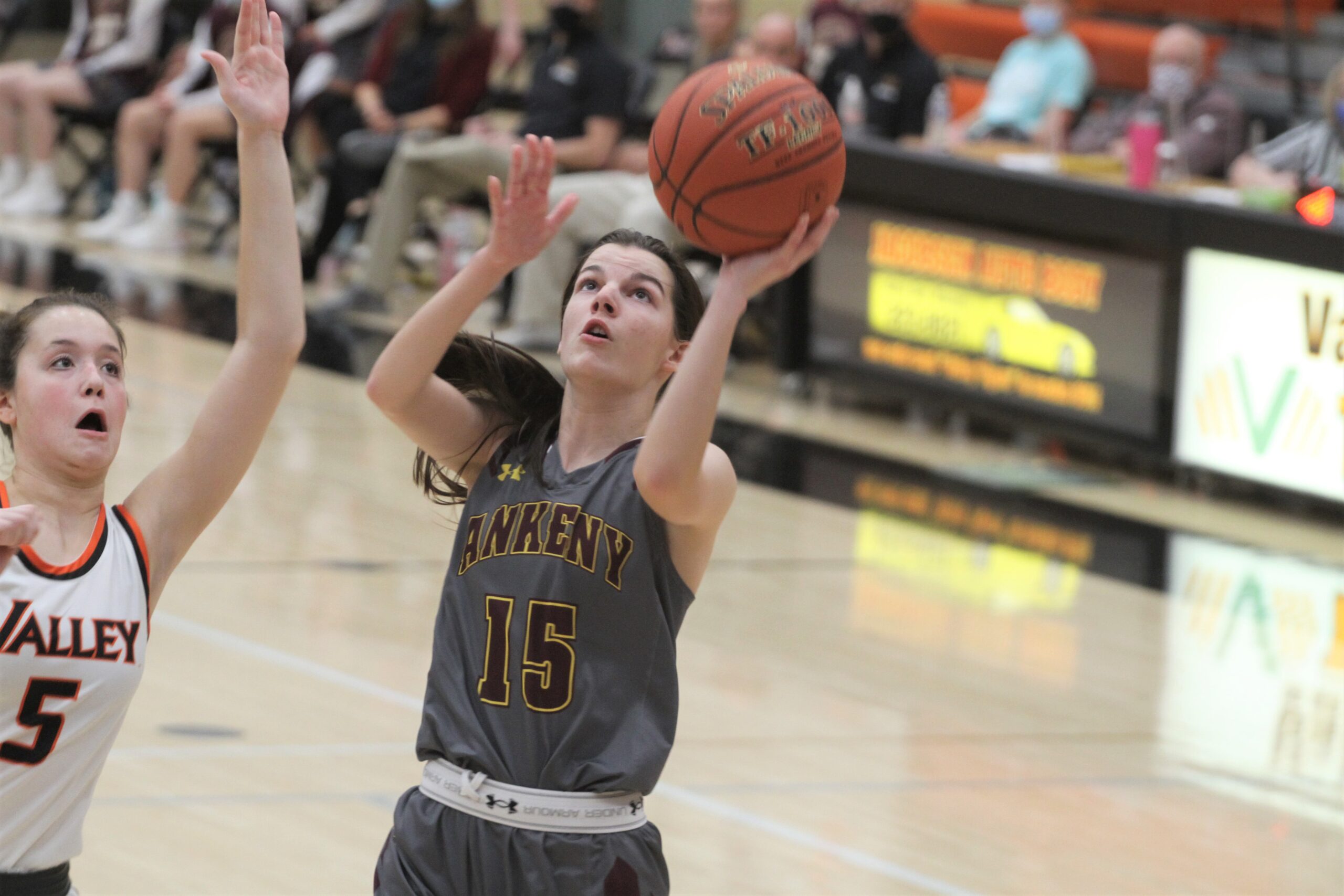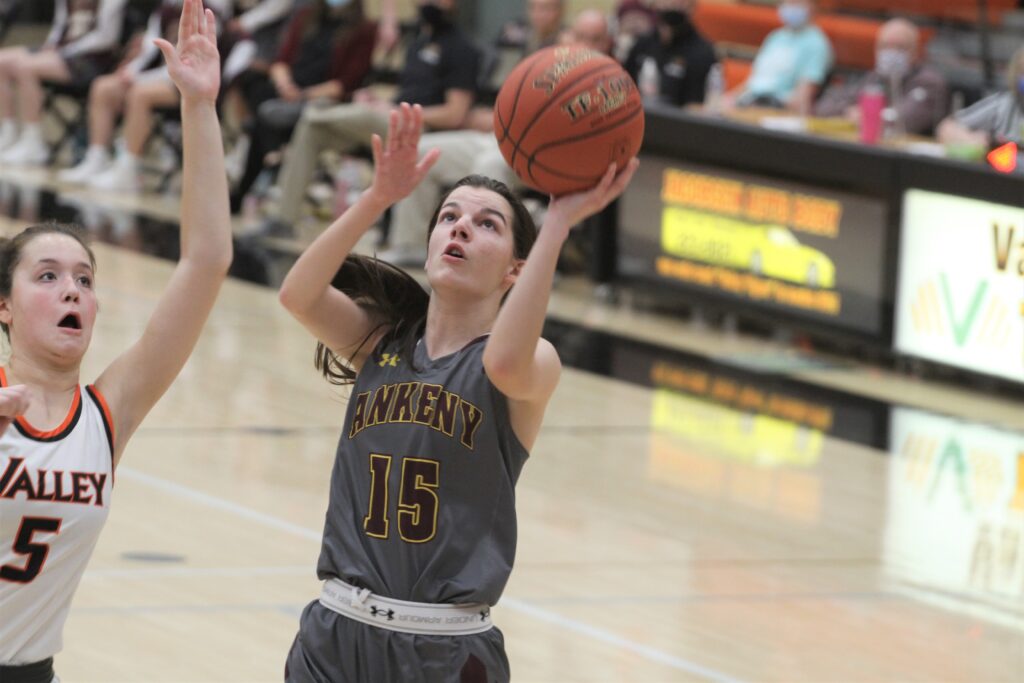 When the Ankeny girls' basketball team needed a spark on Monday night, senior guard Rachael Christmann provided it.
Christmann made five 3-point goals in the fourth quarter as the 13th-ranked Hawkettes overcame a 12-point deficit in a CIML non-conference game at No. 10 Valley. Her last 3-pointer from well behind the arc tied the score at 45-45 with 15 seconds left.
"That's just the mindset that I try to keep–play with confidence," Christmann said.
Christmann finished with a career-high 20 points, but it wasn't enough as Valley escaped with a 47-45 victory on a buzzer-beater by Hayley Chappell. Chappell picked up a loose ball in the lane after Christmann deflected a pass and tossed up a left-handed shot that bounced in as time expired.
"Credit to them for that," Christmann said. "It was a big defensive effort from us, but she just got the ball and that's just how it went."
It was the third straight loss for Ankeny–all of them against ranked opponents. The Hawkettes dropped to 7-5 on the season.
"We were right there to win the game," said Ankeny coach Dru McAnelly. "(Valley) is a good basketball team. They've beaten Ankeny Centennial and Iowa City High, and they've played (tough) with some other teams."
Meredith Rieker scored 18 points to lead the Tigers (6-5). Elise Jaeger had 12, and Chappell added 10.
Christmann went 7-of-11 from the field, including 6-of-8 from 3-point range. She has averaged 13 points over the last four games.
"Obviously, Rachael was a huge spark off the bench," McAnelly said. "The girls just kept battling. I've coached teams where that lead would have stretched to 15 or 20 and we're hanging our heads or feeling sorry for ourselves, and they didn't do that once again. That just shows the character of this team."
Abby Johnson scored 17 points on 8-of-11 shooting and also had three steals. She provided most of Ankeny's offense until Christmann heated up in the second half.
Unfortunately, the rest of the Hawkettes went a combined 2-of-24 from the field. The team also committed 16 turnovers–many of them against Valley's half-court trapping zone.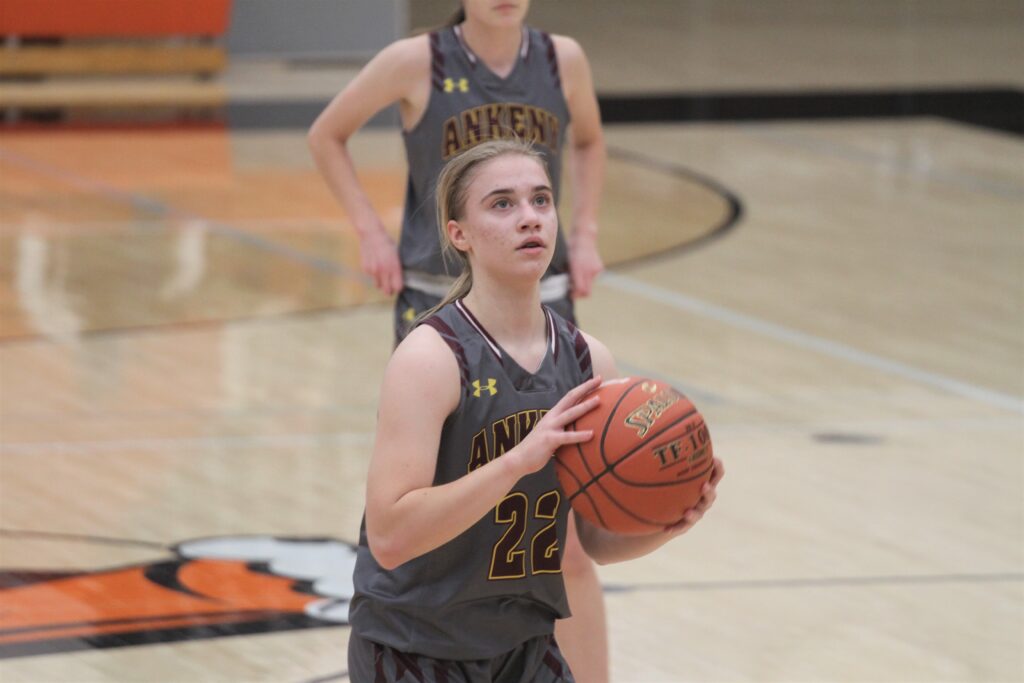 "They played some junk defense, and our girls just didn't shoot the ball with confidence," McAnelly said. "Obviously, Rachael got us going, and thank God for that. But that's a senior, and that's what seniors usually do. She's doing a great job."
Both teams struggled to score in the first quarter. The two squads combined for just seven points.
Ankeny took a 15-13 halftime lead as Johnson scored eight points. The Hawkettes then went cold in the third quarter as Valley went on a 13-3 run to build a 29-20 advantage.
Christmann had Ankeny's only basket during that stretch–her first 3-pointer of the game.
"We've been focusing a lot on coming back, and we really believe that we can do something good," Christmann said. "This was just one of those times."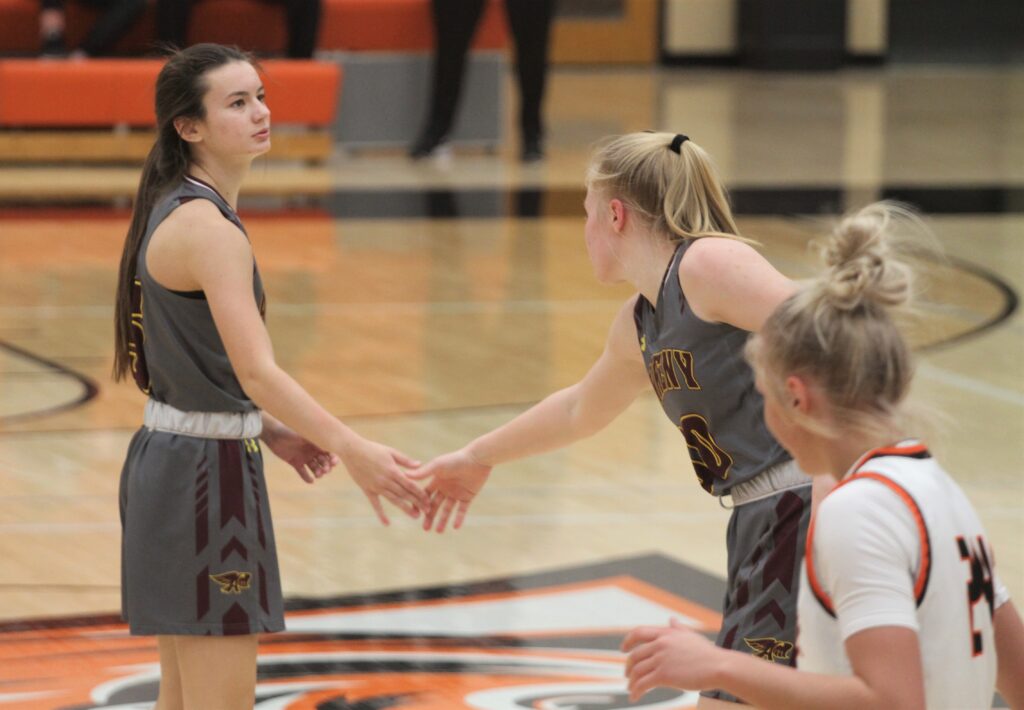 After Rieker made a 3-pointer to give Valley a 34-22 lead with 6:30 left, Johnson answered with a 3-pointer to ignite the Hawkettes' rally.
Christmann followed with a pair of treys to close the gap to 38-31. She later hit two more–sandwiched around a Jenna Pitz 3-pointer–as Ankeny tied the game at 40-40.
Jaeger made a 3-pointer to give Valley a 43-40 lead with 1:59 remaining, but Johnson responded with a jumper 22 seconds later. After Chappell connected on two free throws with 37.9 seconds to go, Christmann swished a long 3-pointer on the ensuing possession to forge another tie–setting up the dramatic finish.
"We're closer than we think," McAnelly said. "We just don't feel it because the scoreboard doesn't go our way."
Pitz had seven rebounds and five assists for the Hawkettes, who will play another non-conference game at No. 11 Des Moines Roosevelt (5-1) on Tuesday.