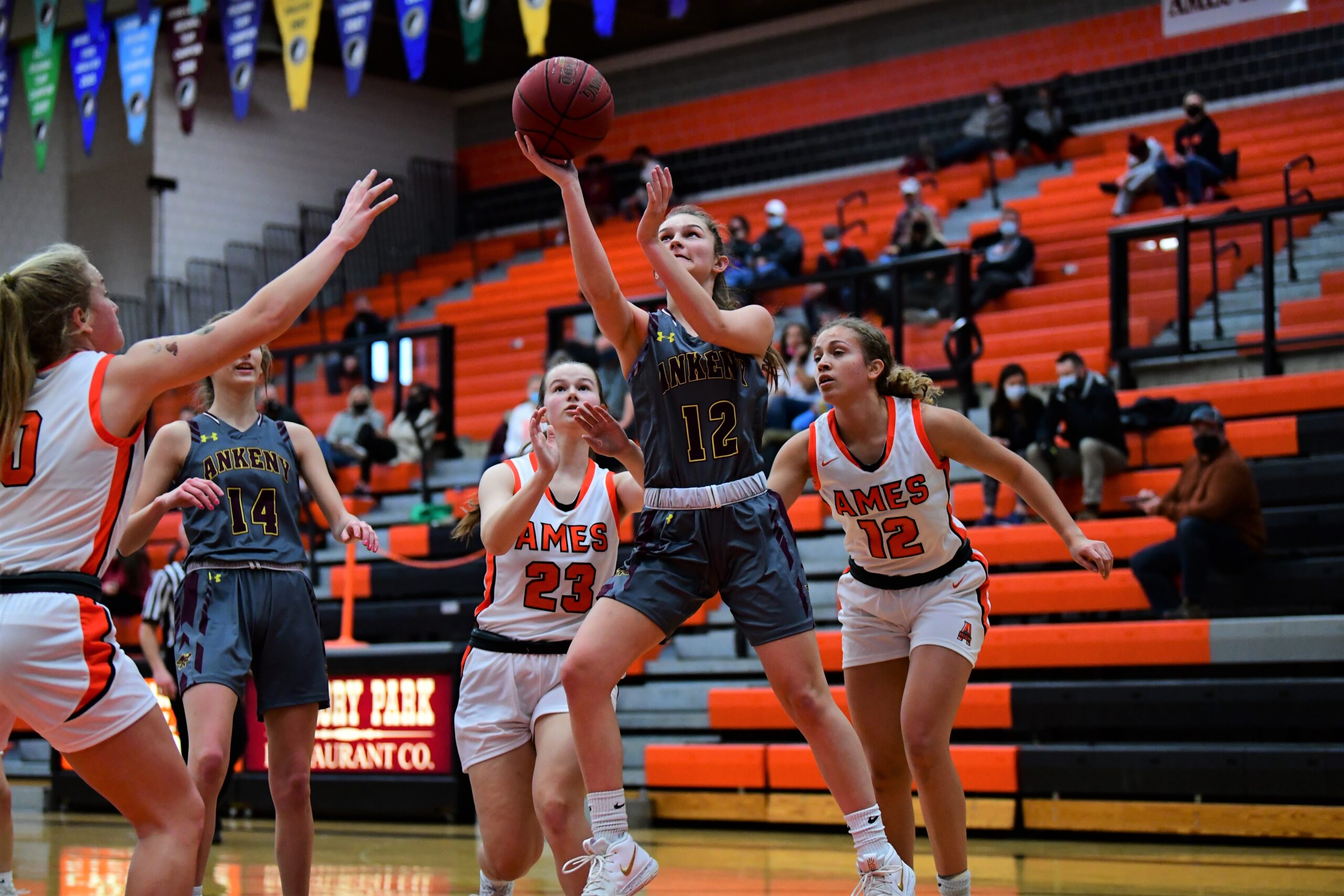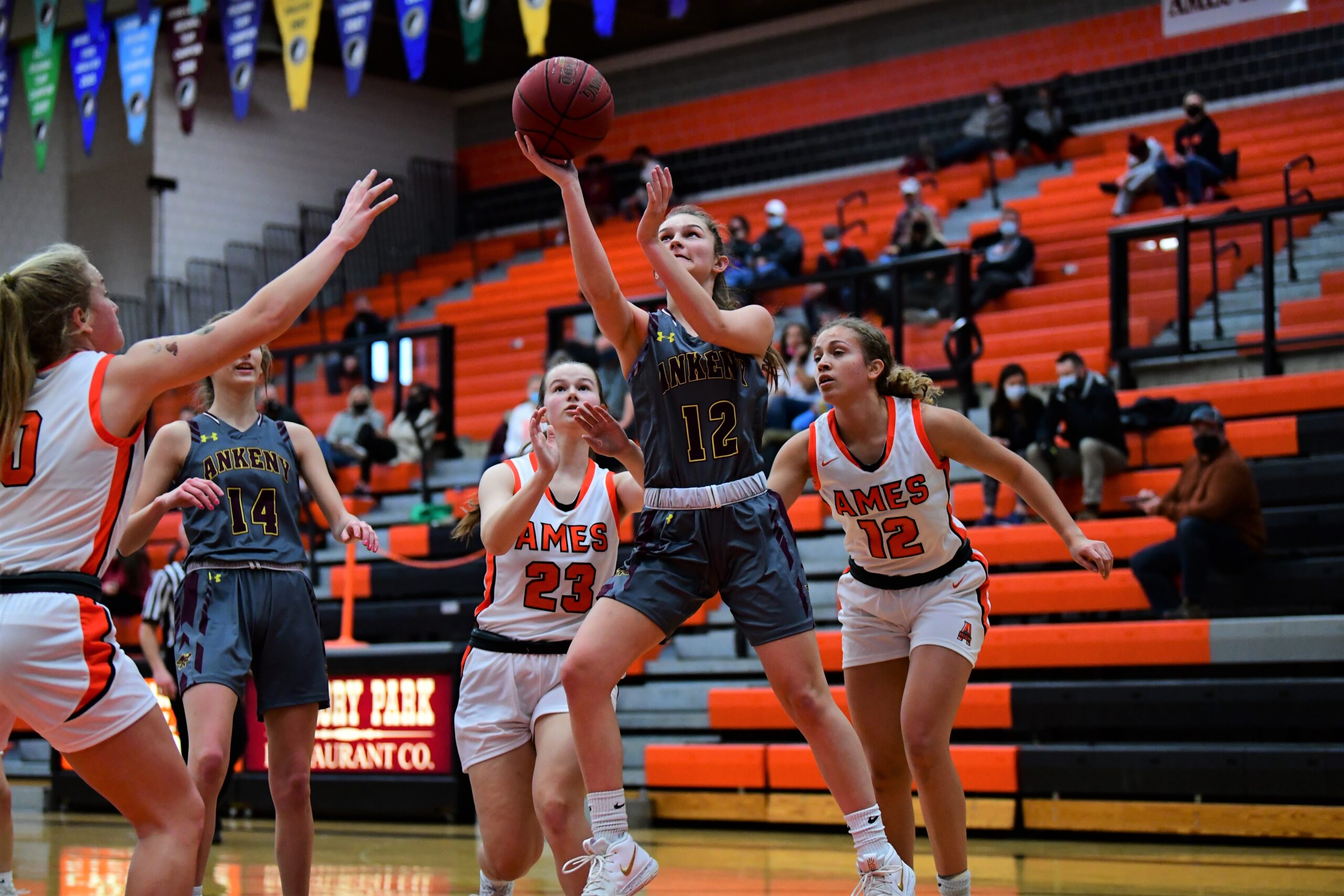 A matchup against a struggling opponent might be just what the Ankeny girls' basketball team needs right now.
The 13th-ranked Hawkettes will travel to Marshalltown on Friday for a CIML Iowa Conference game against the Bobcats, who fell to 1-14 on the season with a 66-13 loss to No. 1 Johnston on Tuesday.
Ankeny will be looking to end a four-game losing streak against a team that it defeated, 56-17, on Jan. 8.
"I'm just glad this four-game stretch is over," Ankeny coach Dru McAnelly said following his squad's 60-57 loss at No. 11 Des Moines Roosevelt on Tuesday. "I didn't want us to go 0-4, but it's what it is and we have no choice but to regroup and come back to practice (Wednesday) and flush it and try to get three (wins) to end the year."
The Hawkettes fell to 7-6 overall with their fourth loss in six days–all of them to ranked opponents. They dropped a 69-50 decision at No. 9 Dowling on Thursday before falling to No. 5 Ankeny Centennial, 47-34, on Friday.
Then came a 47-45 loss at No. 10 Valley on Monday that featured a huge Ankeny comeback from a 12-point deficit before Hayley Chappell scored the game-winner at the buzzer for the Tigers.
"I think we ran out of gas," McAnelly said. "We're only playing about six girls, and it's tough to play four games in six days. We played hard, but you could tell we were tired. But that's not an excuse. All credit goes to Roosevelt."
The Roughriders (6-1) outscored Ankeny in the second quarter, 20-5, to take a 27-20 halftime lead. They extended the margin to 45-31 after three periods, then held off the Hawkettes down the stretch.
"It was just too little and too late," McAnelly said. "Roosevelt made some plays at the end, and they're a pretty good club. They're as good as they've been since I've been here."
Roosevelt's other five victories came against the other Des Moines city schools by an average of 52 points. The Roughriders' only loss came to No. 4 Southeast Polk, 70-49, on Jan. 19.
Amaya Davison led Roosevelt with 22 points, going 4-of-6 from 3-point range. Arianna Jackson went 3-of-5 from behind the arc and had 13 points, while Trinity Cheatom added 13 points, eight rebounds and four assists.
Ellie Maschoff paced Ankeny with a career-high 18 points. Her previous high of 17 points came in her second varsity game as a freshman in 2017.
Maschoff bounced back after going 0-for-6 from the field in the loss at Valley.
"Ellie had a huge game," McAnelly said.
Abby Johnson had 15 points for the Hawkettes. Karsen Jacks chipped in nine, and Jenna Pitz added eight.
"We ran out of time," McAnelly said. "We don't have much depth, and playing the way we have to play, I think our shooting legs just ran out of gas. It's time to regroup."