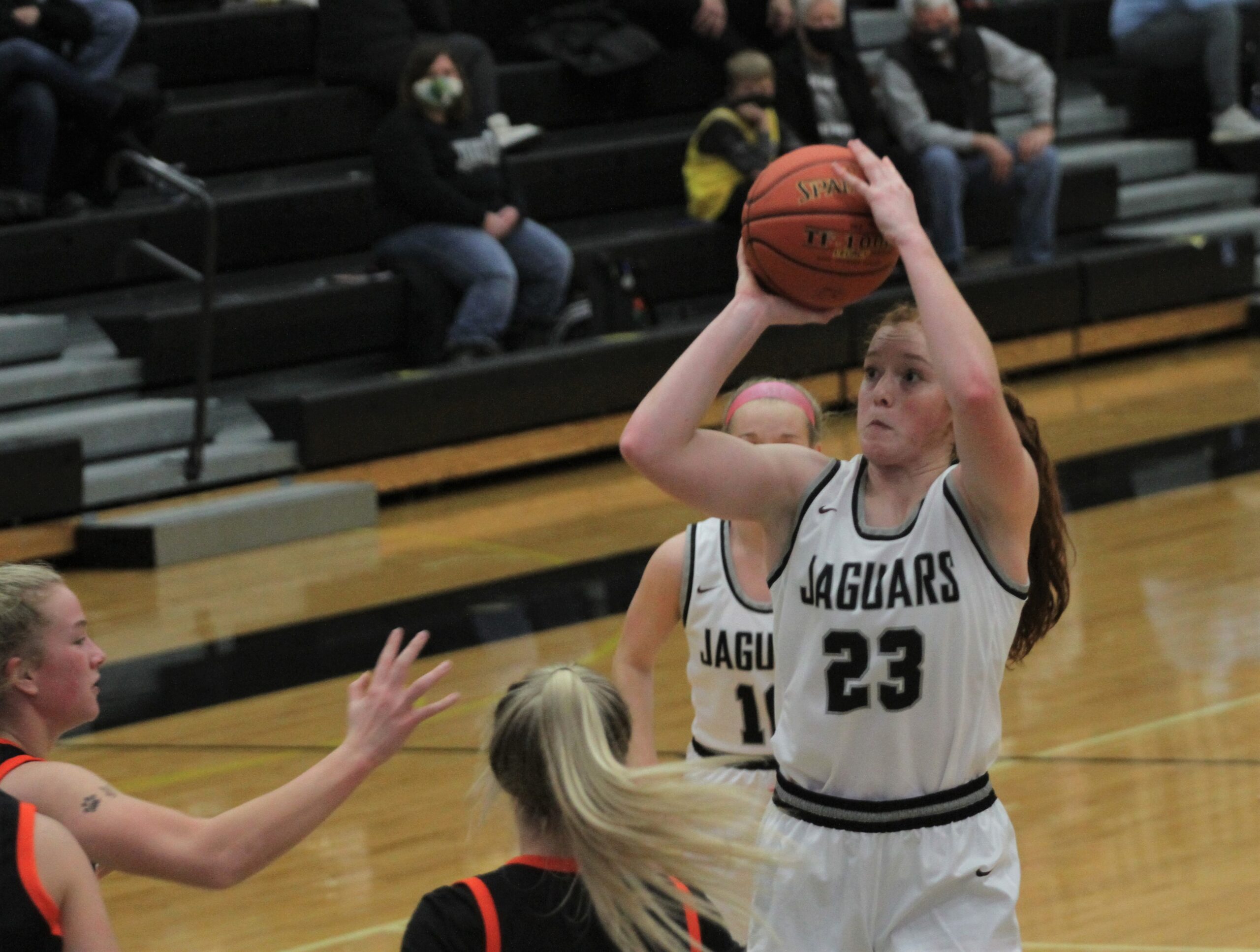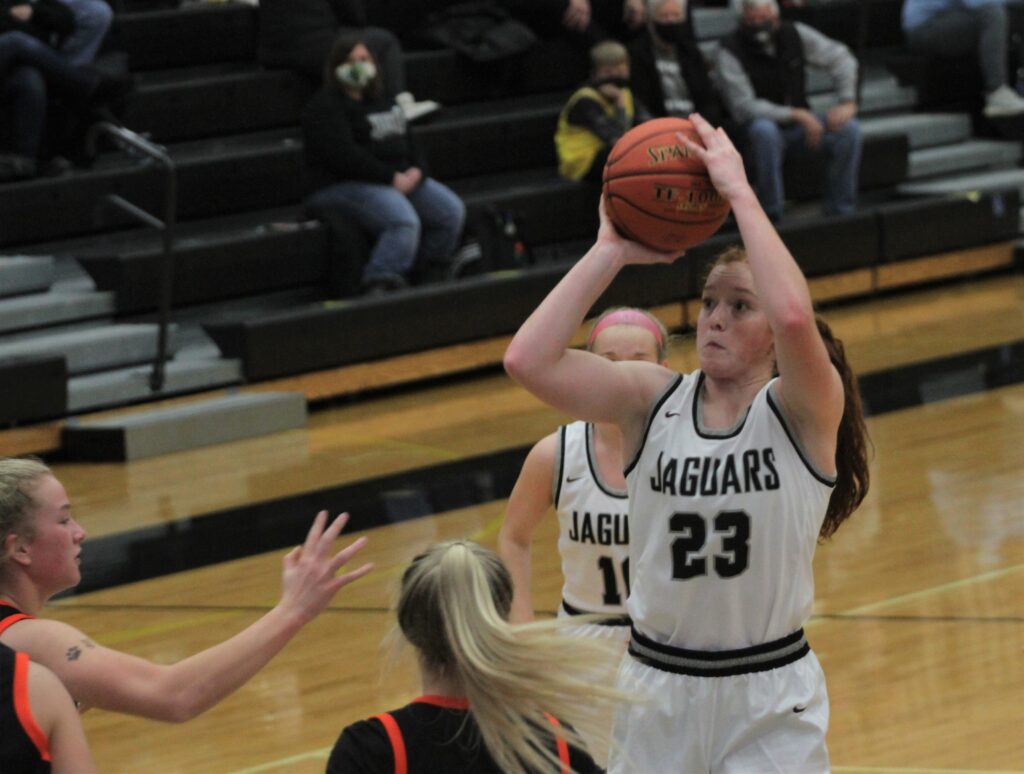 The four seniors on the Ankeny Centennial girls' basketball team had a lot of reasons to celebrate on Friday night.
Not only was it Senior Night, but the fifth-ranked Jaguars wrapped up the outright CIML Iowa Conference title with a 57-50 victory over visiting Ames.
"It feels really good," said senior forward Bella Robben. "Our team has worked really hard, so that reward is perfect."
Another senior, Maggie Phipps, scored 15 of her 20 points in the second half as the Jaguars held off a huge rally by Ames to improve to 9-0 in the conference and 11-2 overall. She transferred to Centennial from North Polk after her junior year.
"It feels great," said Phipps. "Just to play with this team this year and to win the conference, it's awesome."
Robben had eight points, seven rebounds and five assists in the win. The team's other seniors, Jackie Pippett and Lizzie Strom, each added two points.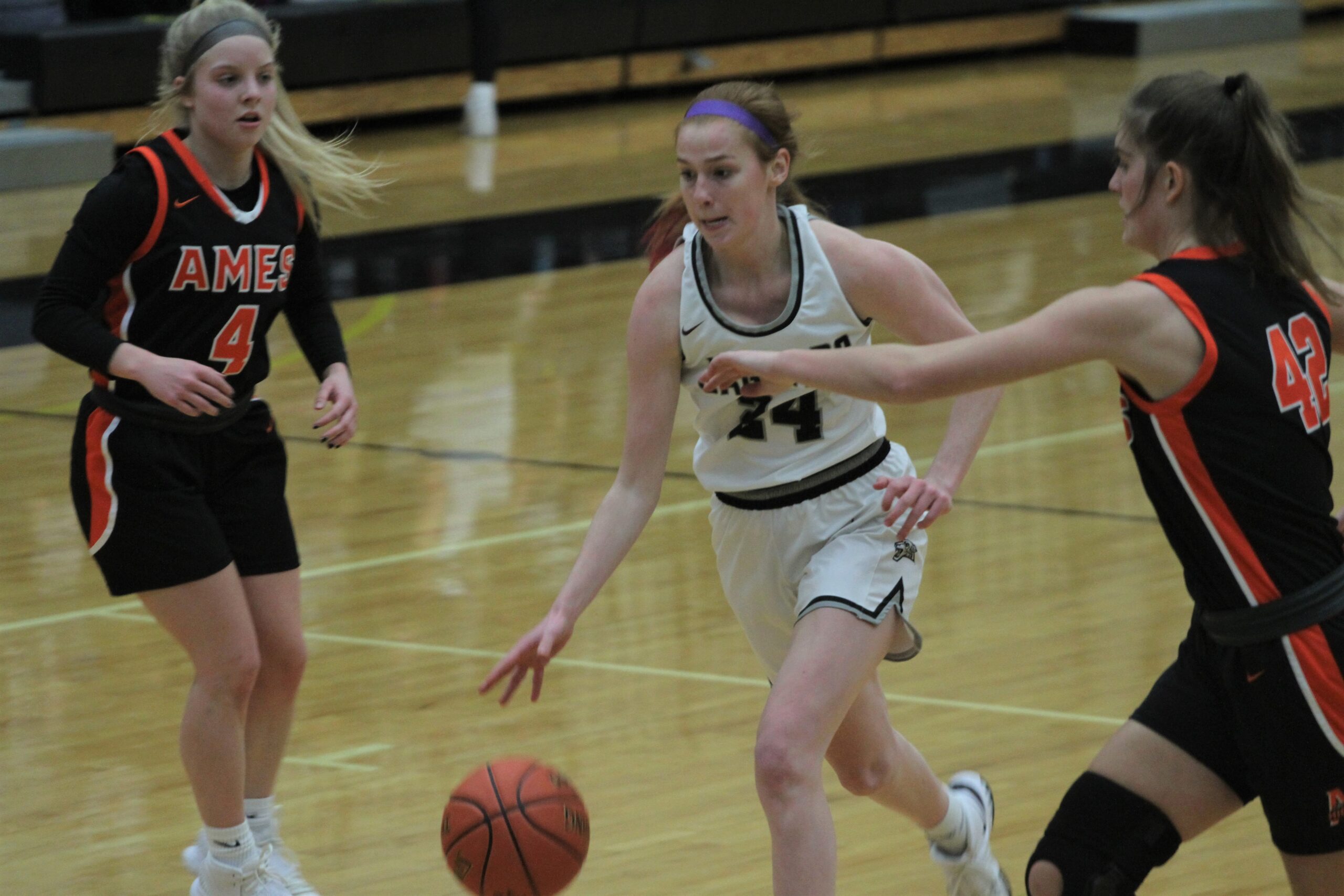 The four players were honored after the game.
"I think we feel like our season is not over at all. It really hasn't ended," Robben said. "We've got so much more to do. We can't even think about our senior year."
The loss dropped Ames' records to 5-4 in the league and 7-8 overall. The Little Cyclones suffered a 79-43 loss to Centennial on Dec. 22, but they were much more competitive on Friday.
After the Jaguars built a 42-22 lead in the second half, Ames rallied behind the duo of Caroline Waite and Ashley Iiams, who each hit a 3-pointer to ignite the comeback.
The Little Cyclones went on an 18-2 run and pulled to within 44-40 on another 3-pointer by Waite with 3 minutes 42 seconds left.
"Honestly, we were ready for it. They have two great DI players, and I've had the opportunity to play with them and I knew they were very capable of doing that," said Phipps, who will be Iiams' teammate next year at Drake.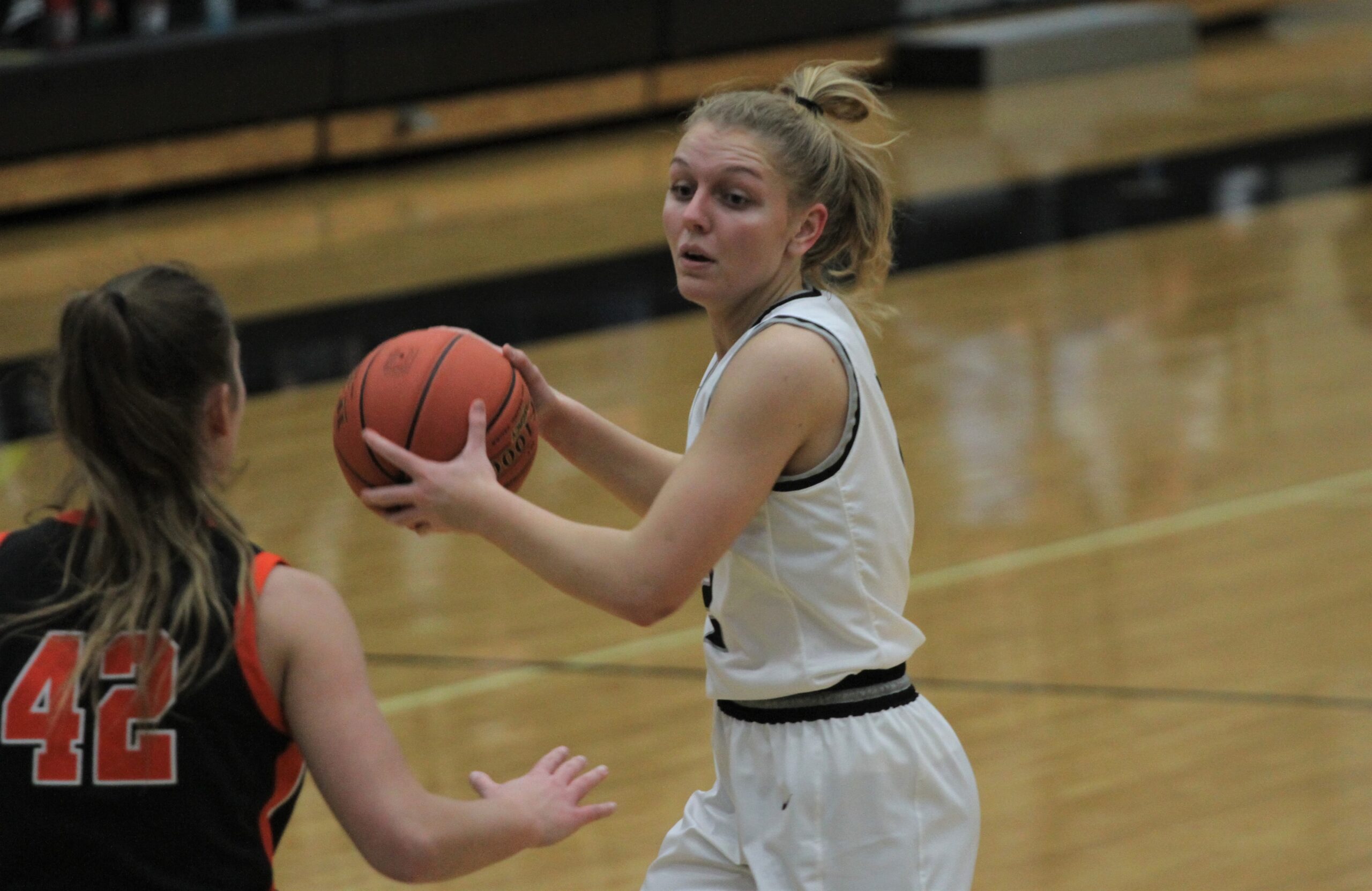 On Centennial's ensuing possession, Phipps was fouled by Ames' Ireland Buss, and Waite was then called for a technical foul. Phipps made both free throws, then later threw a nifty pass to Averi Porter for a layup to give the Jaguars a 50-42 lead with 1:25 remaining.
The Little Cyclones could get no closer than five points the rest of the way.
"That was the key–just to keep your cool and keep your teammates lifted up and ready to go," Phipps said.
Centennial shot just 35.3 percent from the field (18-of-51) and 31.6 percent from 3-point range (6-of-19). But the Jaguars outrebounded Ames, 28-21, and forced the Little Cyclones into 23 turnovers.
Junior Cleao Murray made her season debut for Centennial and scored five points, all of them in the first half. She also had two steals.
"She was tremendous," Centennial coach Scott DeJong said of Murray. "It's going to be a little bit of a process, but she gave us a big lift. She had very positive minutes, and it's only going to help us moving forward."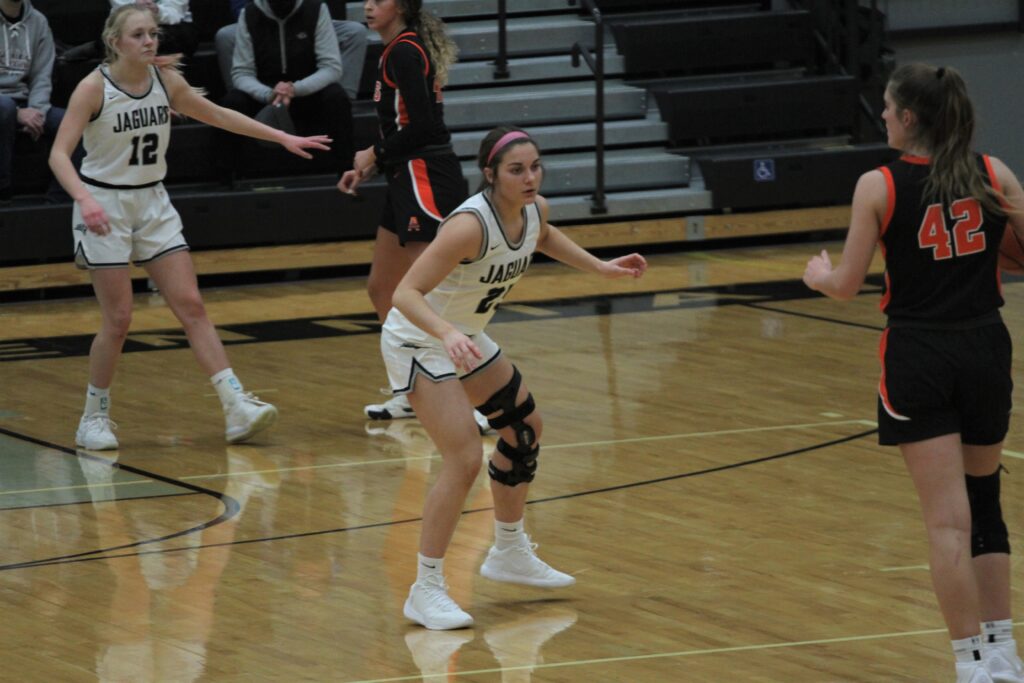 Murray suffered an ACL injury last spring and underwent surgery on June 4. After entering the game in the first quarter, she scored off a rebound for her first basket, then later made a 3-pointer as part of a 21-2 run that gave the Jaguars a 23-11 lead.
"I felt really good just to be out on the court with my team," Murray said. "I definitely missed it, and it was good to get out there."
Iiams led Ames with 18 points. Waite went 4-of-8 from behind the arc and had 16 points.
The Little Cyclones had a chance to close the gap to two points in the final seconds, but Waite's 3-point attempt was swatted away by Porter. Phipps then made two free throws to produce the final margin.
"We had some foul trouble and that didn't help us, but it was a real team effort," DeJong said. "We had kids that really stepped up in some key situations and made some really good plays."
The Jaguars will play a non-conference game at No. 9 Dowling Catholic (9-4) on Tuesday.