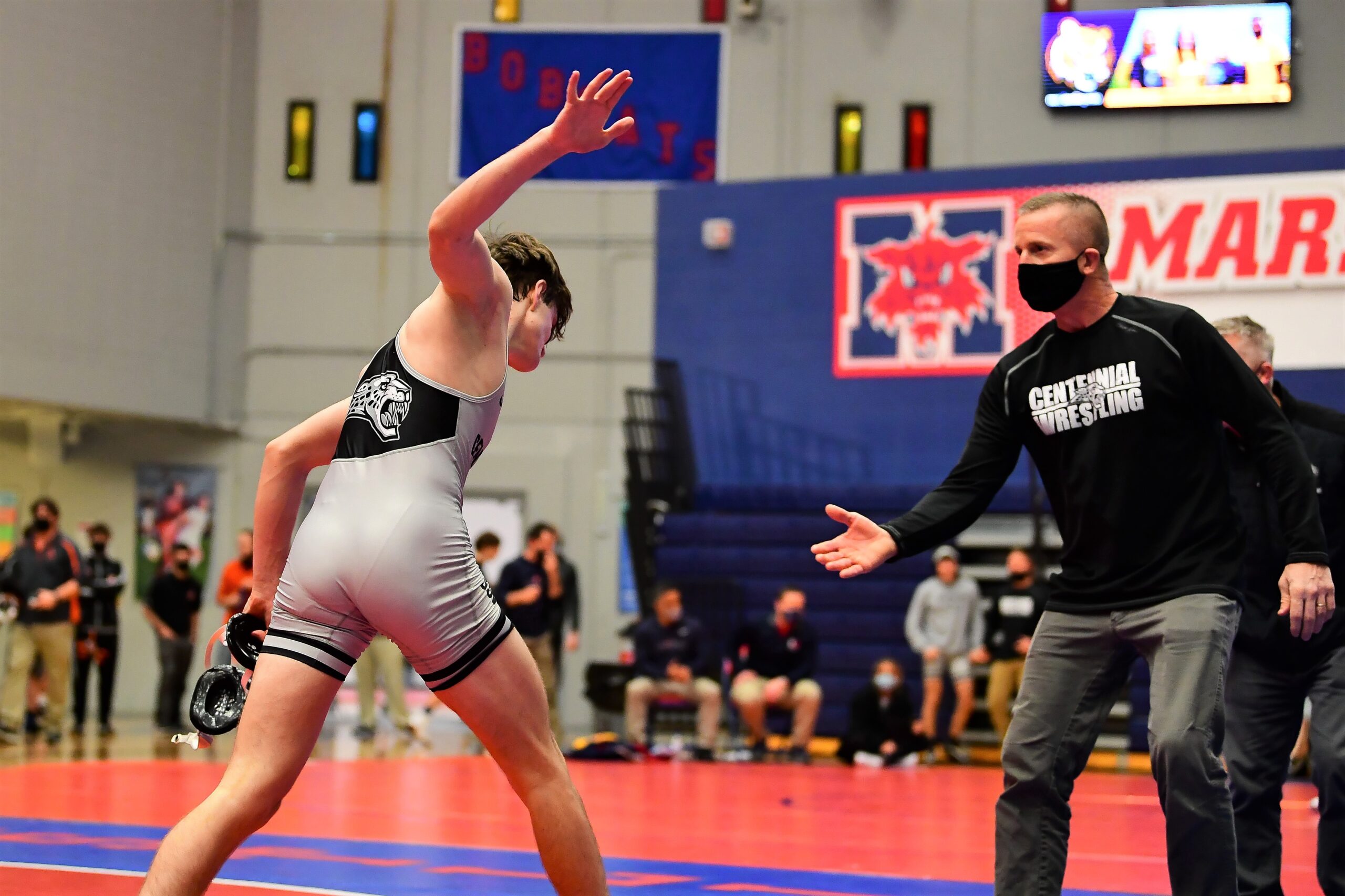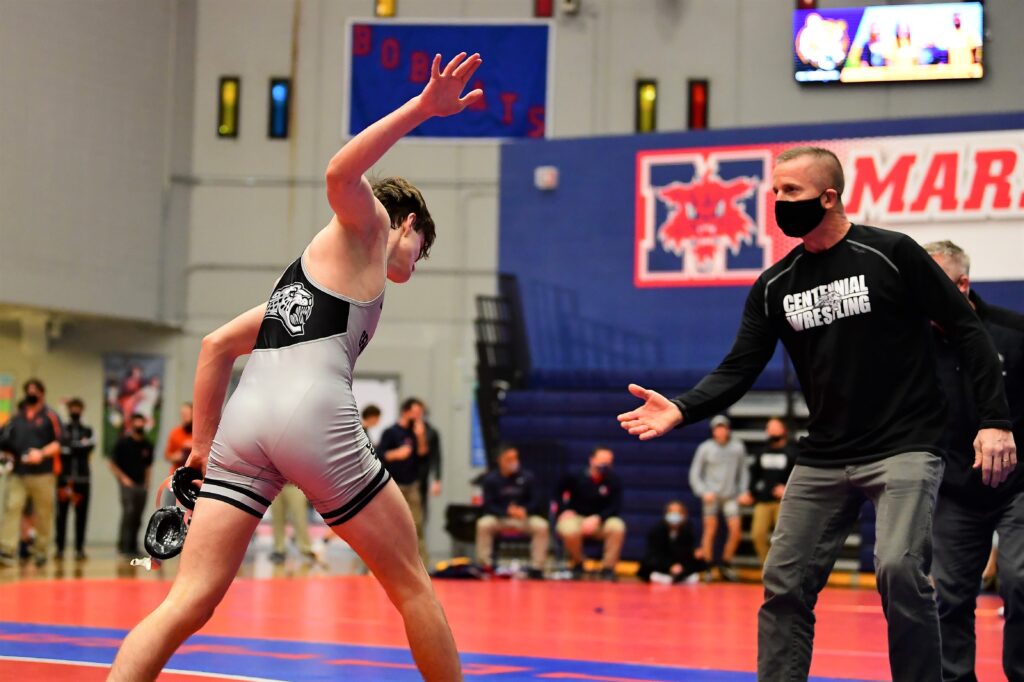 Ankeny Centennial's Jackson Helmkamp and Cael Wiener are heading back to the state wrestling tournament at Wells Fargo Arena.
Four of their teammates will be joining them.
Helmkamp won a Class 3A district title on Saturday at Marshalltown to earn his third consecutive trip to state, while Wiener claimed runner-up honors to qualify for the second year in a row. The Jaguars advanced six wrestlers altogether while placing second in the eight-team field.
Second-ranked Southeast Polk easily won the district title with 269.5 points. Centennial finished with 199.5 points.
"We matched up with Southeast Polk a lot of times in the semifinals and finals," said Centennial coach Jay Groth. "We went back and forth a little bit, and I was happy to get six guys through to state. I always want to get 14, and one of these days we'll do that."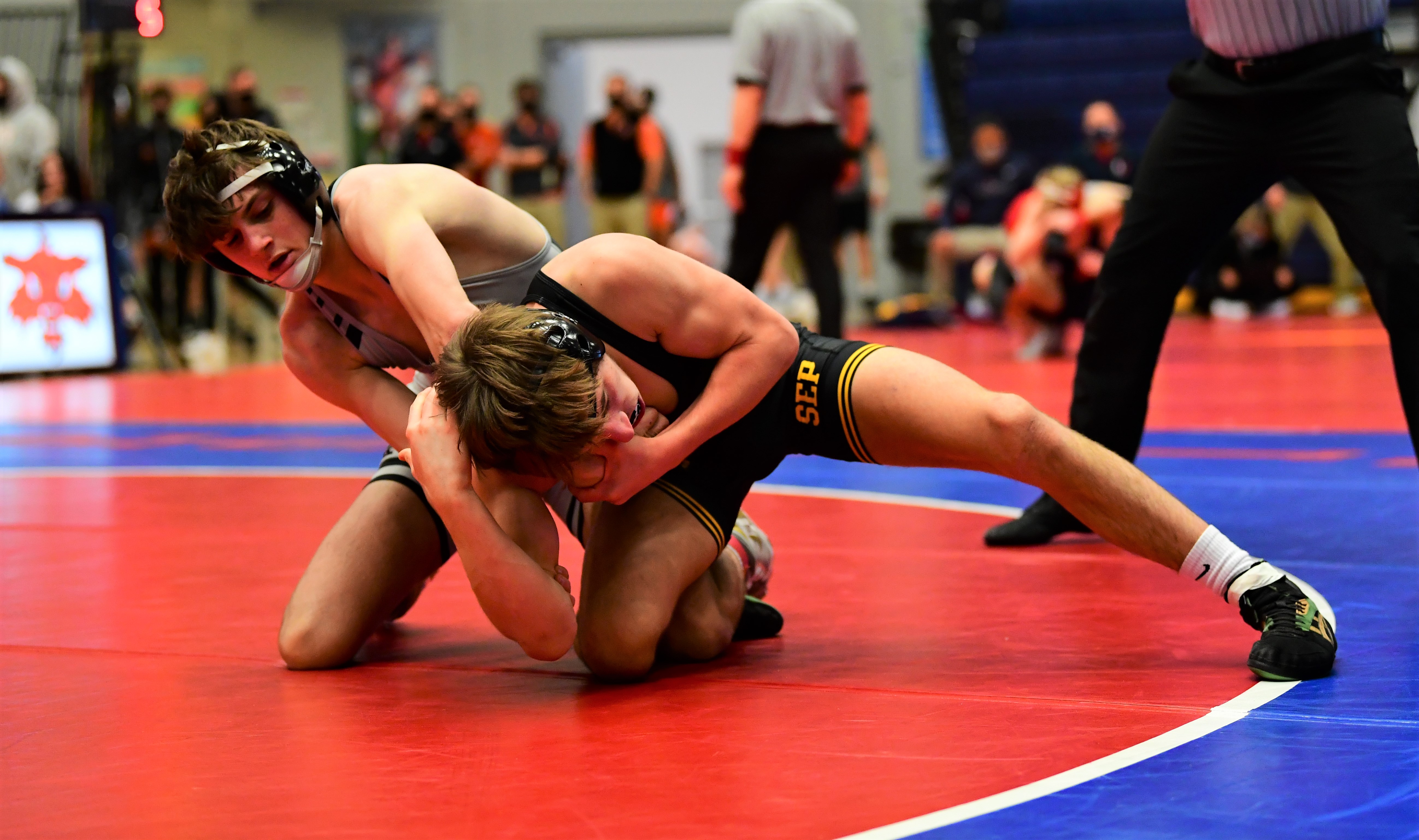 The fourth-ranked Helmkamp pinned No. 3 Carter Martinson of Southeast Polk in 4 minutes 47 seconds to win the 138-pound crown. The junior raised his record to 22-3.
"It was fun," said Helmkamp. "I haven't beaten him before and I just went out there and was ready to compete."
Helmkamp qualified at 106 as a freshman in 2019 before placing eighth at 126 last year.
"Jackson wrestled a great match," Groth said. "He's a smart wrestler. He can scramble, and he can attack. He just did a great job of being patient and shutting down the other kid's offense, and then he seized on an opportunity to get the fall. Jackson doesn't usually show a lot of emotion, but after he got that win he was pretty excited."
Helmkamp was Centennial's lone district champion. Placing second for the Jaguars were Payton Bright at 106, Wiener at 113, Drew Dunn at 132, Carter Bennett at 152 and No. 6 Carter Cahill at 160.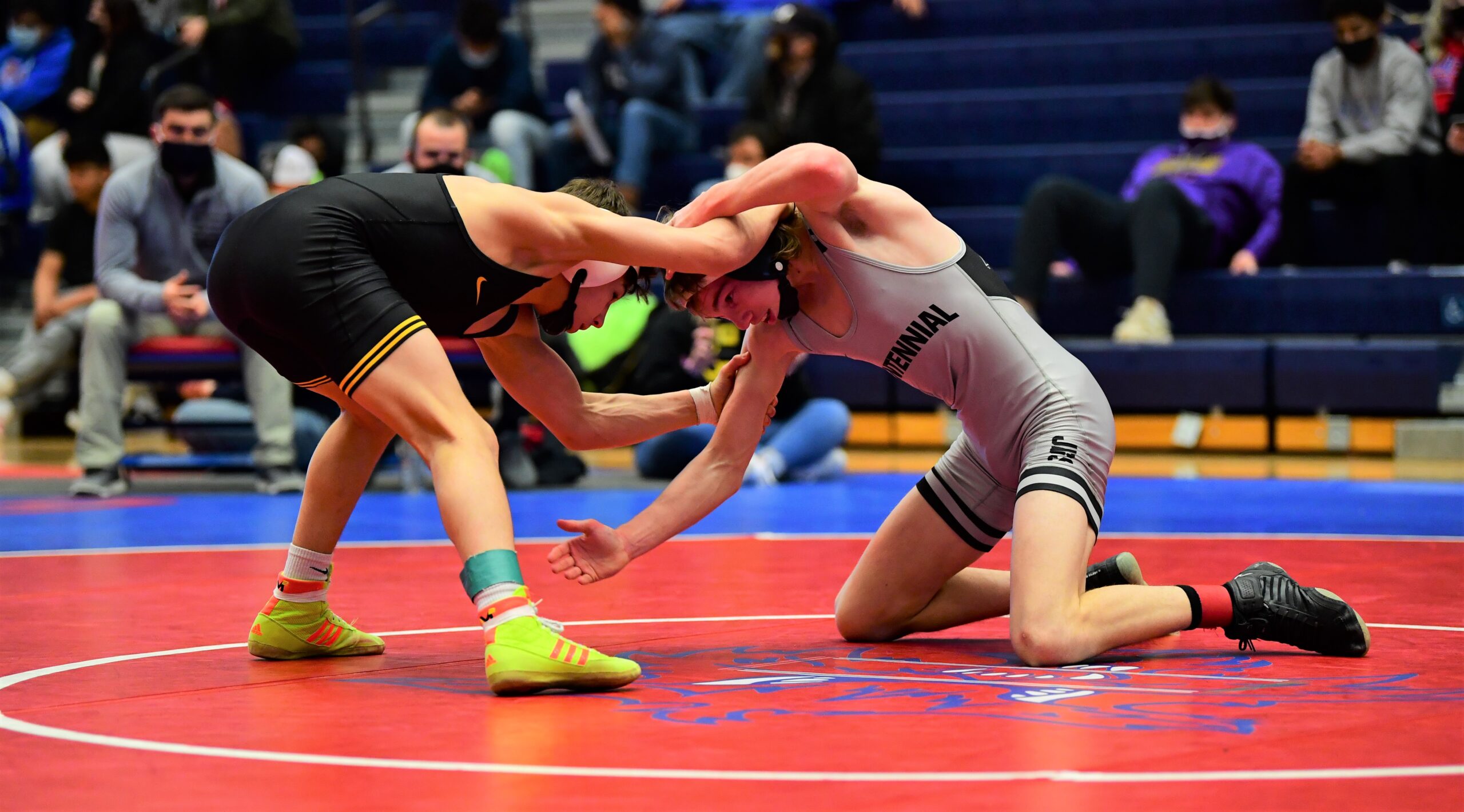 The eighth-ranked Wiener advanced to the finals before dropping a 19-8 major decision to No. 1 Nate Jesuroga of Southeast Polk. He was a qualifier at 106 as a freshman last year.
Jesuroga (22-0) was one of eight district champs for the Rams. Wiener's record is now 16-10.
Bennett was pinned by No. 4 Carson Martinson of Southeast Polk in 1:23 in the finals. He will take a 22-13 mark into the state tournament.
Centennial's other three qualifiers each had to win a wrestle-back match for second place. Cahill pinned Harrison Gibson of Southeast Polk in 1:50 after losing to Kacey Ross of Urbandale, 3-1, in overtime in the finals.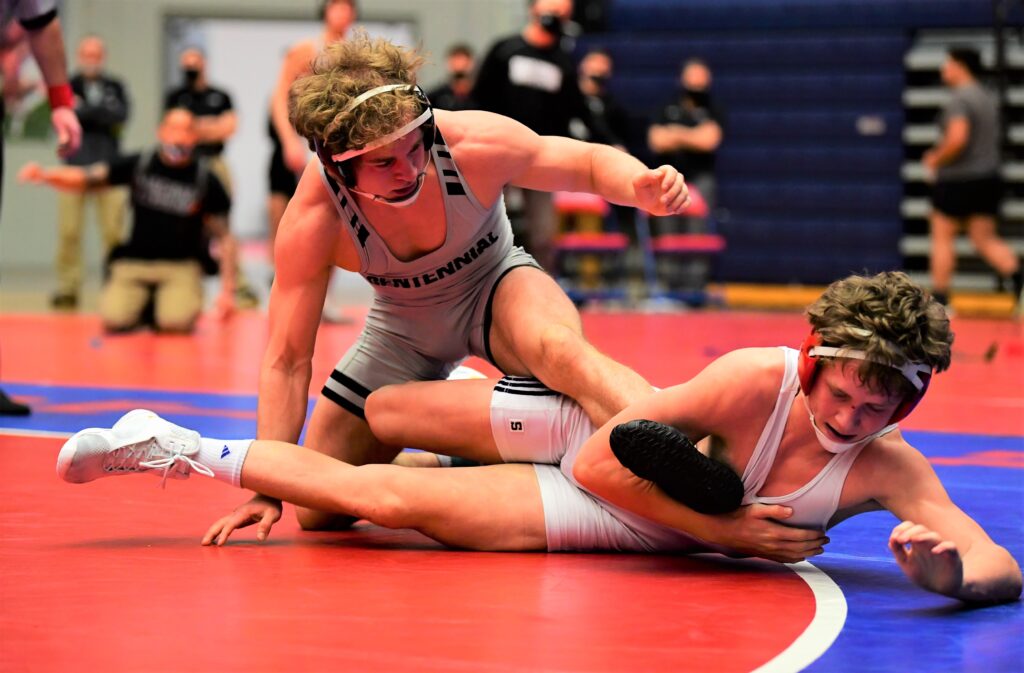 Cahill (26-8) had placed third at the district tournament in each of the last two years.
"Carter just missed going to state his freshman and sophomore years, and we kept telling him that nobody was going to take it away from him this year," Groth said. "He was really excited after getting that pin."
Bright dropped a 6-0 decision to Luke Stover of Dallas Center-Grimes in the finals. He then posted a 9-0 major decision over Landon Morrow of Southeast Polk in the wrestle-back match, evening his record at 16-16 while punching his ticket to state.
"We won three of our four wrestle-backs, which was nerve-racking," Groth said. "But it was fun to get those guys through, especially since all of our qualifiers are underclassmen."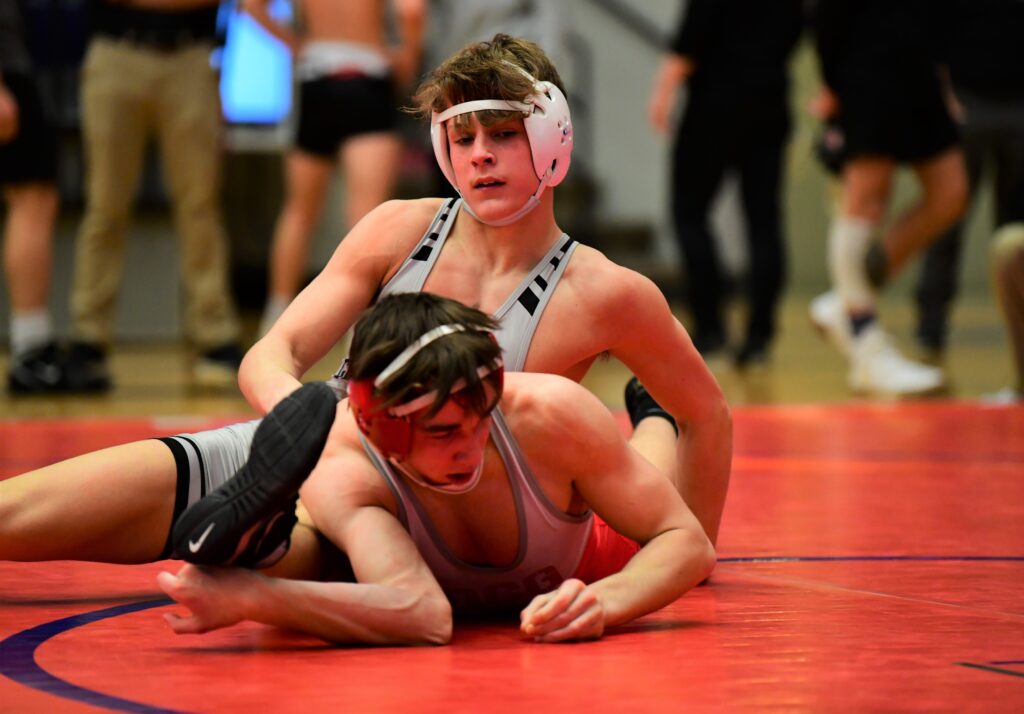 Dunn took the longest road to the state tournament, qualifying after being pinned in the semifinals by the eventual champion–No. 4 Ayden Kingery of Southeast Polk. He rebounded with a 10-6 decision over Kieran Shawhan of Dallas Center-Grimes, then followed with an 11-7 victory over Luke Hageman of Marshalltown in the wrestle-back match for second place.
Dunn improved to 19-15 on the season.
"Dunn had lost to Hageman twice before, but then he beat him at the conference tournament," Groth said. 'He followed the plan again, and it got him to the state tournament. Drew did a great job of being coachable and listening to what we told him to do."