Junior Carter Cahill is one of six state qualifiers for the Ankeny Centennial wrestling team. Cahill, who is ranked sixth in Class 3A at 160 pounds, placed second in a district tournament on Saturday at Marshalltown.
Cahill currently boasts a 26-8 record. He will meet Kacey Ross of Urbandale (24-4) in the opening round of the state tournament on Thursday in a rematch from the district final.
Here is some inside info on Cahill:
Congratulations on qualifying for state. How does it feel?
It feels great to finally make it, but I'm not satisfied.
You suffered a tough loss in the district final in overtime, then had to come back and wrestle again for a true second place–and you pinned Harrison Gibson of Southeast Polk. How were you able to pin him?
It was a close match, but I was able to lat drop him in the second period to win it.
I'm sure you were disappointed after losing to Ross. Was it difficult to get back up for the next match?
It's always difficult. The last thing anyone wants to do is go back and wrestle again in that short period of time. But it's important to let go of that loss and move on.
What do you think was the difference in the loss to Ross?
My offense. I wasn't scoring like I'm capable of. I know that I have the ability to put up a lot of points in a match, and I just wasn't doing it.
You found out on Sunday that you'll get a rematch against Ross in the opening round of the state tournament. What was your reaction when you saw the pairings?
I couldn't have been happier. I really wanted that finals match back, and now I have it.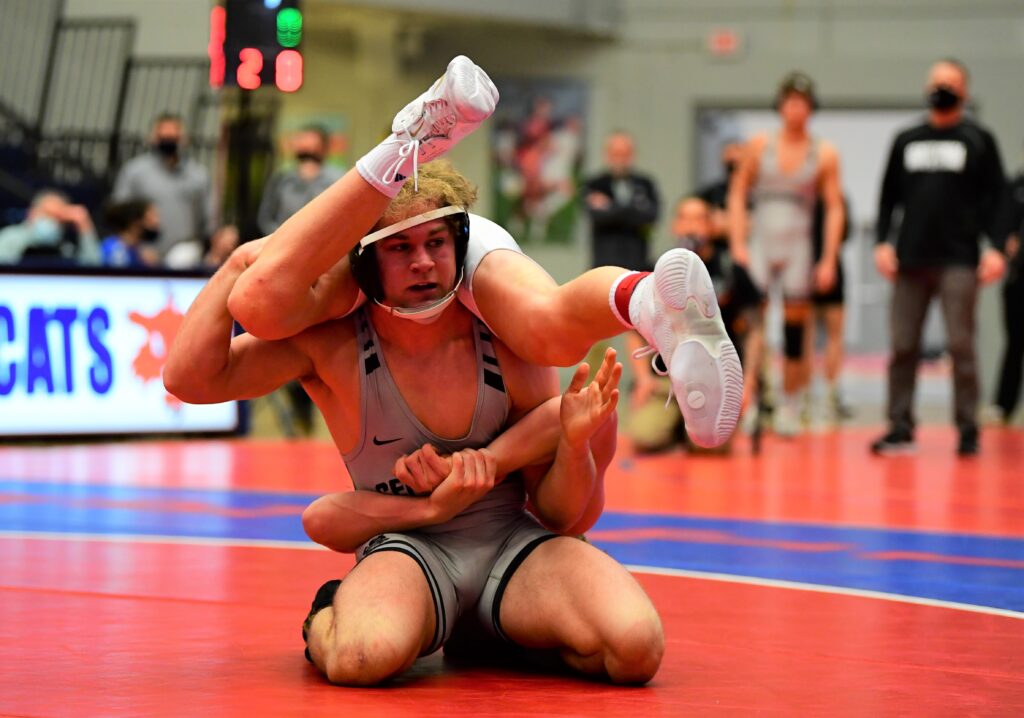 Are you confident that you can reverse the outcome this time?
Yeah, but again it's all about getting to my offense. I'm already correcting my mistakes from that match, and I feel like I'll be ready.
With a victory, you would likely face top-seeded Caleb Corbin of Valley (22-0) in the quarterfinals. I know you can't look ahead to that match yet, but what would it take for you or someone else to beat Corbin?
To beat someone like Corbin it takes confidence. He's a great wrestler all around, and he just doesn't make mistakes. It takes constant movement and perfect execution.
Are you familiar with a lot of the guys in your bracket?
There's a few people I have wrestled, but also a couple unfamiliar names. I just know to never overlook anyone in the state tournament.
What is your goal for the tournament?
I want to place high and exceed everyone's expectations.
Your team has a total of six qualifiers. What is the team's goal?
We all want to place. We're not satisfied with just making it.
Have you thought about your future plans? Would you like to wrestle in college?
I haven't thought about it enough, but I want to play a college sport for sure. If I get the opportunity to wrestle, I'll take it.