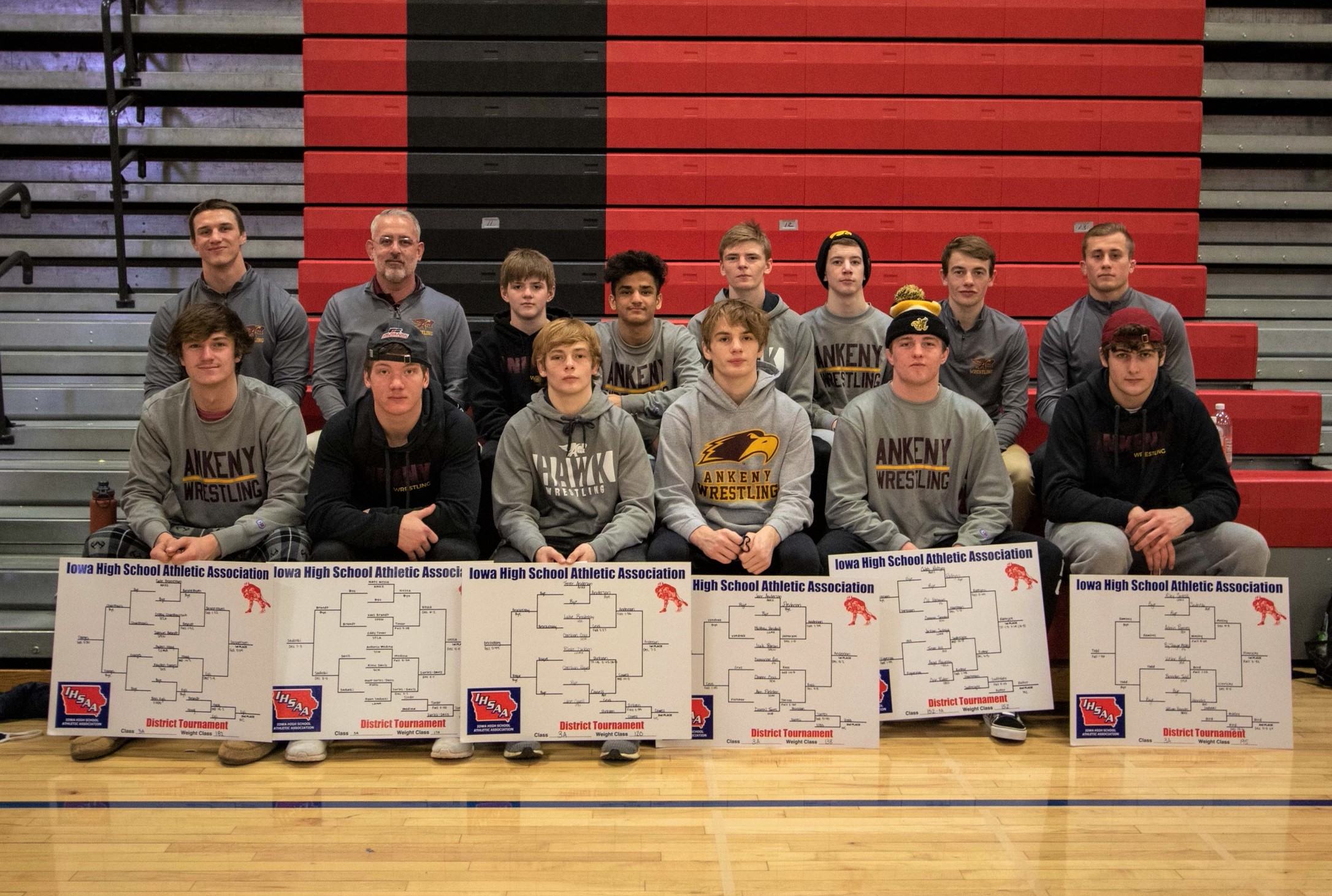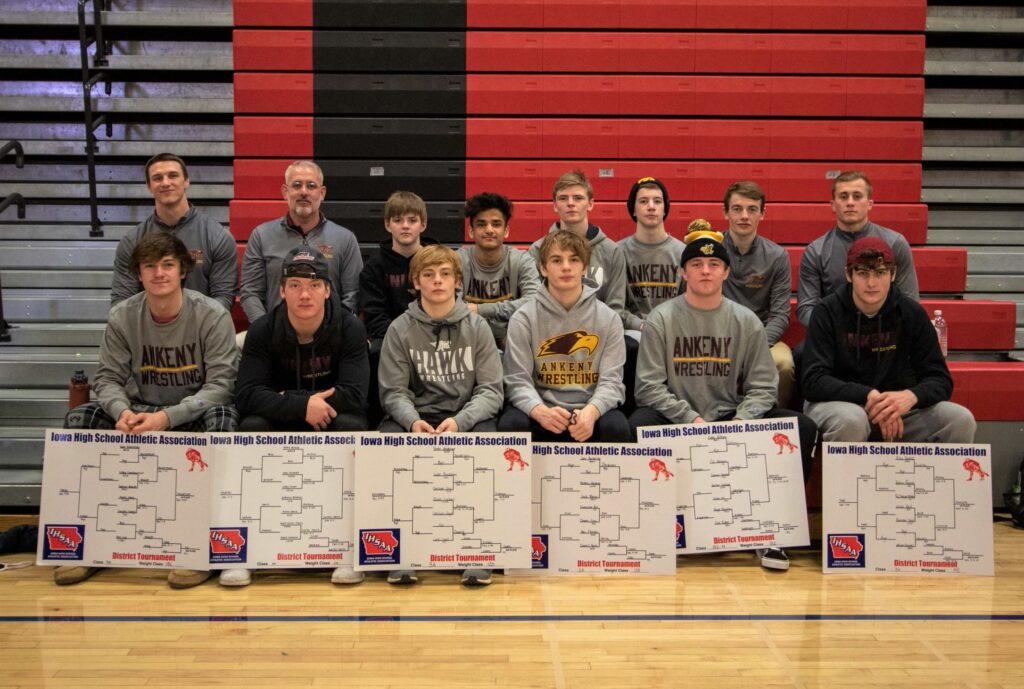 The Ankeny wrestling program has come a long way since the split into two high schools in 2013.
In his first year as the team's head coach, Jack Wignall guided the Hawks to a 6-19 record. Only one of his wrestlers qualified for the state tournament.
It took three more seasons before Ankeny finished with a winning mark.
On Saturday, the eighth-ranked Hawks accomplished something that has never been done in school history. They advanced a record 10 qualifiers to the state tournament while placing second in a Class 3A district meet at Fort Dodge.
"You ask me five or six years ago and I would have said there's no way (we could do something like this), but when we started entering in our lineup and saw where our guys would be seeded, I thought we could get 11 or 12 guys through," said Wignall. "Having those seeds isn't a guarantee (of success), but today we wrestled up to our seeds. We finally got over that hump."
No. 4 Fort Dodge won the team title with 236.5 points. Ankeny finished with 222 points, 80 more than third-place Spencer.
The Hawks crowned six individual champions. Four other wrestlers qualified with runner-up finishes.
No. 3 Waukee leads Class 3A with 12 state qualifiers. No. 1 Waverly-Shell Rock has 11, one more than Ankeny and No. 2 Southeast Polk.
"Those first three or four years I wasn't sure if we would ever get over the hump, but our program is changing," Wignall said. "It's on an upswing, and I don't look for it to end for another decade, to be honest. We've got some good kids coming up."
Ankeny senior Caleb Rathjen captured his fourth district title. The second-ranked Rathjen won by an 18-3 technical fall over Cole Rutter of Spencer in the 152-pound final.
Rathjen raised his record to 26-1. He will seek his third consecutive state championship next week.
"Caleb looks great, and he's ready to go (for state)," Wignall said.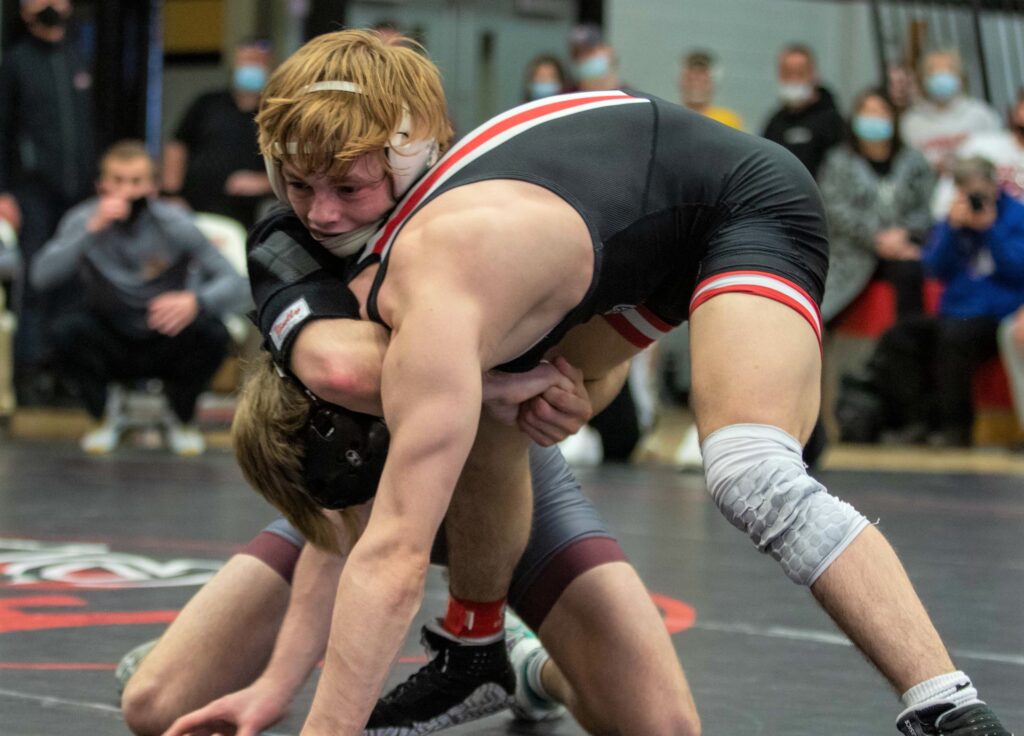 Top-ranked Trever Anderson won his third district crown with a 7-2 decision over No. 4 Lane Cowell of Fort Dodge at 120. He improved to 13-2.
"It's a huge confidence-booster," Anderson said. "I've told coach Wignall that I'm going to control what I can control, and obviously I can't control what happened to my shoulder. But what I can control is battling through that whether it hurts or not to get myself back to where I want to be after last year's failure."
Anderson injured his shoulder at the Dubuque Hempstead Duals on Jan. 9 and sat out for a month before returning to the Hawks' lineup for the regional duals on Wednesday. He placed third at last year's state tournament after winning a title as a freshman.
"Trever is something else," Wignall said. "He's probably one of the toughest kids on our team. Cowell is a good, strong wrestler, and Trever just hammered him. He showed that he can be a little banged up and still beat one of the best kids in the state."
Jace Anderson, Trever's brother, earned his second district title. He posted a 9-2 decision over Damarian Ross of Fort Dodge at 138 to lift his mark to 8-2.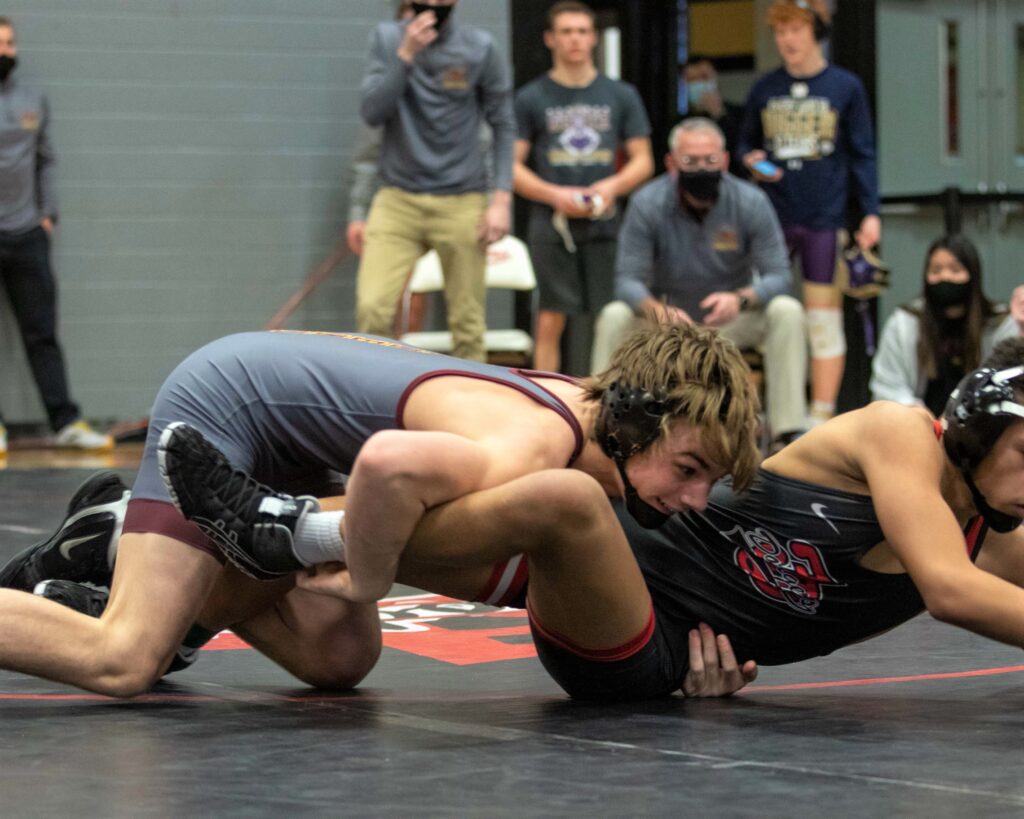 Ankeny's other district champs were Nate Nessa at 170, Cade Bennethum at 182 and Will Hinrichs at 195. They also defeated Fort Dodge opponents in the finals.
Bennethum (20-9) recorded a fall over No. 3 Ben Egli in just 54 seconds. He pinned Egli for the third time this season.
"I told Cade when he came off the mat, 'I can't believe you hit that headlock again,'" Wignall said. "And he was like, 'It was there four times. I finally just decided to hit it.' The Egli kid walked off the mat scratching his head and I'm sure he thought, 'What is the deal?' That's three times in a row Cade has pinned him. He's wrestling with a lot of confidence right now, and it's going to be fun to see what he can do at the state tournament."
Nessa (13-10) posted a 4-0 decision over Matt Surles-Davis. Hinrichs (13-8) pinned Pry'shayne Mosley in 3:52.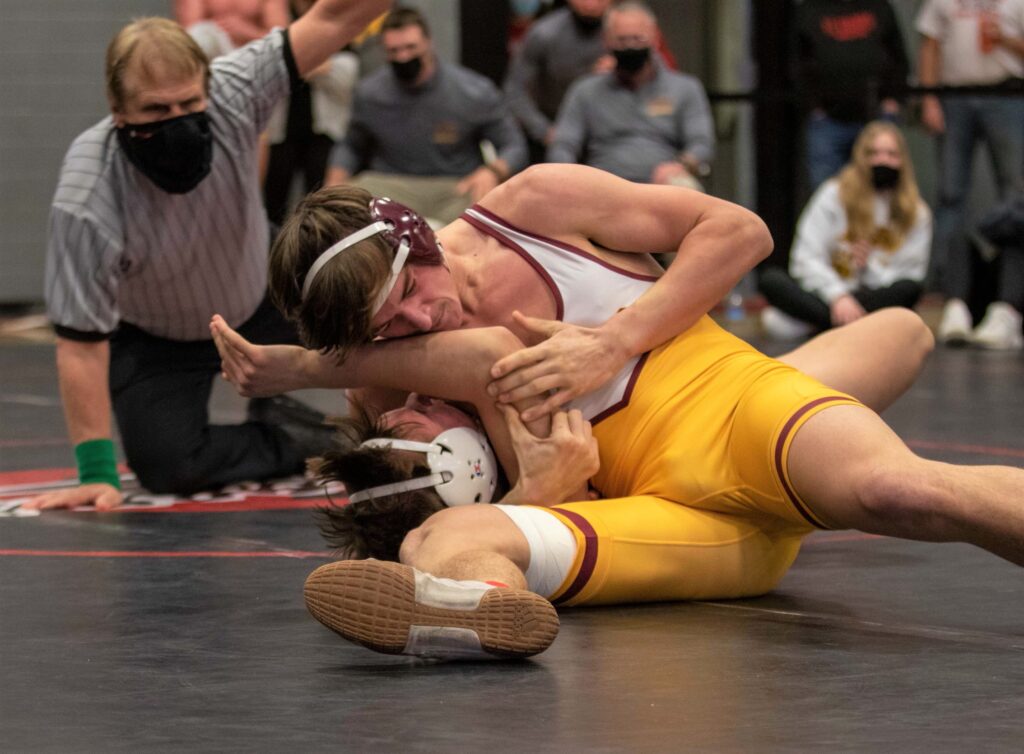 Placing second for the Hawks were No. 6 Ben Hansen at 106, Fnu Maihan at 113, No. 7 Cael Cox at 126 and Carter Davis at 132.
Cox (23-5) dropped a 5-2 decision to No. 6 Nick Walters of Sioux City North. However, he still advanced to state for the second straight year.
"(Walters) beat Cox at the Dave Ewing Duals as well," Wignall said. "He's kind of a quirky wrestler, and Cael just has a tough time getting through that kid's wrists."
Hansen also lost a matchup of rated wrestlers, dropping a 19-7 major decision to No. 4 Dru Ayala of Fort Dodge. He is now 19-8 on the season.
Davis (7-3) was pinned by No. 1 Drake Ayala of Fort Dodge in 1:04. He then won a wrestle-back match against Vinney Pomerson of Sioux City East, 11-8, to qualify for state.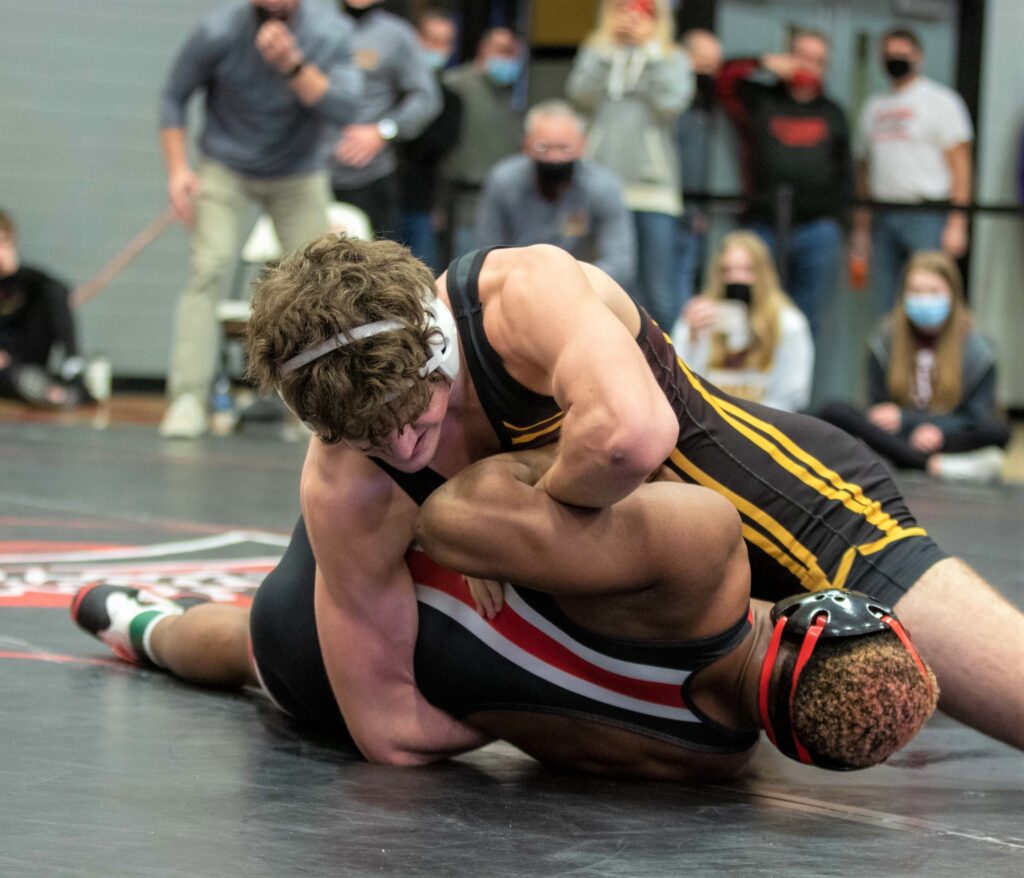 Now, Davis will get a rematch against Ayala in the opening round of the state tournament on Thursday.
"I think for some of our guys, now that they've qualified for state, they can really cut loose," Wignall said.
Maihan dropped a 5-2 decision to No. 5 Max Bishop of Fort Dodge. He will take a 16-14 record into Wells Fargo Arena.
The Hawks will be looking to improve on their seventh-place finish at last year's tournament, their highest finish ever under Wignall.
"A lot of strange things can happen down there," Wignall said. "But let's see if we can get a trophy. We want to finish in the top three. That's the goal."