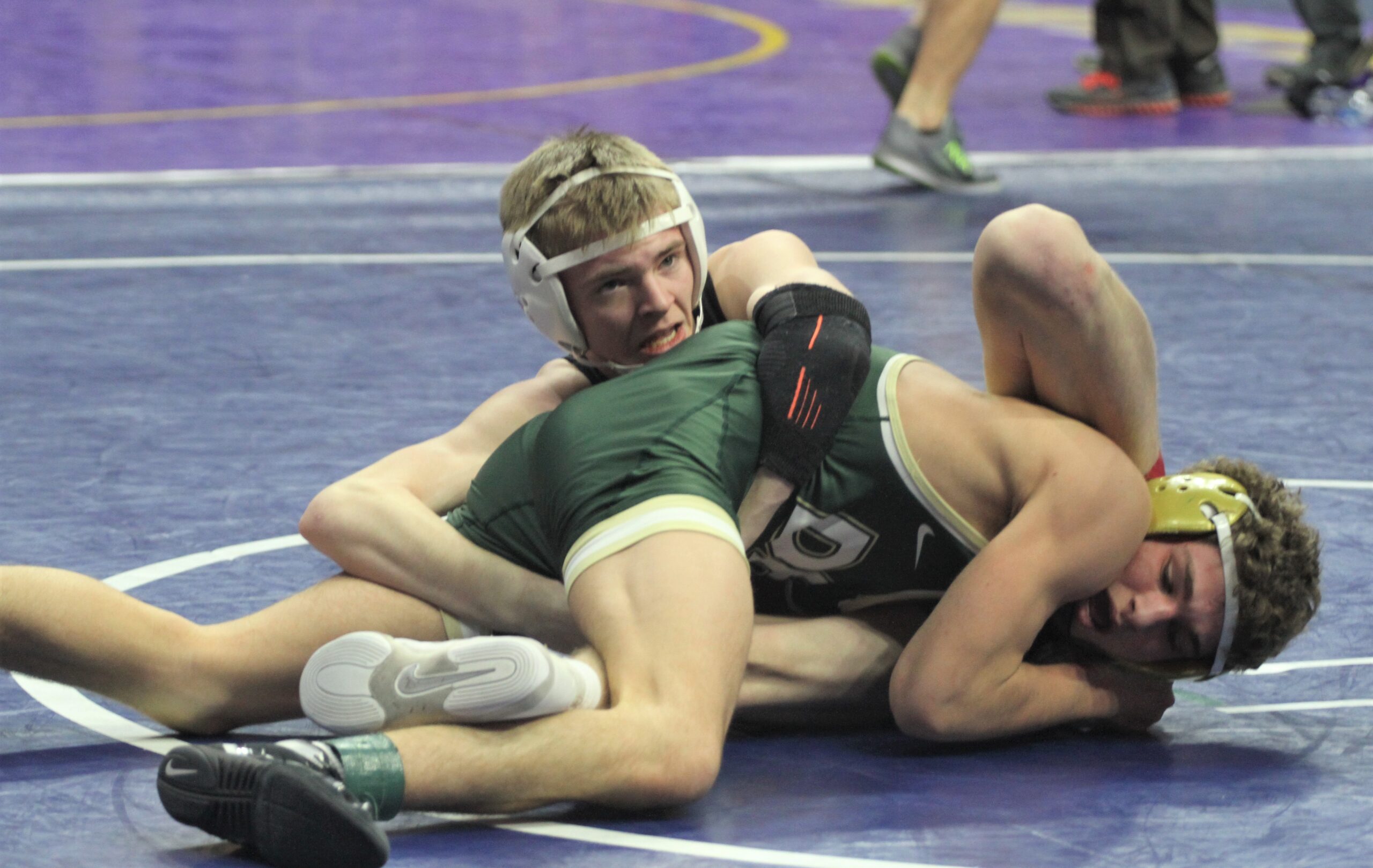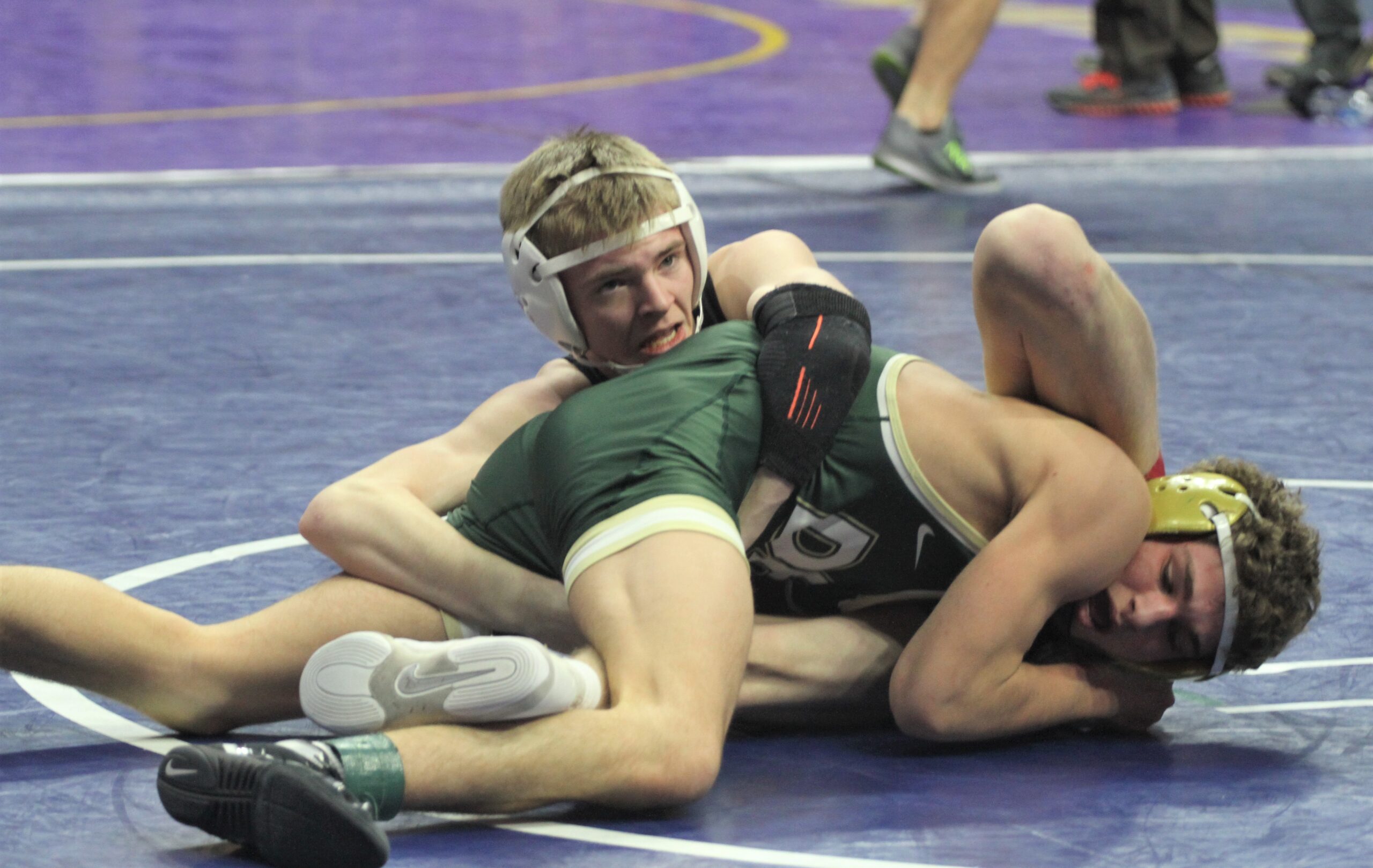 The quest for more gold continues for Ankeny wrestlers Trever Anderson and Caleb Rathjen.
Both standouts advanced to the semifinals of the Class 3A state tournament with dominating victories on Friday morning at Wells Fargo Arena. The semifinals will be held on Friday night.
The top-ranked Anderson won by a technical fall, 19-2, over No. 7 Tanner Wink of Council Bluffs Lewis Central in a quarterfinal match at 120 pounds. He will take a 15-2 record into his semifinal bout against No. 5 Rheiner Stahlbaum of Johnston (21-2).
Anderson, a junior, is seeking his second state title. He won the 106-pound crown as a freshman in 2019 before placing third at 113 a year ago.
The No. 2 Rathjen, meanwhile, needed just 29 seconds to pin No. 6 Colin Driscoll of Waukee at 152, raising his mark to 28-1. He will meet No. 4 Carson Martinson of Southeast Polk (21-3) in the semifinals.
Rathjen, a senior, needs one more win to become a four-time finalist. He placed second at 113 as a freshman in 2018 before winning back-to-back titles at 126 as a sophomore and at 138 last year.
Despite the wins by Anderson and Rathjen, eighth-ranked Ankeny went just 2-5 in the quarterfinals as the higher seed won every match. The Hawks dropped from sixth to eighth place, putting a severe dent in their hopes for a top-three finish.
No. 6 Ben Hansen lost by a technical fall, 20-4, to No. 1 Carter Freeman of Waukee at 106. Jace Anderson also lost to a top-ranked foe at 138–he was pinned by Hunter Garvin of Iowa City West in 4:32.
No. 7 Cael Cox dropped a 6-0 decision to No. 2 Dustin Bohren of Bettendorf at 126. Cade Bennethum was pinned by No. 7 Aiden Grimes of Southeast Polk in 1:04 at 182, while Will Hinrichs was pinned by No. 2 Taner Harvey of Boone in 1:45 at 195.
Ankeny Centennial's lone quarterfinalist, No. 8 Cael Wiener at 113, also lost to a higher-ranked opponent. He dropped an 11-1 major decision to No. 4 Koufax Christensen of Waukee.
In the second round of consolation matches, Ankeny went 4-3 to assure the Hawks of having six placewinners–the most in school history. Hansen, Cox, Jace Anderson and Bennethum will be joined in the third-round consolation matches by Ankeny Centennial's Carter Cahill, who will be the Jaguars' lone placewinner at 160.
The No. 6 Cahill posted a 3-2 decision over Jermaine Sammler of Waukee on Friday morning. He will take a 28-9 record into Friday night's match against No. 5 Kody Cook of Fort Dodge (25-4).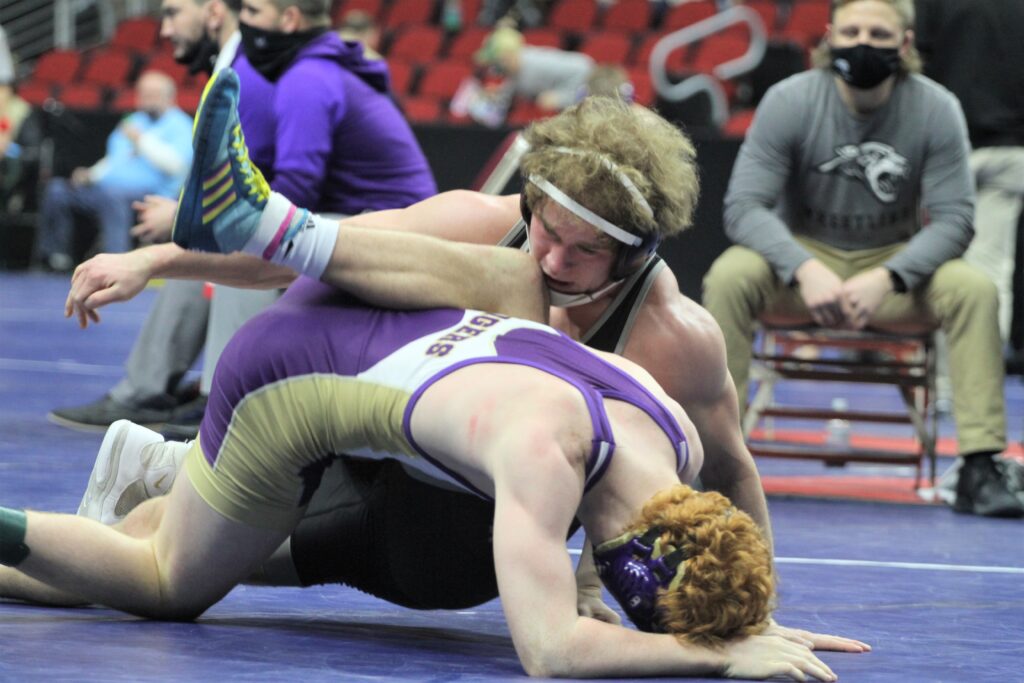 Hansen pinned Kale DiMarco of Mason City in just 57 seconds, improving his mark to 21-9. He will face No. 7 Zane Behrends of Waverly-Shell Rock (31-7) on Friday night.
Cox posted a 4-3 decision over No. 5 Adler Kramer of Dubuque Hempstead to improve his record to 25-6. He avenged a 5-4 loss in last year's fifth-place match at 120.
Assured of being a placewinner for the second straight year, Cox will meet Owen Kruse of Fort Madison (28-12) in a third-round consolation match. He pinned Kruse in last year's opening round.
Jace Anderson posted a 3-2 decision over No. 8 Logan Stotts of Valley. He will take a 10-3 record into Friday night's match against No. 5 Owen Helgeson of Johnston (17-4).
Bennethum raised his record to 22-10 with a 2-1 decision over Jack McCabe of Valley. He will meet No. 4 Evan Surface of Western Dubuque (Epworth) (29-7) in a third-round consolation match.
Ankeny's JJ Maihan at 113 was eliminated from the tournament on Friday morning along with Nate Nessa at 170 and Hinrichs. Centennial's Wiener, Drew Dunn at 132 and No. 4 Jackson Helmkamp at 138 were also eliminated.
Maihan (17-16) dropped a 1-0 decision to Corbin Grace of Ottumwa. Wiener (17-12) fell to Aime Mukiza of Des Moines North/Hoover, 10-4.
Dunn (20-17) lost by a technical fall, 20-4, to No. 6 Grant Harbour of Norwalk. Helmkamp (23-5) dropped a 7-4 decision to Helgeson, preventing a rematch against Jace Anderson on Friday night.
Nessa (14-12) dropped a 3-2 decision to Trevor Summers of Ottumwa. Hinrichs (14-10) lost to No. 9 Joey Petersen of North Scott, 11-6.
Ankeny remains in eighth place with 45.5 points, but the Hawks are only three points behind fourth-place Fort Dodge. Centennial is tied for 24th with 11 points.
No. 3 Waukee leads the Class 3A field with 78 points. No. 1 Waverly-Shell Rock, the two-time defending champion, is in second with 75.5.