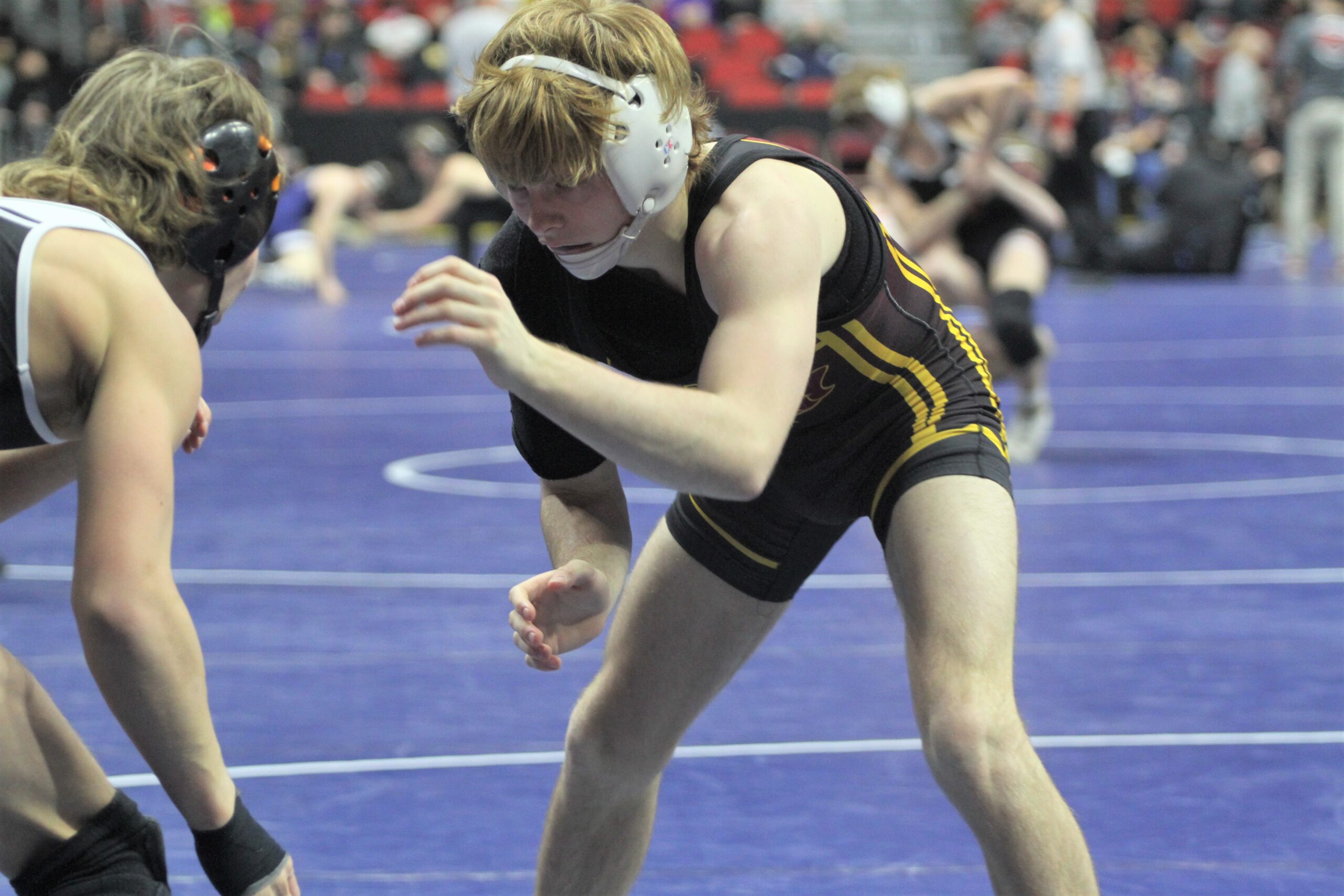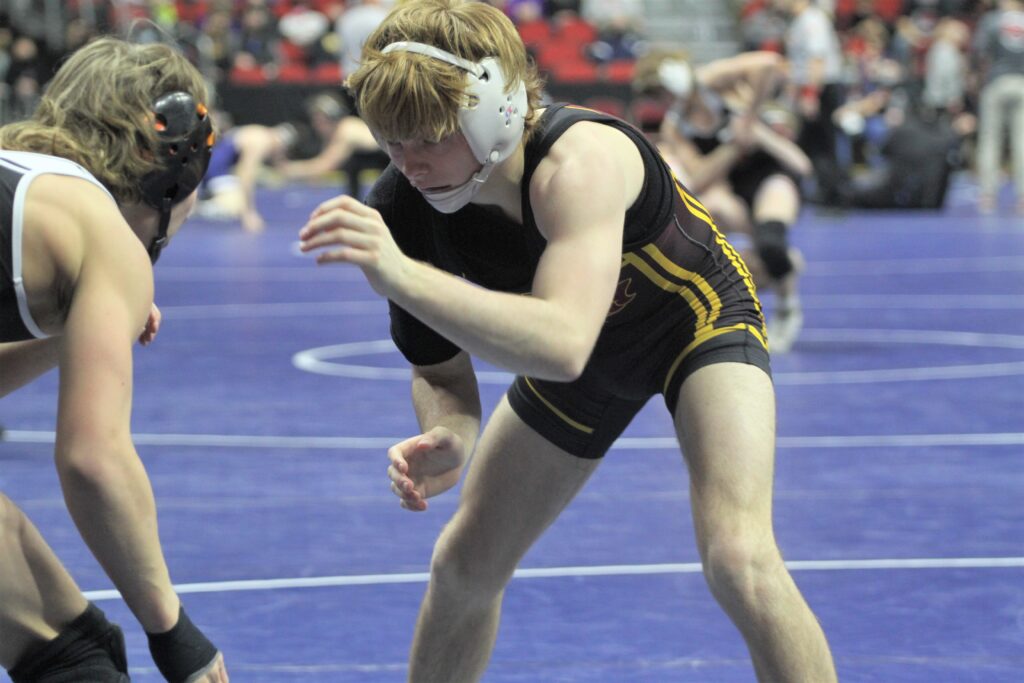 Ankeny junior Trever Anderson fully expected to reach the quarterfinals of the Class 3A state wrestling tournament.
He just didn't expect to have so many of his teammates along for the ride.
The eighth-ranked Hawks advanced seven wrestlers to Friday's quarterfinals at Wells Fargo Arena. Two other Ankeny qualifiers stayed alive in the consolation bracket on Thursday.
"If you had told me when I was a freshman that we'd have seven kids on the front side, I'd have probably laughed at you," Anderson said. "It's pretty crazy what we're doing right now."
No. 3 Waukee leads the Class 3A field with 32.5 points. No. 1 Waverly-Shell Rock, the two-time defending champion, is second with 28.5.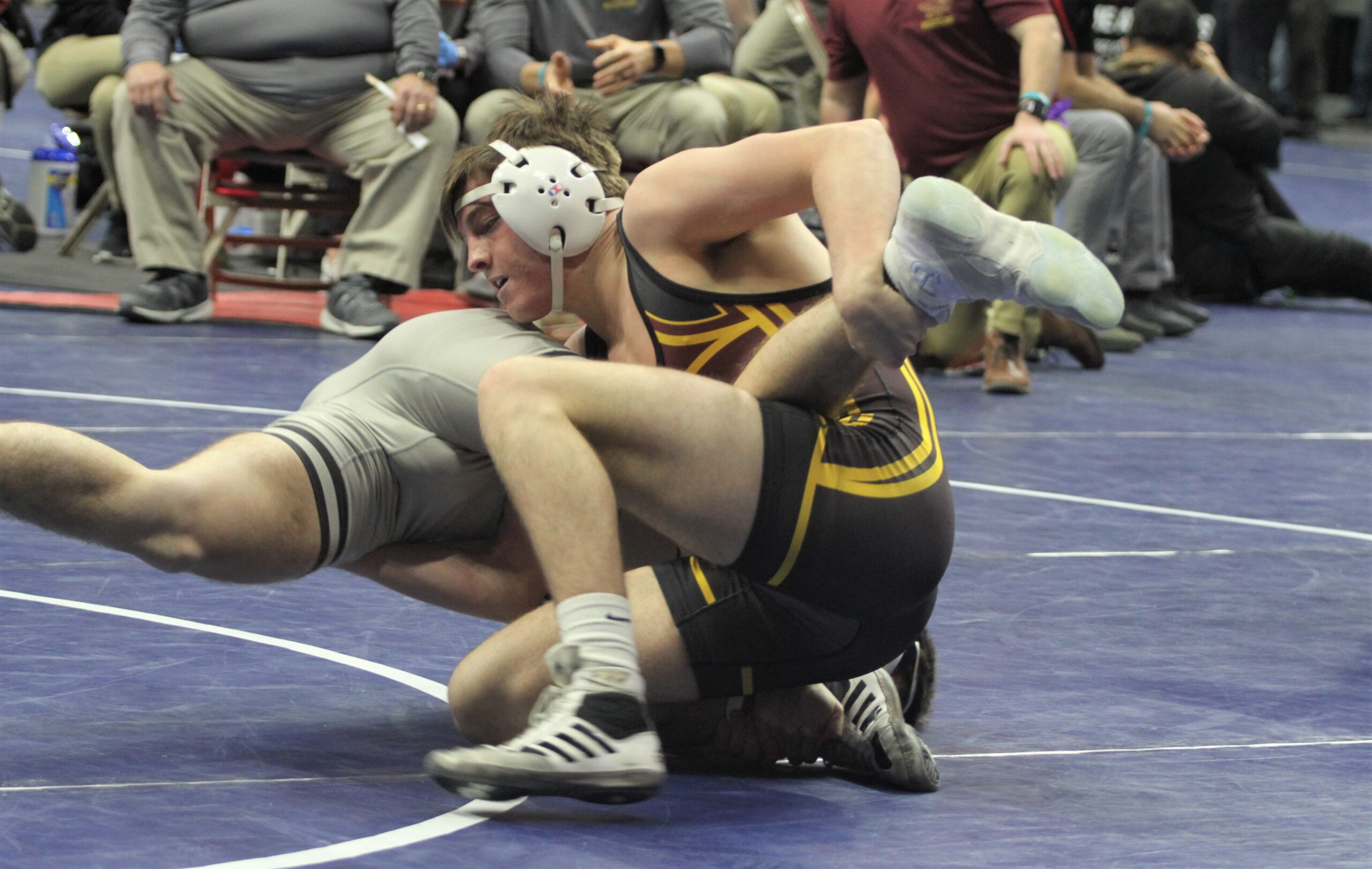 Ankeny is firmly in the mix for a top-three finish, sitting in sixth place with 22 points.
"I told the kids this morning that this is the third time this season that we've wrestled as a team," said Ankeny coach Jack Wignall. "We did it at Norwalk, we did it at districts, and we did it today. We got better every time we wrestled as a team, and today was a culmination of that. I'm just really excited."
Anderson, who is ranked No. 1 at 120 pounds, advanced to the quarterfinals along with No. 6 Ben Hansen at 106, No. 7 Cael Cox at 126, Jace Anderson at 138, No. 2 Caleb Rathjen at 152, Cade Bennethum at 182 and Will Hinrichs at 195. JJ Maihan at 113 and Nate Nessa at 170 both lost in the opening round, but then rebounded to win a consolation match.
"It's great to get nine kids through to Friday," Wignall said. "We were just harping on the kids that we can do this. And we were half a swipe away from having another kid get through, too."
Trever Anderson pinned Ezra Kristensen of Valley in 1 minute 36 seconds to improve his record to 14-2. He is seeking his second state title.
"It's always a goal to get off the mat as fast as I can," Anderson said. "Just score points and have fun–that's all I'm here to do. Just pin the kid and get on to the next day."
Anderson, who injured his shoulder last month, will meet No. 7 Tanner Wink of Council Bluffs Lewis Central (35-10) on Friday morning.
"I'm feeling really good," Anderson said. "My shoulder–that's nothing I can control. I've just got to wrestle."
Rathjen moved one step closer to a third consecutive crown with a fall over Ankeny Centennial's Carter Bennett in 2:14. He raised his mark to 27-1.
Rathjen will meet No. 6 Colin Driscoll of Waukee (25-4) in the quarterfinals.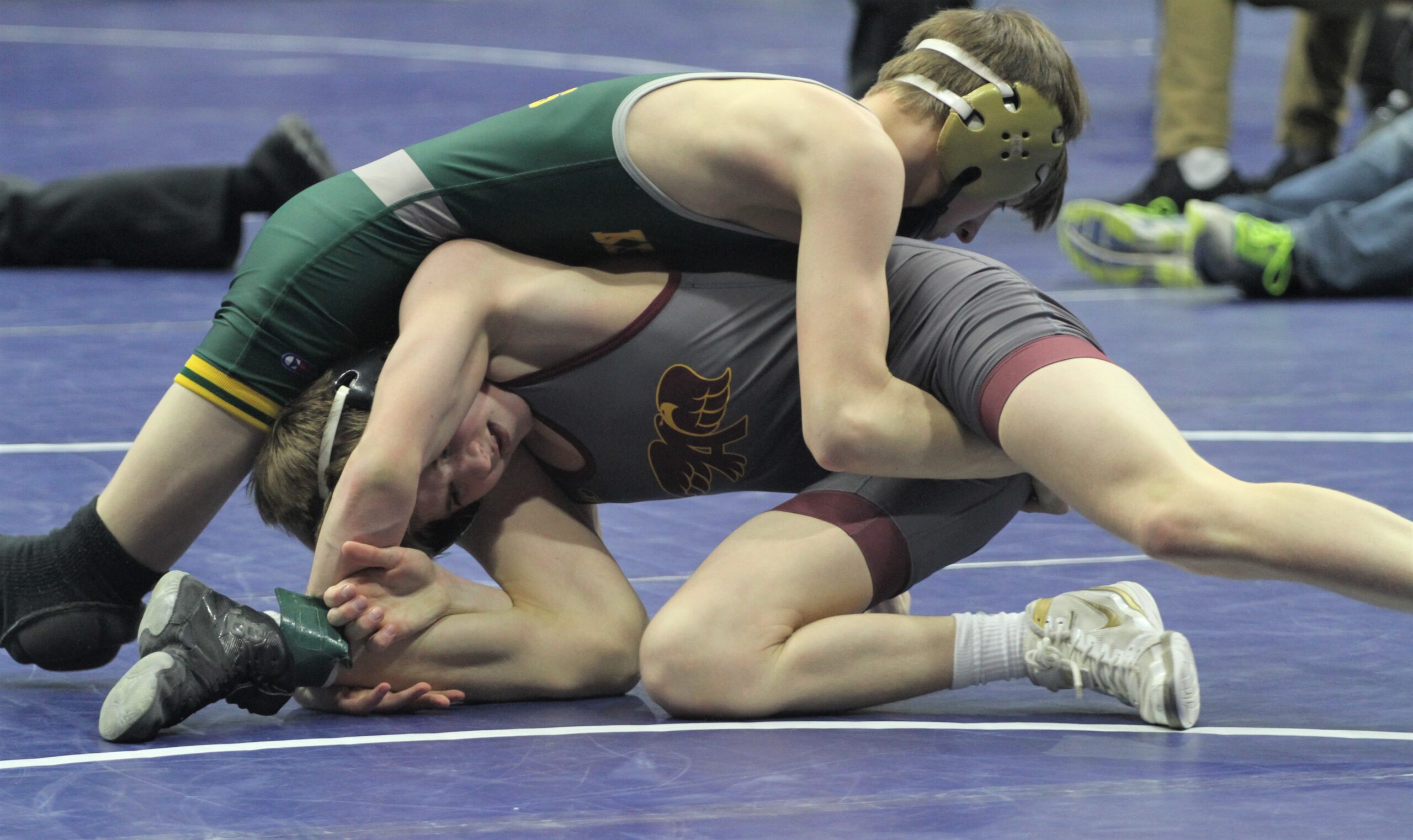 Hansen also won by a fall, pinning No. 9 Cael Long of Cedar Rapids Kennedy in 2:45. The freshman (20-8) will face No. 1 Carter Freeman of Waukee (25-0) on Friday.
"That win by Ben was a great way to start out the day," Wignall said.
Jace Anderson and Bennethum also knocked off rated opponents. Anderson posted a 3-2 decision over No. 10 Grant Kress of Linn-Mar (Marion), while Bennethum held on for a 9-7 victory over No. 8 Ryan Volk of Cedar Rapids Xavier.
Anderson (9-2) will meet No. 1 Hunter Garvin of Iowa City West (13-0) in the quarterfinals. Bennethum (21-9) will face No. 7 Aiden Grimes of Southeast Polk (20-6).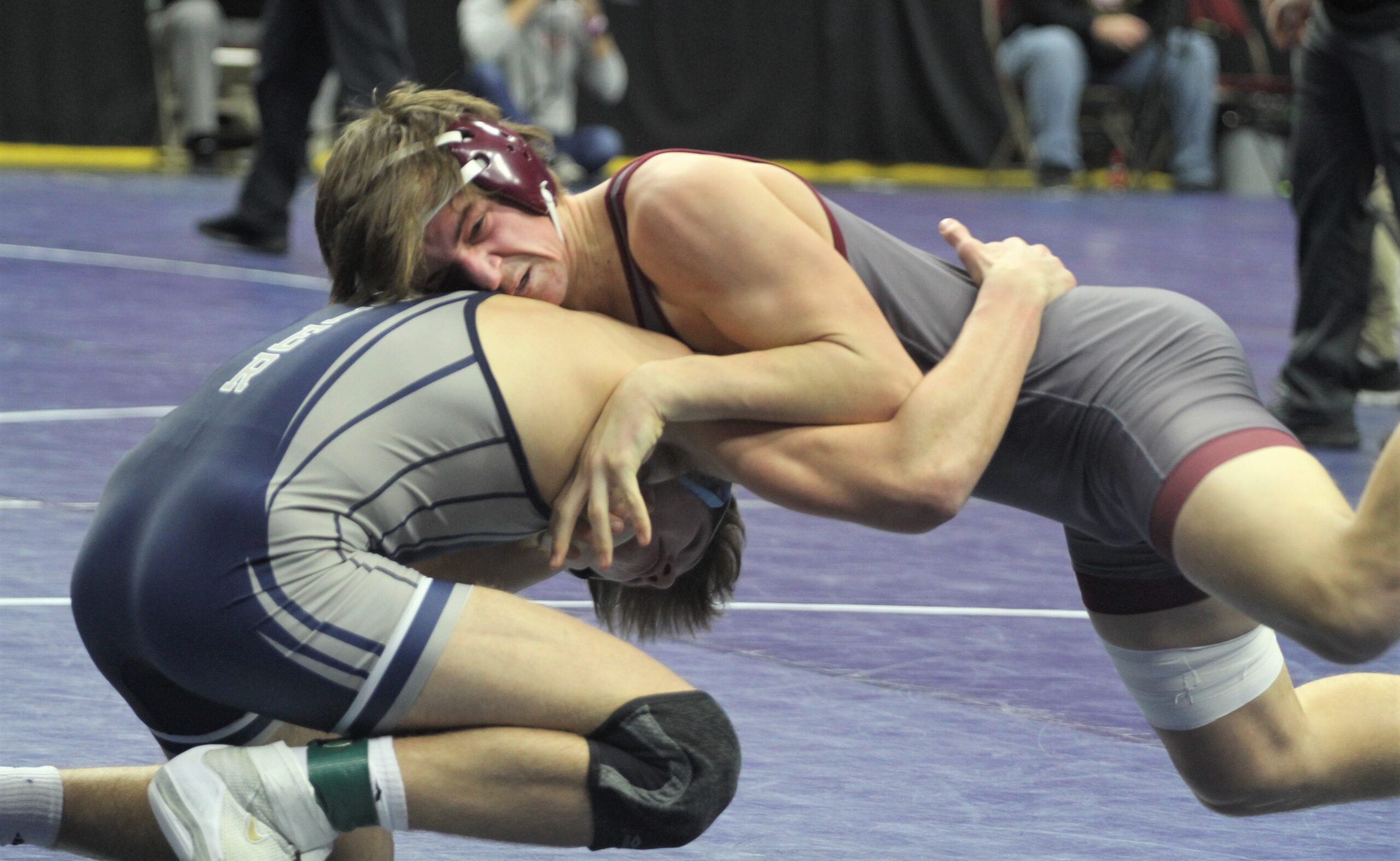 "Wrestling those tough matches at the beginning of the year is paying off right now," Wignall said. "We just have to keep it rolling."
Cox posted a 7-4 decision over Jaxson Kuhlmann of Carroll. The senior (24-5) will meet No. 2 Dustin Bohren of Bettendorf (23-2) on Friday.
Hinrichs got a takedown in overtime to defeat Jaxson Hildebrand of Denison-Schleswig, 4-2. The sophomore (14-8) will meet No. 2 Taner Harvey of Boone (32-0) in the quarterfinals.
Maihan dropped an 11-0 major decision to No. 2 Kaden Karns of Waterloo West in the opening round. He then rebounded with a 9-5 decision over Jack Stevens of Clear Creek Amana.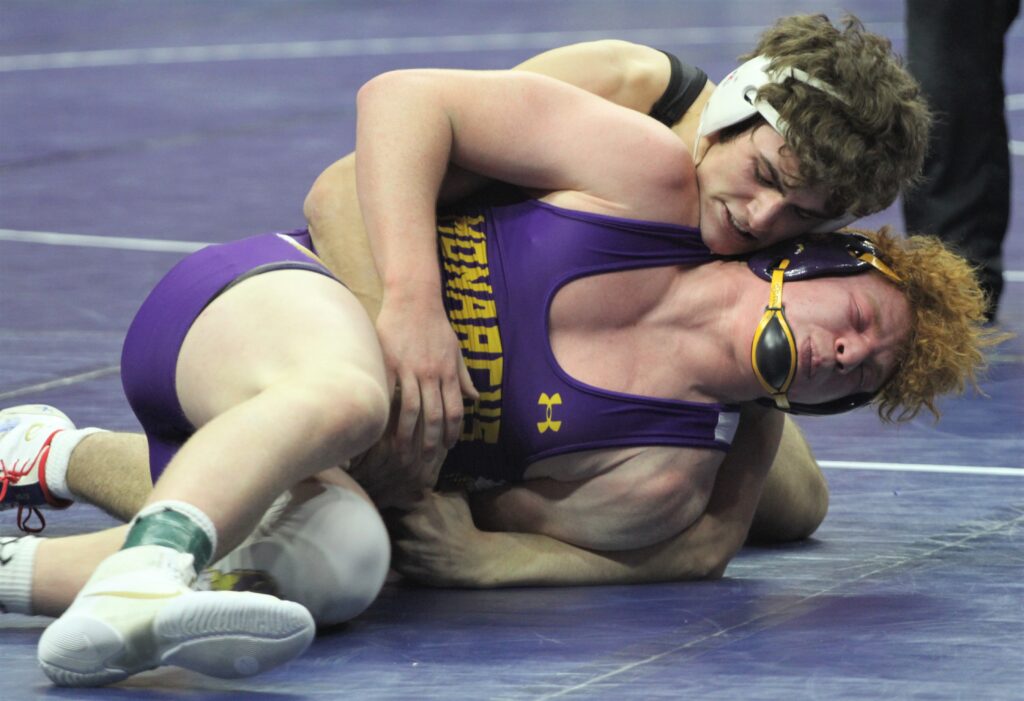 Nessa, meanwhile, lost to No. 9 Andrew Reed of Southeast Polk, 10-6, in his first match. He bounced back with an 11-7 decision over Alex Koch of Cedar Rapids Kennedy.
Both Maihan (17-15) and Nessa (14-11) will await the loser of a quarterfinal match on Friday.
Ankeny's other state qualifier, Carter Davis, was eliminated from the tournament after losing his first two matches. Davis was pinned in 1:43 by Drake Ayala of Fort Dodge, who is ranked No. 1 at 126 but moved up a weight to seek the 132-pound title, and then dropped a 4-2 decision to No. 7 Connor Kelley of Waukee.
Davis ends the season at 7-5.