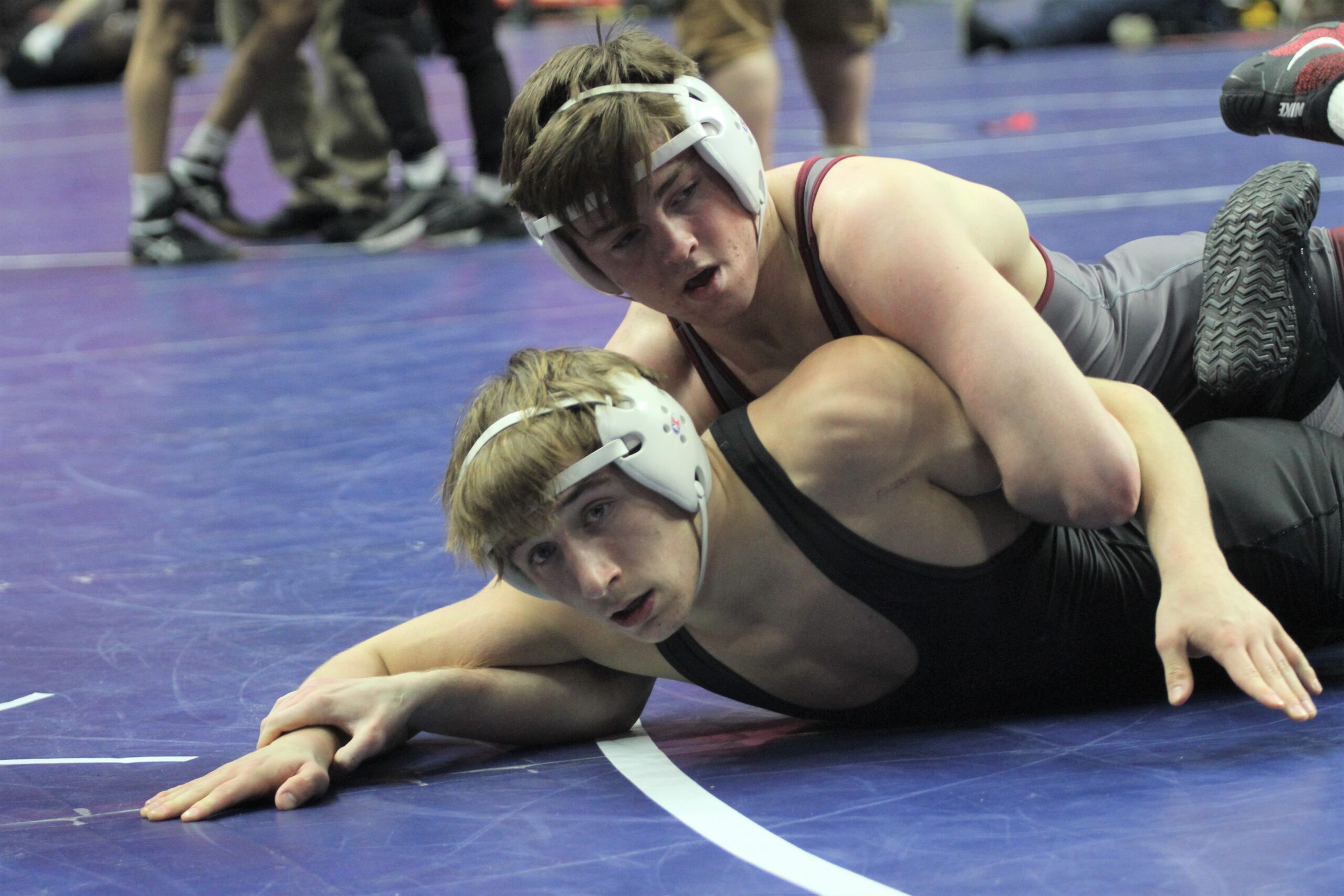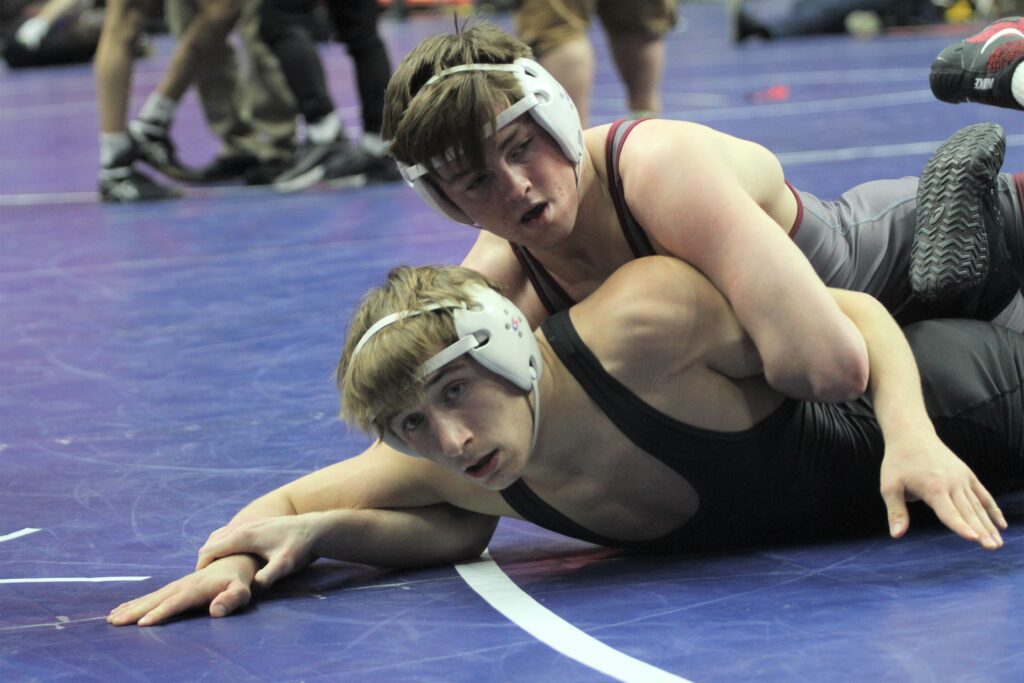 Caleb Rathjen isn't talking to reporters, but he and the rest of the Ankeny wrestlers are doing plenty of talking on the mat.
Rathjen and Trever Anderson both advanced to Saturday's championship round, Cael Cox and Cade Bennethum each won consolation matches to earn a top-six finish, and the eighth-ranked Hawks moved into fifth place in the Class 3A state tournament following Friday night's action at Wells Fargo Arena.
"I love all our guys," said Cox. "We fight, and these matches that we're losing are by like one or two points. Next year (Ankeny is) returning eight state qualifiers, so this team is going to be fun to watch in the next couple of years. I'm happy to say that this senior class and the class before us helped turn this program around."
The second-ranked Rathjen rolled to a 12-3 major decision over No. 4 Carson Martinson of Southeast Polk in a semifinal match at 152 pounds, allowing him to become a four-time finalist. He will take a 29-1 record into the championship match against No. 1 Aiden Riggins of Waverly-Shell Rock (33-0), who handed Rathjen his only loss at the Dubuque Hempstead Duals on Jan. 9.
Rathjen, who declined an interview after the win over Martinson, is seeking his third consecutive title. The Iowa recruit would become the first three-time champion in school history.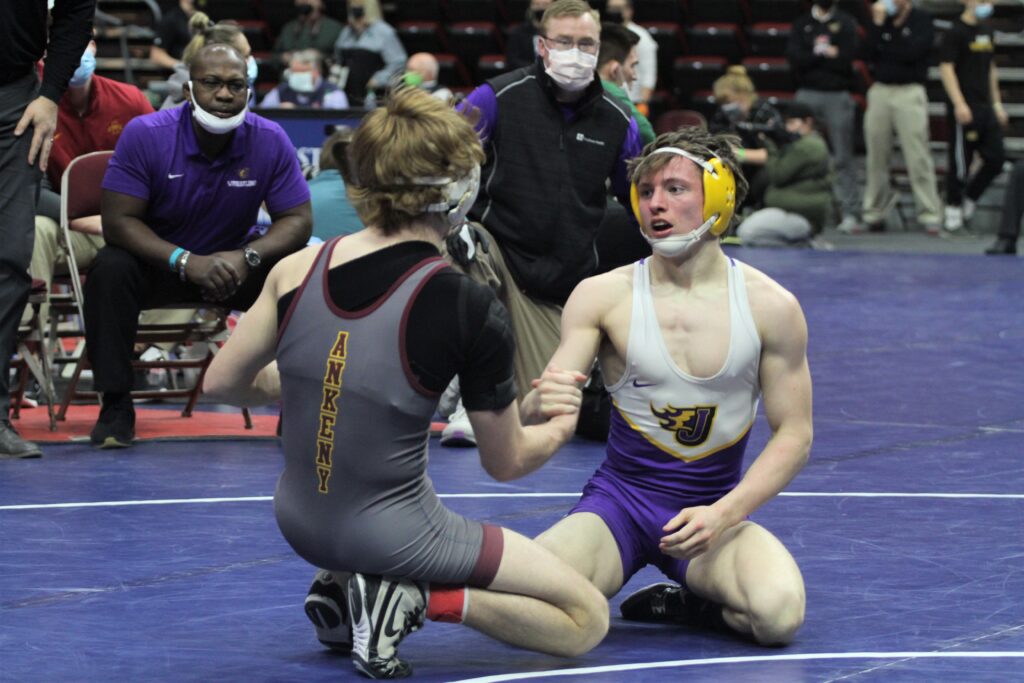 The top-ranked Anderson, meanwhile, moved closer to his second crown. He posted a 4-0 decision over No. 5 Rheiner Stahlbaum of Johnston at 120.
"They both wrestled really well," said Ankeny coach Jack Wignall. "I didn't expect anything less, but it feels like everything is right with the world now. They're both in the finals."
Anderson raised his mark to 16-2. He won a title as a freshman in 2019, when he did not allow a point in three of his four matches.
On Friday night, Anderson shut down a familiar opponent.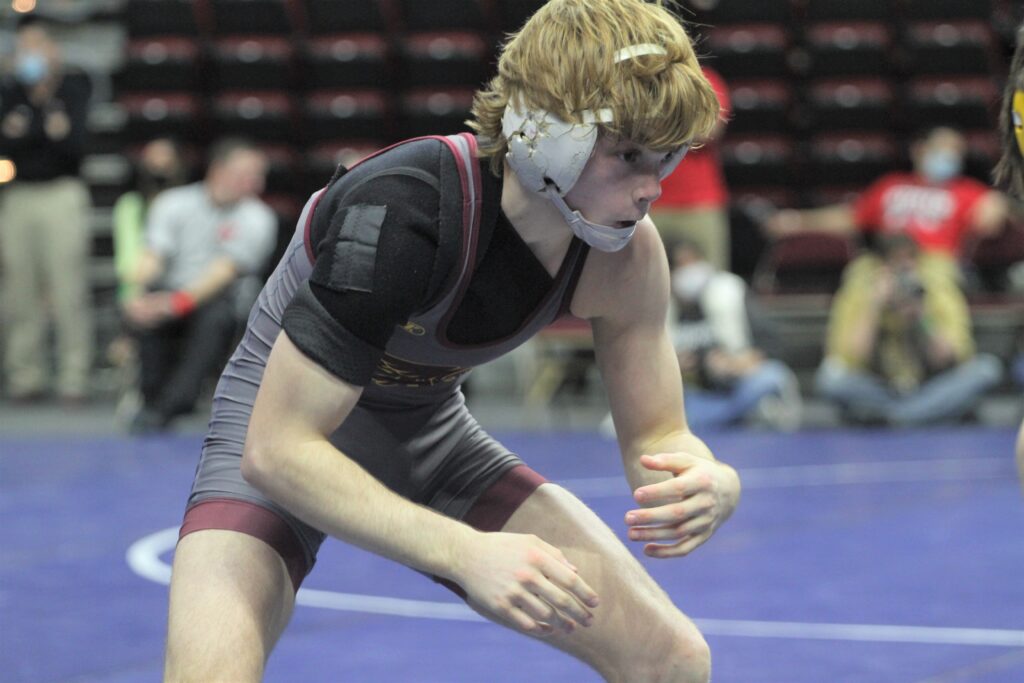 "Any match I go into, I'm thinking I can win," Anderson said. "But I was glad to wrestle a kid that I've beaten before. I knew I'm better on my feet than that kid. He's a strong kid, but I was prepared. I knew he wasn't going to take me down."
Anderson will face No. 3 Chad Bellis of Hempstead (24-1) in the finals. They have never wrestled.
A potential meeting at the Hempstead Duals never materialized after Anderson injured his shoulder during a match against Southeast Polk's Nate Jesuroga. After sitting out for a month, Anderson has been wrestling with a wrap on his shoulder.
"It feels really good to be in the finals," Anderson said. "I just have to wrestle my match and go out and prove everybody wrong like I did my freshman year. I'm glad to be back after what happened last year (when Anderson placed third)."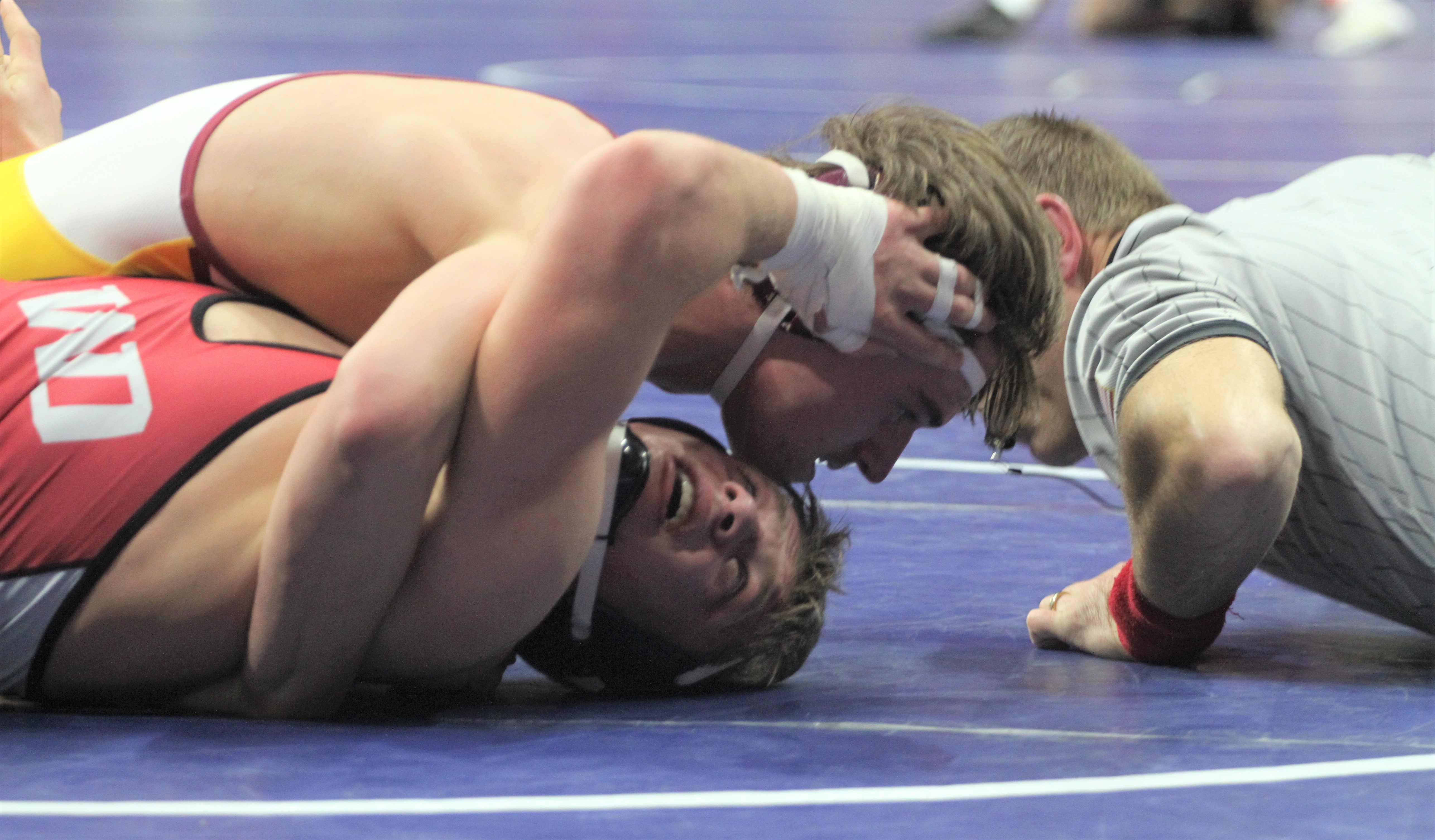 Bennethum capped off Ankeny's huge night with a fall over No. 4 Evan Surface of Western Dubuque (Epworth) in a third-round consolation match at 182. He lifted his record to 23-10.
The match was tied at 4-4 after two periods. Bennethum then rode Surface for almost the entire third period, eventually turning him and getting the pin in 5 minutes 59 seconds.
"I didn't know the match would turn out that way, but in the end you've got to do what you've got to do," Bennethum said. "Finish it out."
Bennethum has already defeated two rated opponents in the tournament. He will face another one–No. 5 AJ Petersen of North Scott (31-8)–in a consolation semifinal.
Bennethum, a sophomore, prefers to have little information about his foes.
"I like to keep my mind clear and just go out and wrestle and not worry about rankings," he said.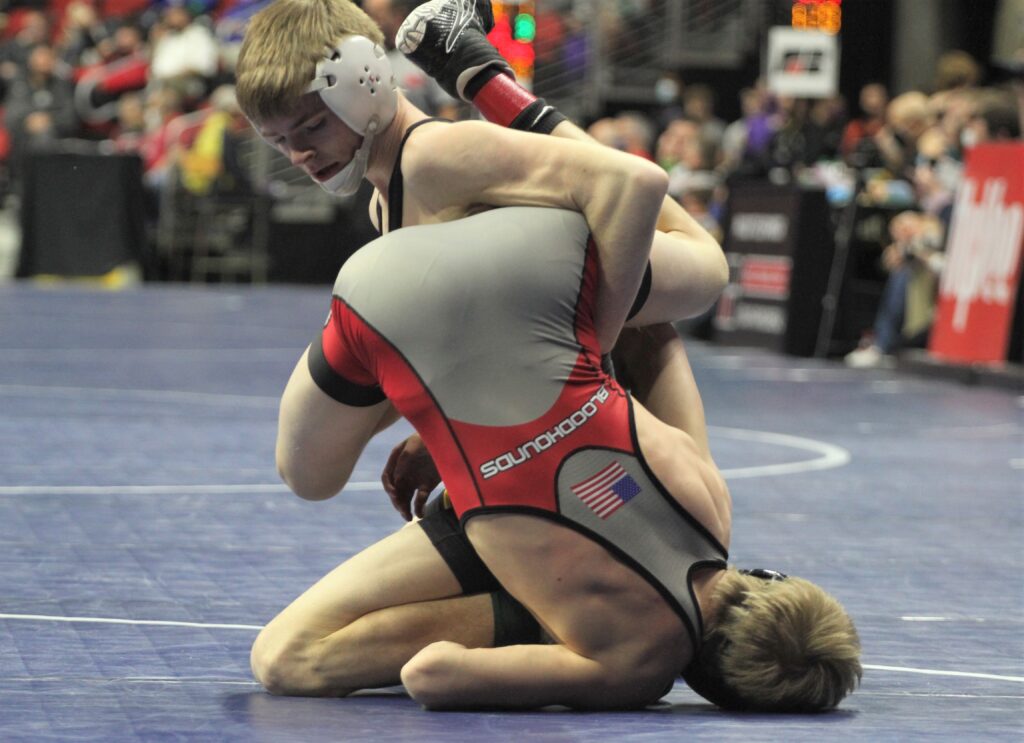 Cox posted a 12-4 major decision over Owen Kruse of Fort Madison in a third-round consolation match at 126, assuring himself of a second straight top-six finish. He pinned Kruse in last year's opening round en route to a sixth-place finish at 120.
"A lot can change in a year," Cox said. "I respected the kid, but I got to my offense–which is good. I haven't been doing that recently, so that was a nice change."
Cox rebounded from a quarterfinal loss to No. 2 Dustin Bohren of Bettendorf earlier on Friday. He posted a 4-3 decision over No. 5 Adler Kramer of Hempstead in a second-round consolation match, avenging a 5-4 loss in last year's fifth-place match.
"I was pretty frustrated after that quarterfinals match, but my coaches were really positive and helped me change my mindset," Cox said. "That really helped for the match against Kramer. It felt really good. As bad as I felt after that quarterfinals loss, I knew how bad I'd feel if I ended up losing that blood-round match."
Cox (26-6) will meet No. 3 Grant O'Dell of Iowa City West (14-1) in a consolation semifinal.
"This team race is getting close," Cox said. "I know every point matters."
No. 1 Waverly-Shell Rock, the two-time defending champion, has moved into first place with 134.5 points. No. 3 Waukee is in second with 126.
Ankeny has 77.5 points and trails No. 5 Bettendorf by four points for fourth place.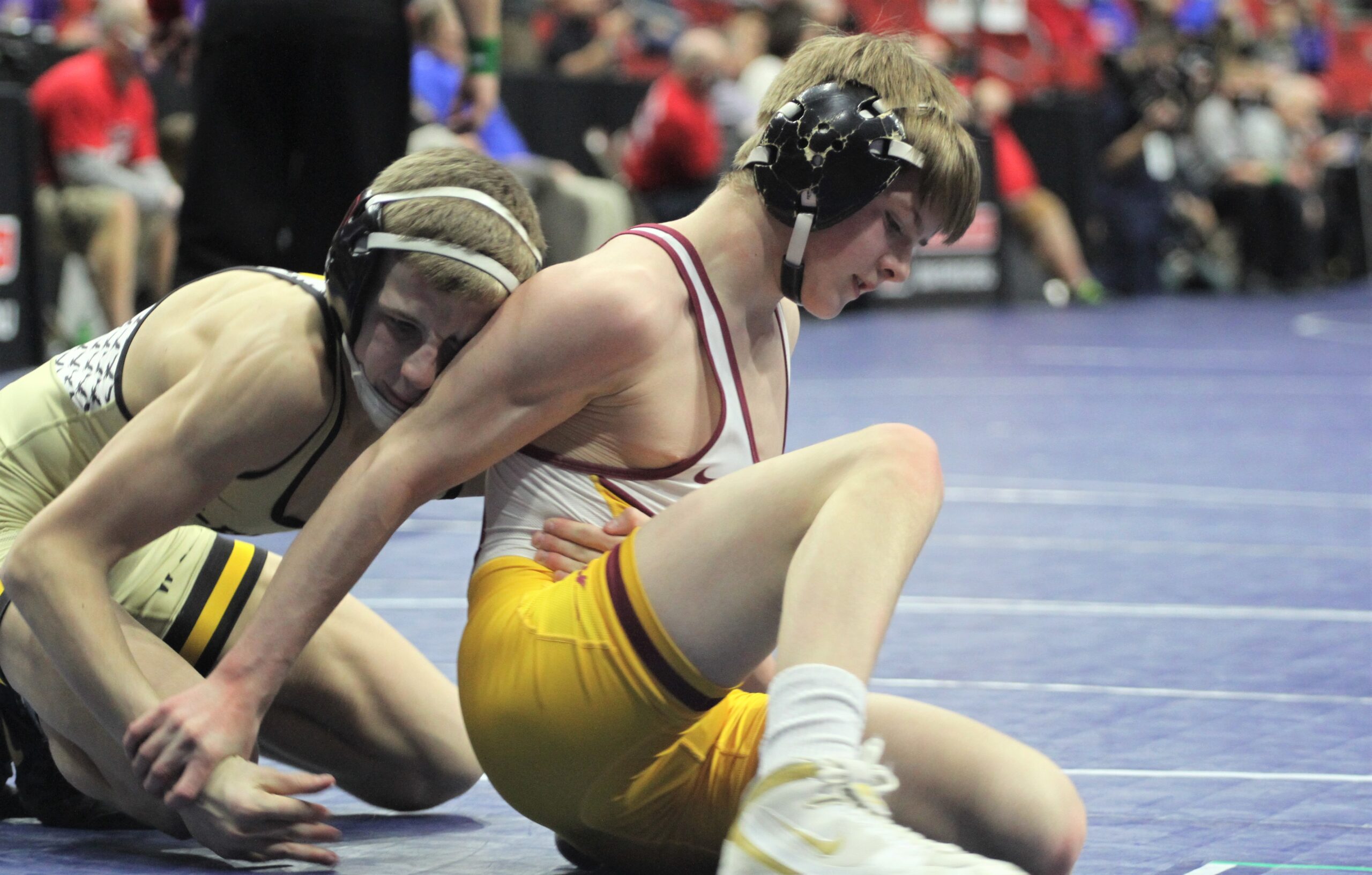 "We had another great round," Wignall said. "Again we lost some close matches, so we're right there with where our kids need to be."
No. 6 Ben Hansen at 106 and Jace Anderson at 138 will both wrestle for seventh place on Saturday after losing heartbreaking consolation matches on Friday night. Hansen (21-10) will face No. 5 Kael Kurtz of Iowa City High (14-2), while Anderson (10-4) will meet No. 9 Cayden Langreck of Waverly-Shell Rock (28-7).
Hansen will try to rebound from a 4-3 loss to No. 7 Zane Behrends of Waverly-Shell Rock. After trailing 4-0, Hansen got a three-point near-fall in the third period, but was unable to turn Behrends again.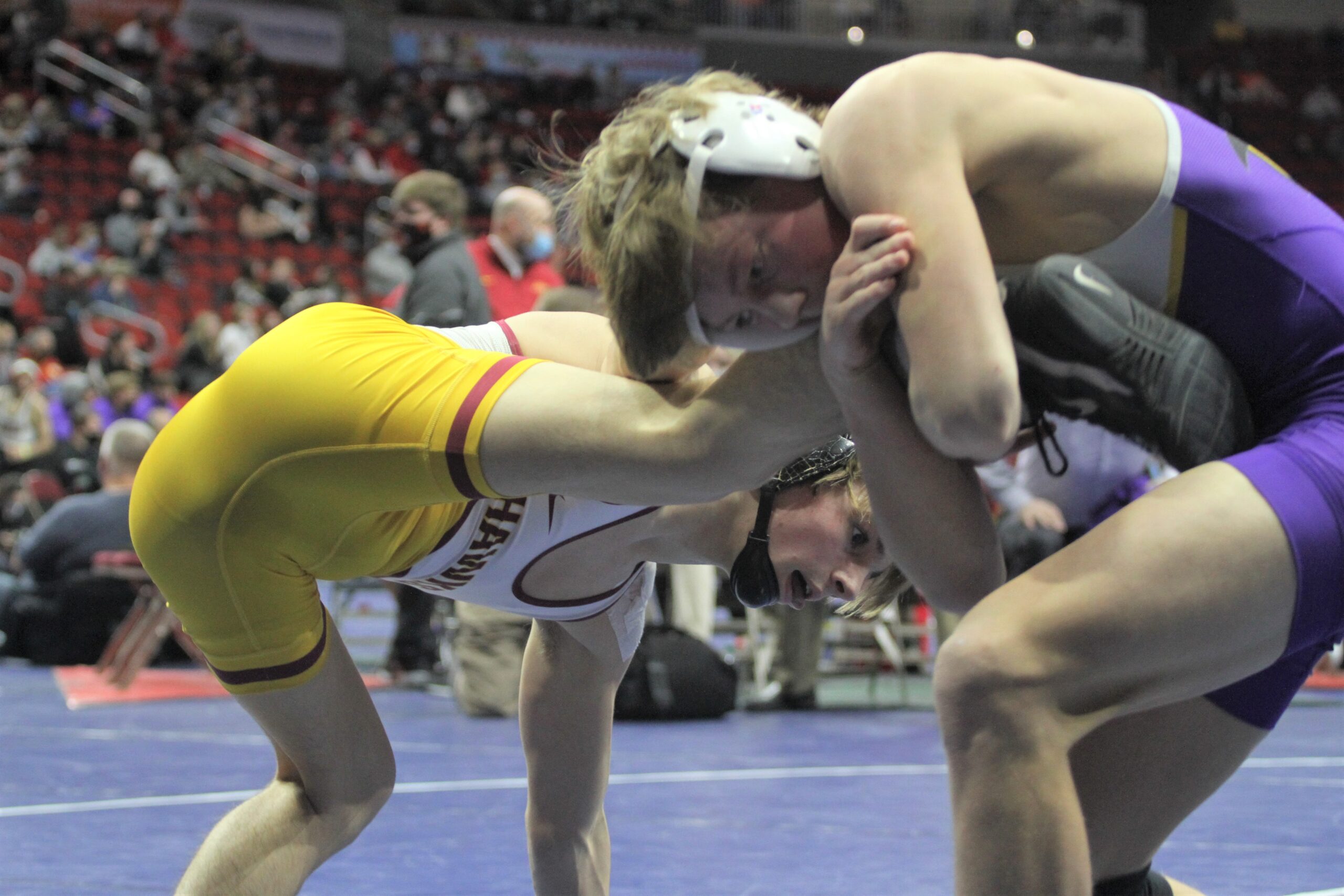 Anderson was pinned by No. 5 Owen Helgeson of Johnston in 7:59. He got a takedown in the final second of regulation to tie the match, but Helgeson eventually got the fall at the end of the third overtime period.
Still, the Hawks are in good position to improve on last year's seventh-place finish, their highest ever under Wignall.
"We qualified 10 guys," Bennethum said. "It's been a great year for Ankeny football, basketball and now wrestling. All of our athletics are doing great."