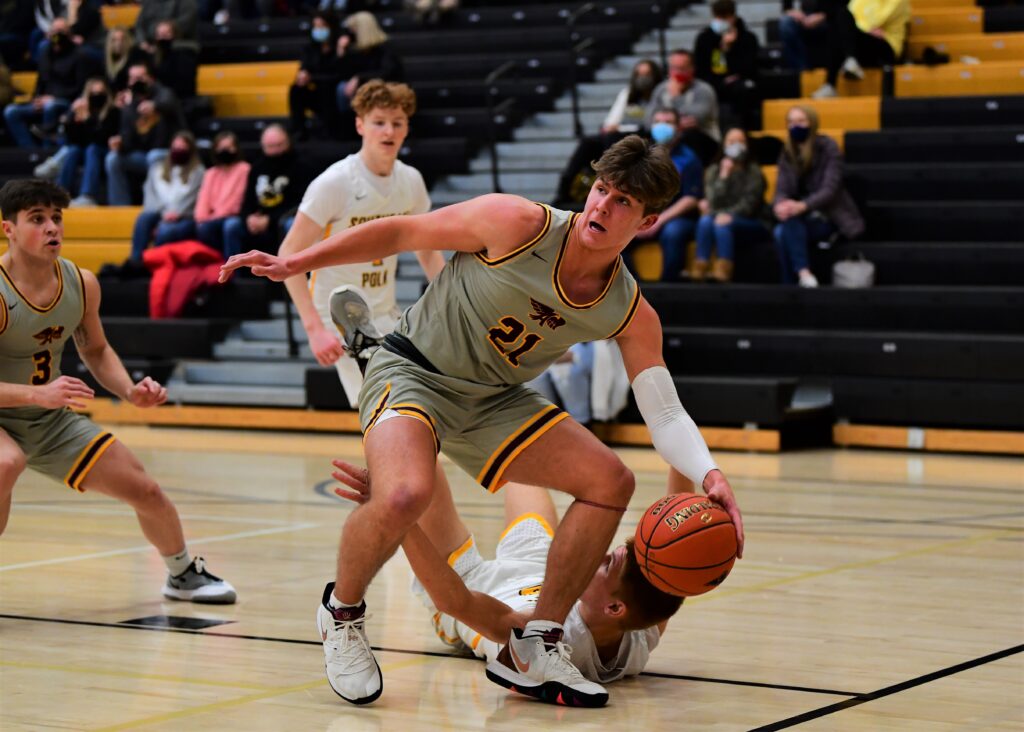 At times this season, the Ankeny boys' basketball team has struggled to find the basket.
That wasn't an issue for the Hawks on Friday night.
Ryan Crandall poured in 28 points on 11-of-13 shooting and Ankeny rolled to an 84-72 victory at Des Moines North in its final game of the regular season. The Hawks scored more points than they did in their previous two games combined–losses to fifth-ranked Ames and at Southeast Polk.
"This was big for us because I think the Southeast Polk game was a real big heartbreaker for our whole team," said Crandall. "And to come back and dominate like we did tonight is good to see."
The Hawks shot 57.1 percent from the field (28-of-49) while evening their overall record at 9-9. North dropped to 10-4.
The loss snapped the Polar Bears' five-game winning streak.
"We feel like everybody came together and played hard and did some good things," said Ankeny coach Brandt Carlson. "We had some guys play really well offensively."
Crandall easily surpassed his previous career-high of 20 points. He helped the Hawks to a 45-30 halftime lead.
"In the first half it was mostly transition (baskets), and the second half was mainly in the half court," Crandall said.
Brayden Drea also had a career-high with 19 points, going 3-of-5 from 3-point range. Ankeny posted a season-high offensive output after scoring just 37 points against Ames and 45 against Southeast Polk.
"Sometimes the defense has a lot to do with it," Carlson said. "North doesn't have a lot of size, and we didn't turn the ball over so we were able to get a shot on every possession. We just had a lot of shots at the basket, which opened up a lot of other things."
North boasts two of the CIML's top scorers in Diondre Taylor and Tharon Locure, who average a combined 46.4 points per game. The duo exceeded that total in Friday's game, but the rest of the Polar Bears were kept in check.
"We pressed them a little bit, and I think we really wore out those two guys," Carlson said. "They both had almost 30, but nobody else on their team really scored. The theory worked out, I guess."
Ankeny will host a Class 4A substate semifinal on Friday at 7 p.m. The defending state champion Hawks will meet the winner of Monday's game between Mason City (5-16) and Norwalk (13-8).
"It feels good to end the season on a high note, and hopefully we can just keep building as we head into the tournament," Carlson said.