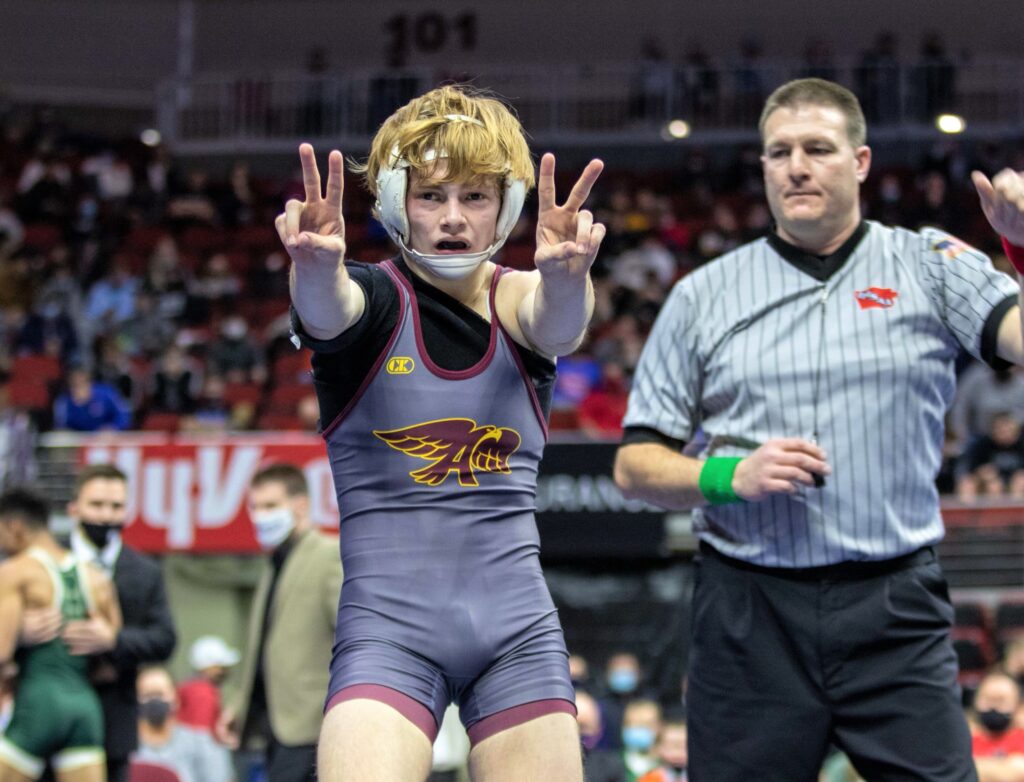 For the last 12 months, Ankeny wrestler Trever Anderson has been motivated to erase the memory of last year's disappointing third-place finish in the Class 3A state tournament.
He wasn't even going to let a bum shoulder get in his way.
The top-ranked junior captured his second state title on Saturday with a 3-2 victory over No. 3 Chad Bellis of Dubuque Hempstead in the 120-pound final at Wells Fargo Arena. He became Ankeny's fifth two-time champion.
"It feels awesome to be back on top, unlike any feeling in the world," said Anderson, who won the 106-pound crown in 2019. "This title is different than the first, but also very similar. Much like my freshman year, they picked me to lose. It feels really good to prove them wrong again. But this title is even better because of the adversity I had to go through and the journey from Feb. 21, 2020–which is exactly one year ago. That was the day I lost (in the semifinals). The journey from that day to now is awesome, knowing I finally got that second title."
Ankeny coach Jack Wignall was left speechless by Anderson's accomplishment.
"He has an MRI scheduled for Thursday, so we'll know if he has to have surgery and what's truly going on with that shoulder," Wignall said. "But for Trever to do what he did this weekend is legendary. It's absolutely incredible."
The match was tied at 1-1 in the third period after each wrestler got an escape. Bellis, a former Illinois state champion, then made the mistake of going for an inside trip with about 43 seconds left.
"Trever just didn't let it happen and pushed into him, and the kid ended up going to his back," Wignall said. "He didn't get any back points. He should have, but that was enough to get the win."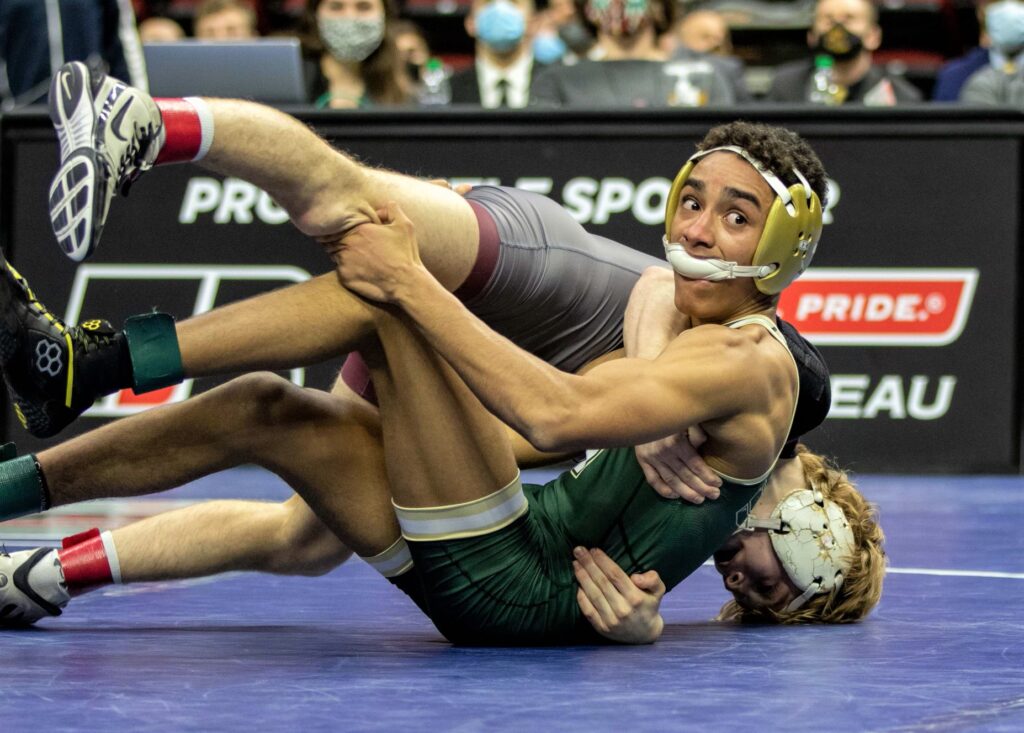 Bellis told the Telegraph Herald in Dubuque that he didn't want to go into overtime.
"I was really confident that I was going to score. That's why I took the chance," Bellis said. "But that's part of the deal. You can get scored on in those big moves. That's what happens."
Anderson finished the season with a 17-2 record. He improved his career mark to 96-5.
Anderson injured his shoulder on Jan. 9 at the Hempstead Duals during a loss to Southeast Polk's Nate Jesuroga, who won the 113-pound crown on Saturday. He returned to the mat for the regional duals on Feb. 10, but was clearly not 100 percent.
"It hurt pretty good during my matches," Anderson said.
According to Wignall, Anderson endured more than just a little pain to keep wrestling.
"There were times in practice at the end of the season when he would get a stinger in that shoulder," Wignall said. "And Trever's a tough kid, but he was almost in tears because it hurt so bad. There were some positions that he tried to avoid, and he learned what those positions were and stayed out of them the best he could."
Anderson gained a lot of confidence when he defeated Lane Cowell of Fort Dodge, 7-2, to win the district title on Feb. 13. Cowell went on to place fourth at state.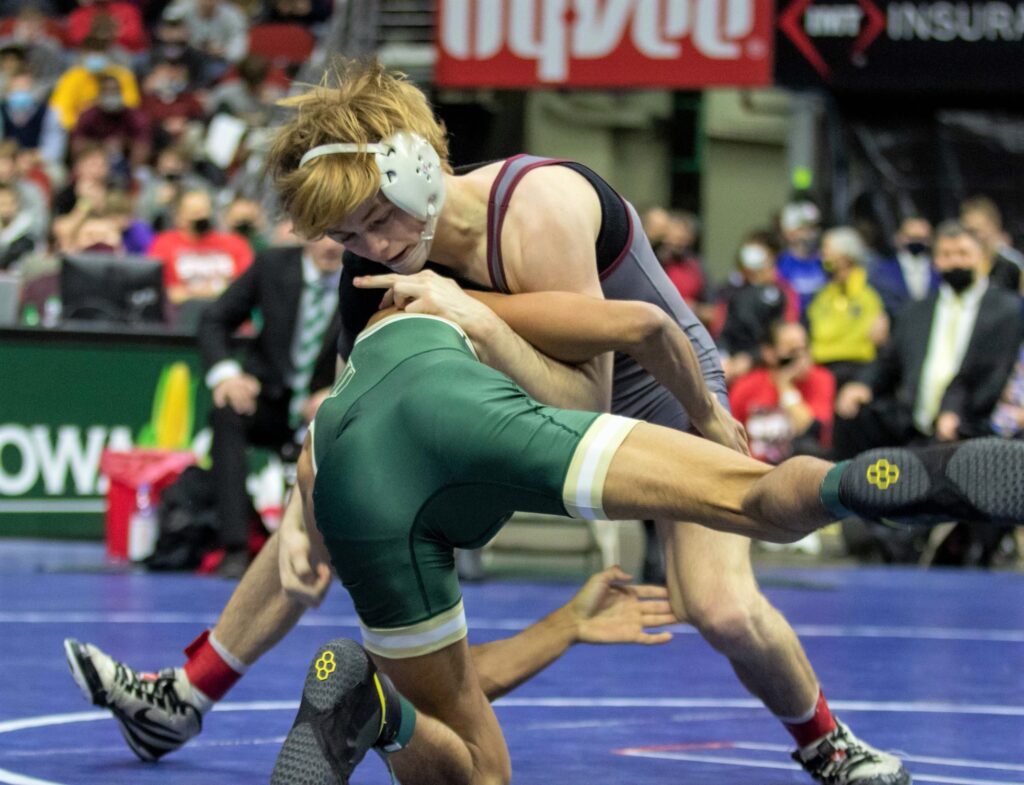 "I knew Trever was good enough to win it, but he needed to believe it," Wignall said. "When he beat Cowell a week ago, I think that was the catalyst for him to believe that he could do it. That was a game-changer for him mentally."
Anderson cruised through the first three rounds of the state tournament. He recorded a fall and a technical fall before dominating Rheiner Stahlbaum of Johnston, 4-0, in Friday night's semifinals.
Against Bellis, Anderson just waited for his opponent to give him an opening.
"Trever is just a monster with not letting people get to his legs. He didn't let Bellis get to his legs," Wignall said. "It was a great match by both kids, but Bellis got kind of desperate toward the end and was looking for a way to win the match. In that position Trever is like a bulldog. He just smells that little mistake, and he's on it. That's what he did, and I'm still in awe that he was able to do it."
Bellis (24-2) was the 106-pound champion in Illinois' Class 2A two years ago.
"I was firing off on my attacks, but he came prepared and he really wanted to put me in his best position," Bellis told the Telegraph Herald. "I felt like I had to go big in the third because I didn't want to go into overtime and I thought I had a chance to score, but it just turned into his scoring opportunity, which really sucks, but, again, all respect to him."
The match didn't go the way Anderson thought it would.
"But I got it done, and that's all that matters," he said. "I kept telling myself, '6 more minutes', in my head. 'Just 6 more minutes.'"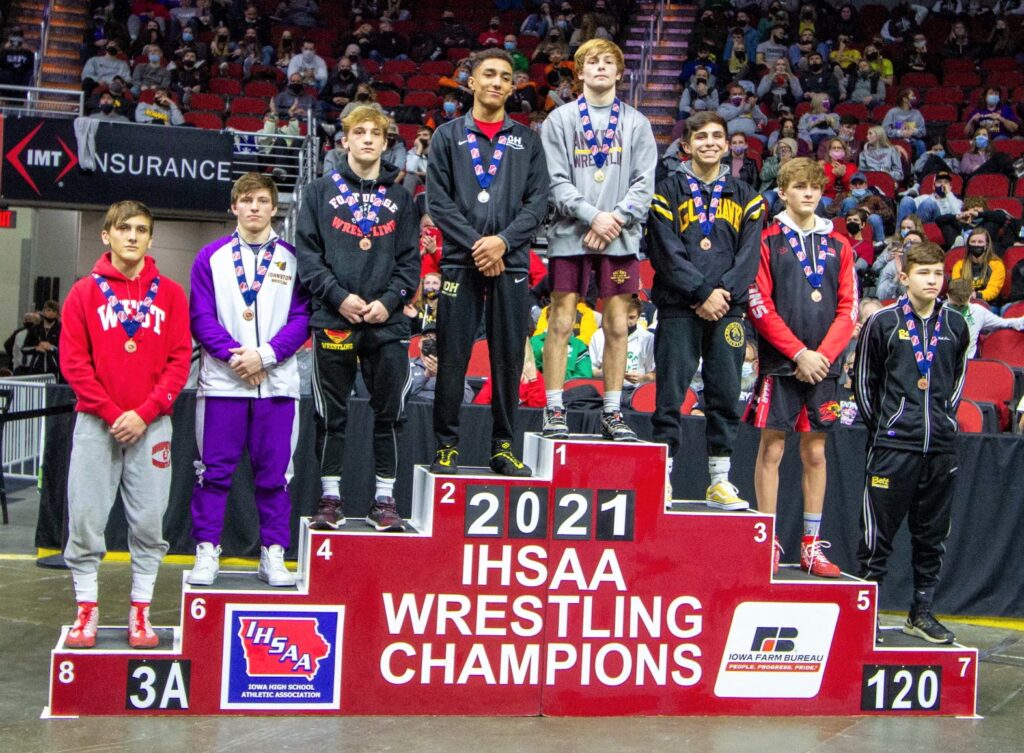 Anderson joins Eric and Mike Norris, Ross Larson and teammate Caleb Rathjen as the only two-time champions in school history. The second-ranked Rathjen later took the mat looking to win a third consecutive title, but he dropped a 3-2 decision to No. 1 Aiden Riggins of Waverly-Shell Rock in the 152-pound final.
"That was a tough one to swallow," Wignall said.
The match was very similar to the 120-pound final. The score was tied at 1-1 in the third period after each wrestler got an escape.
Rathjen repeatedly tried for a go-ahead takedown, but was unable to break through Riggins' defense.
"It was just a battle of attrition really," Wignall said. "Caleb probably took 15 or 20 shots, and Riggins maybe took three. Honestly, I think Caleb shot so many times and got in close and carried that kid's weight so many times that it just wore him out. Not that Caleb wasn't in shape or anything. But if you shoot that many times on a kid that is that long and strong, over time that's going to wear on you. And I think that's what happened with Caleb."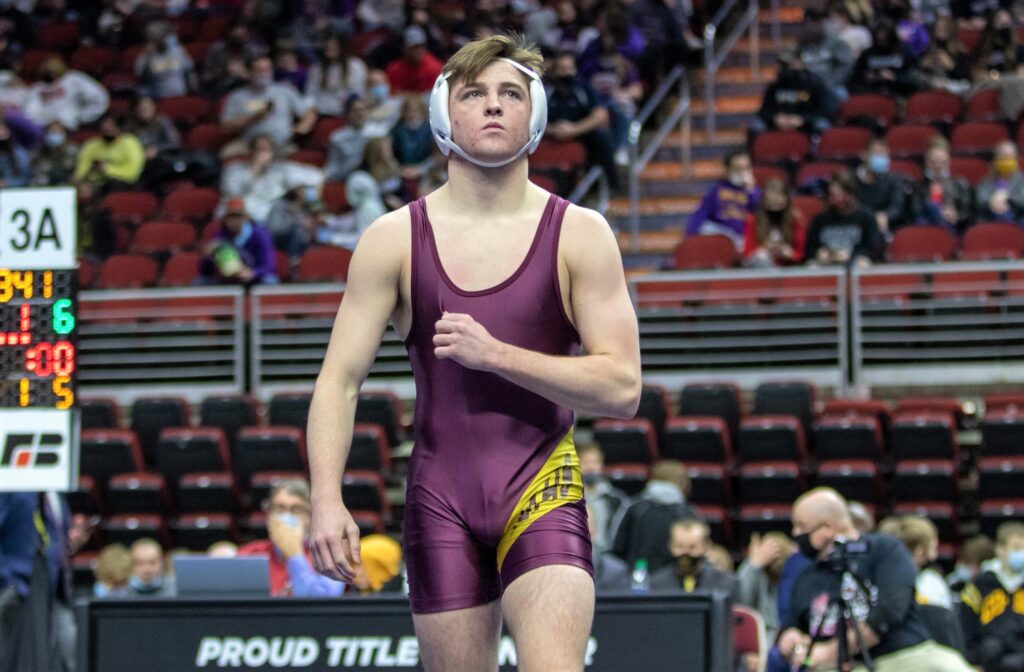 Eventually, Riggins got the winning takedown with about 40 seconds left. It came on the edge of the mat.
"Caleb defended it really well for about 7 seconds," Wignall said. "But Riggins was able to get around Caleb's hip before they (were ruled) off the mat. That's how close to the edge they were."
Rathjen then escaped and continued to put pressure on Riggins, but the Waverly-Shell Rock junior wasn't warned for stalling until the final seconds.
"You can't count on a stall call in any match," Wignall said. "It's so inconsistent with what they're going to call, and in a championship match you're more likely not to get a call with those kids. We didn't get that call, and that's the way it goes."
Like Anderson, Riggins overcame an injury to win the title. He injured his left knee in losing in the 132-pound final last year, then tore the meniscus in the same knee earlier this season.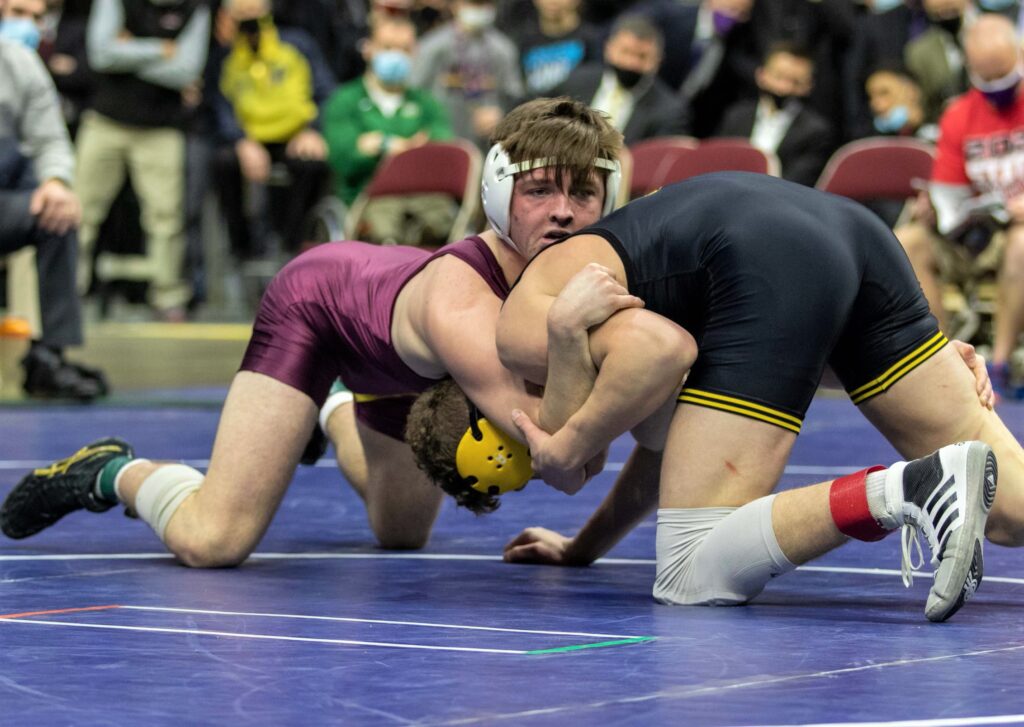 Riggins told the Waterloo Courier that he relied on grit to prevent Rathjen from winning a third crown.
"I mean he is a high caliber, elite wrestler committed to Iowa and he wanted it bad," Riggins said. "I think I'm one of the best wrestlers in the country along with him, and it came down to who wanted it more and I showed I did."
Riggins, who lost to Anderson in the 106-pound semifinals two years ago, finished with a 34-0 record. His victory helped the top-ranked Go-Hawks to a third consecutive team title.
"That kid wrestled a great match. If you win a one-point match in the finals against a stud like Caleb, you're doing something right," Wignall said. "Riggins was just a little bit better. If you wrestle that match 10 times, Caleb is probably going to win 70 or 80 percent of them. He's 0-2 against Riggins, but I just don't think that's going to happen every time."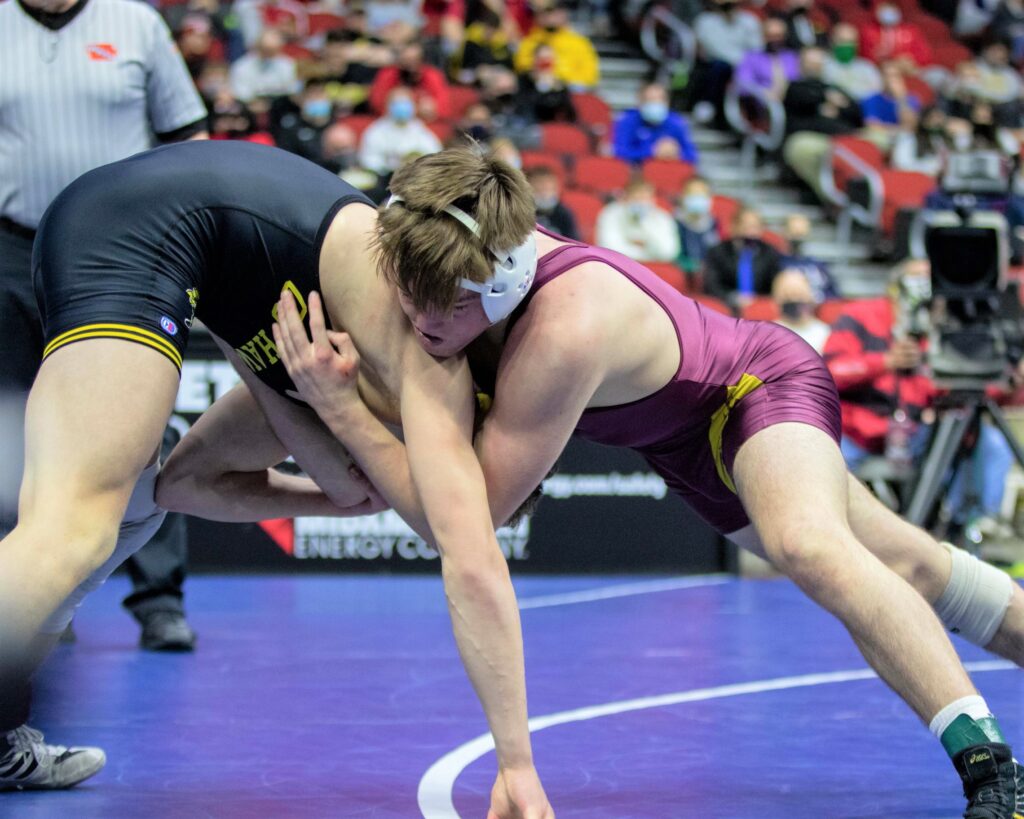 Rathjen finished with a 29-2 record. He also lost to Riggins at the Hempstead Duals.
A four-time finalist, Rathjen ends his career with a 133-6 mark. He is the most decorated wrestler in Ankeny history, although Anderson could eclipse him with a third championship next year.
"It's hard to win a title," Wignall said. "It's harder to win two, and it's even harder to win three."
Waverly-Shell Rock won its eighth crown overall with 154.5 points. No. 3 Waukee was second with 146, edging No. 2 Southeast Polk by three points.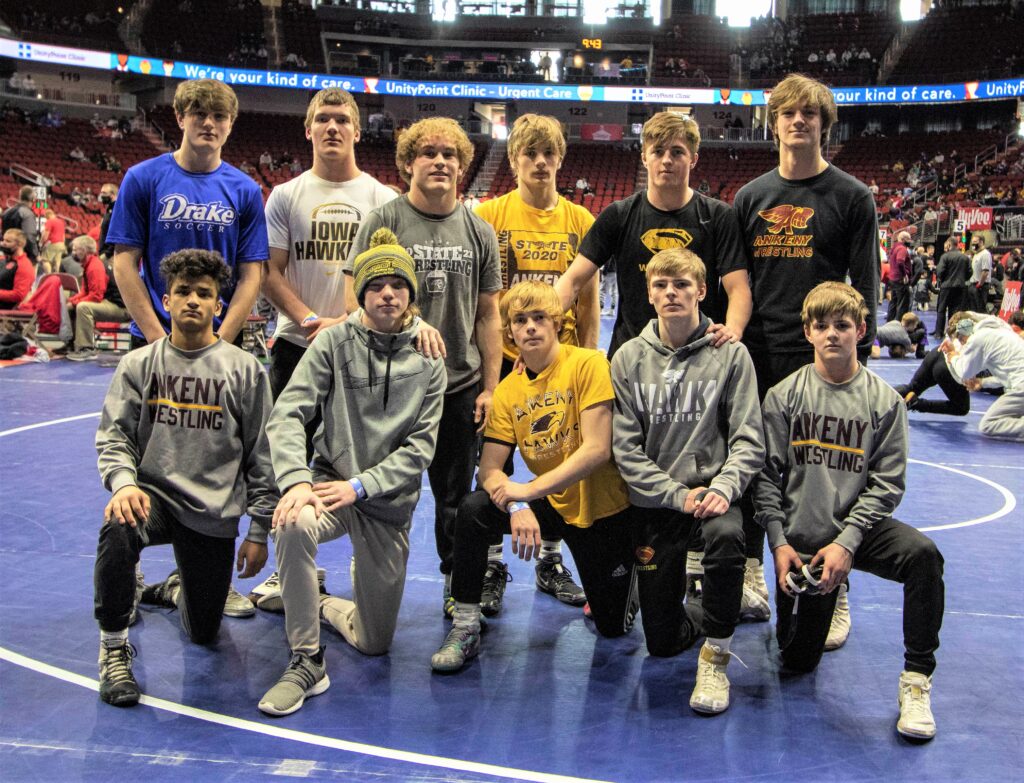 No. 8 Ankeny was in fourth place with 96.5 points before No. 5 Bettendorf won the last two individual titles at 220 and 285, allowing the Bulldogs to finish fourth with 100.5 points. Still, the Hawks' fifth-place finish was their highest ever under Wignall.
Earlier on Saturday, Ankeny got fourth-place finishes from Cael Cox at 126 and Cade Bennethum at 182. Jace Anderson took seventh at 138, and Ben Hansen finished eighth at 106.
"Every overnight success story is 20 years in the making. That's how I feel about our team," Wignall said. "We know that we've been working on this for eight years, and we know it's only going to get better. It's an exciting time to be an Ankeny Hawk wrestler."
Ankeny Centennial finished in 29th place with 16 points. The Jaguars got a fifth-place finish from Carter Cahill at 160.