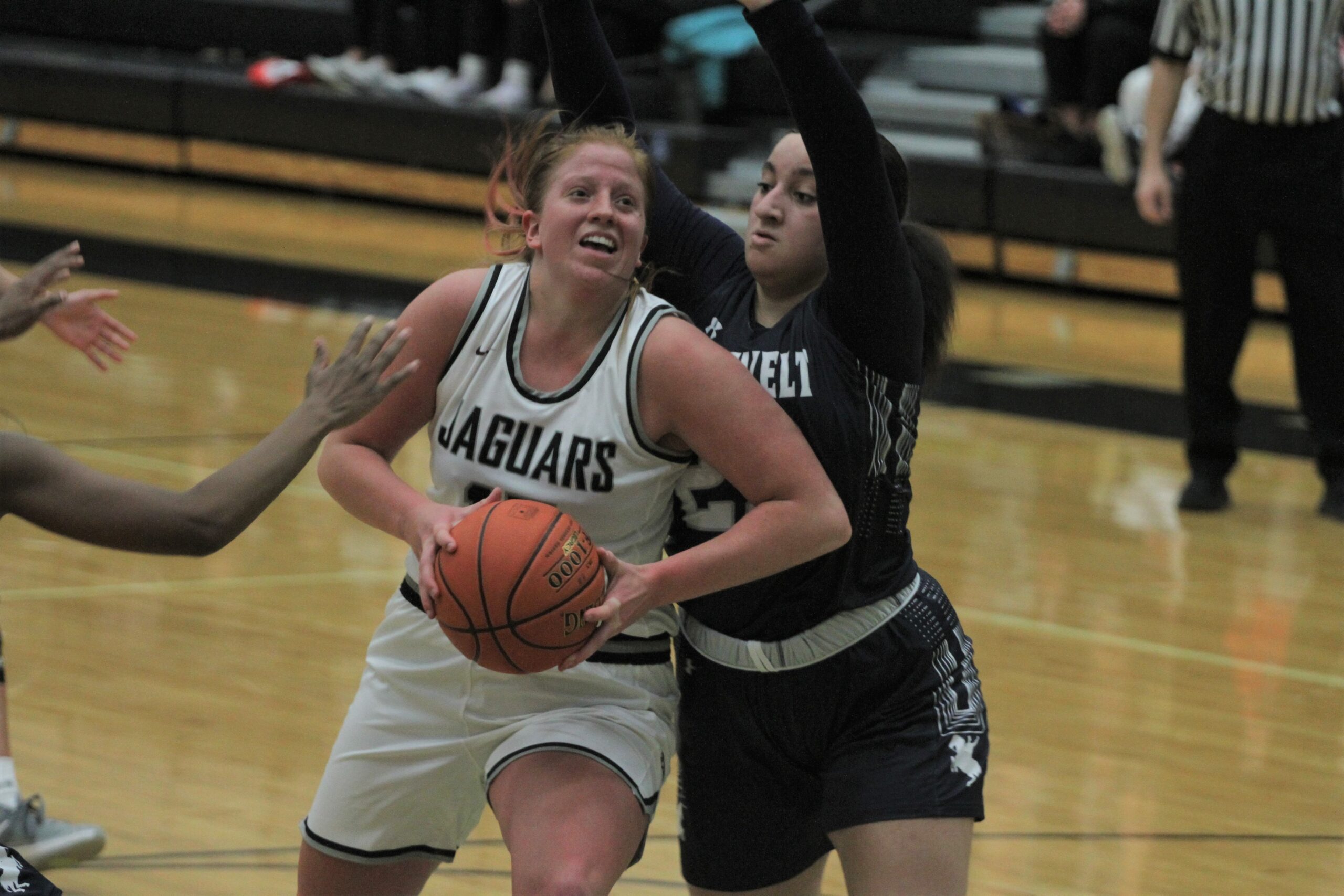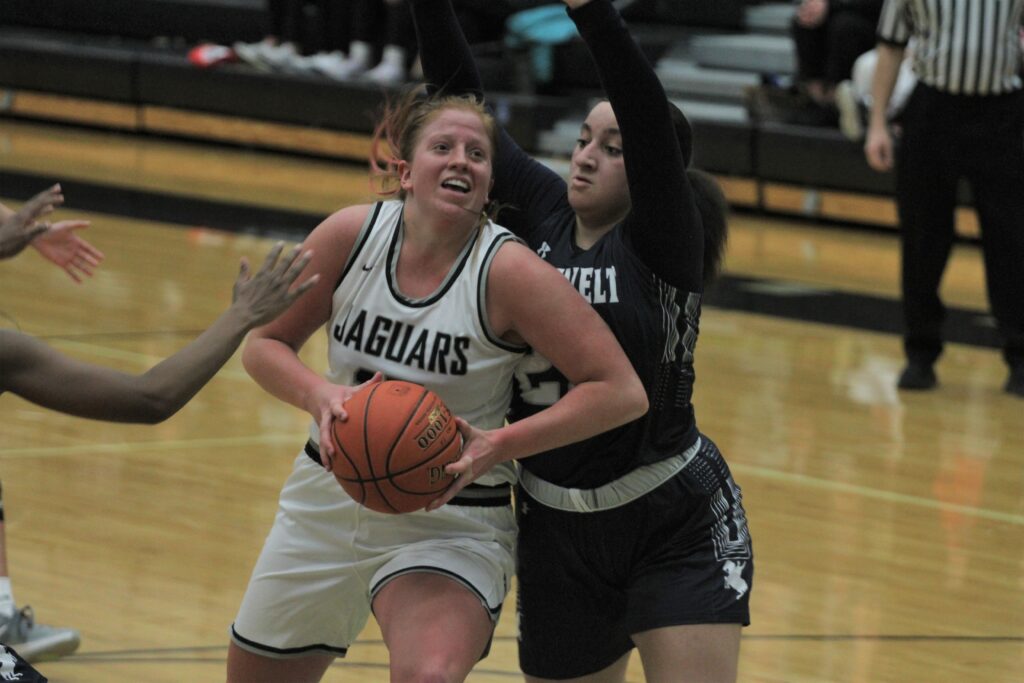 Scott DeJong has had some amazing wins in his legendary coaching career.
Tuesday's victory over Des Moines Roosevelt would have to be near the top of his list.
The fifth-ranked Ankeny Centennial girls' basketball team erased an 18-point deficit to beat No. 11 Des Moines Roosevelt, 44-42, in a Class 5A regional final at Centennial. The Jaguars advanced to the state tournament for the third time in school history.
"I can't say enough about our kids," said DeJong, who has won 661 games and seven state titles in his career. "We were down. Roosevelt, the first quarter, played lights out. If you're going to shoot like that, there's only so much you can do. But I'm so proud of how we stayed the course. Things started to turn our way, we got aggressive, and we just hung in there."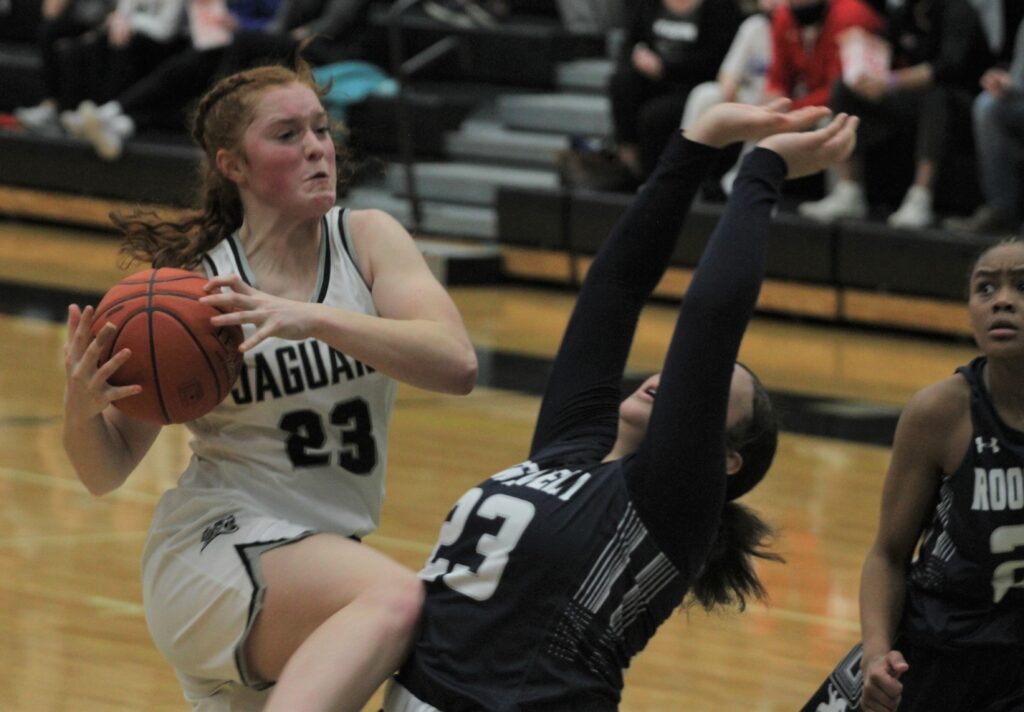 Centennial (15-2) started its comeback after Roosevelt's Amaya Davison made a jumper with 5 minutes left in the second quarter to give the Roughriders a 27-9 lead. The Jaguars held Roosevelt (10-2) to just 15 points over the final 21 minutes of the game.
"Honestly, I didn't think we were going to lose," said Centennial guard Maggie Phipps, who scored a game-high 19 points. "It was just having the confidence in my teammates and trusting them."
Centennial shot just 31.6 percent from the field (12-of-38), but the Jaguars made a trio of 3-point goals–and all of them came at crucial times.
Cleao Murray hit a 3-pointer midway through the second quarter to ignite a 7-0 run that pulled Centennial within 27-16 at halftime.
"I felt like somebody had to make a shot," said Murray, who finished with seven points. "I just stepped up when I could."
Murray made another 3-pointer with 28 seconds left in the third quarter to cut Roosevelt's lead to 34-27. Phipps followed with two free throws with 2 seconds left to make it 34-29 heading into the final period.
Phipps went 8-for-8 at the charity stripe and has made 26 straight free throws over the last four games.
"Coming back and really grinding it out with the team, it was awesome," Phipps said.
Centennial eventually tied the game at 35-35 on a pair of free throws by Bella Robben with 5:44 remaining. Robben then scored off a pass from Olivia Anderson to give the Jaguars their first lead, 37-35, at the 4:57 mark.
Roosevelt later tied the score at 39-39 on two free throws by Davison with 1:49 left. But Phipps then answered with a 3-pointer just 12 seconds later, giving Centennial the lead for good.
Phipps was just 4-of-18 from the field, and 0-for-4 from behind the arc, before swishing the go-ahead basket.
"I thought we missed a lot of shots early–it was a very physical game," DeJong said. "But I'm just so proud of these guys, under pressure, how they came through."
Phipps also drew a charging foul against Roosevelt's Arianna Jackson with 13 seconds left to help preserve the win. Elle Street connected on two free throws with 9 seconds remaining to give the Jaguars a 44-39 advantage.
Davison made a 3-pointer at the buzzer to produce the final margin.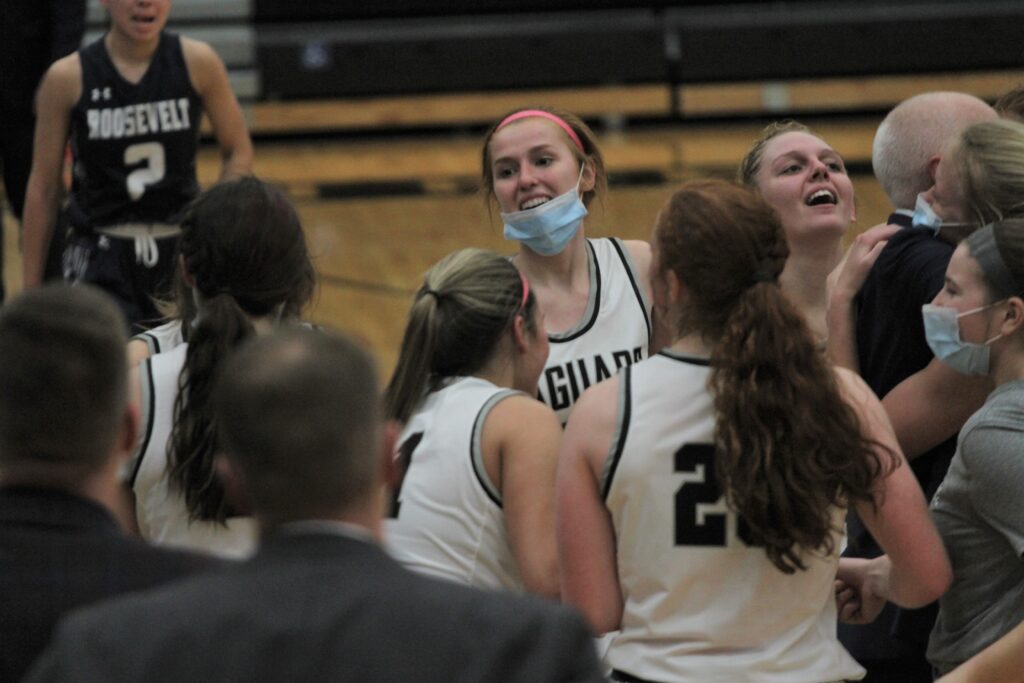 "It feels really good to make it to state," Murray said. "It's the best feeling ever."
Robben grabbed eight rebounds for the Jaguars. Averi Porter dished out four assists.
Jackson led Roosevelt with 15 points. Davison chipped in 13, and Trinity Cheatom added 10.
Jackson had 13 of her points in the first quarter. The Iowa State recruit hit her third 3-pointer at the buzzer to give the Roughriders a 22-7 lead.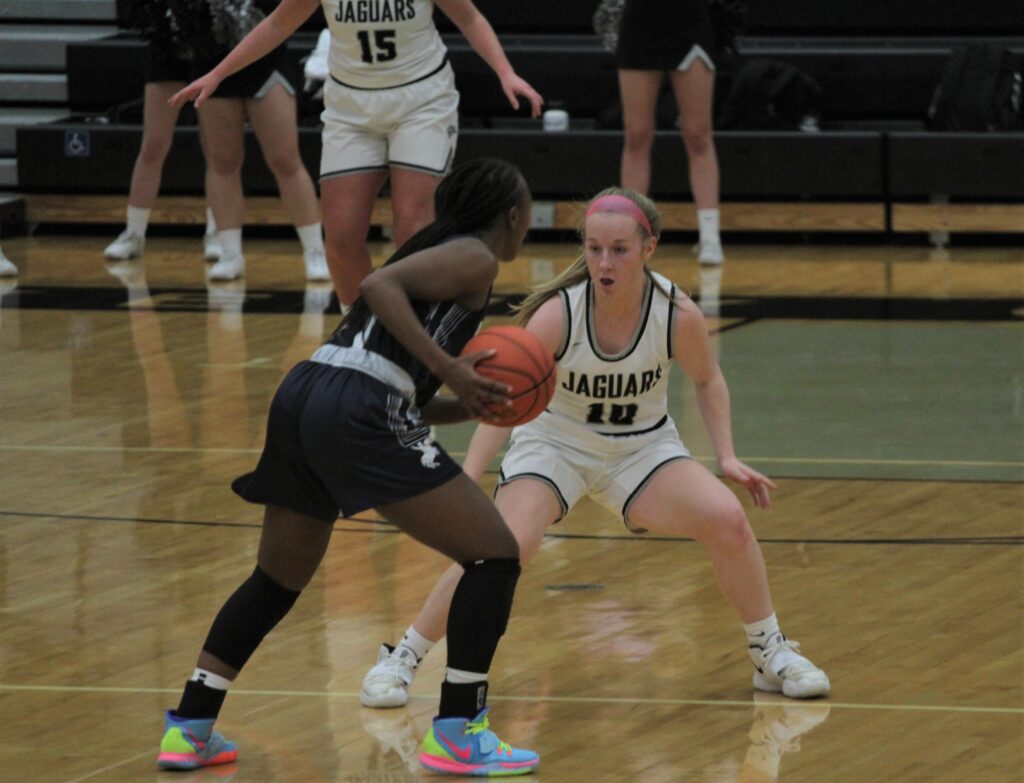 "We were trying to face-guard her, but not allow the backdoor (layup)," Street said. "We were also trying to deny her the 3-point shot because she's a great shooter. Honestly, my confidence wasn't so high because of the way they were shooting, but we kept pushing through it."
DeJong called a couple of timeouts to try to stop the bleeding. He told the Jaguars to stick to the game plan.
"Defense is what we had to hang our hat on," he said. "We weren't going to get (those points) all back at once."
Centennial extended its winning streak to five games. The Jaguars also rallied to beat Dowling Catholic, 48-40, on Feb. 9.
"It's normal to be down in these situations, but you've just got to fight back and play every possession like we want to win," Murray said.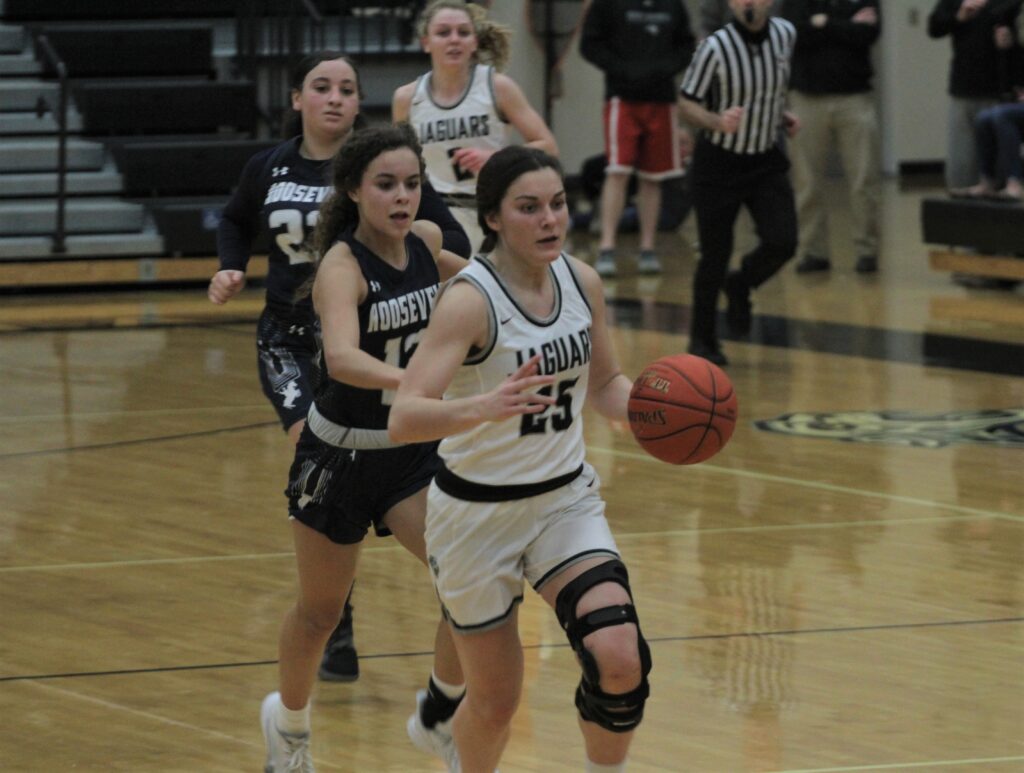 Phipps will be playing in her fourth state tournament. She helped North Polk to three consecutive appearances, including a pair of runner-up finishes, before transferring to Centennial.
"It's great every time," Phipps said. "But to play with these girls this season and to get there, it's a great feeling."
Centennial will meet No. 4 Southeast Polk (15-3) in a Class 5A quarterfinal on Monday at Wells Fargo Arena. Tip-off is at 11 a.m.
The two teams also met in the 2019 quarterfinals. The Rams won, 61-56, in overtime.
"Now we know what we need to work on, and we can use that in our future games," Murray said.