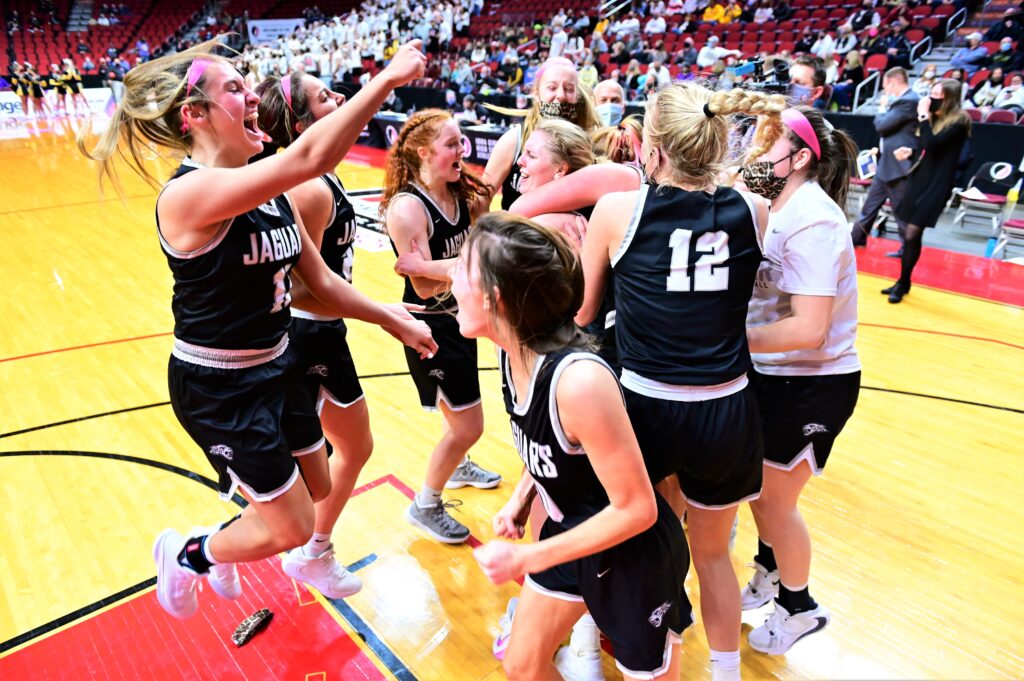 March Madness is off to a roaring start at Wells Fargo Arena.
Jackie Pippett scored the winning basket at the buzzer to give the fifth-ranked Ankeny Centennial girls' basketball team a 47-45 victory over No. 4 Southeast Polk in the Class 5A quarterfinals on Monday.
"I really didn't even think I was going to get the ball," said Pippett. "But I did, and I'm just really thankful that the ball went in."
Centennial (16-2) overcame a 14-point deficit to end a four-game losing skid against Southeast Polk (15-4), which defeated the Jaguars in overtime in the quarterfinals two years ago. The Rams led almost the entire way in Monday's game before a wild sequence produced a controversial finish.
Southeast Polk had a chance to win at the end of regulation, but Grace Larkins was tied up as she drove to the basket with 6 seconds left. Centennial was awarded the ball on the alternate possession.
"We wanted to get it inbounds to Maggie (Phipps) in the open court, but Grace was sitting there and she's hard to throw the ball over," said Centennial coach Scott DeJong. "I thought we had something good, but then all of the sudden (we didn't)."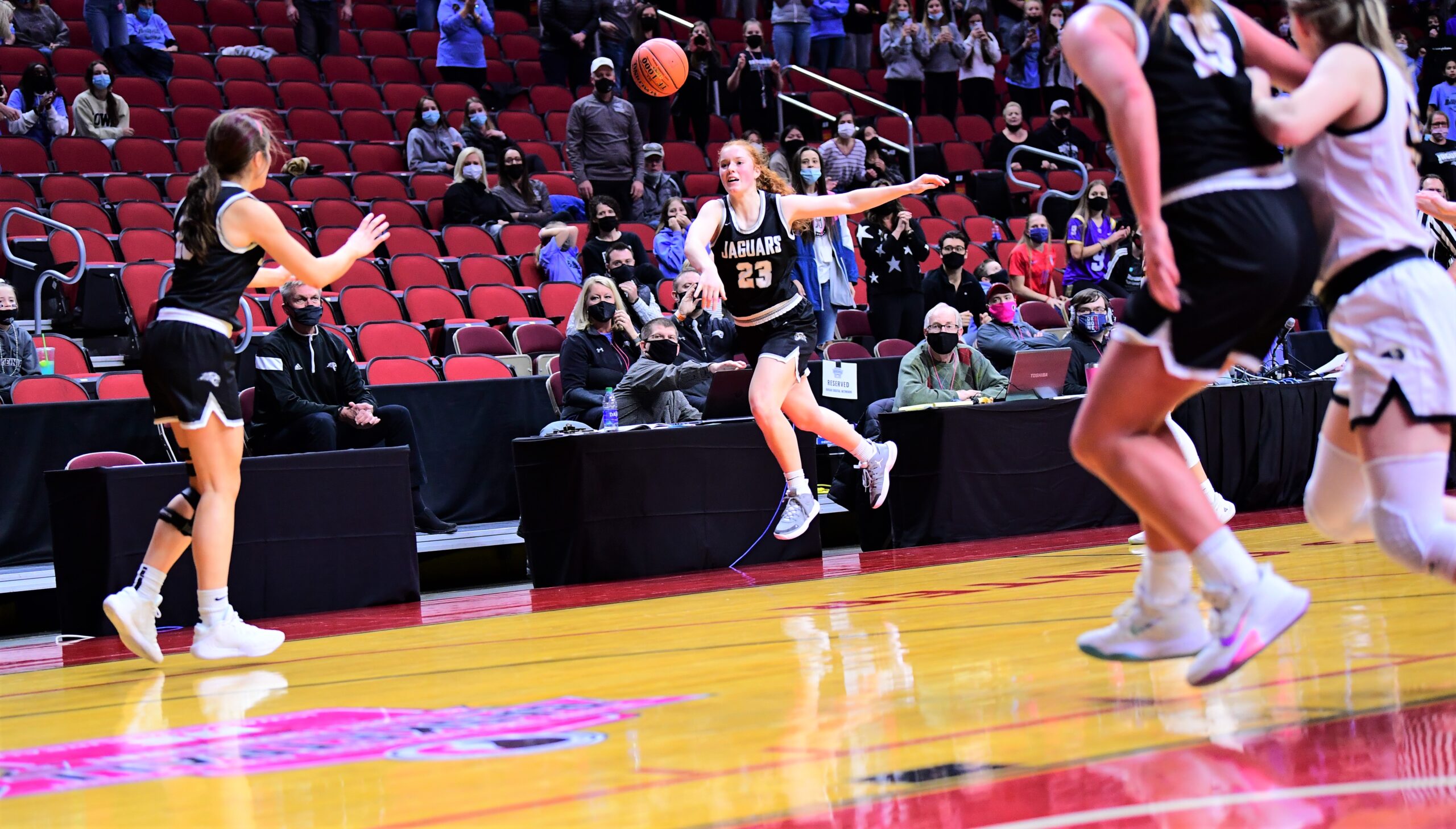 The inbounds pass was intended for Cleao Murray, but the ball was tipped away and ended up in the hands of Centennial's Bella Robben. She dished it off to Phipps near midcourt as the clock was winding down.
Phipps appeared to be bumped by a Southeast Polk defender as she raced up the sideline, then stepped out of bounds while trying to pass the ball ahead. However, the referees didn't blow their whistles and play continued.
"I kept my eyes up and knew that they were going to come and trap or get me to go out of bounds, so I just had to throw it away quickly," Phipps said.
Phipps batted the ball into the corner to Murray, who then re-directed it to Pippett in the lane. Pippett scored as time expired.
"I knew Jackie was standing right under the basket as I was running down the court," Murray said. "I just wanted to put my team in a position to win the game. It was a very exciting ending to a hard-fought game on both ends!"
Pippett finished with 15 points and six rebounds. Murray had five assists, including the biggest one of her career.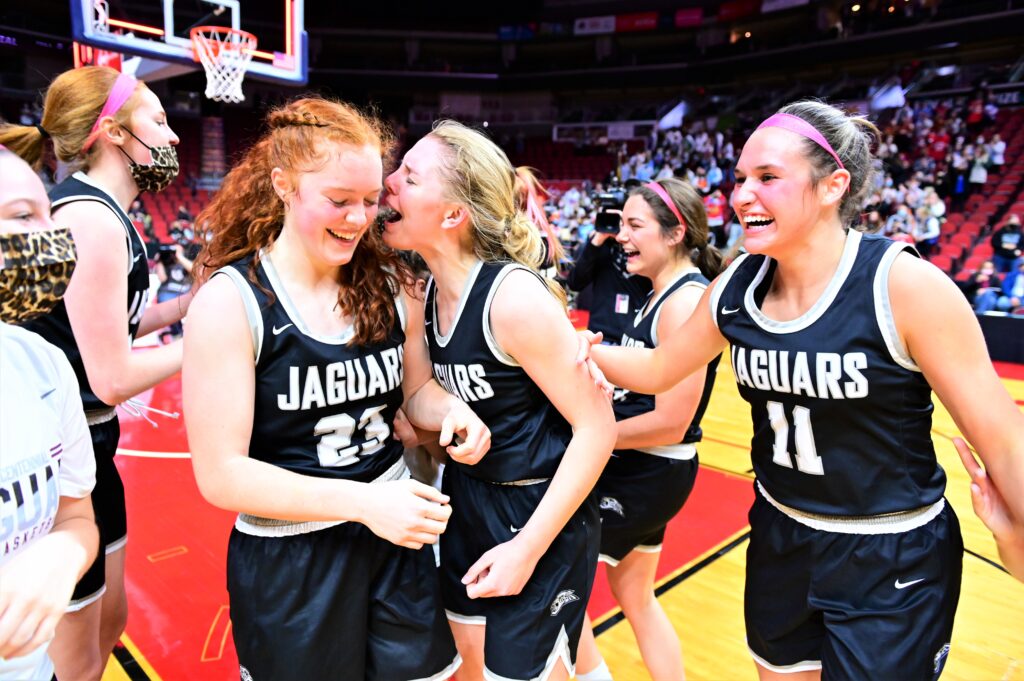 "You know, the kids stayed with the course (on that final play)," DeJong said. "Cleao, to be so heads up and kick the ball right into Jackie quickly, took advantage of the opportunity. We wanted to get the floor spread and get something going that way, and it ended up that way. Just not how we planned."
It marked the second straight game that Centennial battled back from a double-digit deficit. In Tuesday's regional final, the Jaguars rallied from 18 points down to beat Des Moines Roosevelt.
On Monday, Centennial dug itself a 26-12 hole before outscoring the Rams, 35-19, the rest of the way.
"We're never thinking we're going to lose," Phipps said. "We just had to keep our cool and control the tempo."
Phipps was held to a season-low seven points, but she scored off an inbounds play to pull Centennial within 26-17 at halftime. The Jaguars then got back-to-back 3-point goals from Elle Street and Averi Porter to close the gap to 31-27 midway through the third quarter.
"When you get here and you're ahead and the other team is coming back and is really determined, that's not easy," DeJong said. "And that's kind of what we talked about. Keep coming, keep coming."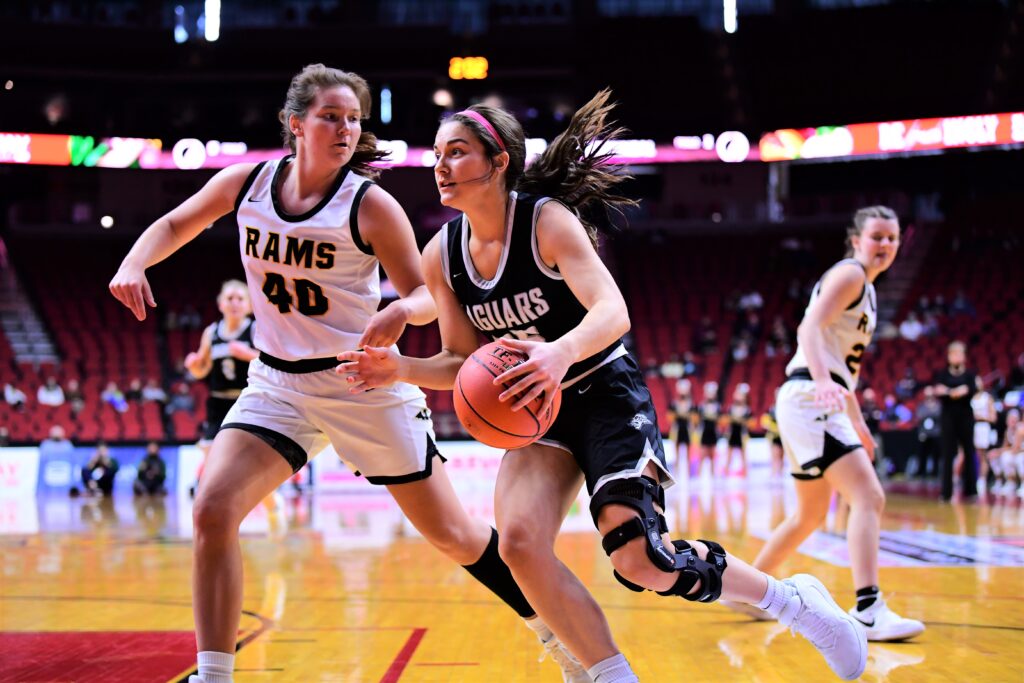 Southeast Polk held a 36-31 lead after three quarters. Robben then opened the final period with a 3-pointer, just her third of the season.
"It was a great feeling," Robben said. "I knew it would start propelling the rest of the team."
After Robben scored off a pass from Murray to tie the game with 6:37 left, the two teams traded baskets for the next few minutes. Pippett converted a nifty layup with 3:40 remaining to tie the score at 42-42.
"I had confidence the whole time," Pippett said. "Even in the Roosevelt game, I never lost hope in our team, because we all trust each other and we have faith in each other that we can come back and win."
Southeast Polk regained the lead on a free throw by Larkins, but Pippett then converted a 3-point play with 2:08 left to put the Jaguars ahead for the first time. On the Rams' ensuing possession, Larkins was credited with a tying basket when Street deflected a pass in the lane into the hoop.
"The ball bounced our way a few times, but they also went against us a few times," DeJong said.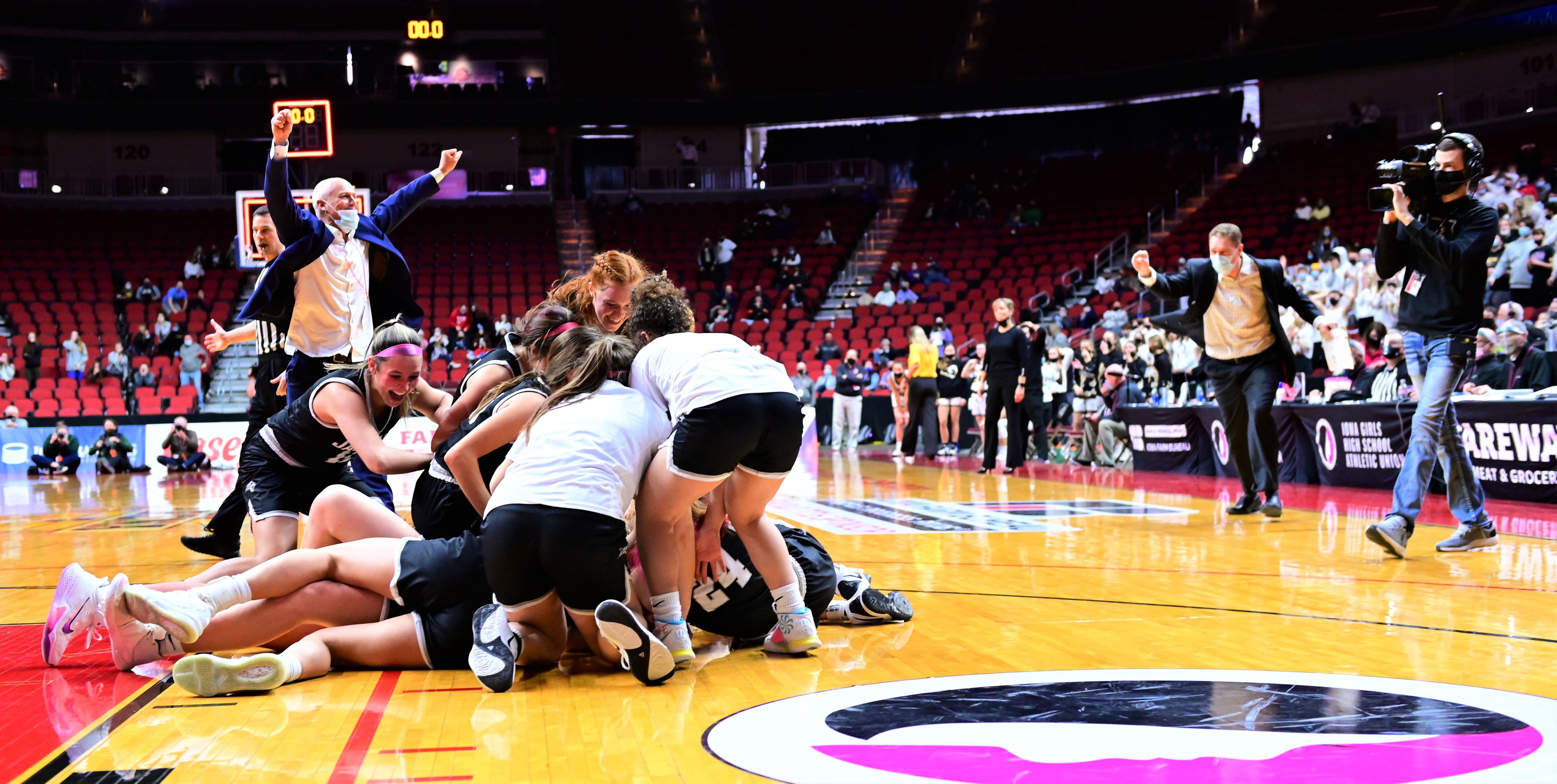 That set the stage for the dramatic finish. Centennial's final play appeared to be unraveling, but Phipps–and then Murray–got the ball where it needed to be.
Robben was pleasantly surprised after initially thinking that the play was doomed.
"I probably said some words that I shouldn't say here," she said. "But the clock didn't stop and I didn't hear the buzzer, so we just kept playing. I thought if we go to overtime, it'll be just like two years ago when I was sitting on the bench. But we made it out (with the win), so it's all good."
Robben scored seven of her nine points in the fourth quarter. Street added seven points.
Larkins led Southeast Polk with 15 points and five rebounds. Brooklin Dailey had 14 points.
The Rams were held to just 37.1 percent shooting (13-of-35). They were also outrebounded by a 27-18 margin.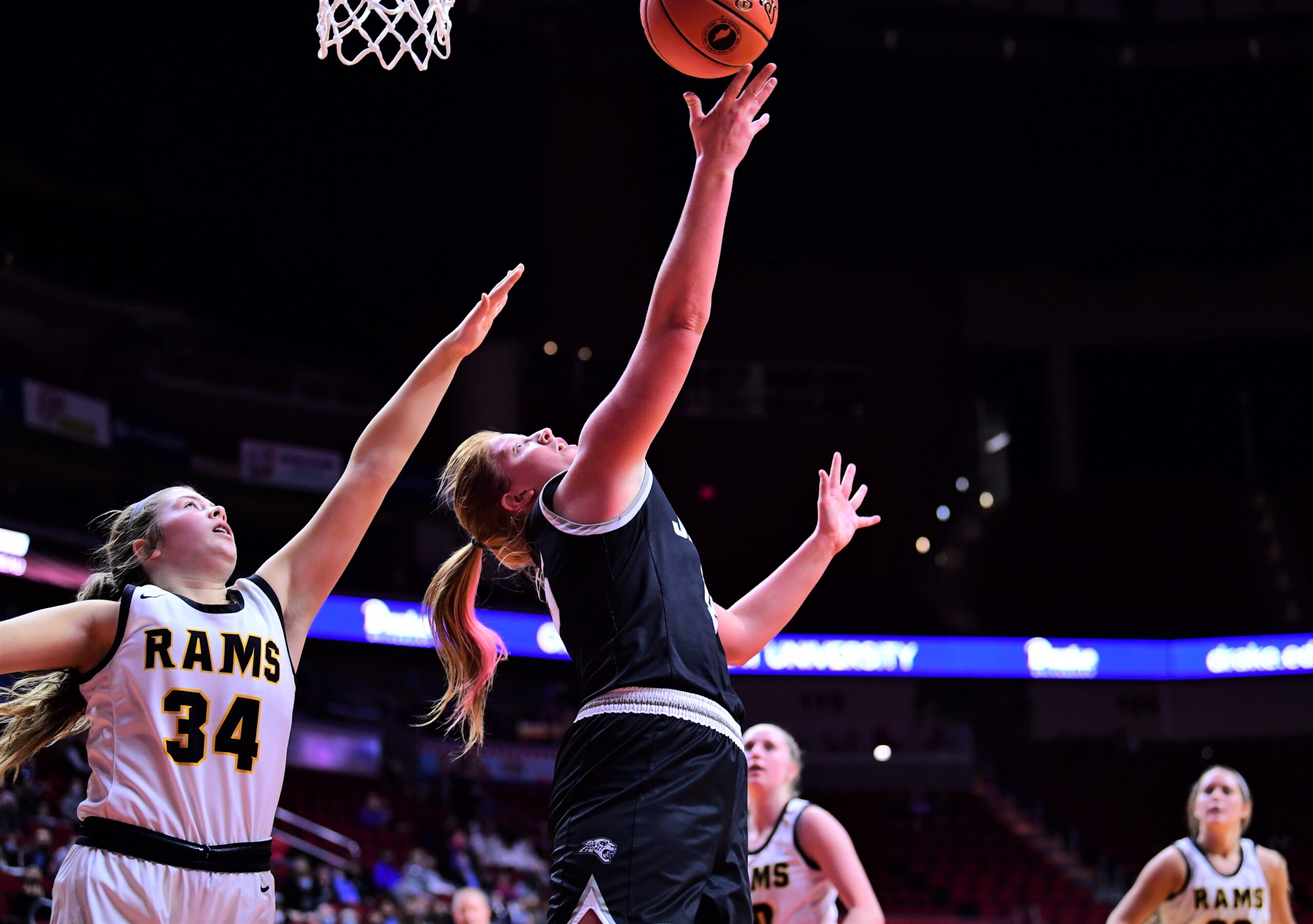 "They came out hard and strong, but we just had that little push at the end that really helped us," Pippett said.
The Jaguars advance to play No. 1 Waukee (11-1) in Thursday's semifinals at 10 a.m. They will try to avenge a 56-46 loss on Feb. 2, when the Warriors overcame the absence of their best player–Katie Dinnebier.
"They're a great team, and the last time we played them I don't think we played very well," said Phipps, who will join Dinnebier at Drake next season. "We're going to give it our best shot, and I think we're going to be a contender against them."
Waukee advanced with a 60-37 victory over No. 9 Dowling Catholic on Monday. The Warriors made nine 3-pointers in the first half to build a 41-14 advantage.
"I have so much confidence in my team," Robben said. "Waukee's a fantastic team, but I think we're going to win. I'm pretty confident."
No. 2 Johnston (17-1), the defending champion, will face No. 6 Iowa City West (14-3) in the other semifinal on Thursday at noon. The championship game is slated for Friday at 7 p.m.