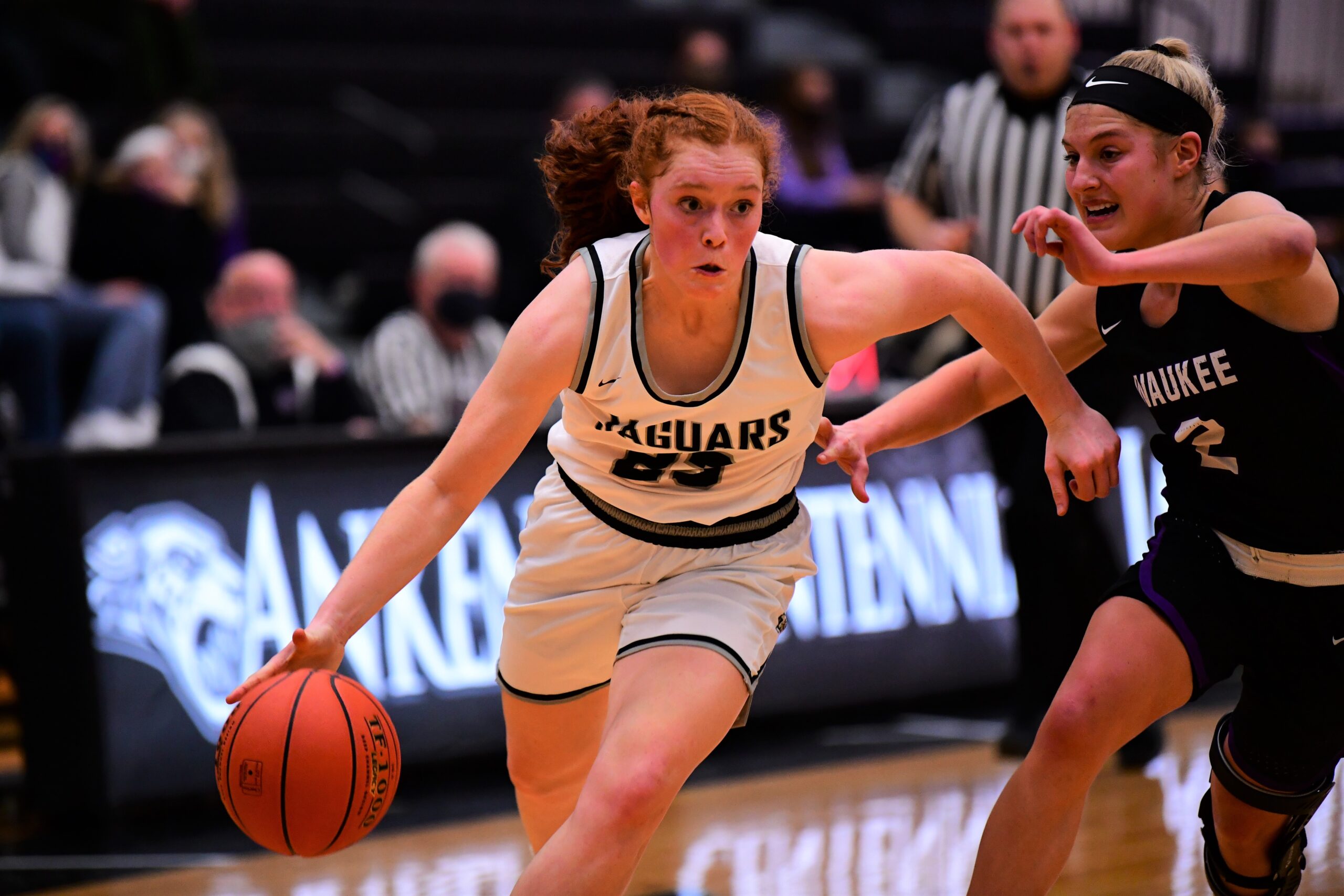 I'm not sure if Thursday's Class 5A semifinals in the girls' state basketball tournament can match the intensity and the drama of Monday's quarterfinals, but you never know. That's why they play the games.
The Final Four includes three teams from the CIML as well as sixth-ranked Iowa City West, which avenged an earlier loss to No. 3 Waterloo West to reach the semifinals. The Trojans will try to knock off defending champion Johnston in Thursday's second game at noon.
The opener at 10 a.m. will feature a rematch between Waukee and Ankeny Centennial. The No. 1 Warriors posted a 56-46 victory at Centennial on Feb. 2.
For more on both games, check out this week's edition of the Ankeny Fanatic weekly podcast.
The guests included coaches Chris Guess of Waukee and Scott DeJong of Centennial along with senior forward Jackie Pippett, who scored the game-winning basket at the buzzer in the Jaguars' win over Southeast Polk on Monday.
So which two teams will advance to Friday's championship game? Here are Ankeny Fanatic's predictions for the semifinals:
No. 1 Waukee (11-1) vs. No. 5 Ankeny Centennial (16-2): Nobody played better on Monday than the Warriors, who made nine 3-point goals in the first half en route to a 41-14 lead over Dowling Catholic. If Waukee can play like that for eight more quarters, you can hand the championship trophy to the Warriors–because they'll be cutting the nets down. Waukee is ranked No. 1 for a reason; they combine a potent offense with a stingy defense. But the Warriors aren't unbeatable–Johnston proved that in a 51-45 victory at Waukee on Jan. 8. The Warriors made just 5-of-16 3-pointers in that game, and if they shoot like that on Thursday, then Centennial will have a chance to pull off an upset. The Jaguars are coming off two dramatic come-from-behind wins from double-digit deficits, and they believe that they can knock off the tournament favorite. But a lot of things will have to go their way in order for it to happen. The guess here is that Centennial once again falls behind by double digits, and this time the Jaguars' rally comes up just short. Prediction: Waukee 58, Centennial 54.
No. 2 Johnston (17-1) vs. No. 6 Iowa City West (14-3): The Dragons have won six straight games since losing the rematch to Waukee on Feb. 4, while Iowa City West has reeled off 12 consecutive victories since suffering through a three-game losing streak in early January. The Trojans are the lowest seed remaining, but they have been in this position before. In 2018, they entered the state tournament with a 16-7 record but cruised to the title, winning three straight games by double-digit margins. Iowa City West star Audrey Koch battled foul trouble on Monday and scored just two points in 19 minutes of action, so she could be ready to have a breakout game on Thursday. But Johnston has a star of its own in Jada Gyamfi, the Iowa recruit who racked up 19 points and 18 rebounds in Monday's win over Cedar Falls. The Dragons will hold off another foe from the Mississippi Valley Conference, setting up another showdown against Waukee for the crown. Prediction: Johnston 65, Iowa City West 59.