The Waukee girls' basketball players were well aware of Ankeny Centennial's ability to come back from a double-digit deficit.
The top-ranked Warriors weren't about to let it happen again.
Waukee built a 28-18 halftime lead, then used a 17-0 run in the fourth quarter to pull away for a 50-29 victory over No. 5 Centennial in the Class 5A semifinals on Thursday at Wells Fargo Arena.
"We knew that whatever game it is, they're never out of it," Waukee senior Lindsey Kelderman said of the Jaguars. "They were down by 18 (points) to Roosevelt (in the regional final) and 14 to Southeast Polk (in the Class 5A quarterfinals), so we knew even if we were up 10 we couldn't let up because they were going to come back. They're capable of anything."
Centennial was still within striking distance after Cleao Murray made a 3-pointer early in the fourth quarter to cut Waukee's lead to 33-27. But Kelderman answered with a 3-pointer for the Warriors, then Katie Dinnebier drilled another one when she pulled up on a fast break and swished a dagger from well behind the arc.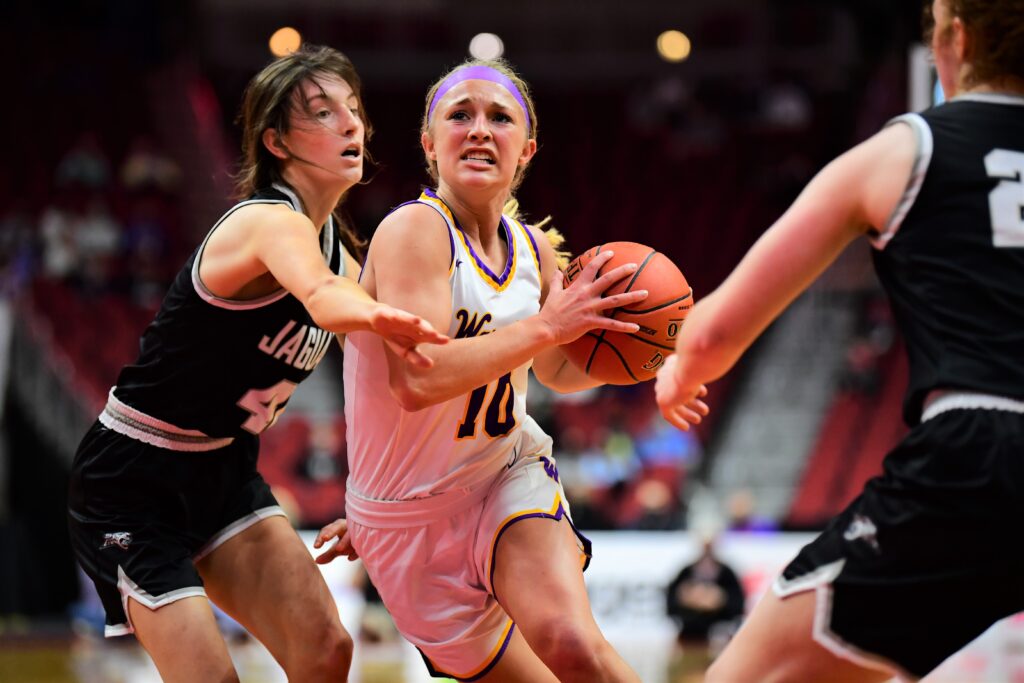 That was the start of Waukee's 17-0 run that sealed the victory.
"We just knew even if we were up by 10 or 15 that they had a shot to get back in this game," said Waukee senior Megan Earney. "They're a really skilled team, and they're capable of coming back. We just knew we had to keep our feet on the gas and keep going."
Centennial was held to its lowest point total of the season. It marked only the fifth time in program history that the Jaguars were held to fewer than 30 points.
"We couldn't buy a basket," said Centennial coach Scott DeJong. "We had open looks–we had some good looks–but I think we got a little 3-point happy. Our plan was to get the ball in the paint. We said, 'Don't settle (for 3s).' But the way they were playing (defense), those were the shots we had. We weren't able to hit them today."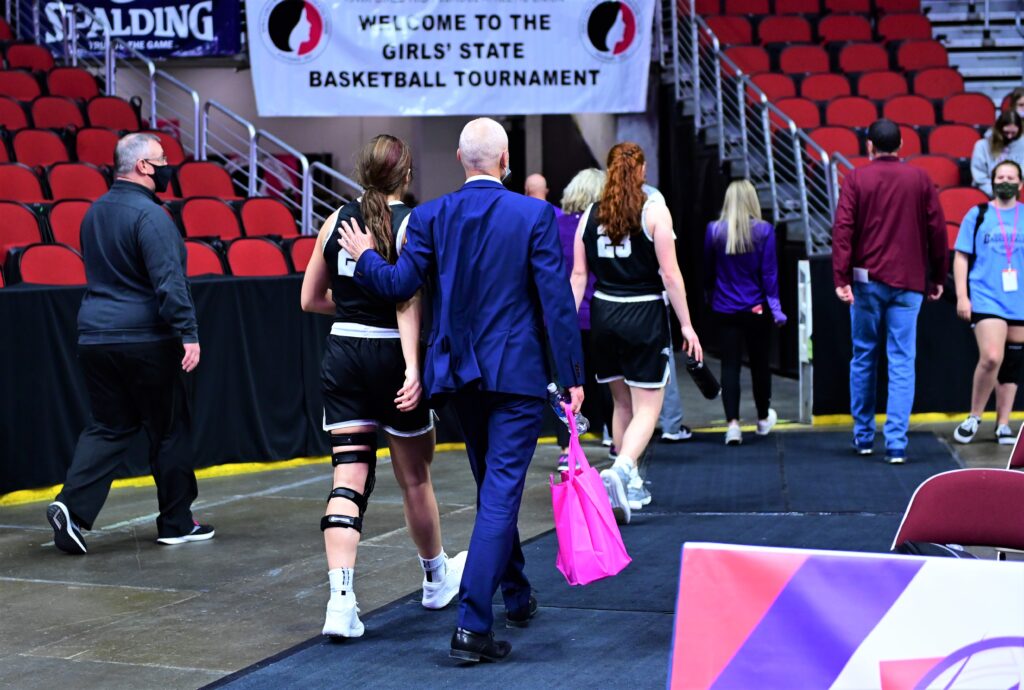 Maggie Phipps led Centennial with 10 points–all of them in the first half. Murray had nine points, and Jackie Pippett added eight.
Nobody else scored for the Jaguars until Olivia Anderson made a basket with 20 seconds left, ending Waukee's 17-0 run. Centennial shot just 21.7 percent in the second half (5-of-23).
"It was a gritty effort by our kids," said Waukee coach Chris Guess. "They just really fought hard, especially Megan inside battling Pippett. That was the key to control the paint, and then obviously our guards controlling Phipps. It was a great defensive effort."
The Warriors (12-1) advanced to Friday's championship game against No. 2 Johnston (18-1), which posted a 52-47 win over No. 6 Iowa City West in the other semifinal. The Dragons defeated Waukee, 69-65, in last year's final.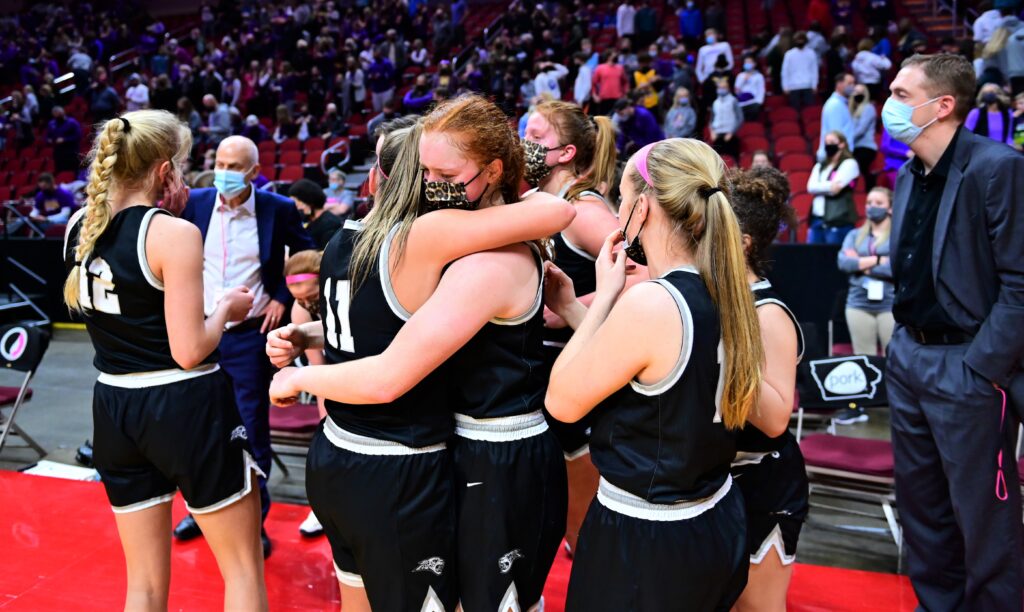 "It's crazy," Earney said. "We knew we wanted to make it back after losing in the championship last year. We just had that feeling in the locker room after the championship game that we didn't want to have that feeling again."
Centennial ends the season with a 16-3 record. Two of its losses came to Waukee, which has now won the last four meetings against the Jaguars after losing the previous seven contests.
"It's been a wonderful season," DeJong said. "We're so thankful that we've had the opportunity to play. The people that were in charge–that allowed that to happen–we're very thankful. Our team grew a lot. The last two games we won were just epic memories. When we look back, we're going to be doing a lot of smiling on this season."
Phipps ends her high school career with 1,643 points. She helped North Polk to back-to-back runner-up finishes at the state tournament before transferring to Centennial for her senior season.
"I couldn't have imagined a better year with these girls," said Phipps. "Even in the summer I didn't get the opportunity to play with them a whole lot because of COVID and then I actually broke my back, so I was out for half the summer. But right from the start, they welcomed me in. It was great."
Phipps is headed to Drake, where she will be joined by Dinnebier next year.
"She's a great player all around and a (great) person, too," Phipps said.
Dinnebier didn't play when Waukee posted a 56-46 victory at Centennial a month ago. On Thursday, she scored a game-high 20 points, 13 of them in the fourth quarter.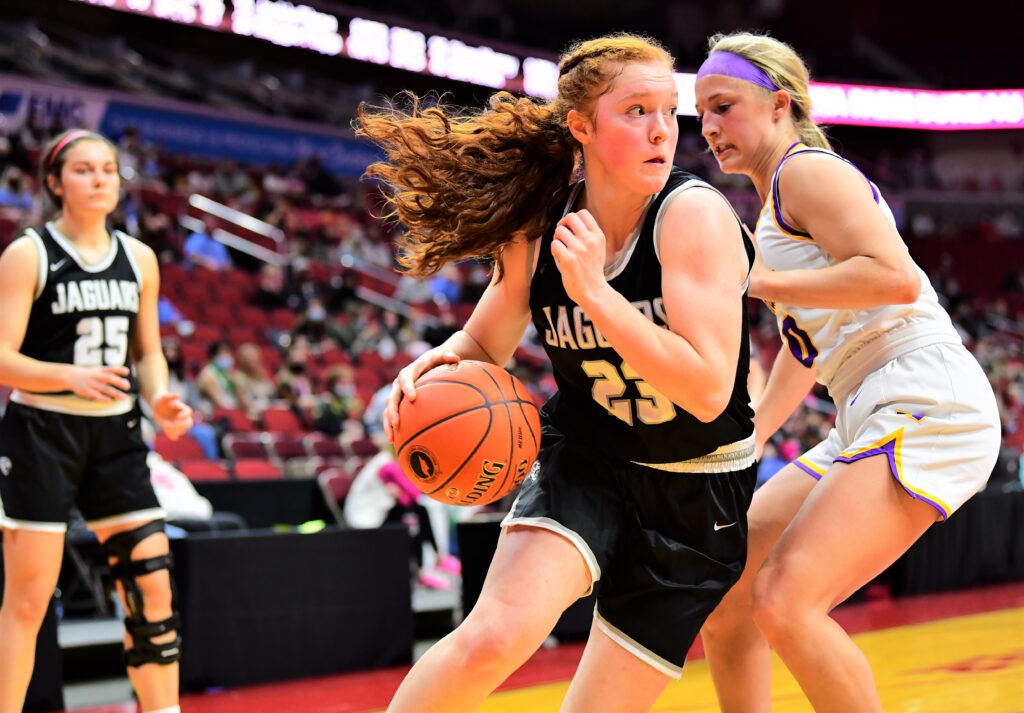 "(That earlier win) definitely gave us confidence, but you can never count anybody out," said Dinnebier, who went 10-of-12 at the free-throw line. "We knew that they're a scrappy team, and they've definitely gotten better. We feel like we've gotten better as well, and we knew we had to come out ready to go today."
The Warriors tried pressing Centennial to open the game, but the Jaguars handled the pressure. Phipps got loose on the perimeter and scored eight points in the first quarter, including a pair of 3-pointers.
"The passes were great," Phipps said. "We just played really great team offense. It just happened that later on our shots didn't go in."
Waukee also came out on fire, making four 3-pointers in the opening period. Kelderman had two of them, including one that gave the Warriors an 18-13 lead heading into the second quarter.
"I was really proud of how we came out," DeJong said. "I thought our defense was really, really good, but they were hitting shots and so were we."
After Phipps scored on a backdoor play to open the second quarter, Waukee answered with a 10-3 run to end the half. Phipps never scored again.
"We wanted to get going in the full court because we like that style of play, but it wasn't successful because too many kids got open looks," Guess said. "But Centennial and Waukee…how could that be an offensive shootout? So we switched it up. We weren't getting any points off the press, so we switched it up."
The Warriors began face-guarding Phipps, a strategy that they also used to hold her to nine points in the earlier meeting.
"That seemed to work well last time, and watching some other games that seemed to work pretty well," Dinnebier said. "So that was our plan today."
Meanwhile, three Waukee players had six points at the half. Two others had five points.
"Everybody that plays can score," Earney said. "It's just whoever (the defense) tries to take away, the other person is going to step up. We just know that somebody will be ready to step up and take that next big shot."
In the third quarter, though, Waukee went ice cold. The Warriors made just 1-of-14 shots, including 0-of-8 from behind the arc.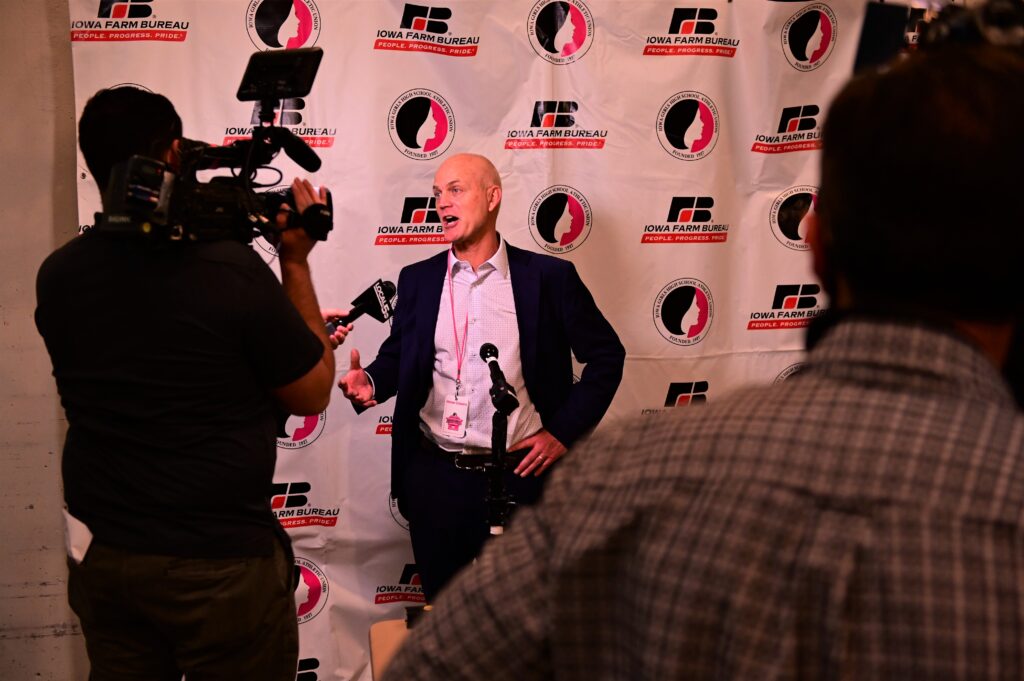 Dinnebier scored the team's only basket on a driving layup, but Centennial didn't shoot much better, going 3-of-13 from the field. The Jaguars could only pull within 30-24 after three quarters.
"We just couldn't make a run at them," DeJong said. "Our defense gave us opportunities, but we couldn't capitalize."
Centennial got the ball to open the fourth quarter, but a turnover led to a 3-pointer by Dinnebier from the left corner. After the Jaguars got a 3-pointer from Murray, Kelderman responded with another trey to ignite Waukee's huge run.
"It just feels really good (to make the title game)," Kelderman said. "It's been our goal since day one of practice this year. We have our eyes on the prize, and we know what we want and we're on our way to get it."
Waukee shot just 30 percent from the field (12-of-40), but made 17-of-23 free throws. Kelderman had nine points and her twin sister, Peyton, added seven points, eight rebounds and four assists.
Centennial's Lizzie Strom had seven rebounds in just 10 minutes of action, but the Jaguars were outrebounded by a 32-24 margin. Bella Robben added five boards and six assists.
Strom, Robben, Pippett and Phipps all played their final game for Centennial. Phipps said she was proud of what the Jaguars accomplished.
"Just the experiences we had, especially those two comeback wins," Phipps said. "You couldn't even write a story about it."