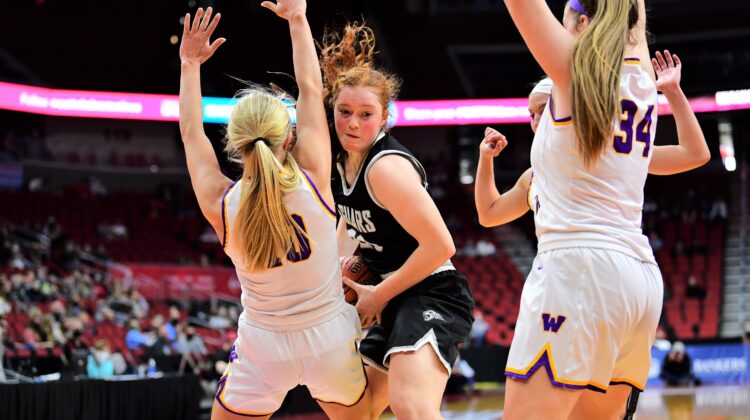 Maggie Phipps of Ankeny Centennial and Abby Johnson of Ankeny were among 12 girls' basketball players from the Central Iowa Metropolitan League to earn all-state honors from the Iowa Girls' Coaches Association. A total of 24 players was honored in Class 5A.
Phipps, a senior guard, was named to the Class 5A first team. Johnson, a senior forward, was a second-team selection.
Phipps, a Drake recruit, averaged 17.3 points per game while leading Centennial to a 16-3 record. The Jaguars won the CIML Iowa Conference title and reached the semifinals of the Class 5A state tournament before losing to eventual champion Waukee.
Johnson, a Northern State recruit, averaged 15.8 points and 4.9 rebounds. She led the Hawkettes to a 10-7 mark, including a second-place finish in the conference.
Phipps was joined on the eight-player first team by four other standouts from the CIML–Katie Dinnebier of Waukee, Jada Gyamfi of Johnston, Grace Larkins of Southeast Polk and Caroline Waite of Ames.
Johnson was one of four CIML players on the second team. The others are Lexi Boles of Dowling Catholic, Ashley Iiams of Ames and Arianna Jackson of Des Moines Roosevelt.
Three more CIML players were third-team selections. They are Peyton Kelderman of Waukee, Meredith Rieker of Valley and Aili Tanke of Johnston.
Chris Guess of Waukee was named the Class 5A Coach of the Year.