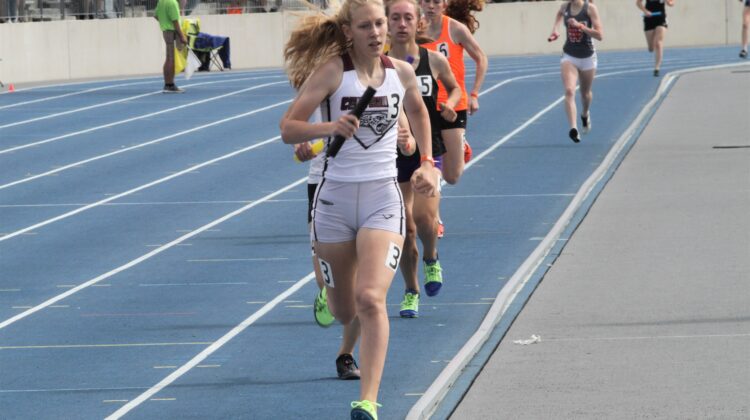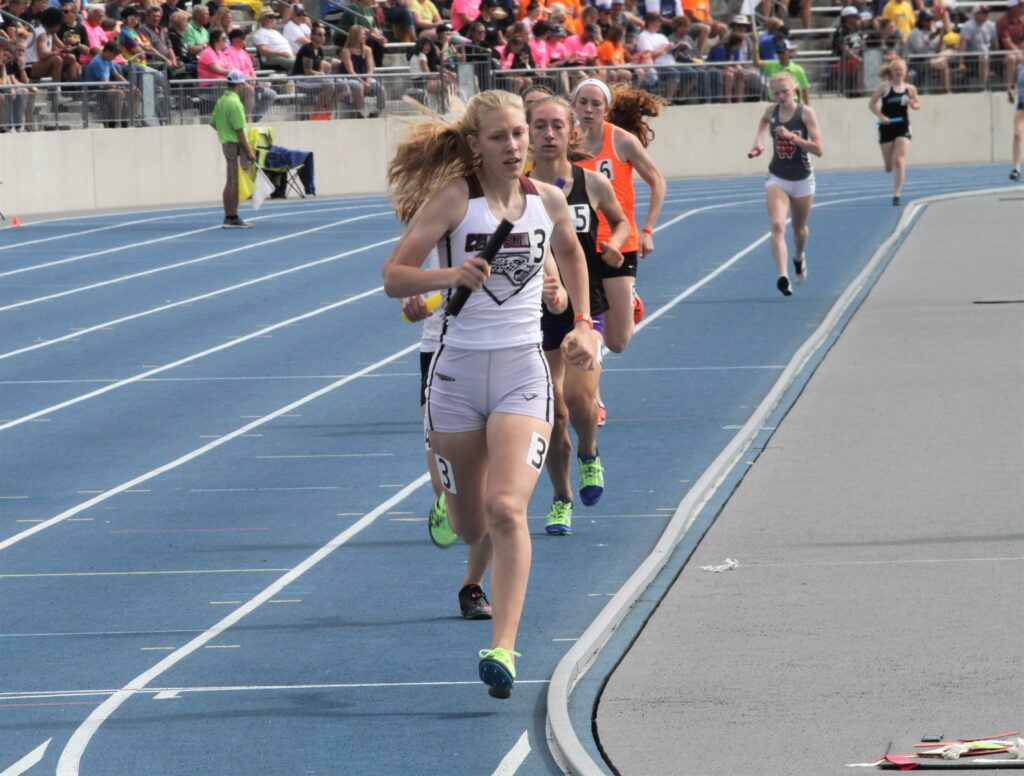 Senior Kathryn Vortherms is a four-time state placewinner for the Ankeny Centennial girls' track team. She helped the Jaguars to a 12th-place tie in the Class 4A state meet in 2019 before her junior season was cancelled due to the COVID-19 pandemic.
As a sophomore, Vortherms anchored the the sixth-place distance medley relay and the fifth-place sprint medley relay that set a school record with a time of 1:49.46. In 2018, she ran on the sixth-place distance medley relay and the seventh-place 4×800 relay that set a school record with a time of 9:38.64.
Here is some inside info on Vortherms:
How is the season going thus far?
The season is going pretty well! Training is great, and the races I've run have all gone well. I'm really happy to be running with all my teammates again, and I have high hopes for this season!
You won the 800 at the Dickinson Relays on March 8 in a time of 2:17.30, which set a school record. Did you realize you were going that fast?
Honestly, no, I didn't realize I was going that fast. It felt really good, not any harder than it has been in the past to run 2:19, so that's what I thought I was going to get. I was super surprised when I heard my time announced after the race, but it was super exciting!
So, you were pretty surprised to post a time like that this early in the season?
I was really surprised. I ran a couple indoor meets over the winter, and the fastest I ran at those was a 2:20. I was expecting another 2:20 or a 2:19 at UNI, so when I ran a 2:17 it was kind of shocking.
After losing your junior year to COVID-19, how much are you enjoying being back on the track? Are you trying to savor every moment?
I think losing that year to COVID changed my mentality about racing. In the past I've been super stressed about racing and making the right times, but after not having my junior season I'm just grateful to compete and run with my team again. I have goals, but I am a lot less stressed about the times I run. I'm just so happy to be able to run in the first place. I get super excited before races now because I just want to enjoy the feeling of racing again. During races I'm thinking about strategy and my opponents, but I'm also having fun and enjoying getting to run fast again!
Due to the pandemic, did you run a lot of miles on your own over the summer?
Yeah, I ran a lot by myself at the beginning of summer. It wasn't super fun on my own, especially because we usually have cross country camp with coach Cog(dill). What a bunch of us seniors actually did was try to make our own camp. We decided on a time every morning and spread it around that we would be planning workouts and runs for anyone who wanted to join. We tried to make it as much like cross country camp as we could, and we had a good group of girls show up every day. It was really nice to have other people come and run with us! We even had some Centennial alumni help us organize some of our summer camp traditions. We brought popsicles some mornings, and Jeanne (Peters) and Jess (Gaumer) organized a scavenger hunt for us so that everyone could participate!
I know you battled through an injury to help the Centennial girls' cross country team to a third-place finish in the Class 4A state meet last fall. Are you completely healthy now?
Yeah, I'm completely healthy now. It took us a while to figure out what was wrong, but over the winter I was able to get treatment and we adjusted my workouts so that I could still run while I was healing. It still flares up every now and then after hard track workouts, but everything has been good lately.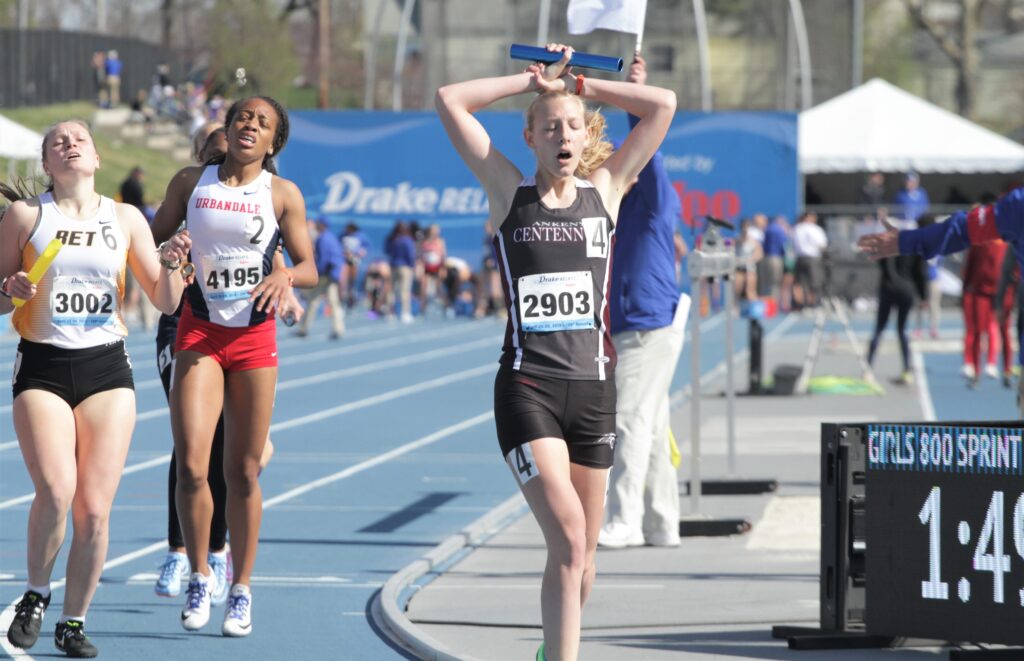 Goals for the season?
After UNI I set a big goal and a small goal for this season. The small goal is 2:16 in the 800, which is the Blue Standard for Drake. I want to run the 800 at Drake Relays this year. My big goal is one Cog encouraged me to set–it's 2:12 in the 800. It's definitely a lot scarier than 2:16, but Cog always encourages us to set big goals for ourselves.
You've been a versatile runner throughout your career, competing at distances from 200 to 800 meters. Which events do you think you'll focus on the most this season?
This year I'm going to focus on the 400 and 800 mostly. I'm going to run the 1,500 a couple times, though, because my coaches think I would be good at that race.
You've also been a valuable member of the Jaguars' relay teams. Which relay is your favorite, and why?
My favorite relay changes a lot, but right now it would be either the 4×800 or the sprint medley. I like the 4×800 because I just love the 800 so much, and I love getting to run a race with all my teammates too! I like the sprint medley as well because I think it's a super high energy race. I usually run the 400, so I get to see everyone run before me and I get excited. I also just love sprinting super fast and I get to do that with the 400, so it's a lot of fun!
You have committed to join the Iowa women's track and field team next year. What have your former Centennial teammates Emma Gordon and Katie Petersen told you about their experiences in the Hawkeyes' program?
I talked to Emma while I was deciding where I was going to run, just asking for her opinion on the program. She told me it was a really great place to run and grow as a runner. The coaches are all super nice, and she loves the team atmosphere.
What are you planning to study in college?
I'm planning on studying biomedical engineering, but I'd also be interested in physical therapy or occupational therapy, so we'll see!
Did you go anywhere for spring break?
I went on a church retreat called Faith In Action. We stayed at the St. Thomas More Center (in Panora), and every day we went to a different location and volunteered there for most of the day. It was super fun to see everyone we were helping, and I had a really good time!