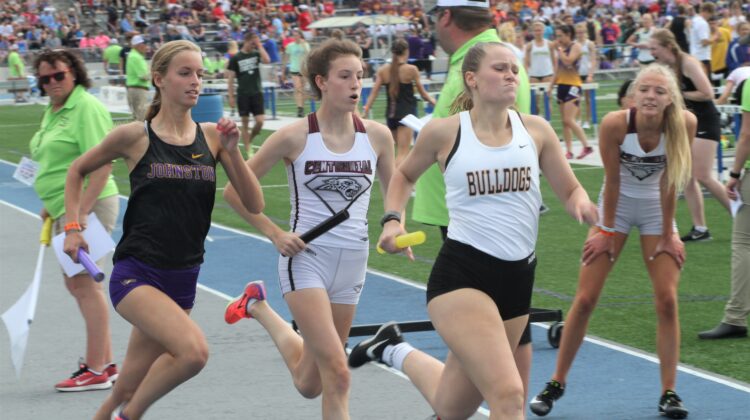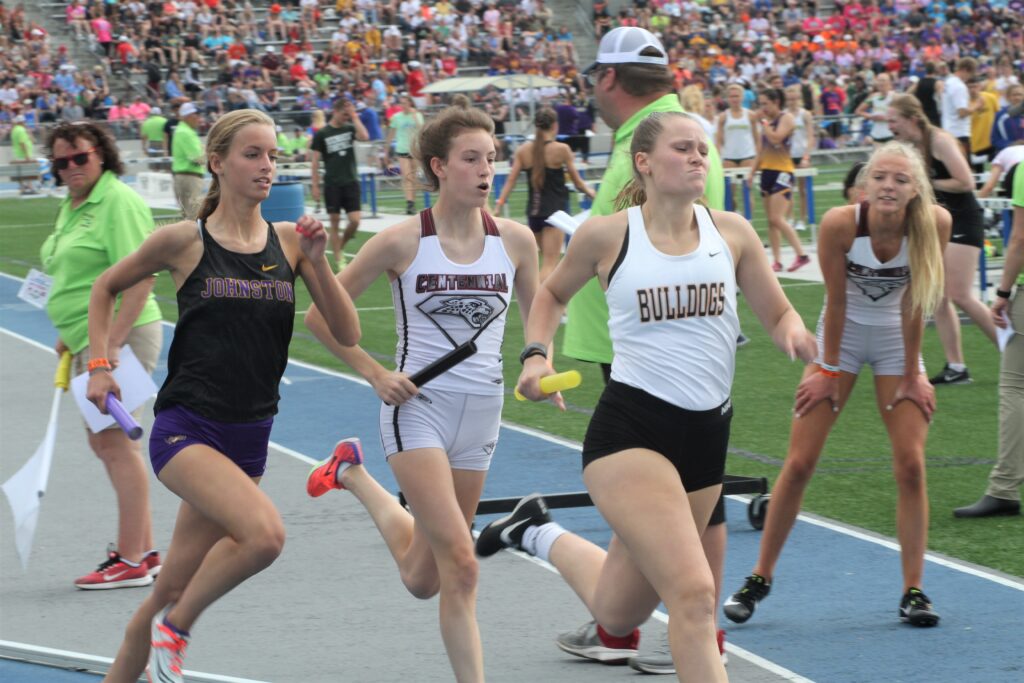 Andrew Kruzich knows a lot more about his Ankeny Centennial girls' track team than he did 24 hours ago.
The Jaguars opened their outdoor season on Thursday by competing in the Johnston Quadrangular. They dominated some events and also performed very well in many others.
"We had a good night," Kruzich said. "It was great to get outdoors and have a meet again with our full team, even if it was pretty cold."
Centennial swept the top four places in the 800-meter run. Kathryn Vortherms won the event and was followed by teammates Rondi Quass, Alayna Wallace and Katie Jensen.
Quass earlier captured the 3,000 in a time of 10:28.12.
"Our distance events were very solid," Kruzich said. "We've got a good culture there, and it shows. They really prepare themselves and buy into the race plans that coach (Eric) Cogdill gives them. Not just our varsity scorers, but everybody. They really do things the right way. Kathryn had her typical great night, and Rondi hit the Blue Standard to automatically qualify (for the Drake Relays) in the 3,000. Girls like Katie Jensen, Alayna Wallace and Josie Bearden… they are leaders who might not get the headlines all the time."
The Jaguars got a victory from Millie Hill in the 400 hurdles. She's already ahead of her pace from two years ago, when she placed fourth in that event at the Class 4A state meet.
"Millie had a very impressive debut," Kruzich said. "I'm excited that she is starting off at sub-1:09. That bodes well for where she can finish the season in about two months."
Centennial also won three relays, including the distance medley. Olivia Anderson and Elle Street ran on both the winning sprint medley and 4×200 units.
"We were more unknown in the sprints and field events, but we're starting to learn some things," Kruzich said. "Our veteran sprinters had a nice night, as we won the 4×200 and the sprint medley pretty handily. We will lean on those familiar names–Macee Pruisner, Elle Street, Liv Anderson, Maraye Breeding–while we figure out our next level of talent to go with them."
Kruzich also liked what he saw in the field events. Jordan Su won the long jump with a leap of 15 feet 9.5 inches.
"Other than Jordan and Sophie Lampe (in the high jump), we don't have a lot of experience in the jumps," he said. "Same for our throwers–they are a hard working group, and I really like their spirit, but we have only one girl with any Centennial throwing experience. But I think we're already finding some pieces to the puzzle, and we'll get better and better."
The Jaguars will compete again on Saturday at the Iowa City High Invitational.