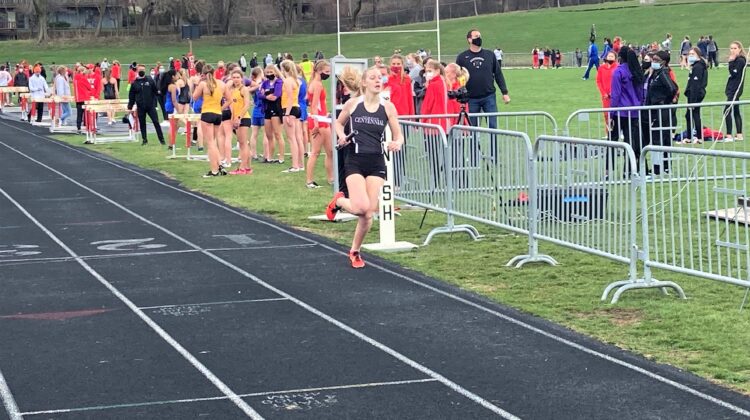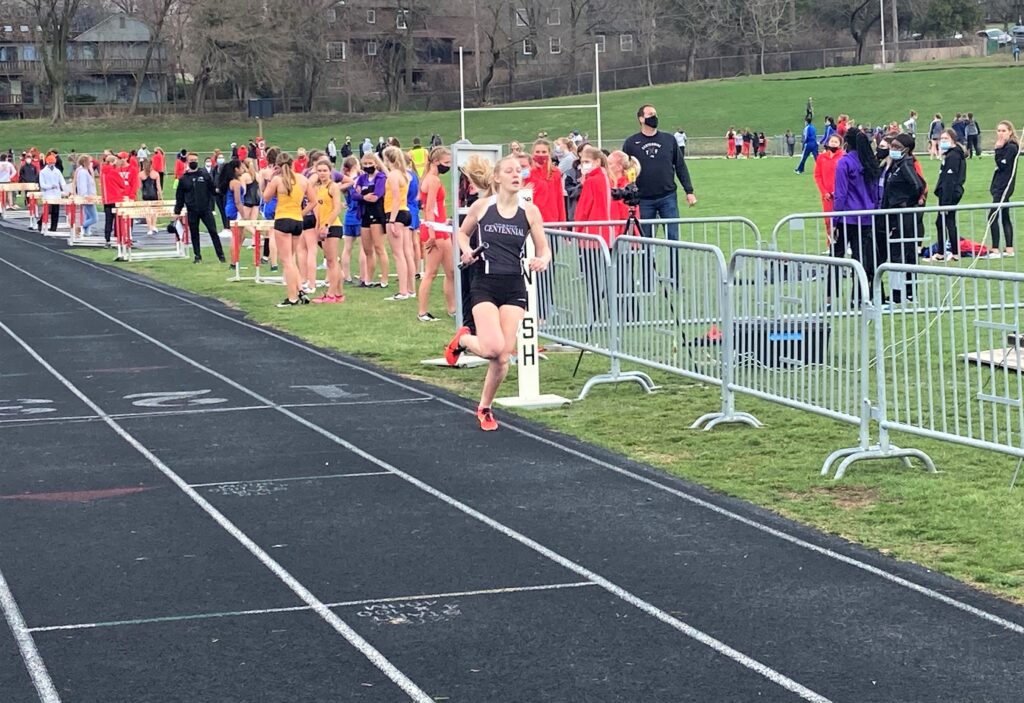 Kathryn Vortherms will continue her track career at the University of Iowa next year.
On Saturday, Vortherms traveled to the city of her future home and showed why the Hawkeyes offered her a scholarship.
Competing in the Sherwood Relays at Iowa City High, Vortherms anchored Centennial's 4×800 relay to a victory in school-record time. She later placed second in the 400, setting another school record.
"Kathryn had a huge day," said Centennial coach Andrew Kruzich. "She's really running well right now."
Centennial had only two victories and two second-place finishes, but the Jaguars relied on their depth to earn runner-up honors overall. Southeast Polk won the meet with 153.5 points.
Centennial racked up 116.5 points, edging Cedar Falls by two points.
"It was really nice to get to the eastern side of the state, to a meet we've never gone to, and compete against teams we don't usually see," Kruzich said. "I felt good about how we picked up steam going into the last few events, and went into the 4×400 tied for second and barely ahead of third. It's fun when meets come down to the last few events, and we came through in several ways."
Vortherms teamed up with Josie Bearden, Rondi Quass and Katie Jensen to win the 4×800 relay in a time of 9:37.23. The Jaguars won the race by nearly 30 seconds.
"We just missed the 9:36 Blue Standard to automatically qualify for the Drake Relays," Kruzich said.
Later, Vortherms posted a time of 59.01 in the 400, breaking her own school record. Laney Fitzpatrick of Davenport Assumption won the race in 58.64.
Both runners eclipsed the previous meet record of 59.10 that was set in 1996.
"Kathryn got edged out by her future Hawkeye teammate," Kruzich said of Fitzpatrick. "But she smashed her old school record from 2019 by 1.7 seconds. Then she led off our (third-place) 4×400 relay to seal up second place (overall)."
Quass provided Centennial's other victory. She captured the 1,500 in a time of 4:58.72, winning the race by nearly 10 seconds.
Millie Hill took third in the 400 hurdles in 1:09.15. She also anchored the 4×400 relay.
Jensen added a third-place finish in the 800. She posted a time of 2:28.66.
The Jaguars placed second in the 4×200 relay. The foursome of McKenna Vallejo, Morgan Severseike, Jordy Jumper and Maya France was clocked in 1:55.96.
"We had contributions from the usual suspects–Rondi, Katie Jensen, Josie Bearden…but we had contributions from all over," Kruzich said. "We got second in the 4×200 with a 'second string' of sprinters. Our depth was something I'm proud of."
It was Centennial's second meet in three days.
"Given how short our season is, I was happiest with how much improvement we made from Thursday to Saturday," Kruzich said. "We are starting to figure the little things out–pace, handoffs, warming up, cooling down. I'm excited to see where we go from here."