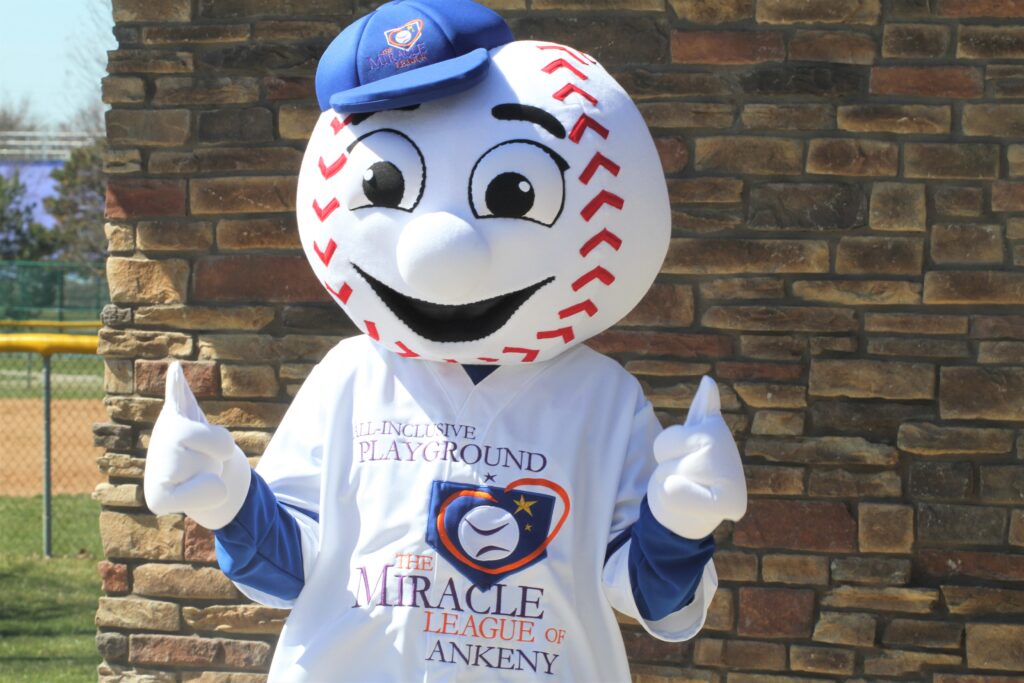 The Ankeny Kiwanis Club is proud to welcome Miracle League's mascot Homer to Ankeny!
Homer is the mascot for Miracle League–a national organization that promotes the creation of accessible baseball leagues and obstacle-free ball fields in communities across the country. A partnership of Ankeny Kiwanis Club service organization, the City of Ankeny, and a steering committee of community members worked to create Ankeny Miracle Park several years ago.
The park's Miracle Field with Miracle League opened in fall of 2013, then added a concession stand and Miracle Playground, a 14,000 square foot all-inclusive playground. Ankeny's Miracle League, facilitated by City of Ankeny Parks and Recreation and assisted by Ankeny Kiwanis Club, serves on average over 100 youth and 70 adults during spring and fall baseball seasons. Numerous community and school organizations volunteer as 'buddies' or 'Angels in the Outfield' in assisting participants to play ball.
Ankeny Kiwanis Club works to enhance participants' experience of Miracle League by providing medals and postseason celebrations. At an event held to welcome Homer the Miracle League mascot to Ankeny, members of Ankeny Kiwanis Club introduced him as an ambassador of the program meant to further enhance participants' experience.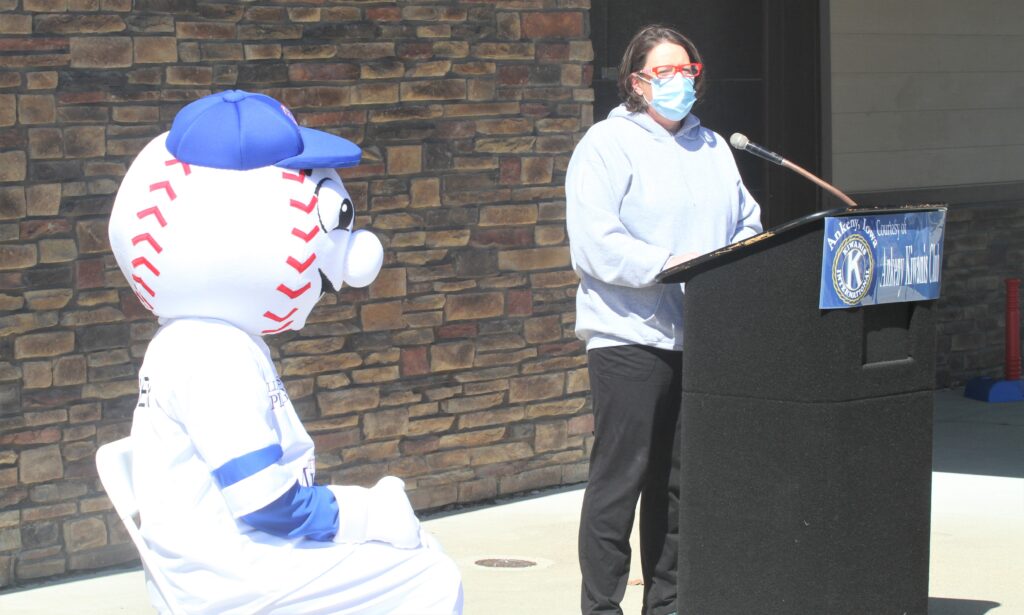 Homer has a back story provided by the national Miracle League organization, which notes that Homer comes from a land far away from Ankeny. One day, Homer saw kids at the hospital or in their own homes who wanted to play baseball but none of the nearby fields or courts were right for their amazing abilities. So, he found that there were programs called The Miracle League that had amazing ballfields where kids of all abilities were playing baseball and softball. And ever since, Homer has traveled to various Miracle League fields, celebrating the enjoyment of sports with all kids, encouraging them to have fun and be a part of the joy of playing sports.
Ankeny Kiwanis Club is pleased that this Homer will reside in Ankeny and plans to stop in at various Ankeny Miracle League games and events. Community members may see Homer from time to time around town and at Ankeny Kiwanis Club events.
For information about the Kiwanis Club of Ankeny, visit http://www.ankenykiwanis.org, the club's Facebook page or email Tim McGrath at tmcgrath@ourtown.net.