Tuesday's cold and windy weather didn't seem to bother the Ankeny Centennial boys' tennis team.
The Jaguars were just happy to be playing for the first time since 2019.
Centennial opened its season with a 10-1 victory over visiting Norwalk in a non-conference meet. The Warriors' lone win came at No. 5 doubles.
"I thought the guys played really well," said Centennial coach Tami Lewton. "It was a great start to our season! We had quite a few guys make their varsity debuts, and they played really well."
The Jaguars won five of the six singles matches in straight sets. Will Blevins was pushed in the first set by Carter LaVelle at the No. 1 spot, but the Centennial senior eventually took control for a 6-4, 6-0 victory.
Nic Mackaman bounced back after losing the first set to post a 6-7, 6-2, 10-7 win over Hayden Steele at the No. 3 position.
"In singles I thought we were rock solid," Lewton said. "We had a slow start in a couple of the matches, but they all figured it out very quickly. Strong wind is a great equalizer."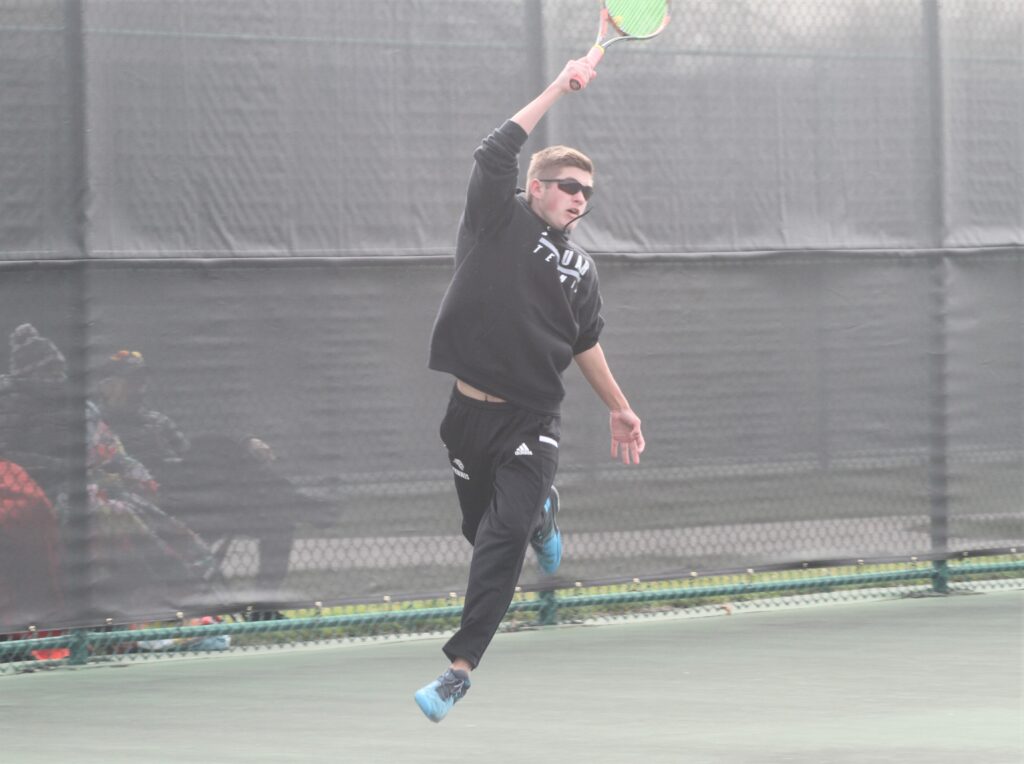 Sophomore Caleb Peterson made an impressive debut for the Jaguars. He posted a 6-0, 6-0 victory over Casey Greenlee at No. 2 singles, then teamed up with Blevins for a 6-0, 6-1 win at No. 1 doubles.
Centennial won three other doubles matches in straight sets.
"In doubles, again, I was very pleased," Lewton said. "We have never had a match this early in the season. We are still working through challenge matches and doubles partners. For only having practiced three times so far outside, I felt like we had a very strong showing."
Here are the match-by-match results:
Centennial 10, Norwalk 1
Singles–Blevins beat LaVelle, 6-4, 6-0; Peterson beat Greenlee, 6-0, 6-0; Mackaman beat Steele, 6-7, 6-2, 10-7; Clark beat Nguyen, 6-1, 6-0; Ceplecha beat Bush, 6-0, 6-0; Keenan beat Mills, 6-2, 6-0.
Doubles–Blevins-Peterson beat LaVelle-Steele, 6-0, 6-1; Mackaman-Clark beat Greenlee-Mills, 6-4, 6-1; Ceplecha-Bhat beat Nguyen-Cook, 6-0, 6-2; Keenan-Stark beat Bush-Chambers, 6-0, 6-0; Lantz-Goshon (N) beat Marold-Blakeslee, 7-6, 6-0.