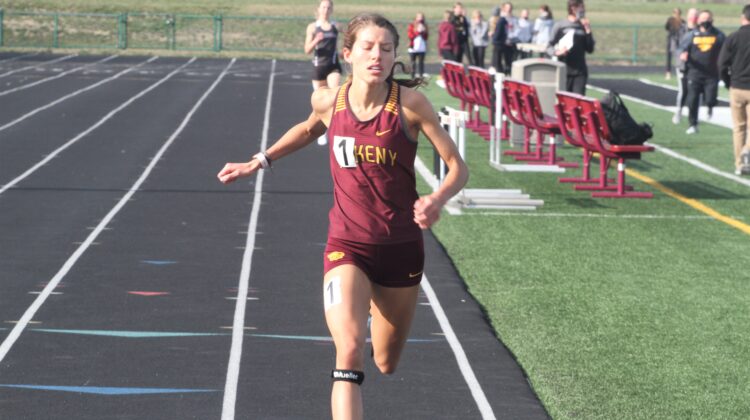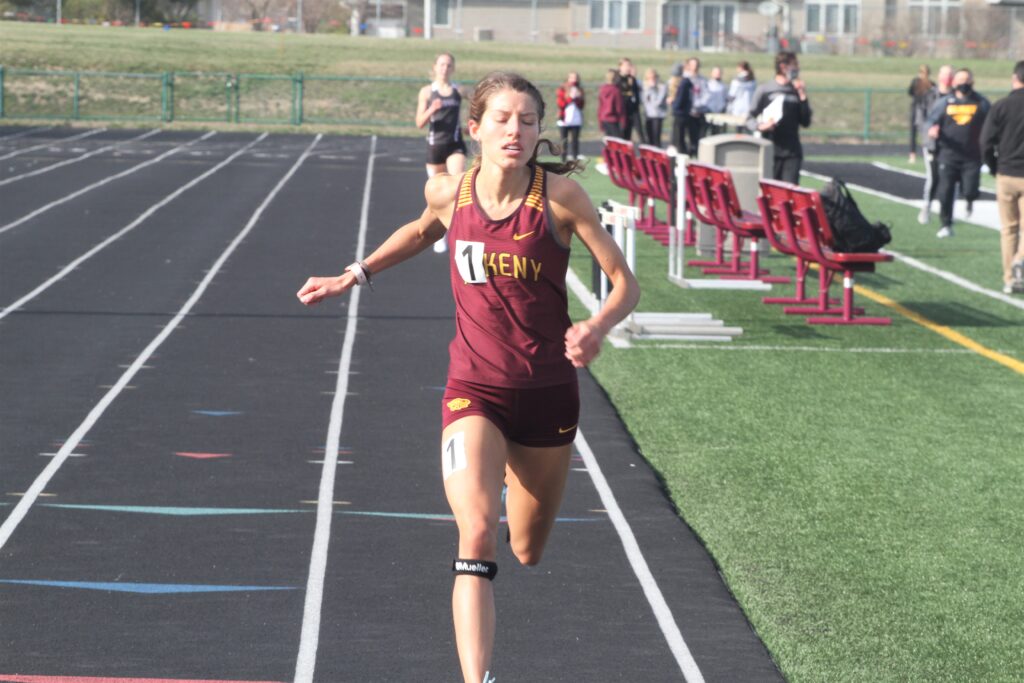 It's been a few years since the Ankeny girls' track team won its own Hawkette Invitational.
The Hawkettes put an end to that drought with a dominating performance on Thursday.
Ankeny captured eight events and easily won the team title with 178.75 points. The Hawkettes last won their home meet in 2017, when Dennis Adamson was the team's coach.
"It was a total team effort," said Ankeny coach Thomas Cotter, who took over the program in 2019. "I couldn't be more proud of the way the girls competed and left it all out on the track. We knew Ankeny Centennial and Southeast Polk would give us a run for our money, so we emphasized the importance of our second scorers. We knew we'd score strong in our field events and from there we relied on our depth to help put us over the top."
Centennial took second in the eight-team field with 132.5 points. Southeast Polk finished third with 110.
The Jaguars won two events.
"Ankeny is very good and very balanced," said Centennial coach Andrew Kruzich. "I knew we were going to have a hard time hanging with them. When we had a few issues pop up due to absence and injury that made it a little tougher. I thought we fought hard and rolled with the punches well. Hats off to the Hawkettes. I still root for them, too."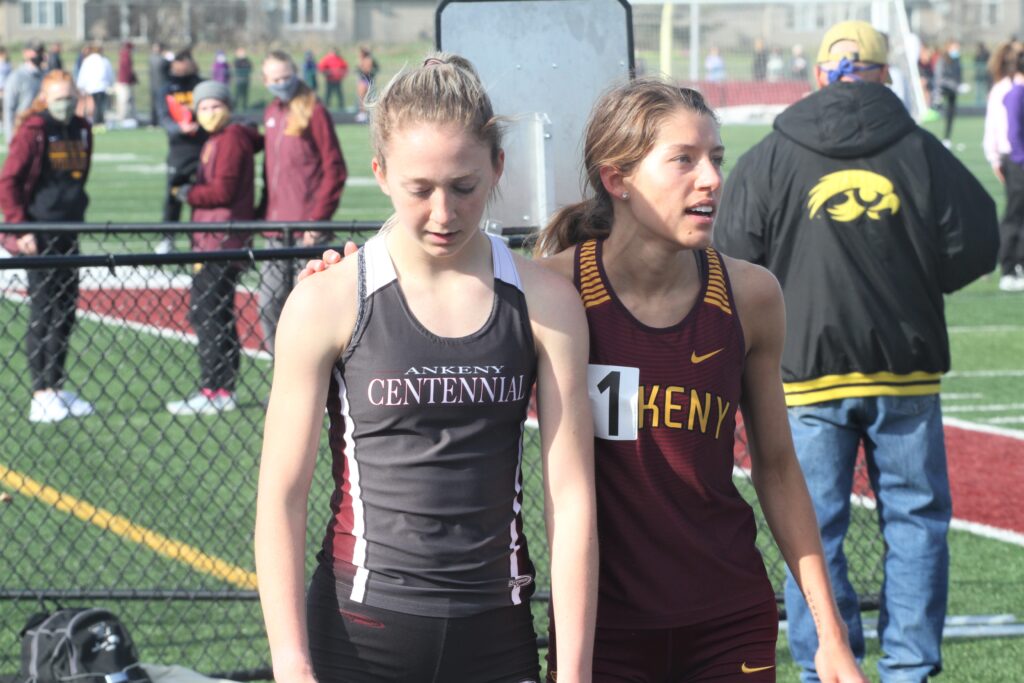 Ankeny's Lauren McMahon won a pair of events. She took the 3,000 in a time of 10:15.77, then later set a school record of 4:52.01 in the 1,500.
McMahon edged Johnston's Aleah Tenpas, who was clocked in 4:52.08. Centennial's Rondi Quass was third in 4:53.83.
"My goal was to beat my time from Tuesday, which was 4:58, and also break the school record," McMahon said. "I knew I was very close with the wind on Tuesday, so I knew I had the potential to break it. It was a crazy battle at the end with Aleah. We both gave it our all that last 100 meters! It definitely helped to have Rondi and Aleah in the race. I don't think I would have been able to push myself that much without them.
"That was my second time racing the 1,500, and I still don't have the pacing, so having them in the race helped me figure out what the pace should be like and when to start kicking it in!" she added.
Quass also placed second in the 3,000 in 10:24.31. Teammate Katie Jensen was third in 11:03.36.
"Rondi ran a tough double against some of the absolute best distance runners in the state," Kruzich said.
Quass will likely get another crack at McMahon and Tenpas in the 1,500 at the Drake Relays later this month.
"That race at Drake in a couple of weeks is going to be a show stopper," Cotter said.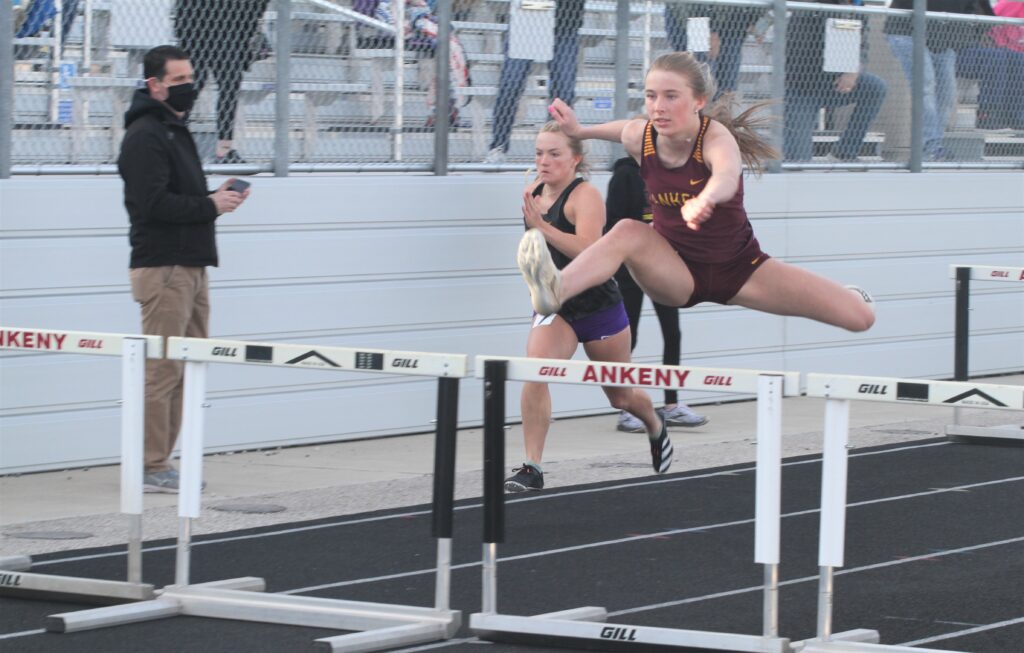 Mytika Mayberry and Shelby Romig also had huge nights for the Hawkettes.
Romig won the long jump with a leap of 17 feet 1/2 inch and placed second in the 100 hurdles in 16.26 seconds. She also rallied the Hawkettes to a victory in the shuttle hurdle relay, teaming up with Ellie Dalton, Lexi Stephens and Calyssa Wright to post a time of 1:11.59.
"Shelby continues to dominate the long jump," Cotter said. "There are few jumpers in the state that can consistently jump 17-plus feet like she can. Her hurdles also continue to impress."
Mayberry won the 100 in 13.16 seconds, while teammate Eva van de Mortel was third in 13.60. Those two later teamed up with Macie Strnad and Lillian Smith to win the 4×100 relay in 50.97 seconds.
In the 200, Ankeny's Eden Gibson raced to a victory in 27.32. Teammate Eva Fulk was the runner-up in 27.58.
"Our sprint crew racked up huge points on the day," Cotter said. "Gibson ran her personal best in the 200. We have a lot of girls fighting for spots, which is a great thing."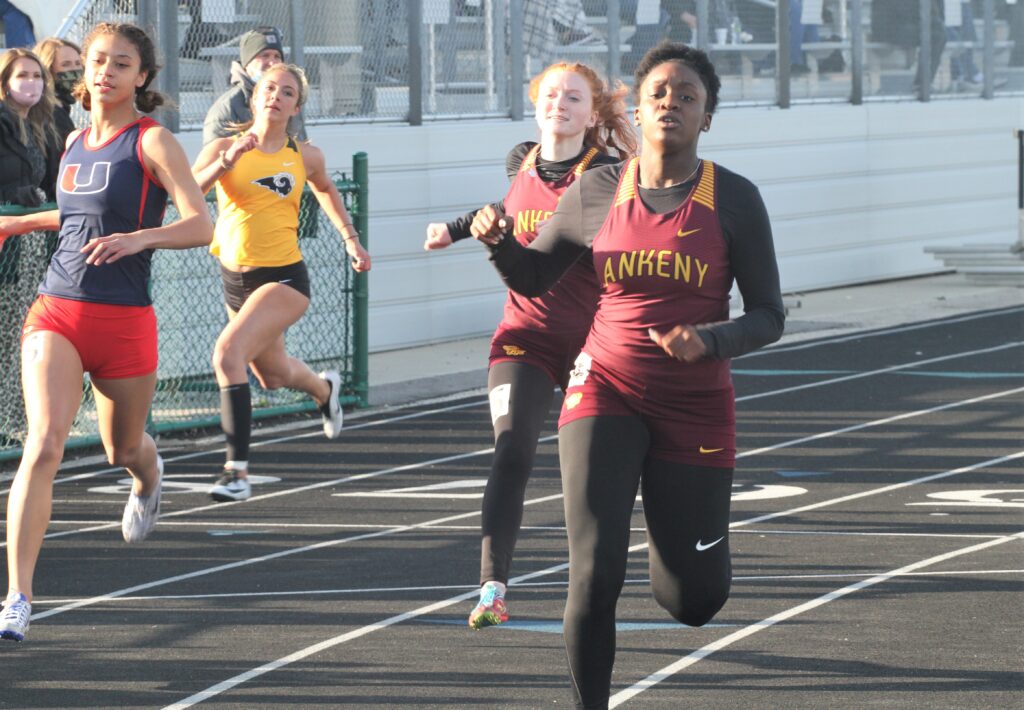 Fulk also placed second in the 400 behind Centennial's Kathryn Vortherms, who won the race in 59.41. Fulk was clocked in 1:01.31.
"Eva held her own with one of the state's top 400 runners in Kathryn," Cotter said. "She jumped up to No. 11 in the state in the event and sits at No. 5 in Class 4A. She'll have a shot at Drake in the event, but we will have to think hard on that as the 4×200 relay is shortly after in the condensed one-day format this year.
"Looking ahead, we see some potential in new events with the emergence of some 400s for us. We need to keep chipping away at a few different relay times, clean up handoffs a bit more, and continue to race into shape so we are ready to go for the Drake Relays," he added.
Vortherms added a second-place finish in the 800, posting a time of 2:22.68. Teammate Josie Bearden was third in 2:27.62.
Carlisle standout Ainsley Erzen won the event in 2:18.73.
"Overall, I thought we ran hard and competed well," Kruzich said. "Our experienced girls really came through in tough situations to score us some points. Kathryn doubled the 400 and the 800 without much rest against a great 800 runner from Carlisle."
Millie Hill provided the Jaguars' other victory in the 400 hurdles. She posted a time of 1:08.95, then helped Centennial to a runner-up finish in the 4×400 relay.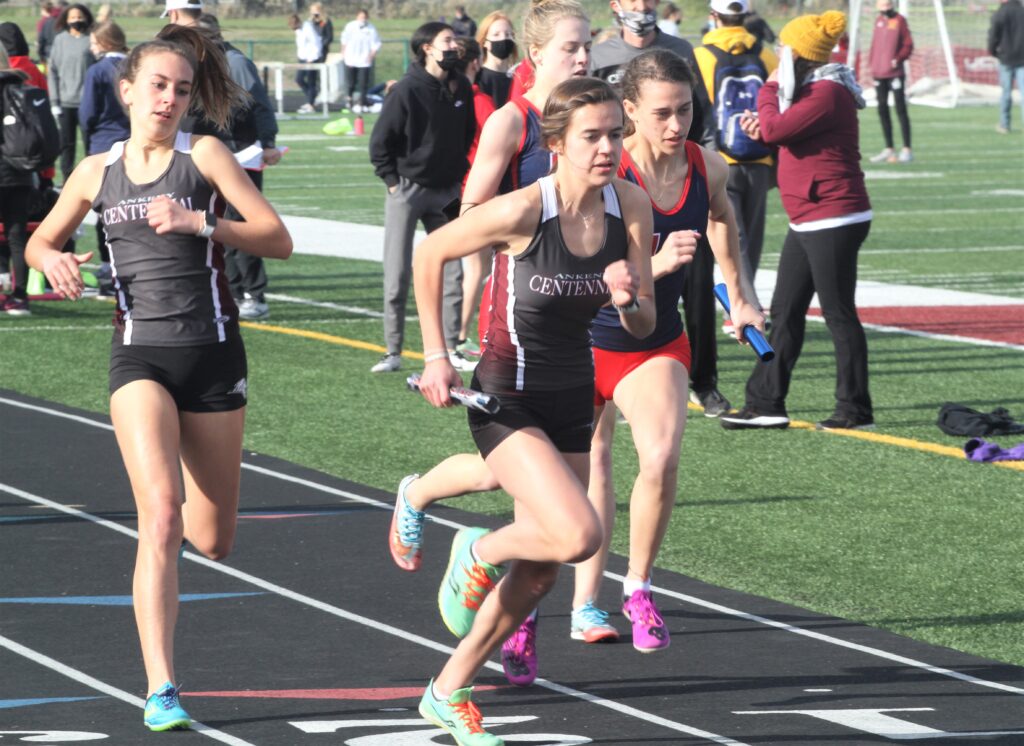 "Millie doubled in those two events," Kruzich said of the adversity that his team faced. "Elle Street subbed in to the sprint medley due to an absence. Maraye Breeding ran a fourth event to fill in for an injury. Morgan Severseike handled subbing in her two relays with her usual responsibility and leadership. Our distance crew's depth and toughness was something I'm proud of."
Dalton placed second for Ankeny in the 400 hurdles in 1:12.65. Wright was third in 1:14.28.
"Ellie ran a strong time, and that was her first time in the race this season," Cotter said. "We will give her more opportunities to see if she can get herself qualified in the event for Drake."
Ankeny's Ja'Dein Madison won the shot put with a throw of 36 feet 3.25 inches. Stephens tied for third in the high jump at 4-6.
Centennial got a third-place finish from Jordan Su in the long jump. She jumped 16-1.25.
The Jaguars also placed second in the 4×100, shuttle hurdle and distance medley relays.
"We'll continue to look to improve next week and build toward Drake," Kruzich said. "I like where our team is at right now, and as usual, I'm excited for what the next meet will bring."